I ate a lot of food this week. Here it is in photos: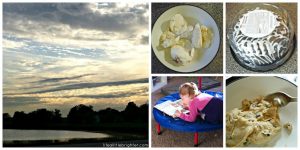 1. Went for my first bike ride of the season this week. I love the fact that we live 40 min away from the city, yet we're surrounded by forest preserves and bike trails.

2. Scooped out some caramel toffee ice cream left over from this cake, and dumped some vanilla almond milk on top. Dessert soup. Sean- "Are you really taking a picture of a bowl of ice cream?" It's what the people want, dear.

3. For Sean's birthday, I got KFC. It's his FAVORITE, but he rarely eats it anymore, because after thirty you get fat just driving past a fast food place. He loves the chocolate cakes there, which I didn't even know about until we got together. Cake from a drive thru? Okaaaay.

4. Boo's been loving books lately, so I've been encouraging it for as long as it lasts. I get her fun books, easy books, and sometimes these science-y textbook looking things that she gobbles up. Note, I take NO credit for this. Came outta nowhere. She was nose-deep in some book about the ocean that kids in the 80's used to check out for school reports, so I took a picture. It was freaky and kinda neat at the same time.

5. Eggless cookie dough. As in, cookie dough with no intention of becoming a cookie. I liked it better than real cookies, and it was easier. Recipe to come soon.
Next week- birthday party post.
Come party at Lauren's!