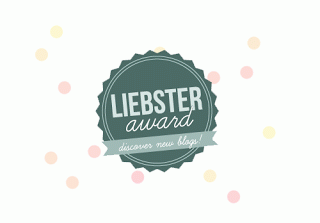 Love me a Liebster.
Why? Because it reminds us new bloggers to support each other.
And because it gives me something to write about when I have writer's block. (bloggy block? nevermind)
Which I never have, because I am an infinitely creative, inspired home improver.
Most of the time.

This one comes from Sara, who has awesome blog ideas and also is a sweetheart, and has been a great help since we started our blogs around the same time. She does GIF Saturdays, which are genius. I crack up and wish they were longer. Yes, that's a request, Sara.

Her questions-
1. What's your favorite summer outfit?
Summer dress. I can buy a cute one from $10-30 and they are sooo comfortable. Plus I'm pretty weak at putting together multiple pieces to an outfit.
2. If you have a typical day, what is it like?
Hop in the shower around 7, take a minute to do link up parties and check email. If my daughter has preschool, I drop her off and blog. We usually do a playdate or head to the park, and then at some point I clean/tidy up the house. Dinner around 6, then watch shows like Parks and Rec or Modern Family with Sean. If Boo doesn't have preschool, I'll try come up with a project to do with her or we'll run errands. Our schedule changes a lot based on the school year and if Sean is busy at work (aka tax season).
3. What type of posts would you like to write more of?
I think I'm kinda all over the map right now anyway. I basically write whatever I want to write about that week. But, I would like to get more projects done around the house, which is why I started the blog in the first place.
4. Where's your favorite vacation spot?
Las Vegas. Minus the daughter. I would also love to go to Europe, but I can't really call that a fave vacation spot. Yet.


5. How many times a day do you check social media sites?
Ooo I'm bad about that. I'd say on the low end, 5 times. And that's just blogging stuff.
6. What's the best book you've read lately?
7. Favorite website besides your own blog :)?
I'm on Pinterest and People.com alot.
8. If you could only watch one movie for the rest of you life, what would it be?
"You've Got Mail", it's

sweet

, but also funny, so I wouldn't get bored. Love "Mean Girls", but for the rest of my life? Maybe not.
9. What's a DIY project you're hankering to do?
Good question! As I mentioned here, we've been slow to decorate our living room. I'd love to add some more decorations to the walls I didn't photograph. A gallery wall is in the works.
10. What relaxes you the most?
My daughter still asks for one last hug before she officially turns out the light for bed, and it's so sweet. Once she is tucked in, the hubby and I can watch inappropriate shows without interruption and eat junk food without sharing, which is lovely.
11. What's you go-to easy meal for a busy night? Take-out, recipe, whatever!
I get the Bertolli ravioli & add some sauteed spinach and parmesan. It's decently healthy, and very filling.
Thanks, Sara, for the Liebster! If you'd like to see my previous Liebster posts, go here and here.
It's been fun! These always remind me of those million question emails that used to float around in high school. What's your middle name… what's your favorite color…list something no one knows about you…