Are china cabinets outdated? Sometimes I think they might be. I really haven't been wowed by one in a long time. Unless someone has inherited their Grandma's heirloom china cabinet, and then I think "I wonder how much that would sell for on Craigslist…"

I kid.

But really, when Sean and I got married, we got china— (Thanks friends & family!)—and didn't know how to store it in a modern-looking way.

After months of searching, we finally found this piece at IKEA.




It's been nine years, so they no longer sell it. If we were still in the market, I've probably pick this one.

Now you might be calling me out on my blog title right now, because of IKEA's reputation for college purchases and short-term furniture. But I insist that this was a grown-up purchase, because it contains items I sure as heck wouldn't have in a dorm room.

I love this china cabinet. It doesn't scream "big, clunky piece of furniture", but it has plenty of space for our well, china. Plus it lights up. Which we totally thought we'd always use, and never do. But, I digress.

When we moved into our current house, I had a ton of professional photos from when my daughter was a baby.

First child? Ya know.

I literally stared at the top surface of the cabinet, willing some design inspiration to hit.

Decorating is fun. Decorating like 10 rooms at once? Overwhelming. Plus all the pictures from her first three years were in mismatching frames. If you've ever spent a few years in a place (as an adult) and then moved, you know that some decorations work well in some homes better than others. So I really had to start from scratch with these pictures.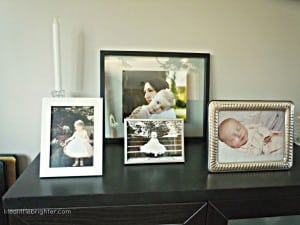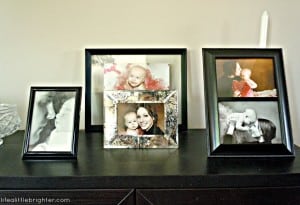 See picture on left- identical profiles!
I guess I'm saying that I'm proud of how I pulled together a bunch of pictures and empty frames I already owned, and made it a cohesive space. I get comments on it all the time, especially because people love the pictures, which (of course) have nothing to do with me.

One of my good friends, Jodi Ellen, took all of them, and if she didn't move to Colorado, she'd still be our photographer. If you live anywhere near her, I highly recommend checking her out, and not just because my daughter is still on her website:)

Clock is from Bed, Bath, and Beyond. Similiar here. Candlesticks and crystal bowl are Waterford.

Chandelier can better be seen here. Inherited from my parents, we spray-painted it oil-rubbed bronze. Similar found here.
How do you handle decorating large, empty surfaces? Did you ever feel overwhelmed by matching pictures to frames?