We're making progress, people.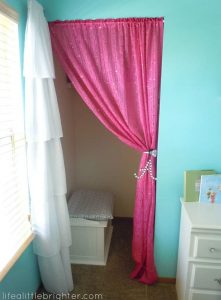 I mentioned a while ago that we're turning my daughter's teeny closet into a book nook. You know, a little spot where she can hide out and read or play.

I've had the curtains up forever, and just recently installed the hardware to "tie" it back.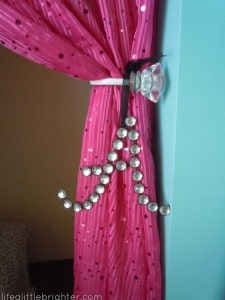 My mom gave put that gorgeous "A" on one of her birthday presents, and I knew it had to be a part of her room.

Curtain, hardware, and crystal finial all from Bed, Bath, and Beyond. The hot pink curtain was chosen to match the rest of her turquoise and hot pink room.

Next up? We needed a spot for her to sit down and chill. Eventually, Sean wants to build a large, sturdy shelf that she can climb onto with a little ladder (how cool is that??) but in the meantime, I figured I could just put a cushion on her toy box.

I thought about hand-sewing a cushion, and then noticed that the top was about the size of pillow. Wonderful!

First, I bought a pillow and case, and plopped it down. But something was off.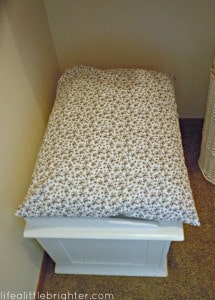 It didn't fit…at all. My daughter was staring at it like, "Why is there a pillow on my toy box? That looks weird." And it did.

So I thought the pillow idea was bust. Annnnnnd then, I looked to my left and saw her regular pillow on the bed. The one she's had long enough to be nice and flat…. see where I'm going with this??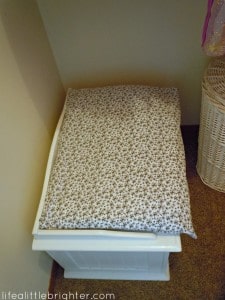 I just switched the dang pillows. Ok, so it's still not a perfect fit, but I think it's pretty good alternative to buying a custom-sized cushion or attempting to sew one. I put non-stick rubber strips on the back so she doesn't go flying when she sits.

Next, I plan to hang up these tassels, and Sean's gonna get to paintin'.

It's taking shape!