Sometimes you just gotta change it up.

What's that show, "Design on a Dime"? Where most of the makeover involves just moving stuff from one room to another? I always think, that's genius! It costs nothing and you can appreciate your stuff in a whole new way.

Which brings me to our living room/dining room. We have an open floor plan, so we don't really have a division between the two rooms. See?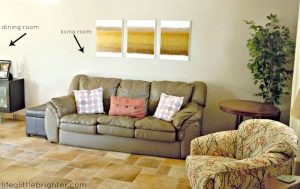 Which allows us to easily switch up the decorations between the two rooms.

When we FINALLY got a floor rug, I noticed that our tree painting looked a little too cool toned next to the warmer toned rug. Soooo-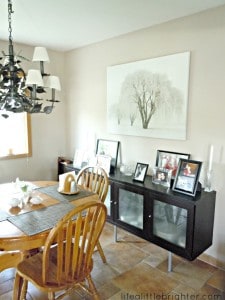 We moved it to the dining room, which has slightly cooler tones. Plus, the living room walls (you can't see in my pictures) are like a wine shade of red, and the painting popped out a little too much on them. It blends just enough on the tan wall in the dining room.

So what did we do with the clock in the dining room?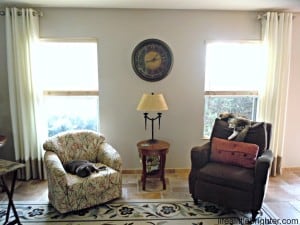 Moved it to another spot in the living room. Oh, and that's our new rug. I'll take a new (better) picture of it soon, maybe for Five on Friday.
I'm not thrilled about the patterned chair on the rug, but I'm hoping it coordinates enough. That's part of the reason why I'm pattern-phobia, you run the risk of clashing.

The view at night.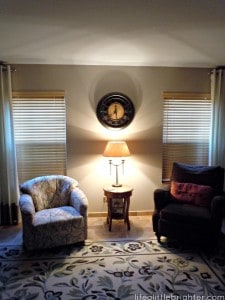 We also finally got a lamp for the corner table.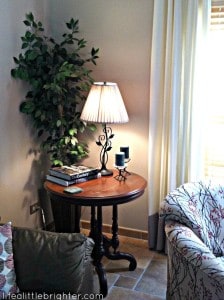 The living room is finally getting some money attention thrown its way.