I was never big into fashion. I'd much rather spend my money on dinners or nights out. Or maybe make-up.

As a teacher, I rode the line between polished and casual. I always looked professional, but when you're regularly on your knees cleaning up a classroom or doing experiments with food coloring, it doesn't make much sense to wear a $200 outfit from Ann Taylor. Not to mention that a twenty y.o. teacher isn't usually making bank.

So I've never really had a reason to try to be fashionable. I just last year bought a pair of skinny jeans. I avoided them for a while because I have long legs and a short torso, so I thought they would make me look disproportionate. They looked fine, but then I noticed a lot of women wearing boot-cut again. Funny.

I asked my husband one time to describe my style. I think I was reading a magazine quiz or something? Anyway, his answer was: conservative. Um, not off the mark, but anything else? Conservative Feminine? Conservative Cute? Nope, just "conservative". Yikes. He didn't mean it as an insult, but it doesn't sound stylish, eh?

But this fall I've resolved to try harder. I'm going to throw some money into a clothes fund, and try to stay on top of the trends– or at least buy some quality pieces that show I'm paying attention.
Shoes! I need to increase my collection. I have size 10 feet (yeah) so I've never been a shoe person. But this year I'm going to try to venture out of my Target flat sandal rut.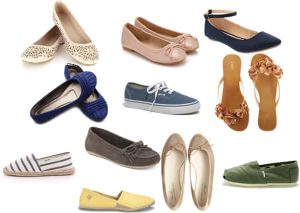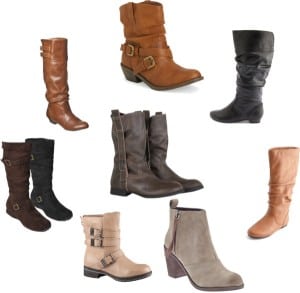 In case you haven't noticed, I don't like heels. At 5'8″, I think I'm tall enough. But hey, tall girls who love heels, go for it! Just not my style.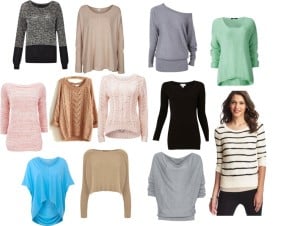 A bunch of torsos with no heads and hands looks kinda creepy, right?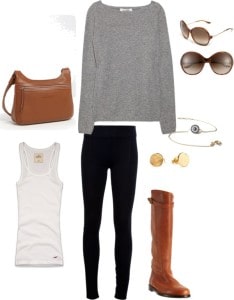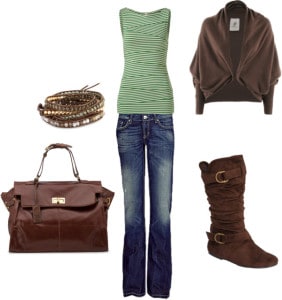 Oh, and definitely worth mentioning– on thekrazycouponlady.com they take a celebrities' outfit and recreate it using more practical (cheaper) items. I know this isn't a new concept, but it's nice to be able to click right through to buy an item. And they choose really cute outfits! This is one of my favorites: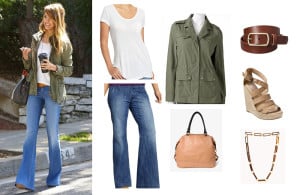 I have got to get me one of those green jackets.
What about you?? What are you wearing as the weather changes?