I've been liking Birchbox more and more lately. Keep it up, kids.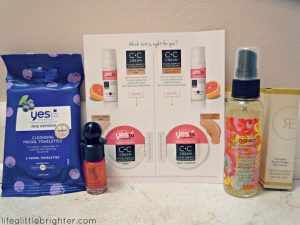 Ruffian Nail Lacquer in Fox Hunt. Kind of a an out-there shade–shimmery orange. I'll save it for next summer, since it's definitely a toe color for me.
Yes to Blueberries Cleansing Facial Towelettes. I was excited to get these, until I used them. They smell funny. Like, want to wash your hands after you use them funny. Anyone else feel this way? Otherwise, they worked fine.

Yes to Grapefruit CC Cream. Can always use more of this. I switched from foundation & powder to this BB cream about two months and have loved the difference. BB/CC creams are alright with me!
Update: this smells funny to me too. Maybe I'm just not a "Yes to" person?
Amika Bombshell Blowout Spray. Tried this on my hair and it seemed drier. Maybe save it for the summer? My hair is super fine so it gets hit on all the time it tangles easily already, let alone when it's fly-away.

Racinne Ultimate Youth Power Eye Serum. Looks nice. Looks expensive. I'll use it, no doubt.
Oh, and I've totally been thinking about doing Birchbox reviews. Wondering if it's worth the time?