Oh my heck, it's been a long time since I've posted.

Sorry.
See, I've been working on this side project, and blogging got put on the back burner. I'll you allll about the project in due time, but for now, let's talk Birchbox!
This one was my all-time favorite! Hopefully you felt as excited about yours.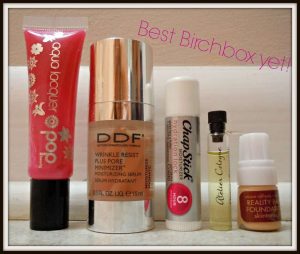 Pop Beauty Aqua Lacquer– Nice bright (but still subtle) color, minty taste, and a really cool applicator. It's like a flexible plastic wand? One of the only bright lip colors I've liked from Birchbox. I apply just a little bit.

DDF Wrinkle Resist Plus Pore Minimizer Moisturizing Serum– Oh. My. Goodness. Where do I begin? It smells amazing, makes my skin super soft, and looks like it will last forever. I found the retail price listed for $80, and I believe it. Awesome stuff. I will cry when it runs out, because there is no way I'm buying an $80 moisturizer on my budget. But that's what I like about Birchbox (pardon the ad), it sends me stuff I'd never buy otherwise.
Chapstick– Definitely nicer than your typical chapstick. Smoother, silkier, lasts long. Nice touch, Birchbox. I will use this all winter long.
Atelier Cologne: Orange Sanguine Cologne Absolue– Wow. I'm gushing all over myself with this box, but this perfume is amazing too. It smells like oranges, but sophisticated. I really should write perfume ads. When I was a kid vacationing in Florida I would always buy some of that orange perfume in all the touristy spots, so clearly I like an orange scent.
Alison Raffaele Reality Base Foundation– Too dark for me right now, will keep for next summer.

Oh, and I started doing the Birchbox reviews. You earn 10 points for every one. You also earn points for getting (buying) Birchboxes each month and for buying products from the store. 100 points = $10, so it'll take me two months of reviews (not counting the points I get from buying the boxes) to earn enough points to get a discount in the store.

Sounds good to me!
If you want to sign up, just go here.
It's my referral link, so if you'd rather, just go to Birchbox.com
I promise to get back on the bloggy track, and finally show you our newly painted house. (yay!) This is a project months in the making, people!
Happy Friday!