Sometimes I'm amazed at how little Sean and I have in common. We met when we were teenagers, and have basically been inseparable since we started dating. So how is possible that we so little in common?

Sean loves to talk sports and politics. I couldn't care less about sports. Politics? Welllll I'm trying to be more informed in my 30's.

Sean is good at math and budgeting. He's a CPA after all. I'm horrible and math… and budgeting? Ha. I always scored high in the "fine arts" section of those career tests. I never met an English class I didn't like.

And the most significant one to me? We have TOTALLY different tastes in food. He's marinara-sauced, giant-steak-eating, lover of all things over-spiced. (in my opinion) If it's heavy, he likes it.

Me? I never met a girly salad I didn't love. You know the kind. Goat cheese. Pointless ingredients like sesame seeds and glass noodles. Maybe some fruit.

It makes me laugh because there's like, two meals we both enjoy. Otherwise, it's just us tolerating what the other person wants. Romantic, eh?

But I found a compromise in this meal…. and it's a fast and brainless one perfect for weeknights. Plus, it has one of my favorite qualities of a quick meal— the ingredients can last a week after you grocery shop.

Behold– TJ's ravioli.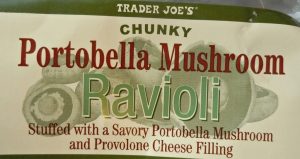 Oh, but that's not all. I discovered one night that wilted spinach brings prepackaged ravioli to a whole new level. Here's how it goes:

Toss a whole buncha spinach into a medium sized skillet, med-low heat with a drizzle of olive oil.You want to fill up the whole skillet, like really pile it on. Why? Spinach shrinks as it wilts.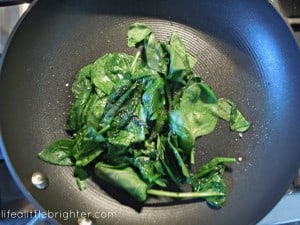 After a few minutes, when you can gather it together a bit, add some pepper and salt. I also tend to add nutmeg when it's spinach just for me. Nutmeg is so good on spinach!

The key is to keep the spinach gathered together. Prevents the individual leaves from getting crisp and overcooked (ew).

That pile up there? That was a giant bunch of uncooked spinach. See how it shrinks? Plan accordingly.

And here's the thoroughly-wilted spinach.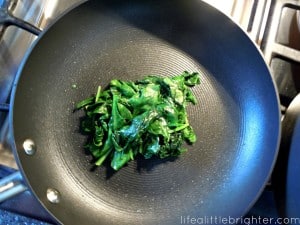 How cute.

Toss it with the ravioli…. red sauce for him, olive oil for her. (If you are going to add marinara sauce, TJ's Tomato Basil is the best)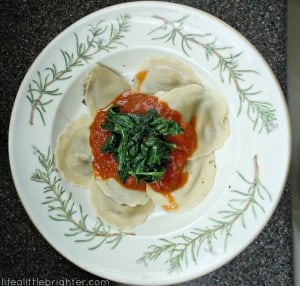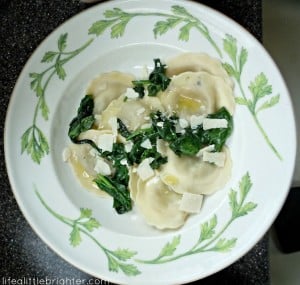 Oh, and he also doesn't like to top things with cheese. Mhmmm. I rest my case.
By the way, if you think his looks better, don't tell me:)