Moving from a house to a condo in 2012 inspired the decorator in my husband. He really had no desire to change/decorate anything in our last home, because we both knew it was temporary. Once we settled in here, he became a full-fledged, decor-obsessed, DIYing maniac.

Now he has OPINIONS.

Hmmm.

Obviously, I want our home to reflect both of us, but it was much easier when I would hang something and he would just shrug at it.

We both prefer minimal styles, but he is more traditional than I am. And he loves an antique shop. (I'm making him sound like a granny, sorry hun)
He called me one day and said that he found the perfect side table for our living room when he was browsing a new antique shop downtown. (Yes.)

We used to have this table in our living room.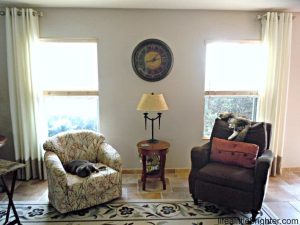 Cute enough, but we both agreed it was too small. And it's also clearly boring the cats.

He found a blue/gray one that he loved. Blue? Gray? All the colors in our living room are warm tones. Not going to work.

But then I remember that rug up there. It has blue, and it works in the room. So I took a deep breath and trusted his instincts, knowing full well that if (in my opinion), it didn't work, it was never going back. Just trust me on that one.
When we got home, I got my daughter settled while Sean set-up the table. He knew he had one shot to make me a believer.
I came down the stairs, bracing myself. There it was, in all it's cool-toned glory.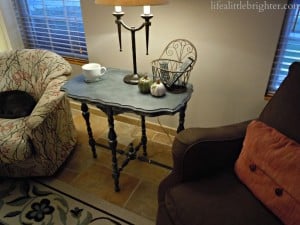 Not…. bad. In fact, it kinda fits… pretty nicely.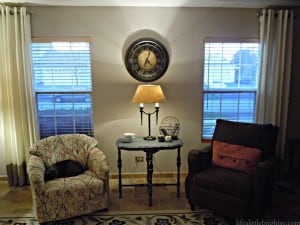 And it definitely fills the space better than the other table.

I'm starting to see why Sean gravitates towards the antiques. I mean, I love IKEA, but you don't see details like this from them: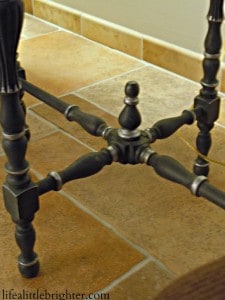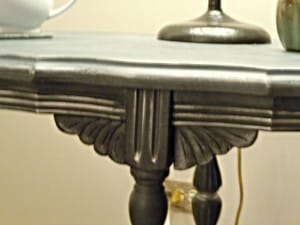 Ok, I admit it, I fell in love with this table. It looks like it belonged there all along.
The point of my story? Sometimes husbands have a good hunch.