I know… this time of the week I'm typically counting down my five things. But I got busy and blahblah, here's a Birchbox.
Enjoy!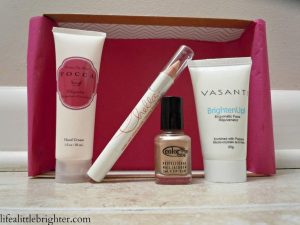 Not pictured: Chuao Orange Chocopod, because… yum.


Chella Ivory Lace Highlighter Pencil:

I wasn't super excited about another highlighter, since I'm still using the Benefit one. I really only use highlighters on special occasions (like nights out or holidays) so it's lasted me a long time. I like that this one is a pencil, so it's easy to control.

Color Club in Top Shelf:

Great color. Probably the best one I've ever gotten in a Birchbox. I want to try one coat on my nails, I'm guessing it'll be a pretty gold shimmer.

Tocca Creme da Mano in Cleopatra:

Love to get lotions in Birchbox. Perfect little pick-me-up. Works well, smells nice. Mmm grapefruit.

Vasanti Cosmetics BrightenUp! Enzymatic Face Rejuvenator:

I like the concept, it's kind of an upgraded scrub. I used it with a washcloth (poor man's Clarisonic) and my skin has never felt so soft. Really.
Oh, and this one should definitely be used in the shower. Lots of exfoliating granules=monsoon on your bathroom countertop.
'Til next month…. oh and I promise to have a "Five Things" next Friday. In the meantime, make some pumpkin pasta.