We finally did it. Well, one of us did it.

Sean finished painting the trim and shutters of the house.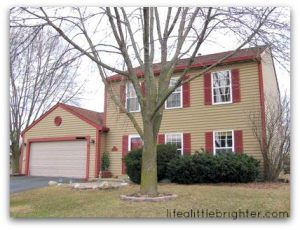 The realtor took this picture. It was how we found our house online. I liked the two-story traditional look, but knew I wouldn't stick with the red. I'm just not a huge fan of the color. And it was everywhere.

Plus, the sale happened so quickly, and most of our showings took place at night (courtesy of Sean's schedule) that I didn't notice that the front shutters were missing until we bought the house.

Like, gone. And in their place were these dark marks because the rest of the house color had faded around the shutters. It looked terrible.

I would moan and groan about it to Sean, but there wasn't an easy solution. You can't just go buy a set of shutters in red and magically have an exact color match. We were going to have to pull down all the shutters, repaint them, and reattach them. No small job, Sean assured me.

So, after painting the entire inside of the house, he finally found the time & the energy to do the outside.


Behold, work-in-progress photos.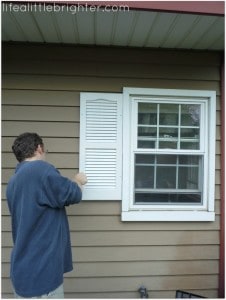 I wanted white shutters in the beginning, but after Sean painted this one, we both decided that black would pop better.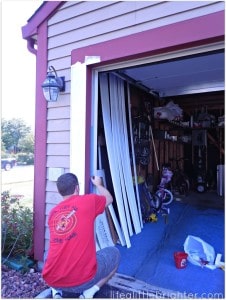 We have this strange kind of blue pad in our garage. When we first moved in, we swore it was getting ripped out ASAP, but then we started doing a ton of painting in the garage… and saw its purpose. So it'll probably stick around a bit longer.
We initially painted the medallion (is that the proper name?) black, but ultimate decided that it looked better white.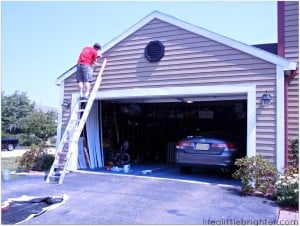 Using a really tall ladder to get to the top of the house. These reverse-fade marks were the eye-sore around my front door for a while. Ugh.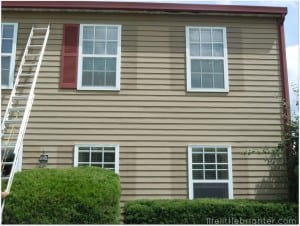 Freshly painted shutters….looking better already!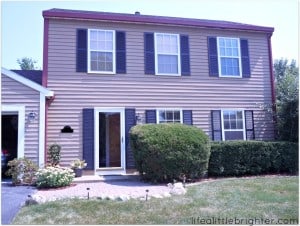 I'll mention here that there was a couple months between shutter painting & trim painting. Our house looked really dark with red trim and black shutters. I was thrilled when Sean started on the trim.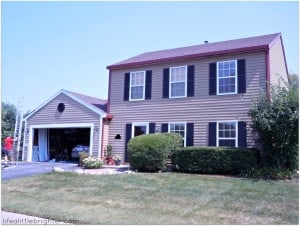 Looking a bit schizophrenic, let's be honest.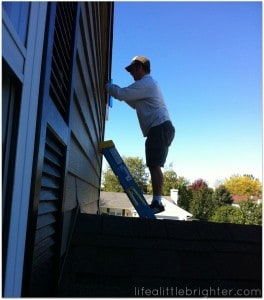 A husband on a ladder on top of an angled garage roof is no fun for the wife. My heart starts racing just looking at this photo. Brave man.
Ok, folks, here we go: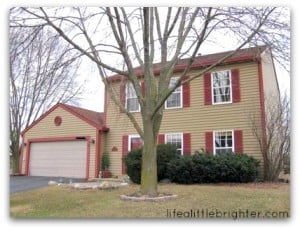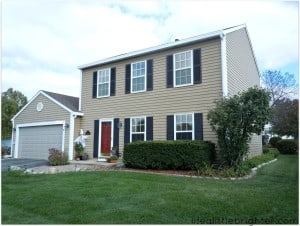 We (again, Sean) will paint the garage door white next season, but a lot of work done, right?? Totally different feel.
Also, some landscaping changes:
-ripped out the front yard tree (darn Ash Bore!!), no small expense, I assure you 🙁
-ripped out the giant bush that was nearly covering our front door- and replaced it with a new one that still needs to grow into its spot
-new mulch, some new smaller plants, and pavers to line the flower beds

All in all, pretty darn proud. A lot of weekend hours, but we saved a fortune by having Sean DIY it.
Now our projects come back inside the house for the winter. Brrr.
P.S. The Pillsbury-dough-boy-looking creature by the front door was a ghost for Halloween. Not a permanent fixture.