If you're in the Midwest or have friends/bloggers on FB/twitter who are in the Midwest, you know that it snowed this week. For the second time.

It is still fall, right? For like, at least another week.

I'm rebelling and making pumpkin-flavored foods until I'm forced to acknowledge that it gets dark at 3pm.

Plus, this dish? Not to be skipped when you can only buy cute little mini-pumpkins for a few months a year.

It screams Fall (in a delicious way) and is on a short list of meals Sean and I both like.

Let's get started. Chop up a pie pumpkin or "sugar" pumpkin. I would let it hang out in your kitchen for a few days so it softens up a bit. Otherwise, OUCH.

Mix pumpkin in a bowl with brown sugar, olive oil, salt & pepper.
Scatter it on a cookie sheet covered in parchment (not wax paper) and pop it in the oven to roast.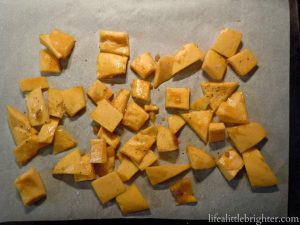 Meanwhile, shred some parm & chopped up your sage. I try to cut corners whenever I can with herbs, but not this time. Fresh sage only since this ingredient is in the spotlight for this dish.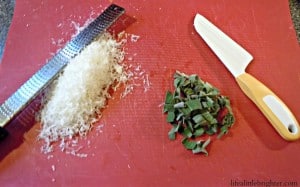 Roast until pumpkin looks like so…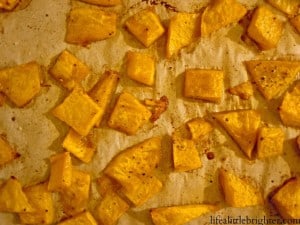 Don't worry, the parchment makes it super easy to scrap the pumpkin off.

Tear or cut up the prosciutto and the sage, and cook it in a skillet. Smells soooo good.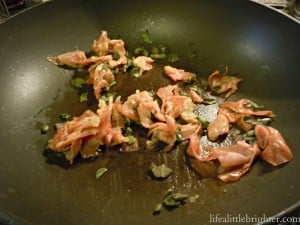 Boil your pasta (broken up lasagna noodles work best for this) then add the ingredients together in a big wok/skillet. Add the egg (yes, an egg) to help everything stick together.
Top with more Parmesan and nutmeg, to taste.
I present to you, Fall in skillet.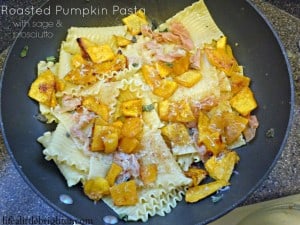 Roasted Pumpkin Pasta
Ingredients
4 cups peeled and seeded pumpkin, cut into 1 cubes (about 1 pound)

1 Tbsp. brown sugar

1 Tbsp. extra-virgin olive oil

1/2 tsp. ground black pepper, divided

Kosher salt

1/2 pound lasagna noodles, broken into 3 to 4 pieces

About 1/3 pound prosciutto, chopped or torn into pieces

3 Tbsp. chopped fresh sage

1 cup finely grated Parmesan cheese, plus more for garnish

2 egg yolks

1 tsp. nutmeg
Directions
Preheat oven to 400°. In a large bowl, toss together pumpkin, sugar, oil, 1/4 tsp. pepper, and 1 tsp. salt; transfer to a large, parchment-paper-lined baking sheet and roast, stirring occasionally, until tender and golden brown, about 35 minutes.
Bring a large pot of salted water to a boil, add noodles, and cook until al dente, 8 to 10 minutes. Reserve 11/2 cups of the hot pasta water, then drain pasta.
Meanwhile, cook prosciutto in a large, deep skillet over medium heat until deep golden brown and crisp, 10 to 12 minutes. Add sage and cook, stirring often, for 1 minute. Remove skillet from heat, then add pasta, 1 cup reserved hot pasta water, Parmesan, egg yolks, and remaining 1/4 tsp. pepper. Toss well to coat pasta with cheese and egg. Gently fold in reserved pumpkin and sprinkle with nutmeg and Parmesan.
Shared at Savvy Southern Style