Holiday Edition of Five on Friday!
Sean was off work today, so we spent the day relaaaaxing with the Boo. It was perfect after the Christmas madness.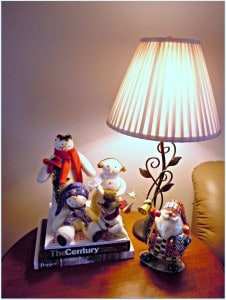 A lot of our Christmas decorations are non-breakable, for now. When I was teaching, my principal used to cover our faculty table with holiday-themed stuffed decorations as a fun holiday gift, so I have tons. It was kinda fun to come into work and see that once a year. Brings out the kid in you. My daughter set-up this snowman vignette and made me proud.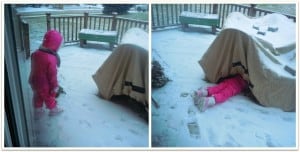 Couple of inches of snow= one happy Boo. She's such a cute little pink puff. I never thought of our lawn furniture cover as a tent, but hey.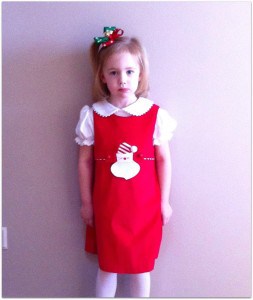 My daughter, heading off to North Pole work camp. Kidding! This was right before we went to see Santa. She was actually thrilled to see him, see below….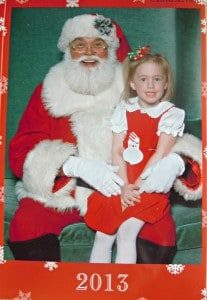 Best smile we've ever gotten from a Santa pic. She's all flushed because she was embarassed/excited to meet him. Awwww. Oh, and the patch on her elbow is eczema. Anyone have a miracle cure for that? We've had some success with vaseline and hydrocortisone creme.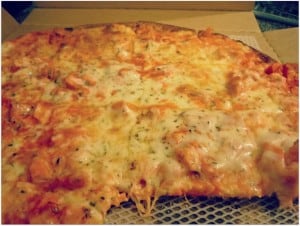 Sean was working late one night, so I took full advantage and ordered a pizza he'd never eat. BUFFALO CHICKEN. It's amazing. If you are a fan at all of such things, and live in Chicago, you OWE it to yourself to order one from Rosati's. The menu describes it as having a "ranch dressing" base. That's right. Ranch dressing instead of tomato sauce. Yumm.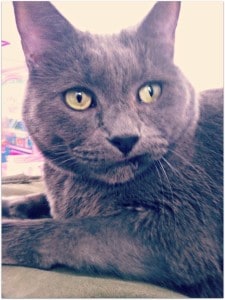 My poor snaggletooth kitty. When we adopted him, he had been living outdoors for the beginning part of his life, and had some issues, including a tooth that needed to be pulled. Without that canine, his lip sometimes gets caught on the gums and his tongue sticks out. I mean, how funny?? It makes him who he is:)
Enjoy your post-holiday weekend, and have fun checking in with the other ladies in the link party!