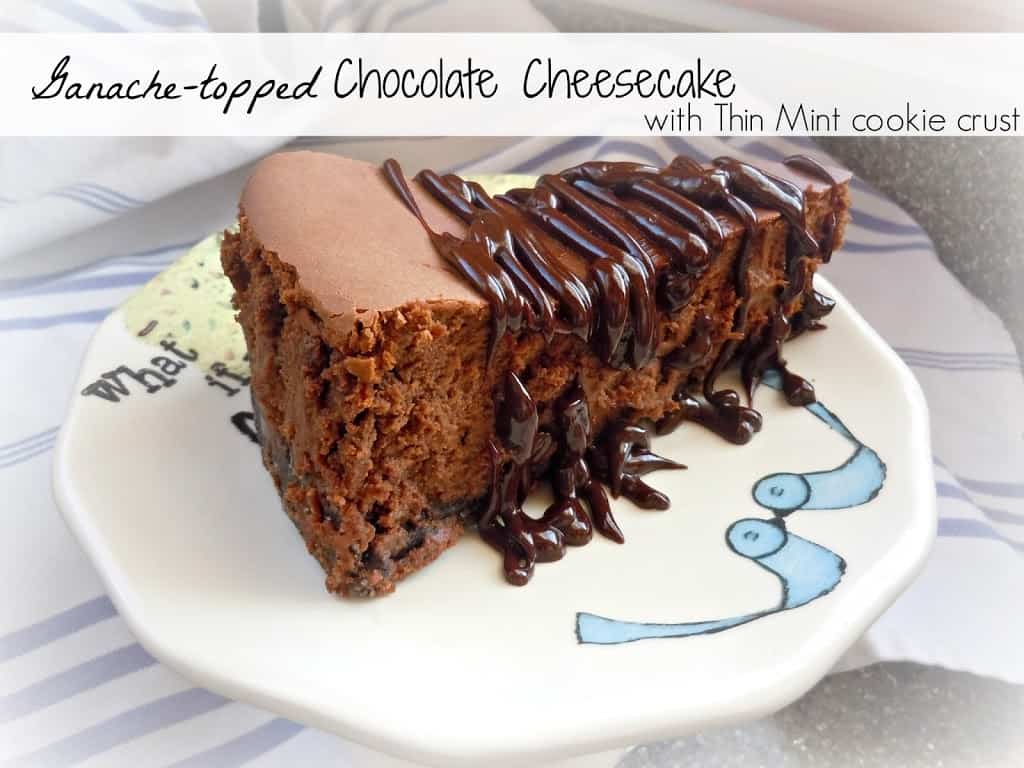 That's a lot of title. But I had to get all the flavors in there…because they are all important.
Let's talk about how this was the first time I've ever made cheesecake.
And I nailed it. As in, right texture, right flavor, and hey- it looked like a cheesecake when it came out of the oven! I called that a winning recipe. No water bath, no fancy oven tricks necessary.
First I mixed some Thin Mints with melted butter to make the crust. ("Grasshopper" cookies work perfect as a substitute) And really, you could use any cookie you love.

I mean, it's just cookies with butter. Simple and just as tasty as it sounds.
Popped that in the oven, and as it cooled, I mixed up my cheesecake filling.
Guys, with each ingredient I got more excited. Cream cheese. Sour cream. Heavy cream.

YUM.
Once the cheesecake was out of the oven…. I whisked up some ganache. So easy.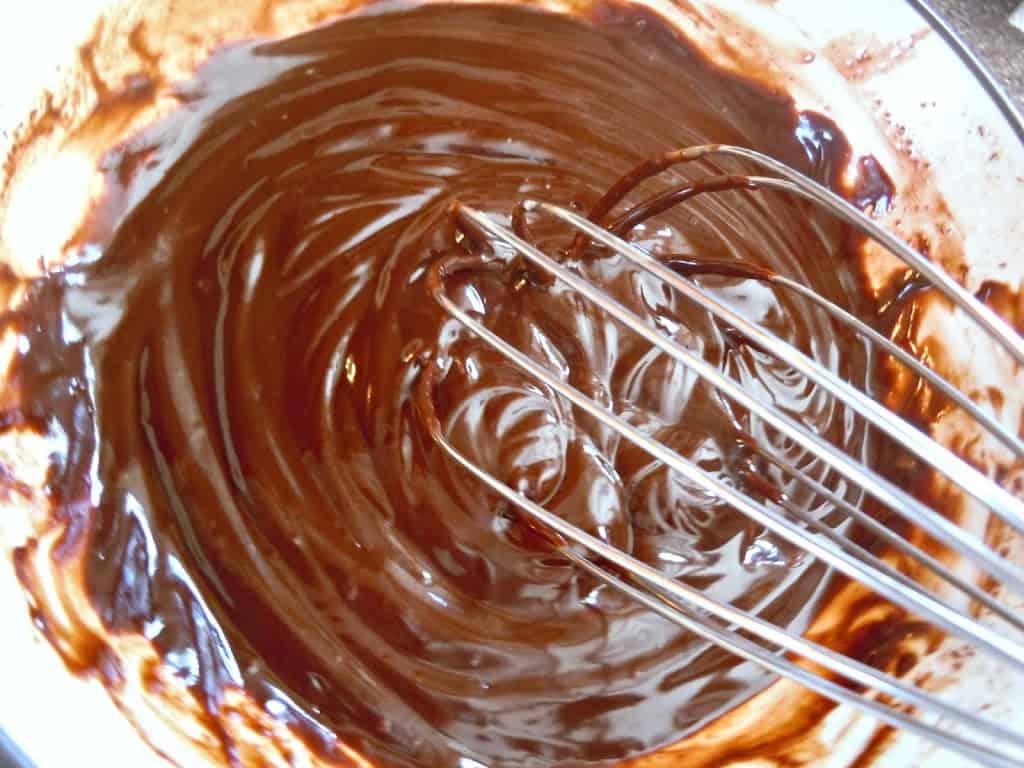 Drizzle it on the cooled cheesecake….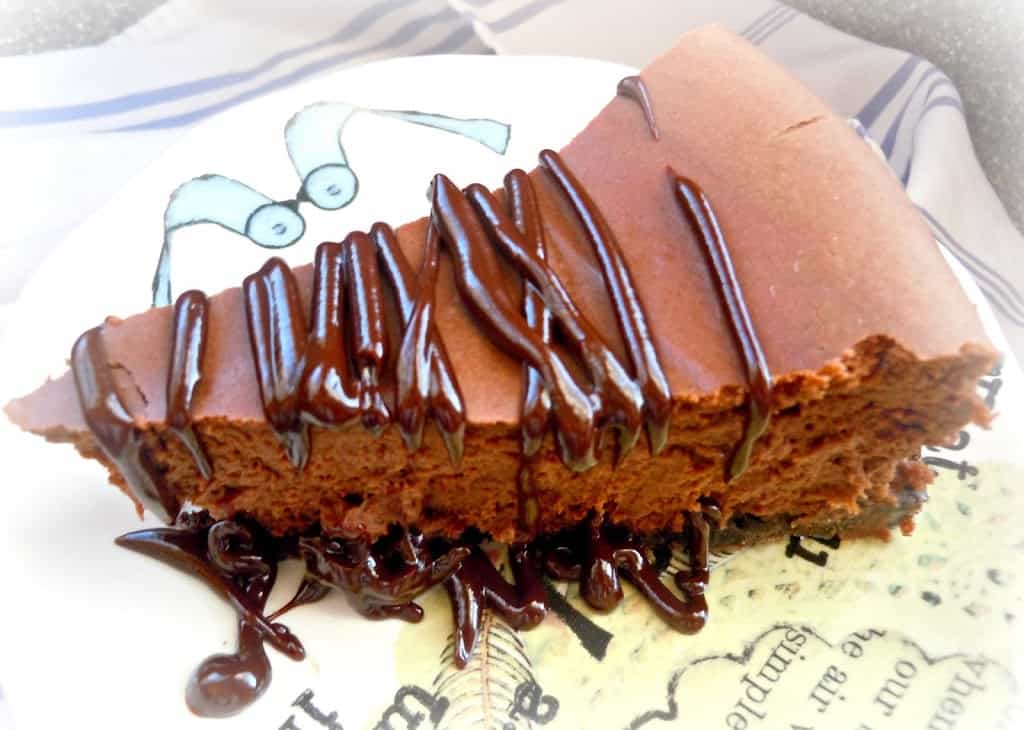 You can eat it room temperature, with the ganache tasting like hot fudge. Or, my personal favorite, throw the whole thing in the fridge for an hour before digging in. The cheesecake becomes creamy and dense, and the ganache becomes a smooth, solid chocolate topping.
I am so thankful that I still have a couple pieces in my fridge….

Ganache-Topped Chocolate Cheesecake with Thin Mint Crust
Ingredients:
Crust:
About 24 Thin Mints
1/3 cup unsalted butter, melted
Cheesecake:
12 ounces semi-sweet chocolate chips
24 oz. (3 – 8 oz. packages) low fat cream cheese, room temperature
1 cup sugar
3 large eggs
1 1/2 tsp vanilla extract
4 ounces semi-sweet chocolate chips
1/3 cup heavy whipping cream
1 tsp unsalted butter, at room temp
Preheat oven to 350 degrees with rack in center of oven.
For the crust: In food processor, combine thin mint cookies and melted butter. Spread the mixture evenly over the bottom of a 9″ cake pan. Bake in the oven for about 10 minutes. Remove and let cool.
For the cheescake: Microwave 12 oz. of chocolate on high until completely melted and smooth, about 2 1/2 minutes. Set aside to cool slightly.
Use a stand mixer to beat the cream cheese until smooth.
Gradually beat in the sugar. Add the melted chocolate and beat until incorporated. Scrape down the sides of the bowl as needed along the way. Add the eggs, one at a time, beating well after each addition. Add the vanilla and sour cream and beat until mixed well and smooth.
Pour the filling into the cooled crust and place in the oven. Bake your cheesecake for approximately 50 minutes or until outside edge of cheesecake is firm. Remove from oven and carefully run a knife around the inside edge of the pan to loosen the cheesecake. Let the cake cool.
For the ganache: Place the remaining chocolate in a bowl. Heat the cream and butter in a saucepan over medium heat and bring just to a boil. Immediately pour the cream over the chocolate and stir until smooth. Let the chocolate cool for a few more minutes, then using a spoon, drizzle it all over the cheesecake.