I am a member of the Collective Bias® Social Fabric® Community. This shop has been compensated as part of a social shopper amplification for Collective Bias and its advertiser.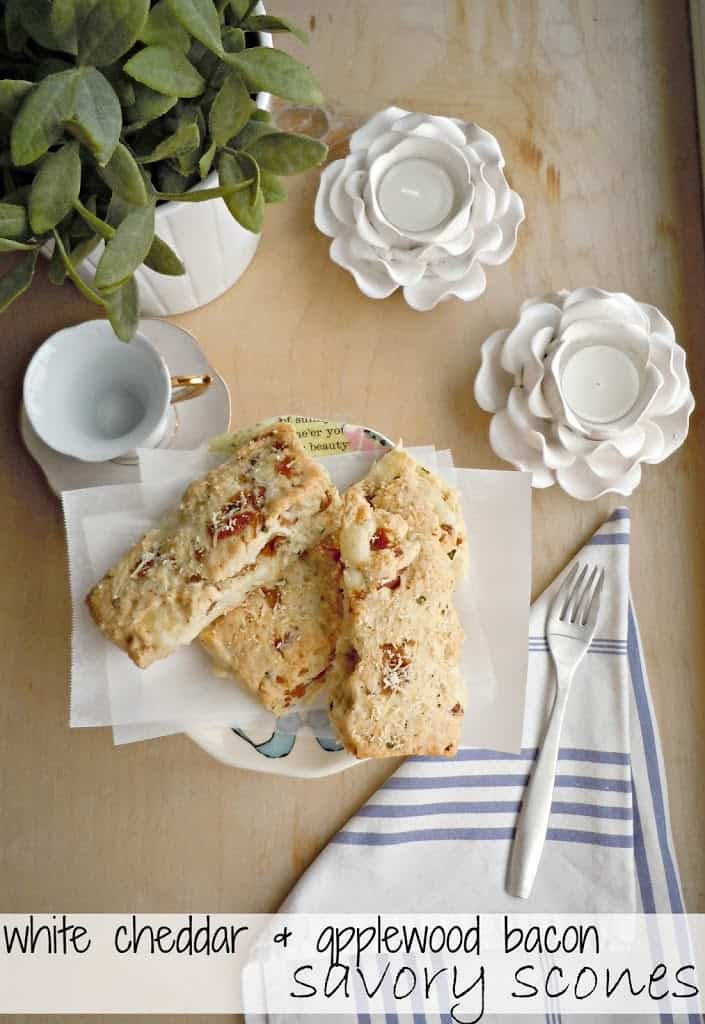 I. Love. Scones. Favorite breakfast pastry, hands down. So simple to make; I almost always have the ingredients on hand. I have a few sweet recipe favorites, like these, but I also love the savory scones I make every year for Easter brunch. It's all the delicious flavors of bunch tucked into a buttery, crumbly scone. The white cheddar and applewood smoked bacon are the stars of the show, and I headed straight to Mariano's Chicago Deli to pick up the perfect ingredients.
Have you guys been to a #MyMariano's before? It's like, a shopping experience. Aisles and aisles of specialty foods. I went in search of white cheddar cheese, and found an entire "wine & cheese pairings" section. I lost count after seeing 10 types of white cheddar cheese. Yes.
I also had several brands/types of applewood smoked bacon to choose from….and got a great deal on it, thanks to the rewards card.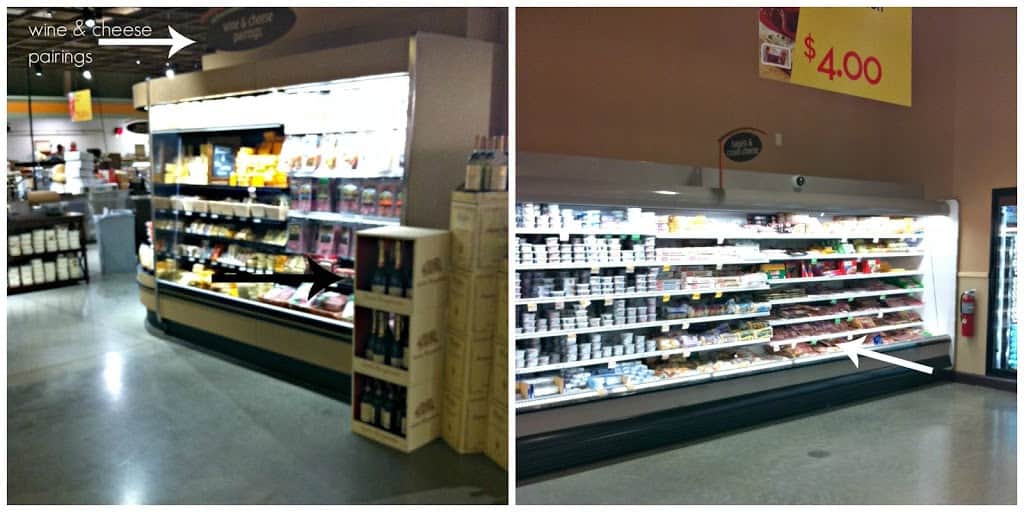 #CollectiveBias
I think I chose well–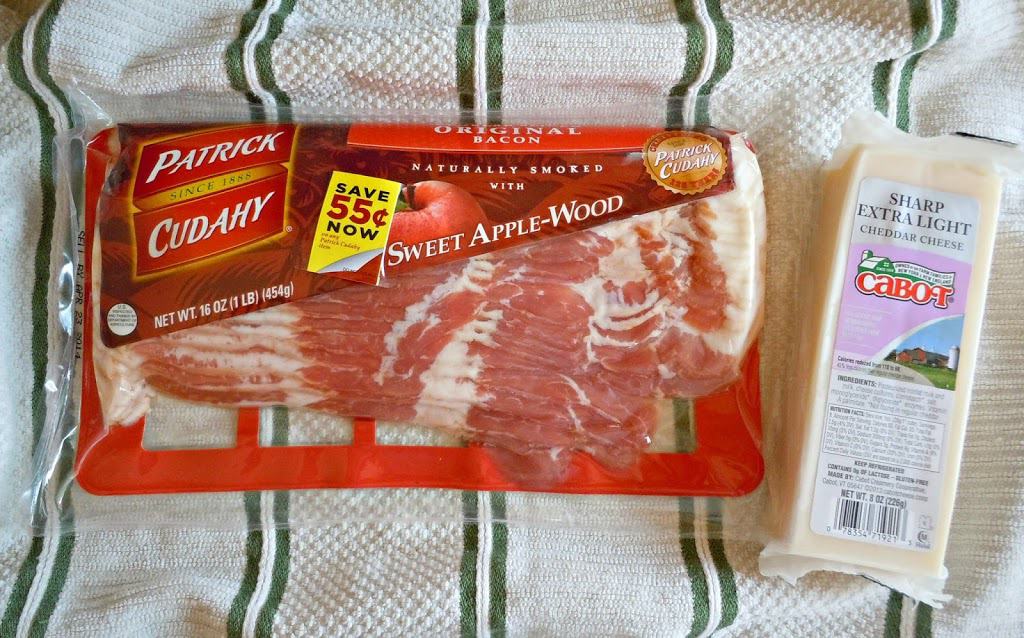 Have to get the extra sharp cheddar, always.

I'll just let the picture speak for itself here… yum. You can shred the cheese, but I prefer larger, flavorful chunks in the scones. Holds its own against the bacon.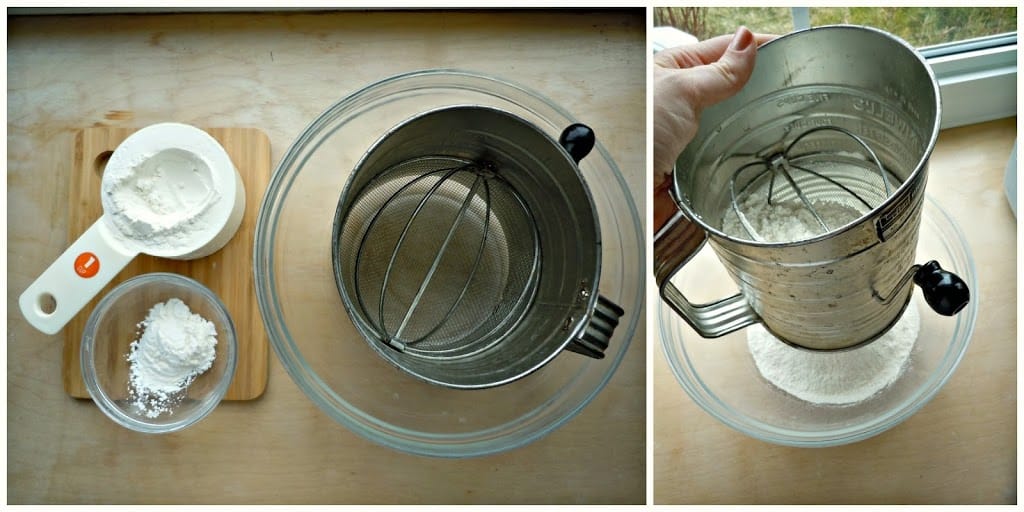 This recipe calls for using regular flour and cake flour. If you don't have cake flour on hand, use this easy trick: for every cup of flour, take out 1 Tablespoon & sub in 1 Tablespoon of cornstarch. Sift and done. Super smooth flour perfect for crumbly scones!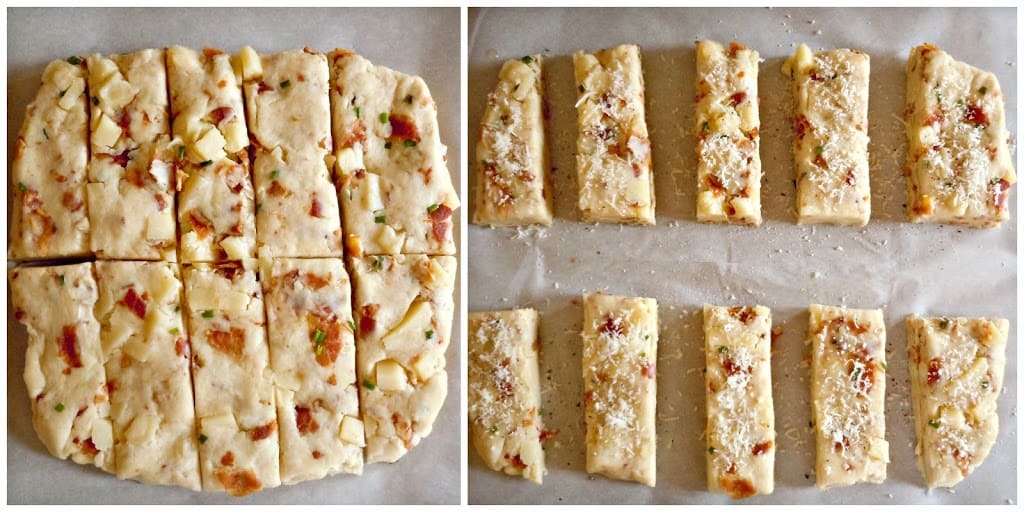 Mix wet & dry ingredients in mixer, add the bacon/cheddar/chive concoction, and form into a 5 x 7″ rectangle on a parchment paper-lined baking sheet.
What's the topping, you ask? Brush on leftover bacon grease, then sprinkle on pepper, sugar (yes!), and shredded cheddar. Let's face it, the crunchy top is the best part of a scone.
Bake at 350 degrees for 27-29 minutes, and dig in. Your family will love this one.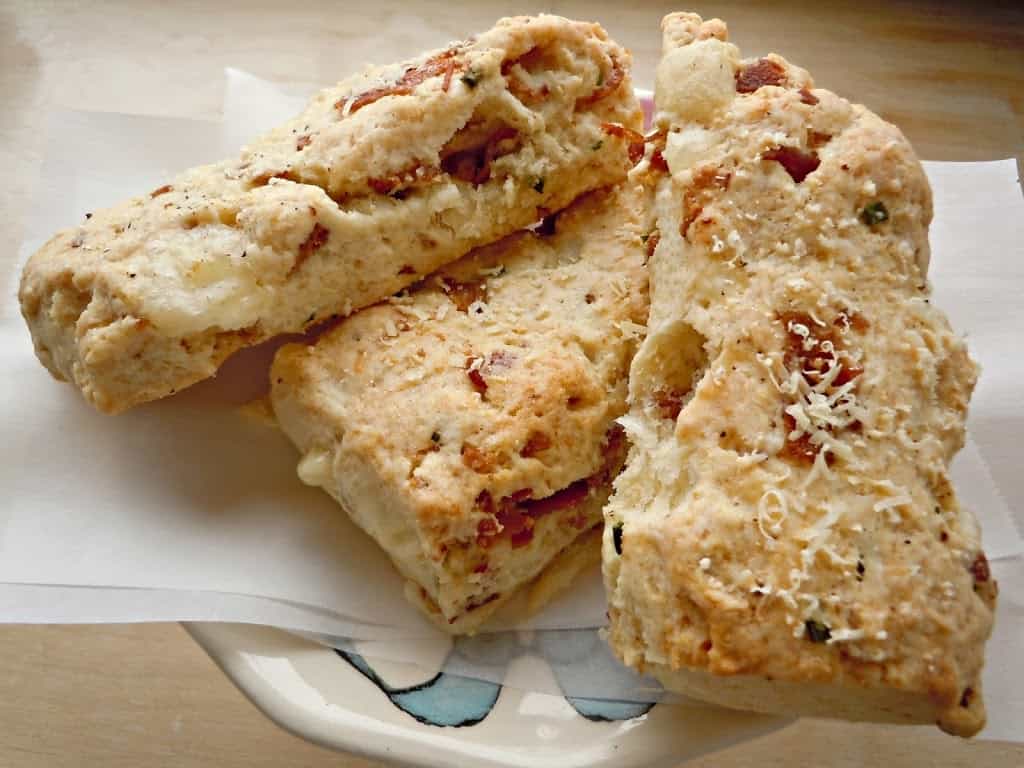 Brunch is served.
Tell me, do you do a traditional Easter brunch? Dinner? In our family, my mom hosts and cooks a giant ham, and the siblings bring their favorite dishes. I love these scones, obviously, and some sort of egg casserole. We also have salads, other baked goodies, and a sausage casserole. What are the sides at your Easter table?
White Cheddar & Applewood Bacon
Savory Scones
Serves 10
Ingredients:
12 oz. applewood smoked bacon, drained & cut into 1/4 pieces, drippings reserved
3/4 cup + 1 teaspoon, all purpose flour, spooned and leveled
1 1/2 cups + 1/2 teaspoon cake flour, spooned and leveled (follow tips above to make cake flour from all purpose flour)
1 1/2 teaspoons + 1/8 teaspoon baking powder
1/4 teaspoon + 1/8 teaspoon baking soda
2 Tablespoons + 3/4 teaspoon sugar
1 and 1/8 teaspoon salt
1 stick + 1 1/2 Tablespoons cold, unsalted butter, cut into 1/4 inch cubes
1/4 cup + 1 Tablespoon heavy cream
1/4 cup + 2 1/2 Tablespoons full-fat, plain Greek yogurt
2 cups white cheddar cheese, grated or chopped into small pieces
1/4 cup chives, minced
Scone Topping:
3 Tablespoons bacon drippings
freshly ground pepper
1 1/2 teaspoons sugar
1/2 cup white cheddar cheese, grated
Directions:
1. Cook the bacon until crispy, but still slightly flexible. Remove to a paper towel-lined plate, let cool, then cut up each strip into small pieces. Reserve drippings for topping the scones.
2. In the bowl of a stand mixer, add the flour, cake flour, baking powder, baking soda, sugar and salt. Use the paddle to gently stir it all together.
3. Cut the butter into small pieces, then add it to the mixer. Mix on low until flour has mixed in and chunks of butter are about the size of peas. Use a knife to cut butter, if necessary.
4. With mixer running, add cream and Greek yogurt.
5. Add bacon, 2 cups of cheese, and chives. Mix to incorporate.
6. Preheat oven to 350 degrees.
7. Scoop mixture out of mixer and place onto a parchment paper-lined baking sheet. Using hands, form into a 5 x 7″ rectangle.
8. Cut rectangle into 10 smaller rectangles. Brush scones with pastry brush & bacon drippings. Top with black pepper, sugar, and shredded cheddar cheese.
9. Bake until golden brown, about 27-29 minutes. Let cool. Best served the day they are baked, can be stored in a covered container for 1 day.
For more information on Mariano's: