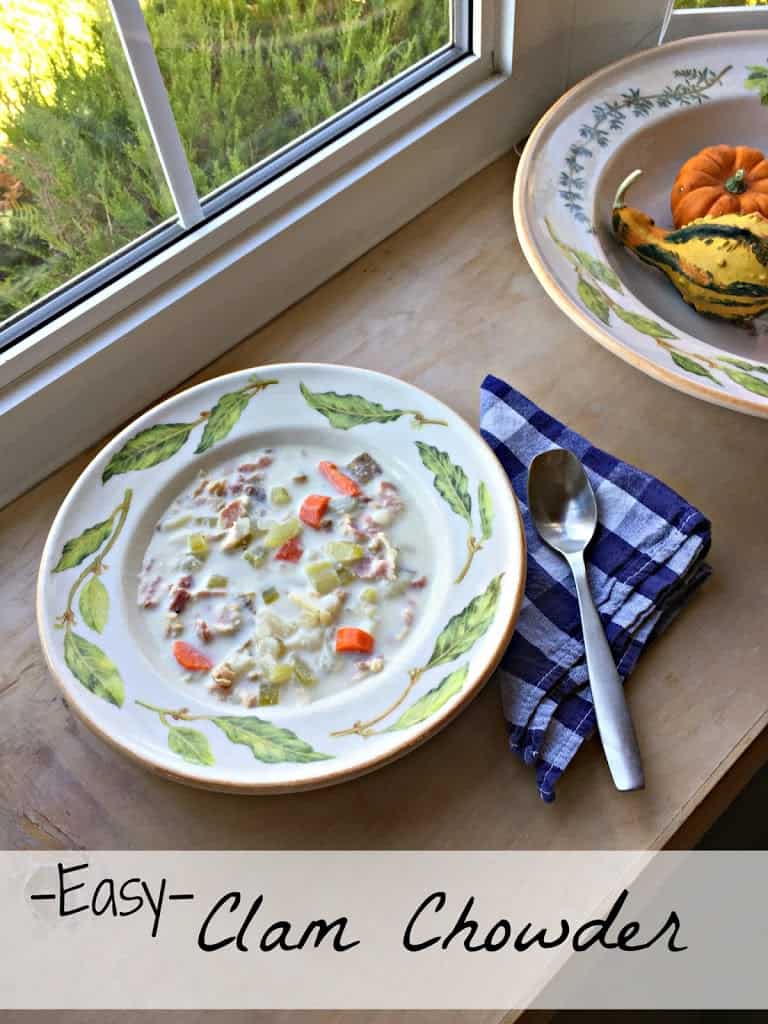 When I look back at my past blogs, I see a whole of a lot of "Easy" labels on my recipes. Like, a lot.
I guess it's not that big of a deal. When I go searching for recipe inspiration on pinterest or wherever, I look for recipes that will get me to the goal of yummy food with minimal effort involved.
I mean, I'm a mom. I'm lucky I can get a decent dinner on the table every night of the week.

And I'm figuring that if you're here, you're probably in a similar situation. So let me assure you, this is no-fuss clam chowder.
No trips to the fish market, no bechamel to brew up, nothing fussy.
In fact, you can really throw any veggies in here that you like, have around, etc. Even frozen veggies would work just fine.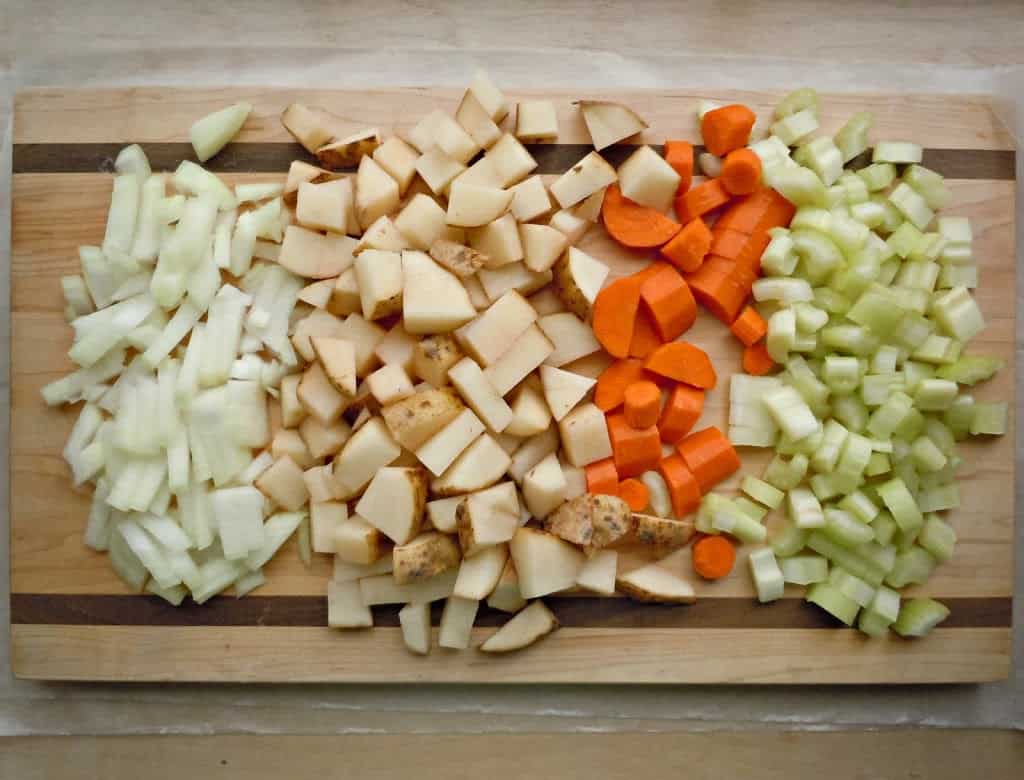 I took about three photos of this meal because I was fighting the fading daylight. The autumn equinox is tough on bloggers, you guys.
In other news, we can all start eating like we're getting ready to hibernate again.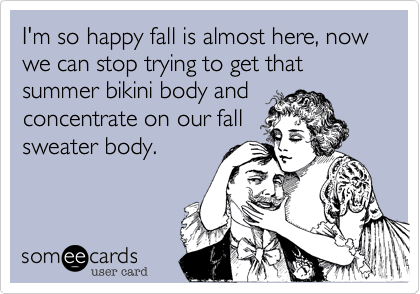 In our dark, cold houses….AHEM.
But, I shouldn't be complaining at. all. We just had a 75 degree day in Chicago. Alyssa and I laid on our backs in the grass this afternoon and picked out the prettiest leaves we could find in the backyard. My daughter is practically a different person these past two months. Kindergarten has made her into a-dare I say it-mature five year old. Yep, there is a thing. And it's asleep right now in footie pajamas. But I'm telling you, she has changed more in the past two months than in the last three years of her life. If your child is starting school next year, get ready. These kids learn fast these days.
So pull up a chair, and let them help you to make this one. It's a breeze, and so yummy for the colder months.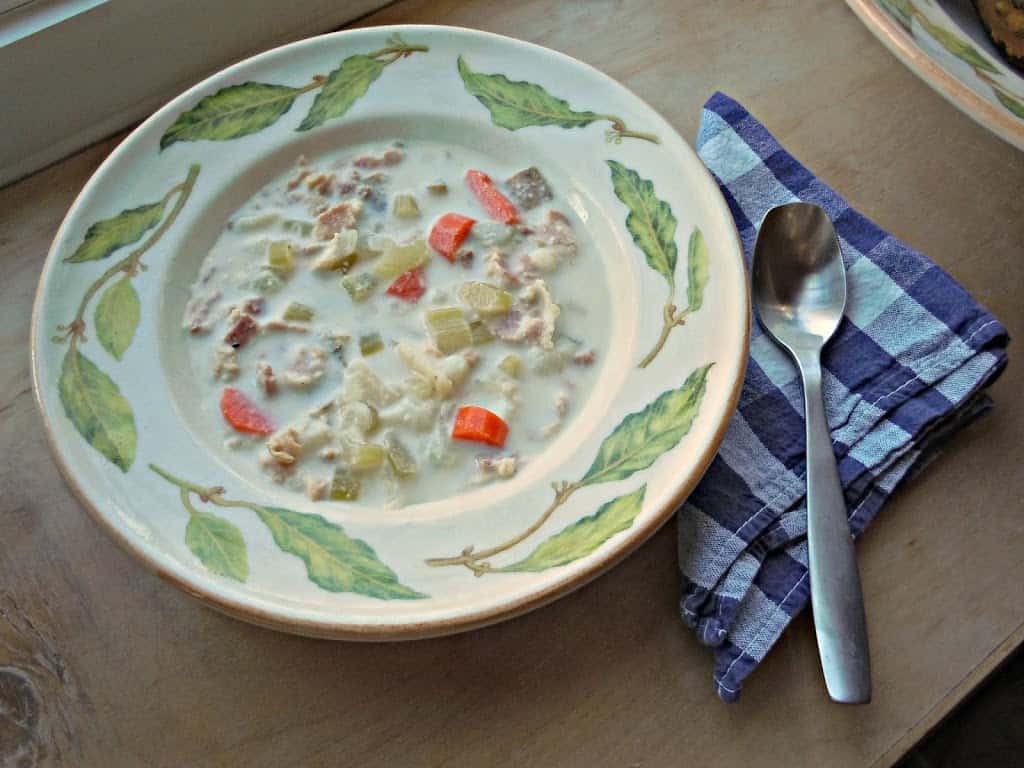 Easy Clam Chowder
*Adapted from a recipe from The Great Christmas Bowl, one of my favorite cozy Christmas stories.
Ingredients:
8-12 strips bacon (cut into squares before browning- I use kitchen scissors and cut a bunch at a time)
1 medium finely chopped onion
3 stalks celery
2 potatoes, chopped
2 cups water
1 1/2 cups milk
2 1/2 cups half-and-half (full fat)
2 or 3- 6 oz. cans minced clam (add more or less to your liking)
dash nutmeg
salt & pepper
Directions:
1. Heat a large soup pot to medium on the stovetop.
2. Brown bacon until crisp, remove from pan.
3. Brown onions in bacon fat; saute celery.
4. Add water, salt, pepper, and potatoes.
5. Cook until potatoes are tender. (Can mash some in the pot to make a thicker soup)
6. Add clams (with juice).
7. Add milk, half-and-half, and bacon; heat through.
8. Garnish with nutmeg. Enjoy!
*Goes really well with the rosemary bread