Curious about What To Buy at ALDI? You'll love saving money on groceries at ALDI. Check out this list of must-buys and items to skip over at ALDI. Plus, answers to some FAQ's about your first trip to the store!
I've been shopping at Aldi for almost four years now, and I am a total convert. I love the deals! I love telling my husband how much money we've saved each week– we basically cut our grocery bill in half. I know!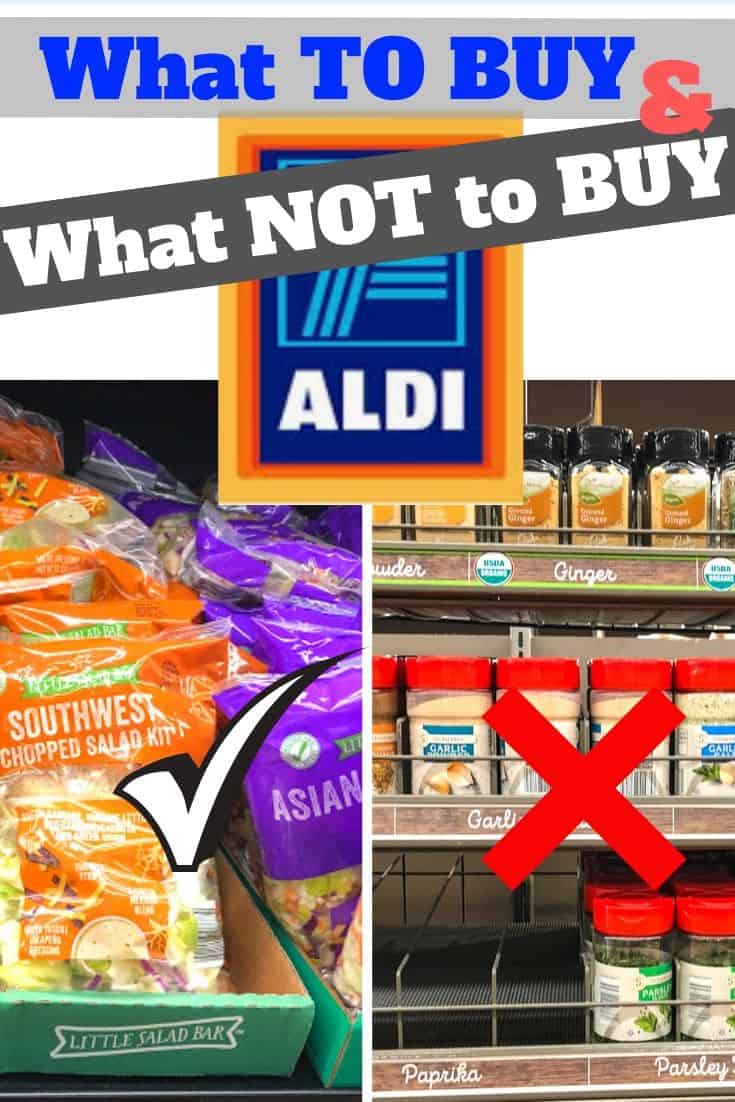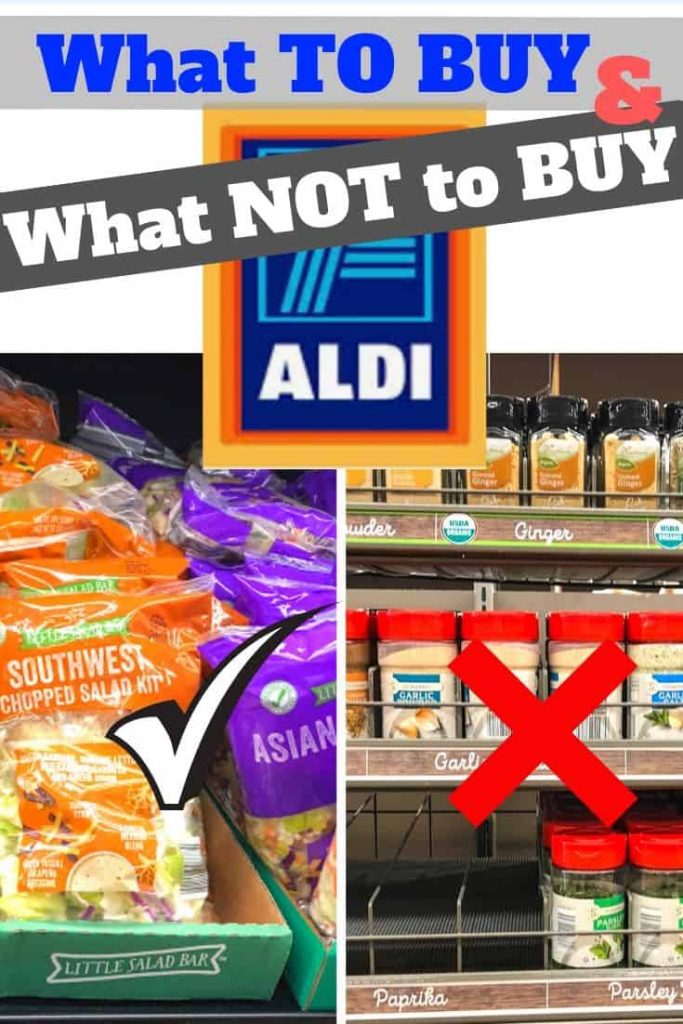 WHAT DO I NEED TO KNOW BEFORE SHOPPING AT ALDI?
Bring reusable shopping bags and a quarter! At ALDI, you bag your own groceries (some people even prefer this!), but it means that you need to bring your own bags. If you forget (or don't have) them, they have plenty of empty boxes in the bagging area that you can use.
The quarter is used to "rent" a shopping cart. Pop a quarter in to use the cart and get your quarter back when you return the cart. It's an easy way for ALDI to make sure that everyone returns their carts (and so they don't have to pay employees to do it).
Also, ALDI does not accept manufacturer's coupons on products. Their in-store prices are as low as they'll go– unless, of course, they have a flash sale.
IS WALMART CHEAPER THAN ALDI?
No, typically ALDI is cheaper than Walmart.
WHAT ARE THE BEST DAYS TO SHOP AT ALDI?
Weekday are the least busy, and Wednesdays are the days when the new specialty items are stocked.
IS ALDI FOOD GOOD QUALITY?
Yes! It's often brand named products under the ALDI name. Sometimes the portions are smaller, but the price always reflects that.
Best Things to Buy at ALDI
SNACKS
They have some great buys here, though sometimes I have to speed-walk through this section, so I don't end up with four bags of chips! The quantity of chips in the bag can be skimpy, but the price reflects that.
sweet potato chips (seasonally they have them with cinnamon sugar- yes!)
salt & pepper kettle chips
Pringles
tortilla chips (specifically the brown paper bag ones, the only brand I'll buy)
Pub Mix (comes in a canister) completely addictive
pita chips topped with parmesan and other goodies
granola bars- my daughter eats a ton of these, and can't tell the difference from the name brand
salsa–we love the Simply Nature (organic) brand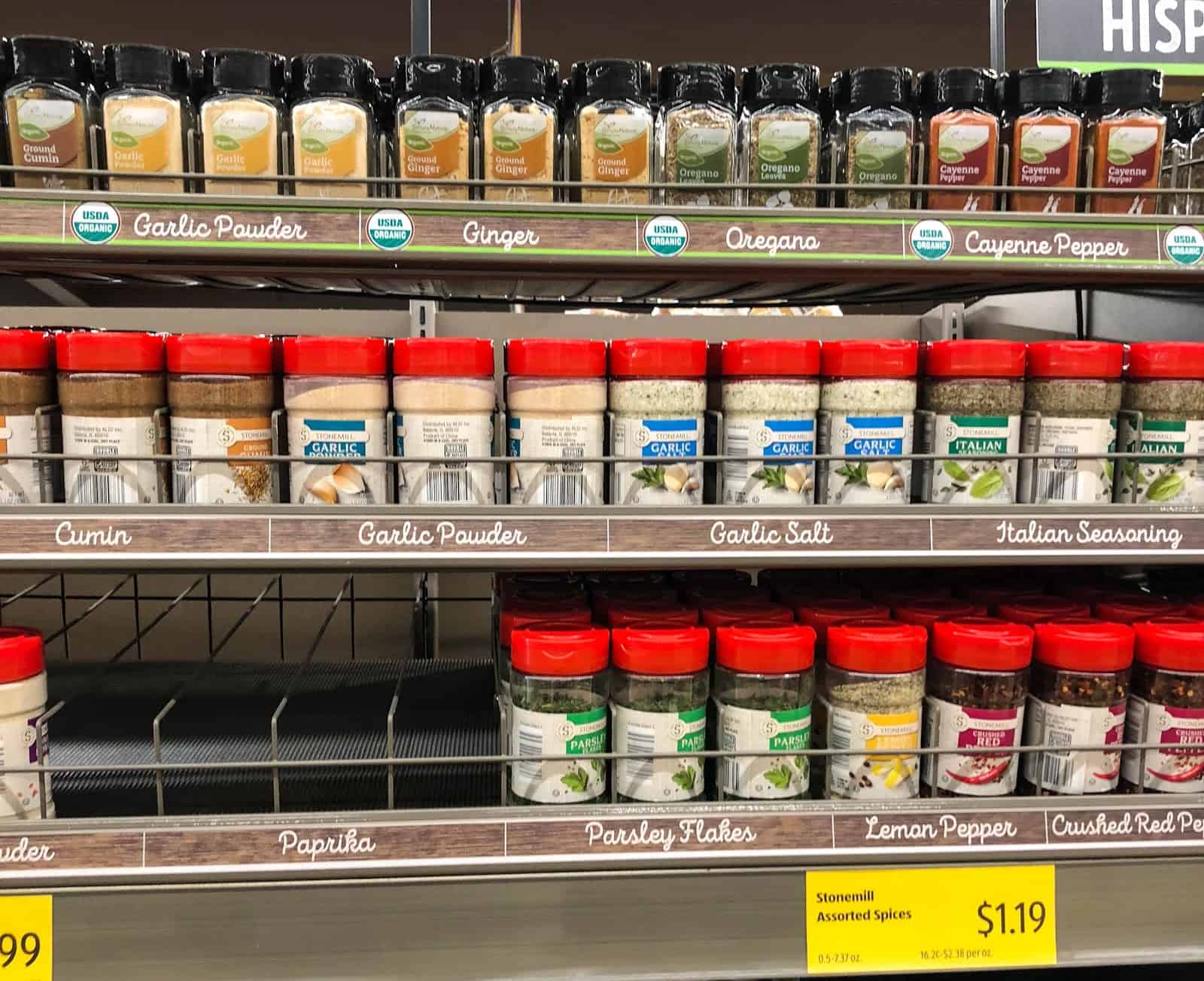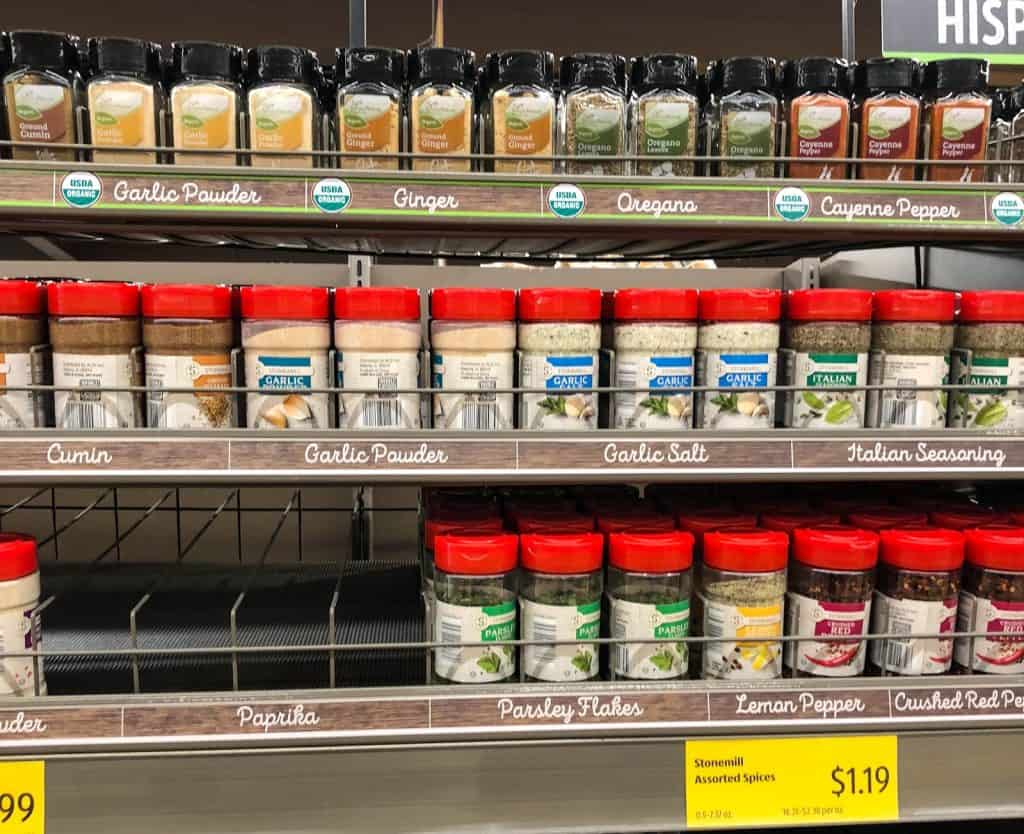 BAKING ITEMS
Most items are really good deals, like the baking basics and nuts.
I love to check their seasonings section for generic cinnamon, salt, chili pepper, etc. It's a small section, but such savings to be found! Be cautious though, some seasonings have tasted off to us. Garlic salt in particular.
I made their blueberry muffin mix one time, and it was fine. I can't vouch for any of their other mixes.
-baking basics: flour, chocolate chips, vanilla extract, etc.
-oils: coconut, canola, vegetable, olive
-bags of nuts
-hazelnut spread, aka "Nutella"
Avoid the peanut butter, it just tasted burnt to us.
CEREAL
We're a big fan of generic cereals in my house. They taste just as good to us. Have you noticed how the price of cereal has gone up while the boxes have gotten skinnier and skinnier? And it doesn't seem to matter where you shop, the price is the same for name-brand cereal.
I don't know the generic names for our favorite cereals, so I'll just use the well-known labels.
-Mini-Wheats
-Cherrios (esp the Honey Nut ones)
-Banana Nut Crunch
-Raisin Bran
-granola
CONDIMENTS
We've had really good luck with the ketch-up, mustard, mayonnaise, BBQ sauce, etc. I would wholeheartedly recommend any products from this section. Woohoo!
DAIRY
This section is the #1 reason I shop at Aldi. Awesome prices, no difference in quality to name-brands.
-milk
-1/2 & 1/2- you can get twice the amount for the same price as other stores
-eggs
-almond milk
-shredded cheese (awesome buys to be had here)
-Greek yogurt (always a good deal & can be used in so many dishes or as a healthy snack)
-sour cream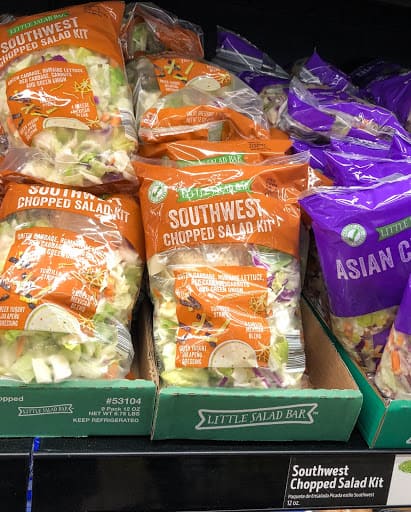 PRODUCE
I'm not a big organic shopper, but they do have a decent selection of it. I tend to stick with the basics: apples, oranges, carrots… and they have great deals on those items.
We eat a lot of salad in our house, particularly spinach. A BIG bag of spinach costs around $2 at Aldi and lasts well over a week. Whenever I grab some spinach for a meal or to make a smoothie, I leave the bag open for about 10 minutes to dry out the excess moisture in the bag. It helps to keep the spinach from going bad.
Really can't go wrong in this section, all good deals. Check when your store restocks the produce, that can make a big difference on the selection when you shop.
BEVERAGES
We only use the Aldi brand K-cups in our house, and LOVE them. My husband prefers the Donut Store variety, while I like the Hazelnut. My favorite thing about the Hazelnut is that it's a medium brew flavored coffee. Most flavored coffees are light brew.
We're mostly straight water drinkers in our house, but lovelovelove the Vie Grapefruit Sparkling Water. If you buy nothing else at Aldi, check out this drink. Not to be missed. You're welcome.
Plenty of kids' drinks in this section too. Great for stocking up for parties and soccer games.
They also have a seasonal Sparkling Apple Cider in a brown glass jug that is to. die. for.
WINE/BEER/LIQUOR
My favorite is The Winking Owl, which is the Aldi wine brand, so I stick with that. They also featured a sweet red wine for Halloween, which I loved.
Good craft beer at a great price!
TOILETRIES
Most of these items are name-brand and the selection varies slightly week to week. A lot of the items are good deals, just watch your price point; sometimes they sell in smaller amounts to bring down the price.
-diapers
-lotion
-deodorant
-sunscreen
-tampons
-toothbrushes/toothpaste
CANNED GOODS
I really haven't had any bad buys in this section. I've heard that their canned tuna is no good, but I've been too afraid to check it out for myself.
-Mexican diced tomatoes (similar to Rotel)
-beans
-diced or whole tomatoes
-"cream of" soups
-chicken or beef stock
PASTA
-jars of pasta sauce– haven't hit a bad one yet. Nothing fancy, but perfect for using in lasagnas, spaghetti, etc. I spring for the Simply Nature Organic brand since it tastes the best & is still inexpensive.
-pasta—again, just basic pasta, but good. If you're willing to spend another dollar or two, the bronze-cut pasta (in plastic bags) is the best.
-mac & cheese– I was hesitant to try this, after all, kids love the blue box. But my daughter ate it up. Score!
PET SECTION
I loooooove the pet items at Aldi. Cheapcheapcheap litter that does the job, budget-friendly cat food that my pets eat, no problem. I can't speak for the dog food… but I have saved so much money thanks to this section.
HOUSEHOLD/PAPER GOODS
Again, a big money-saver. The garbage bags and sandwich baggies work just as well as their pricier counterparts. I also snag discounted Duracell batteries in this section.
I would pass on the kleenex and toilet paper. They used to have Charmin (at least in the Chicagoland area), but now they just offer the Aldi brand. For us, it's worth it to splurge on name brands for these two items. Especially during the winter time.
GIFT/HOUSEHOLD SPECIALTY ITEMS
I try not to spend too much time here, because a lot of the items are impulse buys. I just glance over and try not to get sucked in. I'm there to buy groceries, right?
On flip side, I have found some really great deals here. We got a standing lamp (yes, lamp) for Sean's office that was perfect. I've also picked up nice fleece blankets, a wooden spoon & bowl set, jar candles, and a wax warmer…all of which I love. It's worth checking out, I just try to look things over carefully before I buy them.
SPECIALTY REFRIGERATED SECTION
Aldi frequently has awesome deals on party items like gourmet cheeses, spreads, and olives. Basics like blue cheese or parmesan are a steal here, and they have fantastic prices on fancier cheeses.
-cinnamon rolls (the jumbo ones taste similar to Grand's!)
-specialty cheeses (vary week-to-week and seasonally)
-cream cheese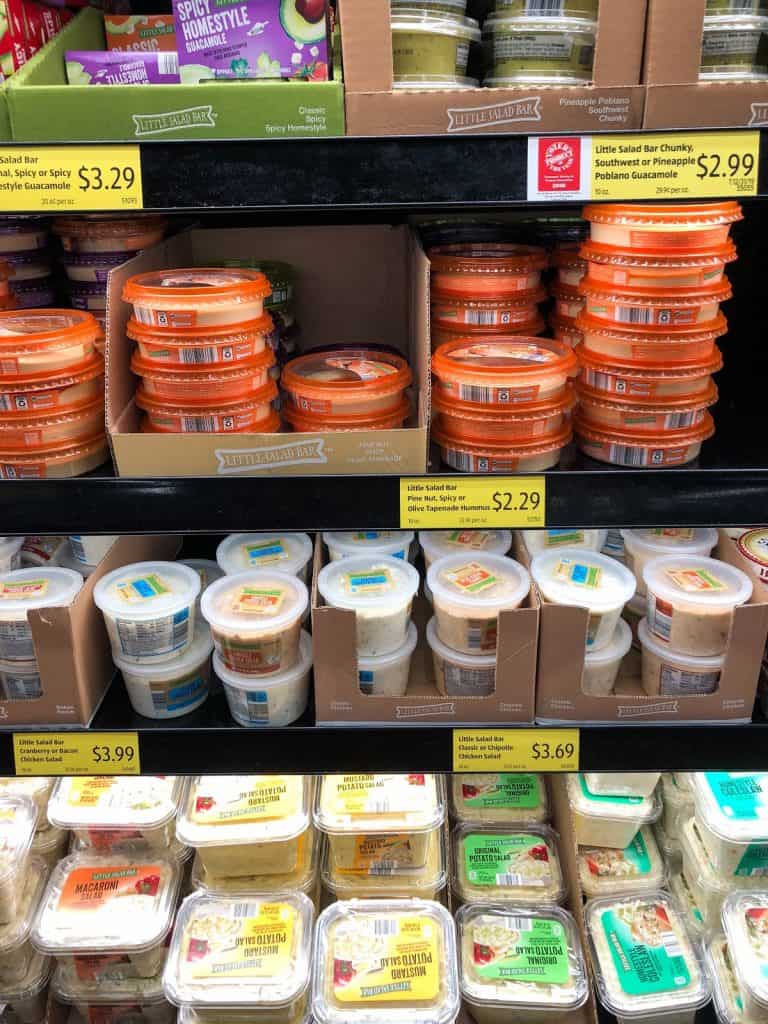 DELI
-hummus– I love the Roasted Red Pepper variety
-sliced cheeses & cheese sticks
-lunch meat
MEAT SECTION
Ever since they came out with the "Never Any" meat brand (no antibiotics, hormones, or animal by-products), it's been our go-to. As with their organic choices, I prefer the "Never Any" brand, and the items still cost less than brand names at other stores.
FROZEN FOODS
This section can also be a bit of a gamble. Watch your prices per weight here, they can be sneaky in this section by packaging less food in a larger container. That being said, there are some definite winners here.
-chicken tenders/fingers (my girls didn't like the chicken nuggets… bummer)
-garlic bread/Texas toast
-pizza- we love Home Run Inn pizza, so I usually buy that, but the big Mama Cozzi's pizza is awesome too (usually found in the refrigerated deli section– like $6 for an enormous pizza).
-ice cream treats
-breakfast items (we love the waffles)
SEASONAL SECTION
A special nod here to the party planning items they stock. Gourmet crackers, cookies, jam, etc. are all good quality at fantastic prices. Again, I would definitely stop here before hosting a party.
They deeply discount their seasonal items the week after a holiday. You can find some great deals, especially if you're buying for next year. (non-food items, of course)
BAKED GOODS
Never had a miss here, although I haven't tried many of the fancier baked goods, like donuts or coffee cake. The cookies are good… not life-changing, but tasty. Last night I actually bought a loaf of bread for 10 cents, so I'm happy with that!
-loaves of bread
-rolls
-buns
And those are our faves! What do you buy at Aldi? Tell me what I've been missing!
To Recap! What NOT To Buy at ALDI:
Peanut Butter, Tuna, and kleenex & toilet paper (unless brand names). Freezer sections and seasonings (baking section) can be hit or miss.
Want more tips for cutting the grocery bill? Check out 3 EASY WAYS TO SAVE MONEY ON GROCERIES.