This is a sponsored post written by me on behalf of DairyPure Milk for IZEA. All opinions are 100% mine.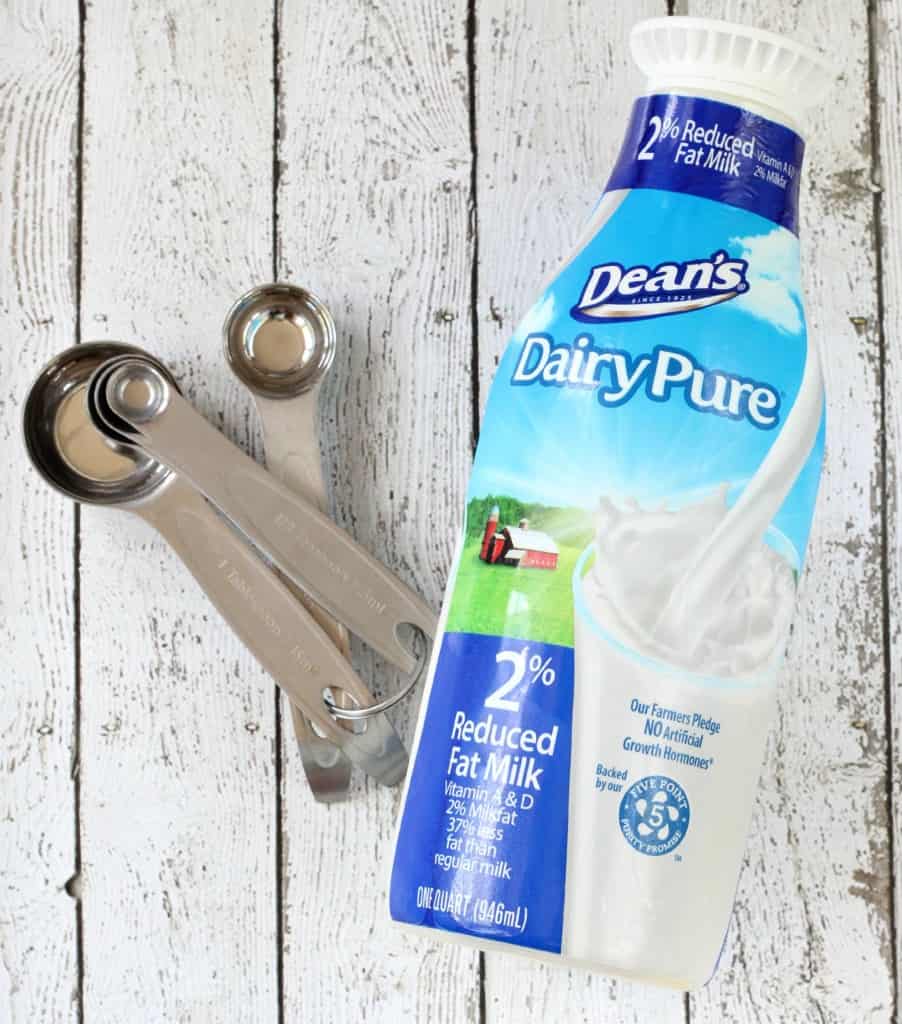 Do I have a treat for you guys today! The perfect cake to go with that milk up there.
TRES LECHES CAKE. Which, in case your Spanish is a bit fuzzy (or non-existent), means Three Milks.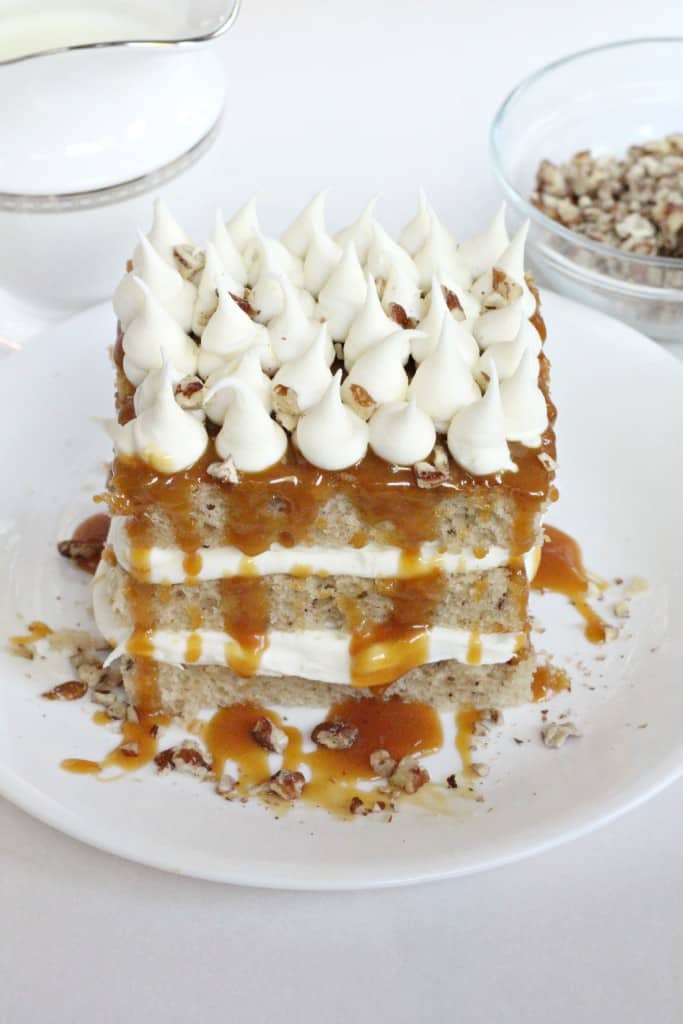 It tastes even better than it looks. Listen to the ingredients: milk (obvi), heavy cream, sweetened condensed milk, caramel… need I go on?
Amazing.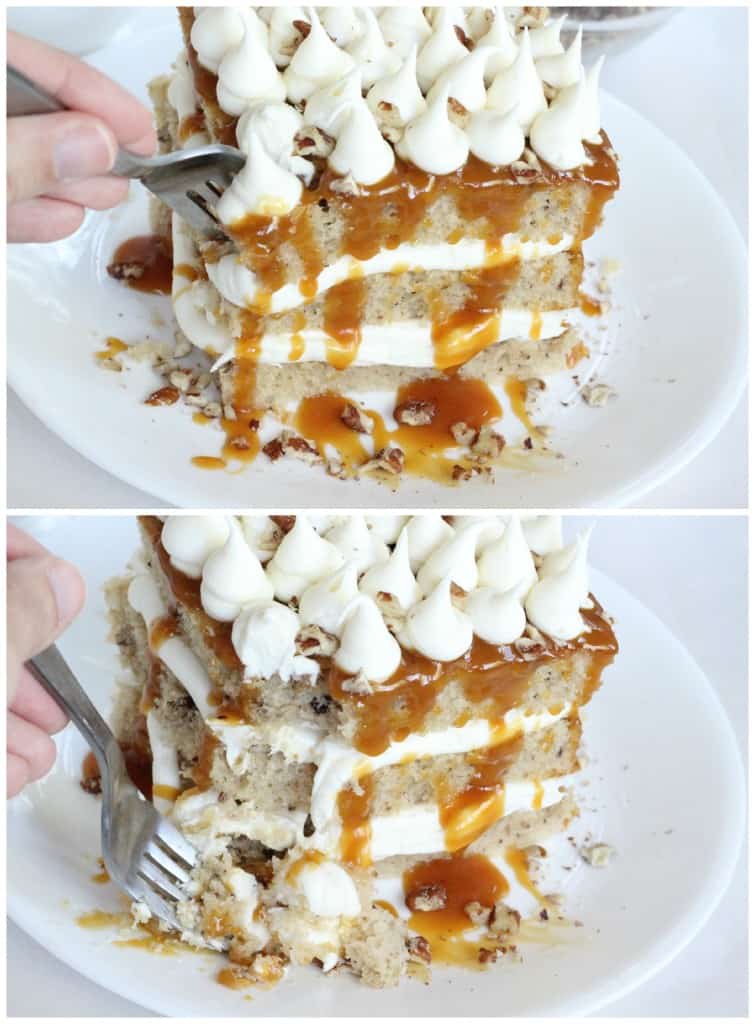 You start out with the basic ingredients for a cake. Pour the milk into the dry ingredients.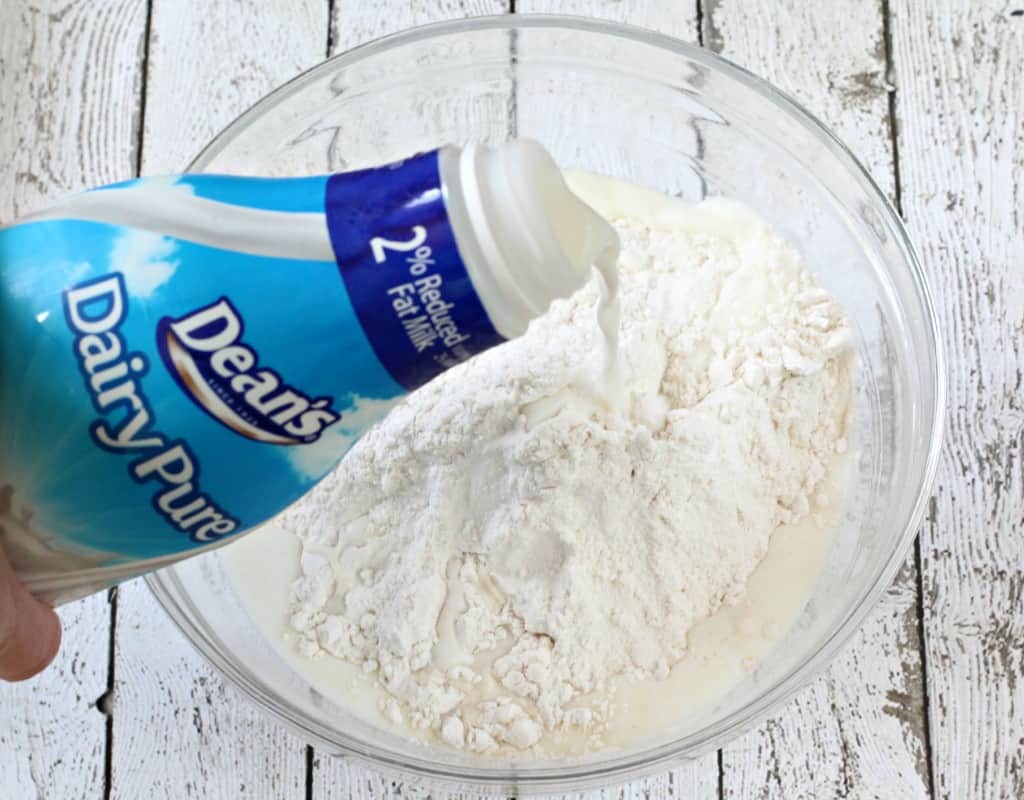 DairyPure Milk is so delicious. It's our favorite. You can get it from your local dairy.
More yummy sweet goodness.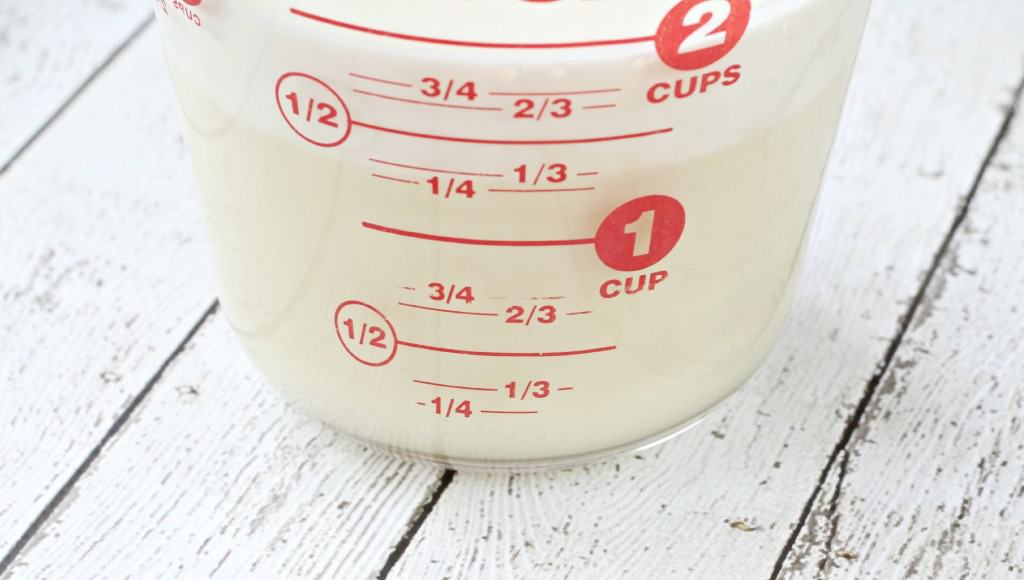 This cake does not skimp on the good stuff.
Tres Leches Cake does not traditionally have pecans, but I thought they would jive well with the caramel sauce.
I was right.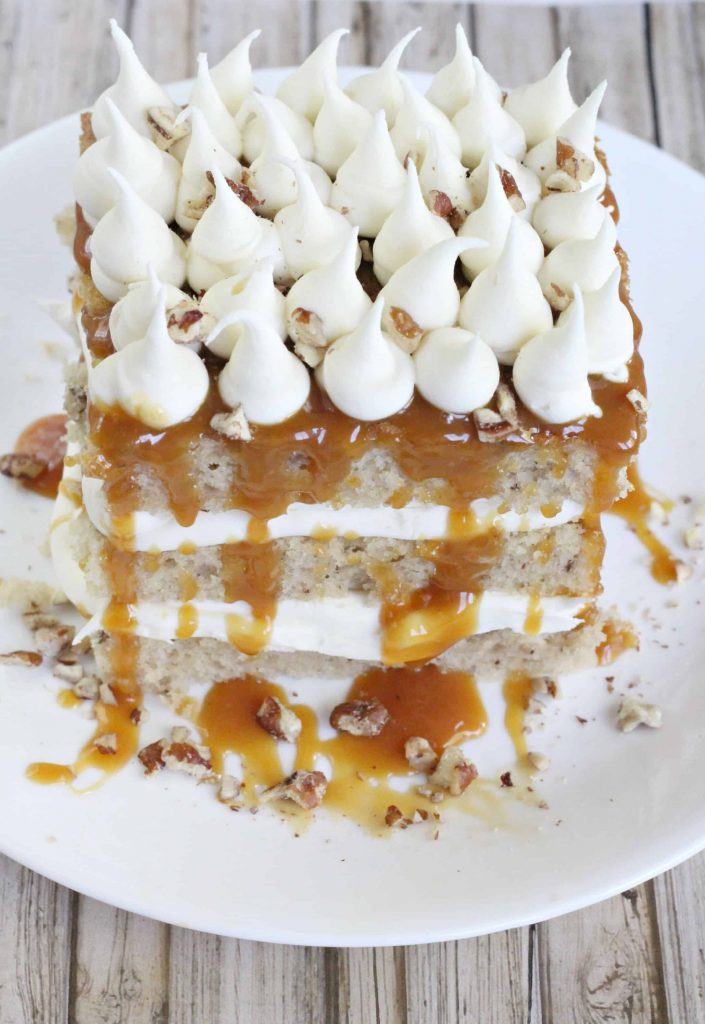 And the cream cheese frosting? Get out.
Pour yourself (and kids, if you're feeling generous) a big glass of milk and dig in.
Pecan Tres Leches Cake
Author:
Prep time:
Cook time:
Total time:
Tres Leches Cake topped with caramel sauce and pecans.
Ingredients
Cake:
1 cup unsalted butter, softened, room temperature
2 cups white sugar
2 eggs, separated, room temperature
3 teaspoons pure vanilla extract
2 cups cake flour
1 tablespoon baking powder
1 teaspoon salt
1 cup DairyPure milk, room temperature
1 cup, chopped pecans
1 can, sweetened condensed milk
1/2 cup, heavy cream
Frosting:
4 ounces unsalted butter, softened
4 ounces cream cheese, softened
2 cups powdered sugar
1 teaspoon vanilla extract
Caramel Topping:
1 cup sugar
1/4 cup water
3/4 cup heavy cream
3 1/2 tablespoons unsalted butter
1 teaspoon gray sea salt, crushed or kosher salt
Instructions
Preheat oven to 325.
Grease and flour one 9-inch cake pans. Set aside.
In a large bowl, cream together butter and sugar.
Add in egg yolks and vanilla, mixing until fully incorporated. Set aside.
In a separate bowl combine flour, baking powder and salt.
Gradually add dry ingredients into wet ingredients, alternating with the DairyPure Milk.
Mix until batter is fluffy but be careful not to over mix.
Beat egg whites until foamy and thick.
Very gently fold egg whites into batter, add pecans and mix until just incorporated.
Pour batter into prepared pan.
Bake for 30-35 minutes.
Remove from oven and let cake cool in pans until pans are warm to the touch.
Carefully remove cake from pan and place on a cooling rack to finish cooling.
Mix the the sweetened condensed milk with the heavy cream.
Place the cake inside a larger pan with sides.
Pour the mixture over the cake, and allow the liquid to be absorbed, about 10 minutes.
Meanwhile, in a large bowl, beat together the butter and cream cheese with an electric mixer. With the mixer on low speed, add the powdered sugar a cup at a time until smooth and creamy. Beat in the vanilla extract.
Slice cake horizontally, into two equal halves, frost the middle, top, and sides.
In a heavy-bottomed saucepan, combine sugar and water (for caramel) over medium-low heat until the sugar dissolves. Increase the heat and bring to a boil, without stirring.
Boil until the syrup is a deep amber color, about 5 to 6 minutes.
Remove the sugar from the heat and carefully whisk in the heavy cream. The mixture will bubble.
Stir in the unsalted butter, and salt. Transfer the caramel to a dish and cool. (Caramel will keep in fridge for up to two weeks. Reheat before serving.)
Drizzle top of cake with caramel sauce when serving.

I used DairyPure Milk for this recipe. It is a simple choice for moms.
DairyPure milk is the only milk backed by an exclusive 5 Point Purity Promise:
1. No artificial growth hormones-"No significant difference has been shown between milk derived from cows treated with the artificial growth hormone rbST and non‐rbST‐treated cows."
2. All milk is tested for antibiotics
3. Continuously quality tested to ensure purity
4. Only from cows fed a healthy diet
5. Cold shipped fresh from your local dairy
Sounds good to this mom!
Learn more about DairyPure on their site, and find more recipes and ideas by visiting DairyPure on Facebook and DairyPure Recipe inspiration on Pinterest.