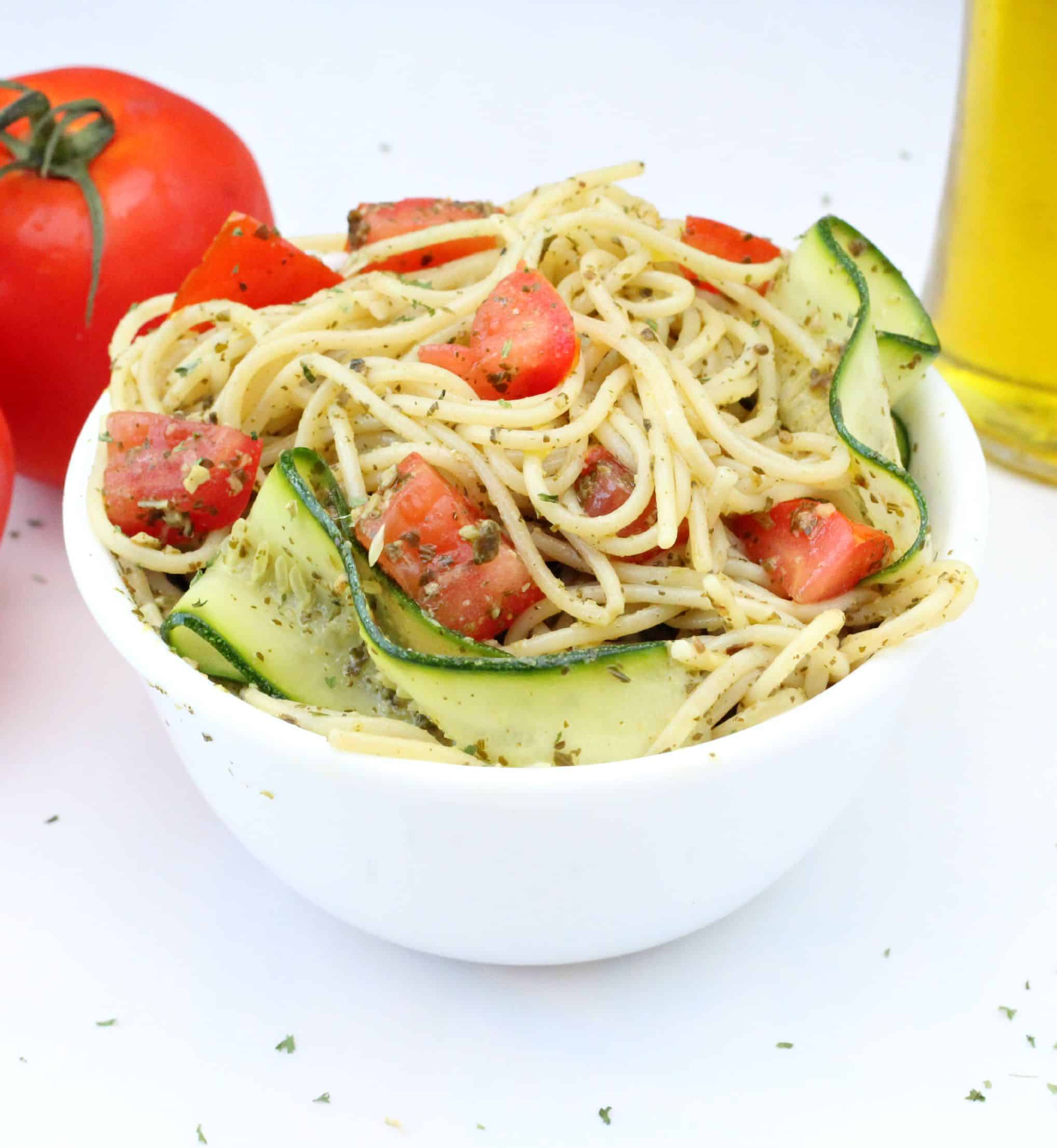 This recipe is chock full of the good stuff. Veggies at every turn.
It's a nice transition meal for heading into fall. Lots of fresh produce, but hearty enough to be comfort food for the first frost.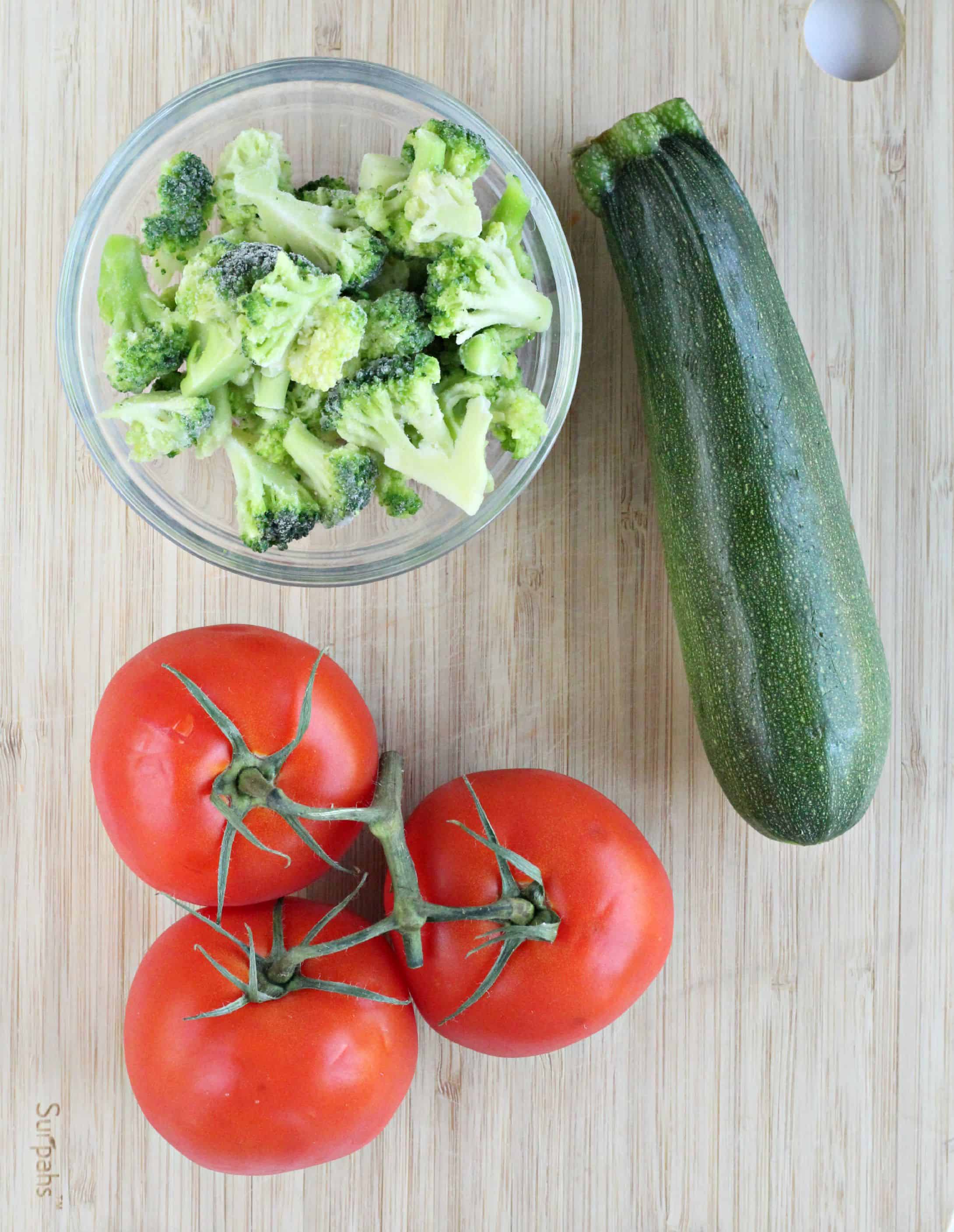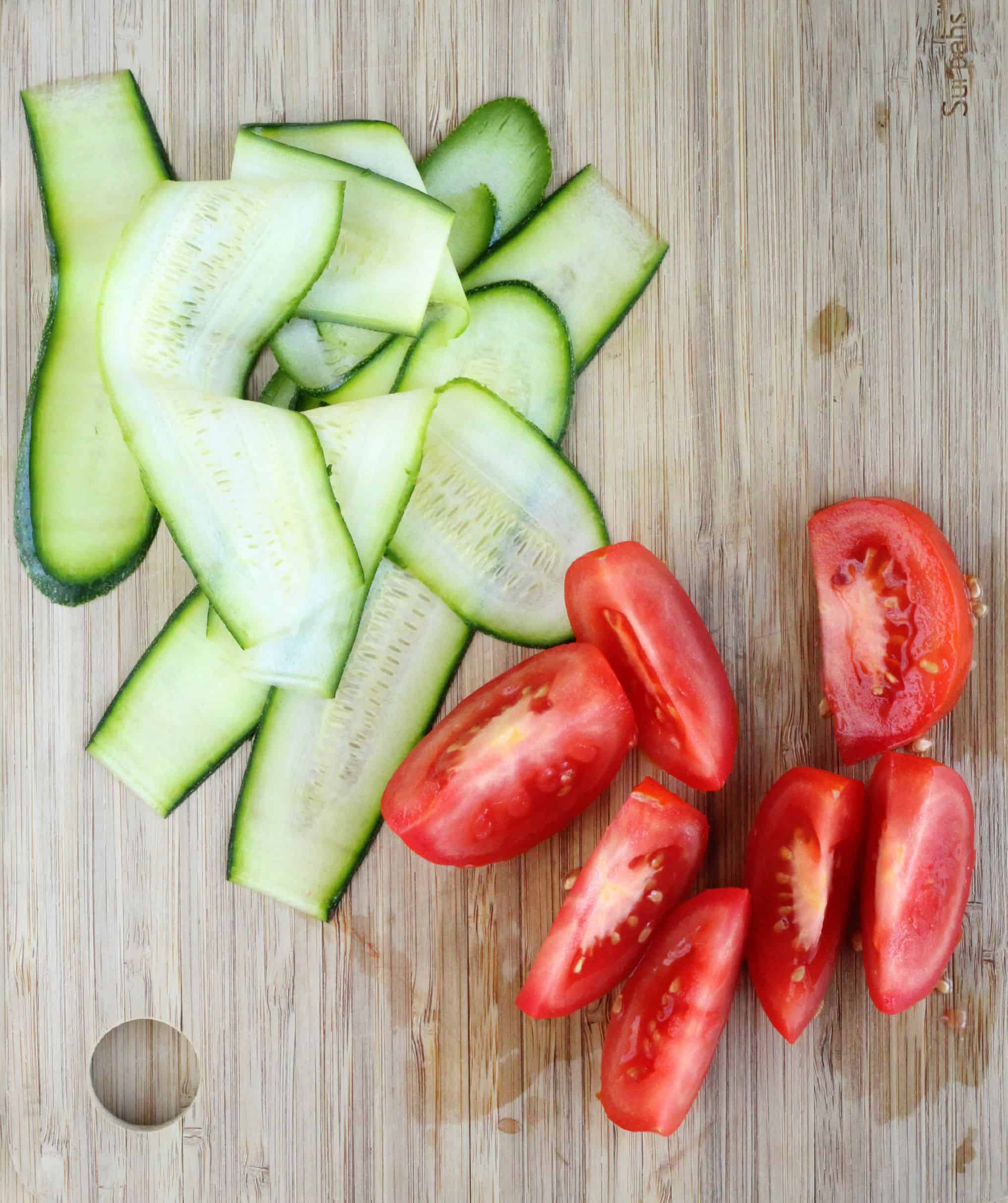 It feels super weird to be talking about frost, or even Fall. It's currently 91 degrees outside. I'm sitting inside, typing away with the air conditioner on full blast. In a perfect world, I would never have to use an air conditioner. (or a heater for that matter) It irritates me that I spend 2/3 of my favorite season indoors, slightly chilly; but unless I want to take three showers a day, I close the windows and flip on the air.
I am enjoying the fact that it's still hot outside. Or so my computer says.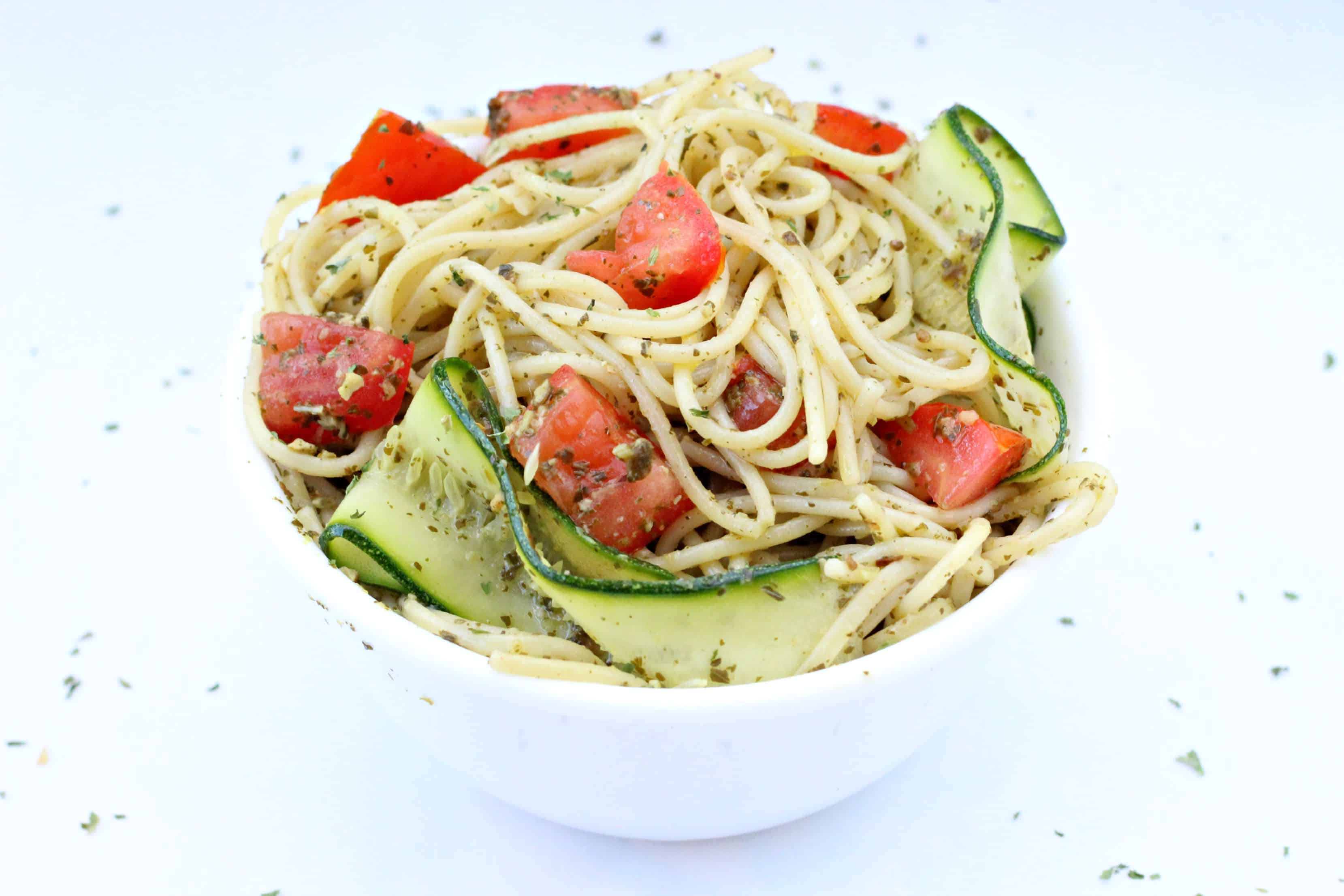 Here's me getting back on track with another picture of pasta…. Did I mention it's made with broccoli?
Yes! Pesto can be made with other ingredients than basil. And my typically pesto-hating husband loved it, so it's a keeper.
I just sliced the zucchini thin, but you could also roast it. Which I may be doing with another pasta dish next week. Zucchini is so underrated. Roasting veggies is so underrated. Caramelization is king.
Is this the most aimless post I've ever written? Quite possibly. I'll finish with another picture.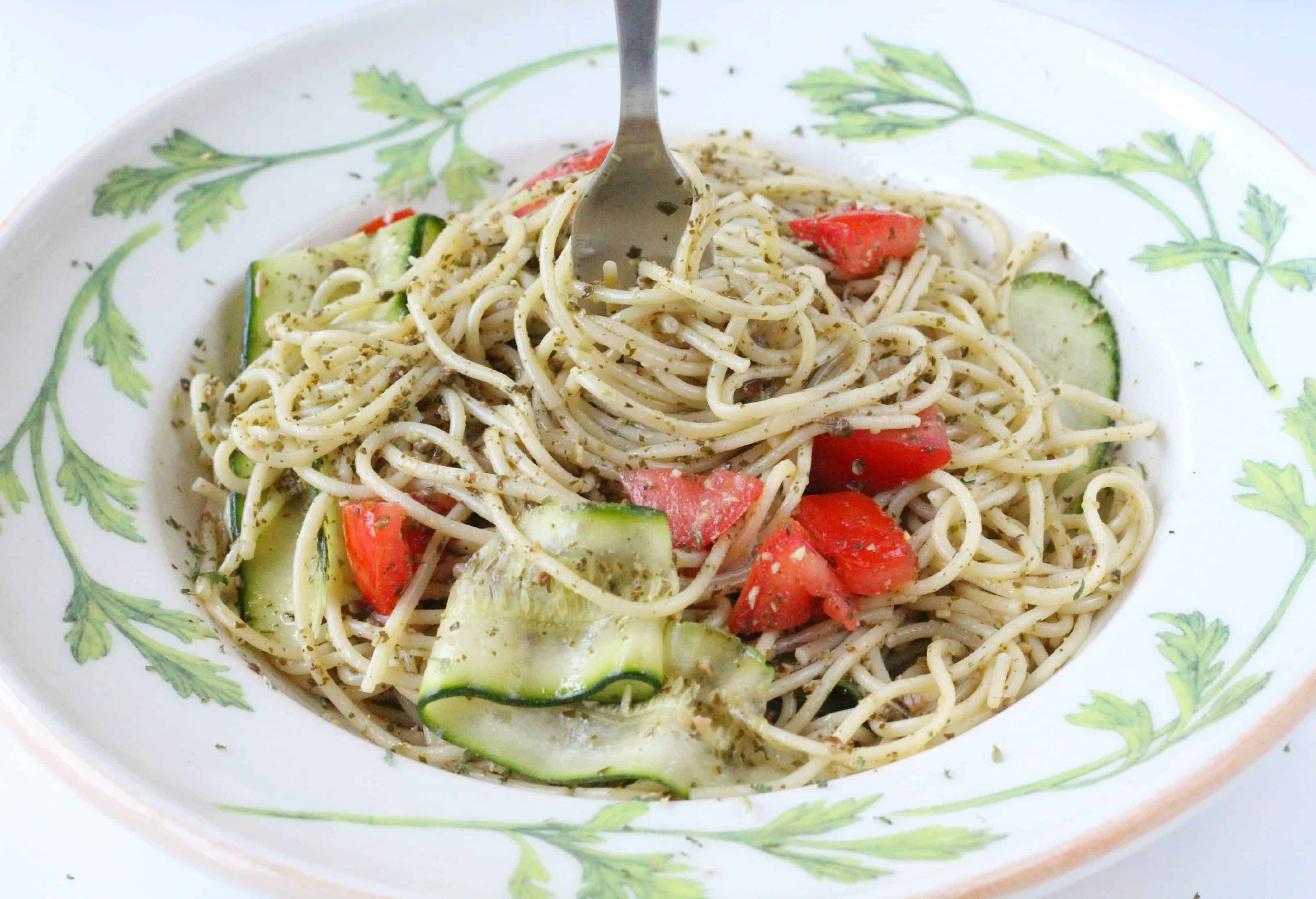 Try pesto with broccoli. Yum.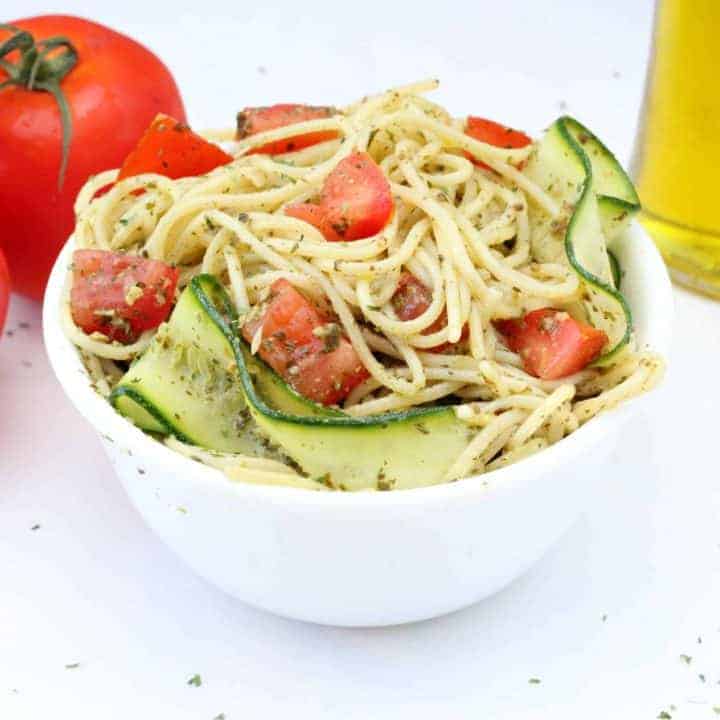 Broccoli Pesto Pasta with Zucchini
Pasta topped with broccoli pesto, zucchini, and copped tomatoes.
Ingredients
10 oz. frozen broccoli florets
1 clove garlic
2 medium zucchini
2 medium tomatoes
8 oz. spaghetti
1 c. fresh basil leaves
2 tbsp. fresh lemon juice
salt
pepper
0.25 c. extra-virgin olive oil
1 oz. Parmesan cheese
Instructions
Heat large pot of salted water to boiling on high.
In microwave-safe bowl, combine spinach, broccoli, garlic, and 1 cup water. Cover with vented plastic wrap and microwave on High 3 to 5 minutes or until broccoli is thawed.
Drain; let cool completely.
Meanwhile, with vegetable peeler, peel zucchini into wide ribbons. Chop tomatoes.
Cook spaghetti as label directs.
Place cooled broccoli mixture basil, lemon juice, and 1/4 teaspoon each salt and black pepper in food processor; pulse until smooth. With processor running, drizzle in oil.
Add Parmesan; pulse until well combined.
Drain spaghetti well and return to pot; add pesto, zucchini, tomatoes, and 1/4 teaspoon salt; toss well. Serve immediately.