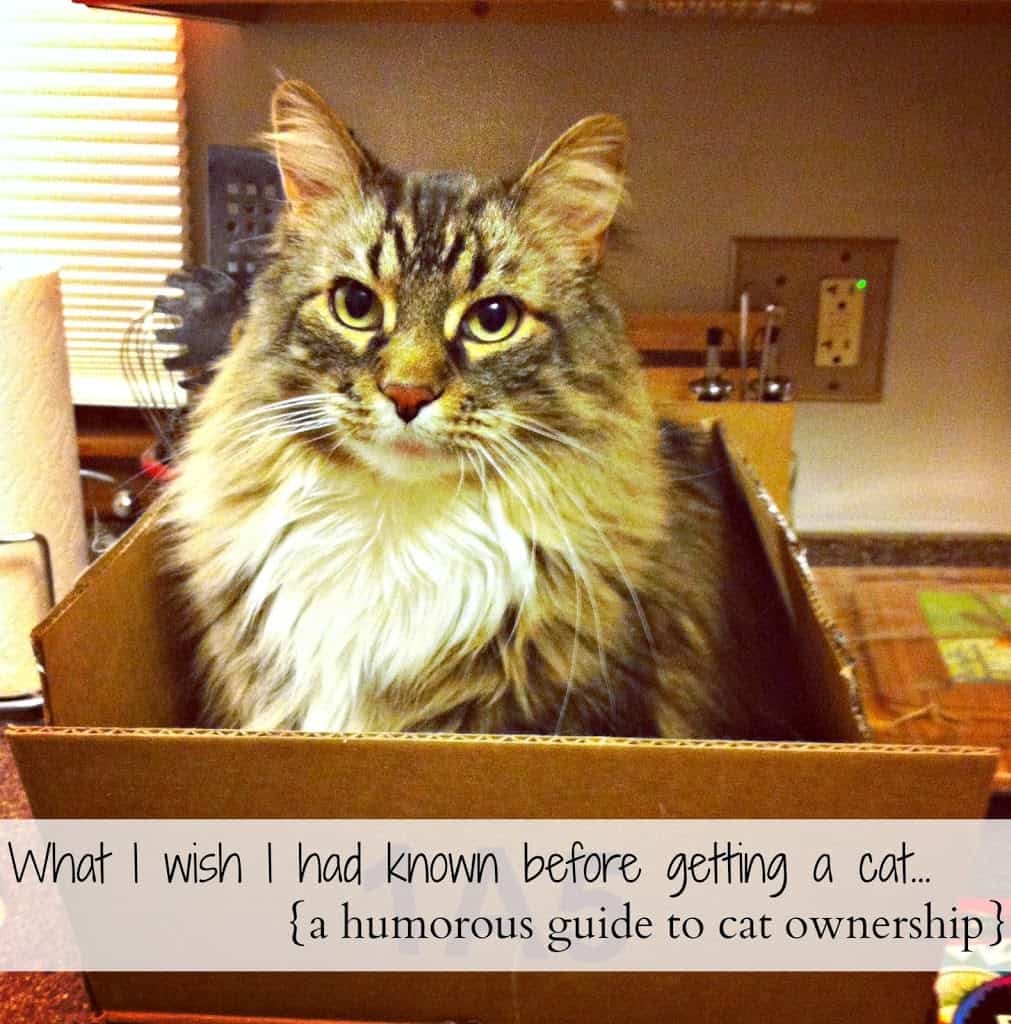 I love my cats. In fact, it was my idea to get them. I persuaded the hubby to get one at the beginning of our marriage, and a second cat four years later…when we were in a two-bedroom place. I won't go into details of the dimensions, but it was small.
I knew my parents would think we were nuts, so I tried to keep the second cat a secret for a while. (eye roll) Yeah, that was bound to work. Especially since I'm so good at keeping secrets.
So my mom and I are talking on the phone one day, and I let it slip that I'm taking Dagney (cat #2) to the vet. Long pause… "DAFFNEY??" she asks loudly, confused.
Instead of owning up to a cat that they would surely meet at some point, I panic and say "Boots!" (name of cat #1)
Because Boots and Dagney sound so similiar.
Anyways, my covert ways aside, she and my dad eventually did find out that we got another cat, and thought we were crazy.
My mom's reaction: "You got a second cat in that place?"
Ah parents. But they were right. We were constantly battling cat box smell, especially since both of us were working at the time.
Again, I love my cats, but there are a few things I wish someone had warned me about when I making the pet or no pet decision…so I could mentally prepare.
1. They are expensive. Honestly, if it wasn't for the expenses, I would be adopting pets left and right. I had NO idea how much money they cost. And my cats have never had expensive treatments or surgeries. Just vet visits, food, litter, accessories (furniture, toys, etc) is a lot of money.
2. Even the potty-trained ones behave like newborn babies from time to time. One of the biggest perks to rescuing/adopting a cat, is that they are–usually–already litter box trained. This doesn't stop them from coughing up hairballs, peeing/pooping outside of the litter box, or marking their territory. These things happen alot. Sometimes for a good reason, sometimes not.
3. They eat your plants….and possibly decorations. At least with our cats, we can't have plants, flowers, or herbs in the house. They chew on them. They also chew on ribbons from presents, strings on anything, and other random things. Then throw them up. It's lovely. Candles and fake flowers for us.
4. You may become allergic. I had a cat when I was a kid. I had two cats as an adult. Then I had a baby, now I'm allergic to cats. Apparently this is something that can actually develop out of the blue. Having a baby can mess with your immune system. It's not unbearable, and I take steps to keep it under control (bedroom is a no-kitty zone, taking allergy meds, etc.) but it's kind of crazy that I became allergic to my own pets.
5. They are nocturnal animals. Some people sleep with their cats. I wouldn't, even if I wasn't allergic. Mostly because they'd wake us up at 4am, demanding to be fed. We close our door, and it's all good. But, if either of us needs to sleep on the couch for the night (baby issues, sick kid, snoring spouse), it's like a three-ring circus in our living room. The cats fight, sprint from one room to the next-usually bumping into furniture-, bat small items all around the room, and occasionally meow loudly for no good reason at all. Why not? They can sleep all day…
6. They have an inferiority complex. When we first got Boots, he must have had some self-esteem issues. Anytime something on the table was taller than him, he would knock it over. And no, he wasn't allowed on tables. We would leave the room, and candlesticks, bottles of hairspray, and (my personal favorite) glasses of water would get knocked over left and right. Relax buddy, it's just a glass!
Of course, one must balance this all out by listing the good parts of having pets (esp cats). The good stuff clearly outweighs the bad, most days.
They greet me at the door when I come home. Our cats are a bit like dogs, but they run to the door every time someone comes home. It's sweet. In fact, whenever someone walks through the door, they get excited about everyone, including those of us who have been home all day.
They know exactly when to cuddle. Maybe I sit down a lot when I'm angsty? Somehow, they can always tell when I need some unconditional love and support.
Their happy expressions. Nothing better than when you're petting a cat, and they turn around and "smile" at you. Their eyes get heavy and you know that they want nothing more than to hang out in your lap.
My daughter loves them. Let's be honest: they can take her or leave her. But she is enamored with them. And seeing her squealing as Dagney licks her hand is adorable. I just need to teach her to clean up their messes, rather than just pointing to them, and yelling "Gross!!". Kidding. Kind of.
So that's how I would lay it out for someone who was weighing the decision to get a pet. It's not easy, but they make it worth your while. And then some.