Full of color and delicious veggies, this roasted vegetable salad is just 10 minutes in the air fryer! Or add grilled chicken, crumbed cheese, or even chicken tenders for a yummy dinner the whole family will enjoy. Roasting Veggies in the Air Fryer is so easy!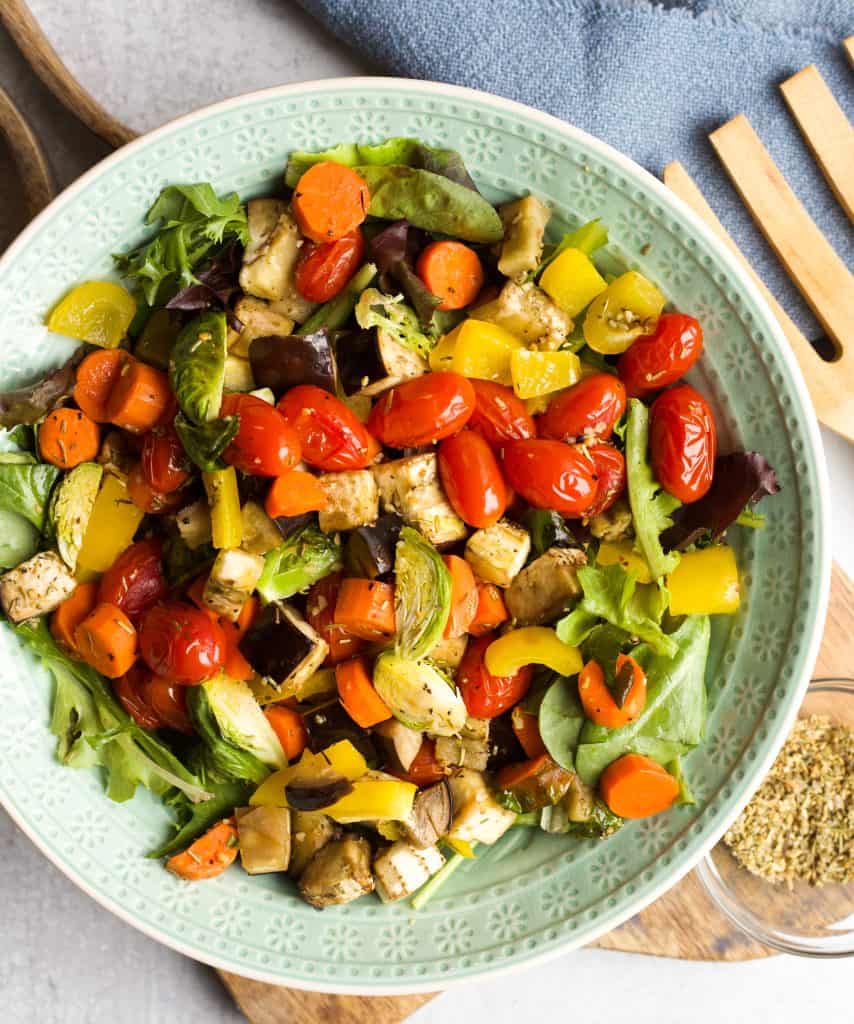 I'm all about finding easy ways to make healthy choices in the New Year and beyond. As a home cook, I'm always looking for new ways to incorporate fruits and veggies into meals and side dishes that my family will eat & enjoy.
This Roasted Vegetable Salad is a winner for several reasons:
Easy prep… chop up ingredients & toss in air fryer for 10 minutes
Add protein for a heartier meal
Use as a side dish or in other recipes, like fajitas, soups or stir fry
Full of good-for-you ingredients
Roasted vegetables are an excellent way to get more veggies in your meals. Eat the rainbow, right? Add just a sprinkle of seasoning to this sheet pan dish and you have a yummy salad with immense nutritious value.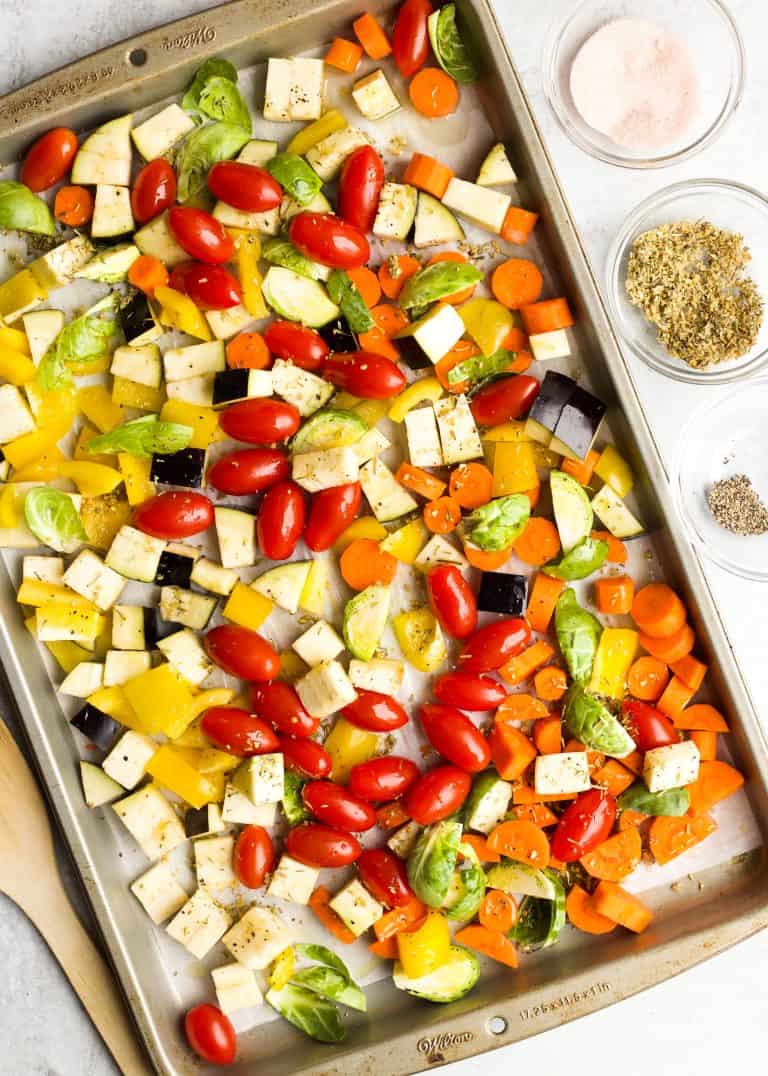 How To Make Healthy Air Fryer Vegetables
Preheat air fryer to 375 degrees.
Wash and prep your produce. Slice Brussels sprouts into quarters.
Add all vegetables to a mixing bowl. Top with olive oil, salt, pepper, and Italian seasoning. Add any additional seasonings that you love on vegetables.
Using a big spoon or spatula, toss vegetables to coat evenly in oil and seasonings.
Add seasoned veggies to air fryer basket. *Highly recommend using an air fryer liner— game-changer! Just be sure to get the size & shape that fits your air fryer.
Cook for 10-15 minutes, pausing halfway through cooking time to pull out basket and shake up vegetables.
Once vegetables are roasted to your liking, pour them out onto a serving plate or bowl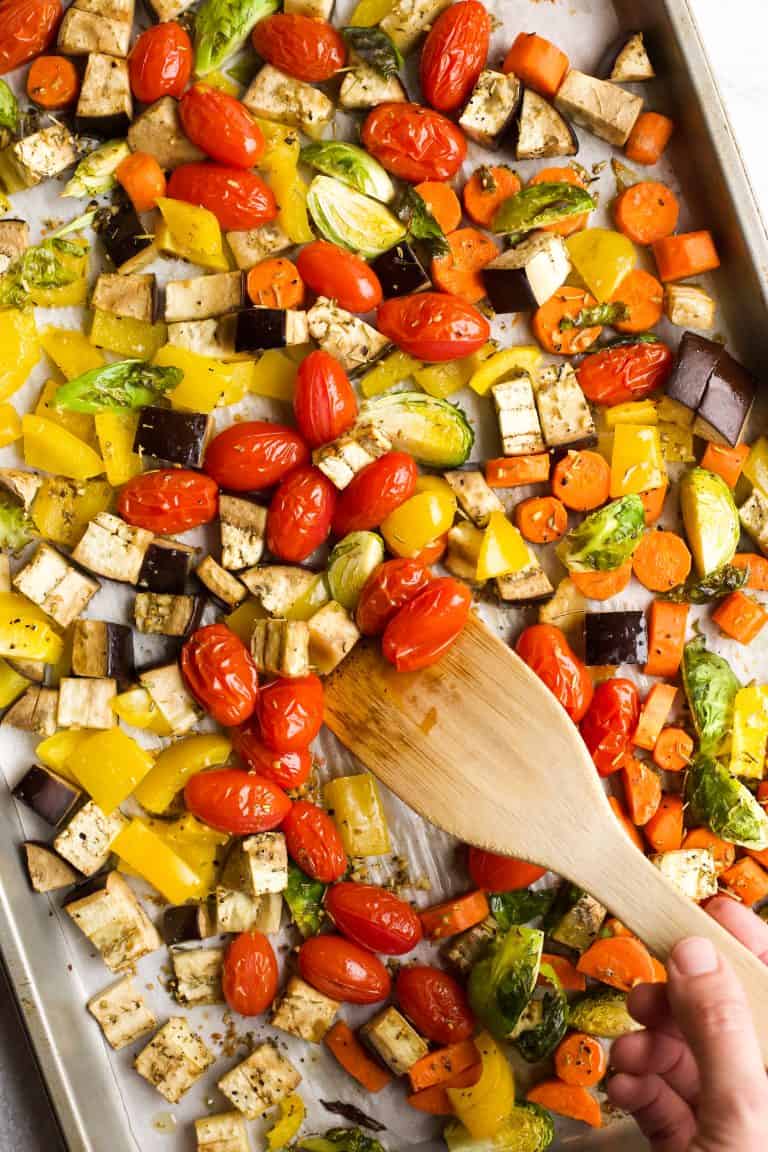 Ingredients Needed for Roasting Veggies in Air Fryer
1 container, cherry tomatoes
½ eggplant, diced into 1″ pieces
1 carrot, peeled & sliced
1 yellow pepper, chopped (can substitute other colors if desired)
1 cup, brussel sprouts
2 tablespoon olive oil
2 tablespoon Italian seasoning (or any seasonings of your choice)
Salt & pepper, to taste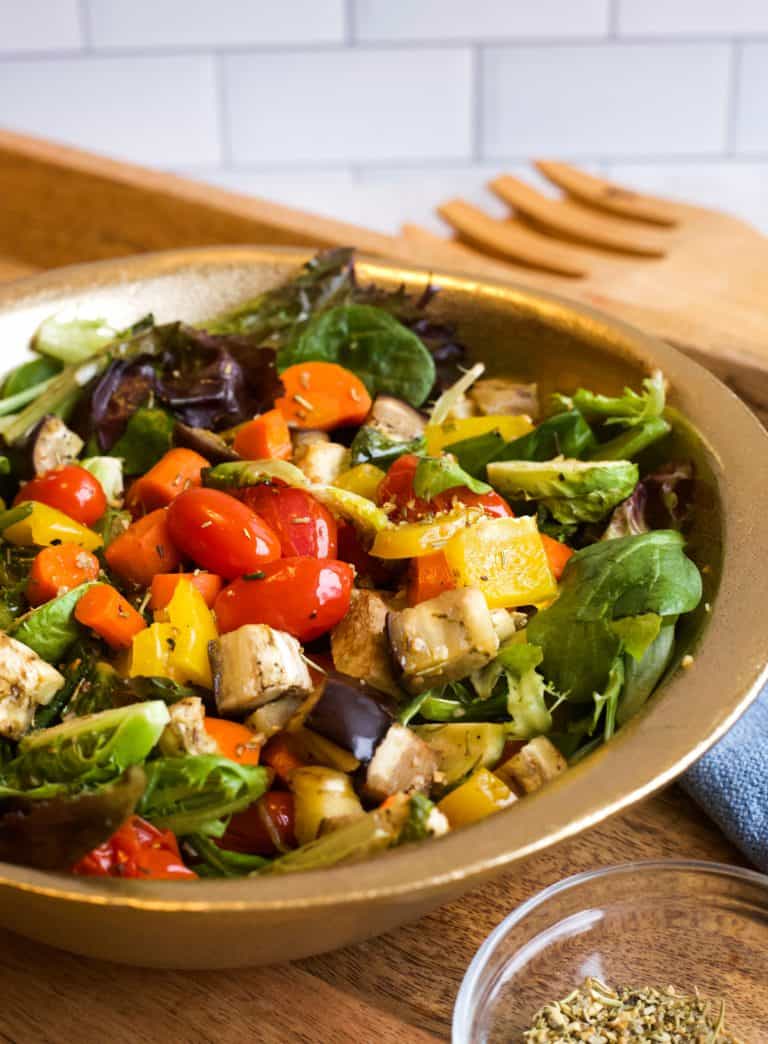 Recipe Tips
Use disposable or silicone liner in air fryer basket to keep ingredients from sticking and easier clean-up
Chop vegetables into uniform pieces for even cooking, about 1″ wide
Use plenty of seasoning (at least 2 Tbsp) for best flavor
Toss the ingredients well before cooking, everything should be coated in oil and seasoning
Try serving with extra oil for drizzling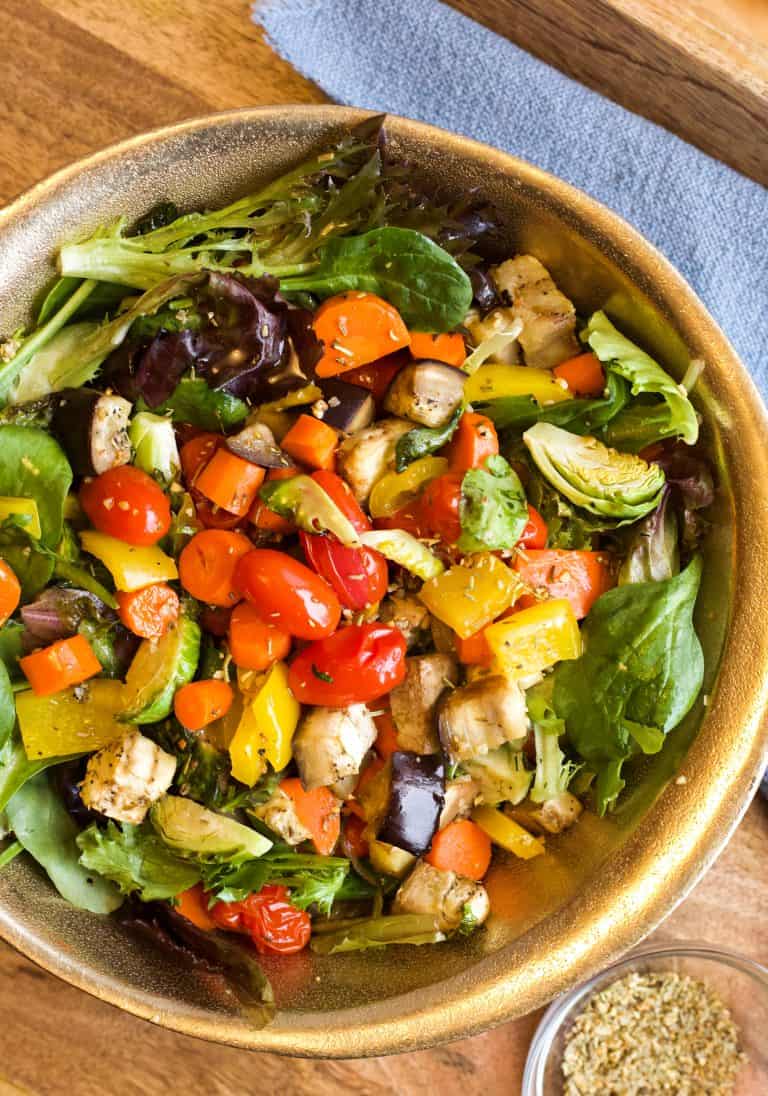 Variations on Recipe
Add a protein (beef, chicken, seafood, or vegetable-based) to make a main course
Try different seasonings! Spicy, sweet (brown sugar), savory, or even a seasoning mix
Switch up the vegetables, using seasonal ingredients that roast well
Top with shredded/grated cheese, chopped herbs, or seeds for added flavor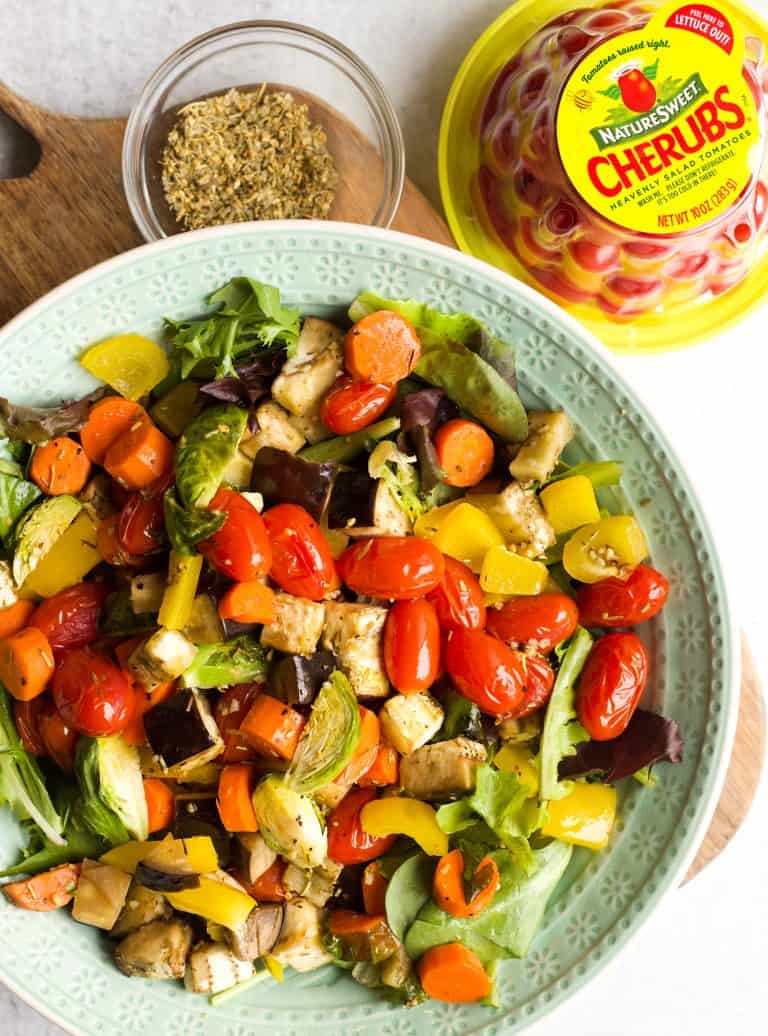 What To Serve With Roasted Veggies in the Air Fryer
If you're going for a meatless Monday (or any other day of the week) menu, try serving these veggies with Grilled Cheese with White Cheddar and Apple, Hummus Toast with Cucumber, or set-up a Baked Potato Bar in minutes!
Or serve these flavorful vegetables with a hearty main course to feed a crowd! We love this Pizza Pasta Bake, Teriyaki Beef Bowls, and 4 Ingredient Chicken Enchiladas.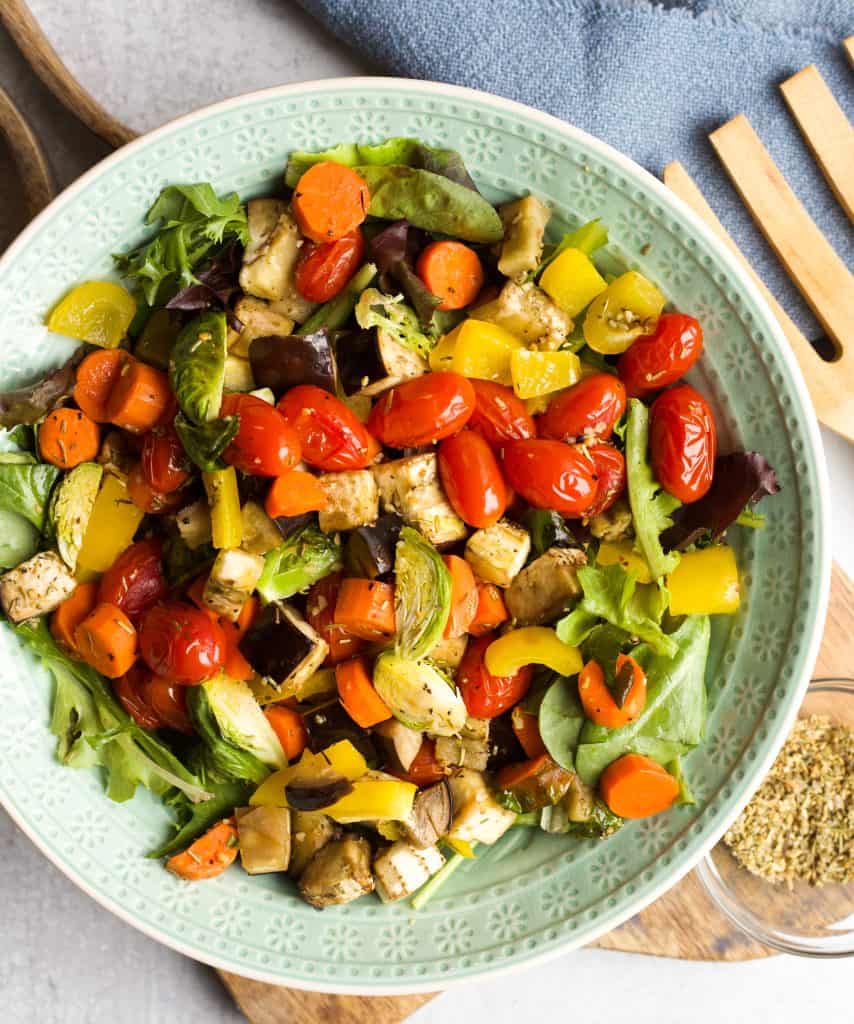 Yield:

4 servings
Roasting Veggies in the Air Fryer
Full of color and delicious veggies, these roasted veggies are just 10 minutes in the air fryer!
Ingredients
1 container, cherry tomatoes
½ eggplant, diced into 1" pieces
1 carrot, peeled & sliced
1 yellow pepper, chopped (can substitute other colors if desired)
1 cup, brussel sprouts
2 tablespoon olive oil
2 tablespoon Italian seasoning (or any seasonings of your choice)
Salt & pepper, to taste
Instructions
Preheat air fryer to 375 degrees.
Wash and prep your produce. Slice Brussels sprouts into quarters.
Add all vegetables to a mixing bowl. Top with olive oil, salt, pepper, and Italian seasoning. Add any additional seasonings that you love on vegetables.
Using a big spoon or spatula, toss vegetables to coat evenly in oil and seasonings.
Add seasoned veggies to air fryer basket. *Highly recommend using an air fryer liner-- game-changer! Just be sure to get the size & shape that fits your air fryer.
Cook for 10-15 minutes, pausing halfway through cooking time to pull out basket and shake up vegetables.
Once vegetables are roasted to your liking, pour them out onto a serving plate or bowl
Notes
Use disposable or silicone liner in air fryer basket to keep ingredients from sticking and easier clean-up
Chop vegetables into uniform pieces for even cooking, about 1" wide
Use plenty of seasoning (at least 2 Tbsp) for best flavor
Toss the ingredients well before cooking, everything should be coated in oil and seasoning
Try serving with extra oil for drizzling
Nutrition Information:
Yield:
4
Serving Size:
1
Amount Per Serving:
Calories:

124
Total Fat:

7g
Saturated Fat:

1g
Trans Fat:

0g
Unsaturated Fat:

6g
Cholesterol:

0mg
Sodium:

92mg
Carbohydrates:

15g
Fiber:

5g
Sugar:

4g
Protein:

3g