After I shared this Southwestern-Inspired Baked Potato Bar meal idea, it became very clear that my audience (that's you!!) love the idea of baked potatoes for dinner. Who doesn't love an easy, healthy dinner that's kid-friendly?! And the best part is that you can customize the toppings! So everyone in the family can have a wholesome, filling dinner that's made just the way they like it. Check out this Baked Potato Bar: A Complete Guide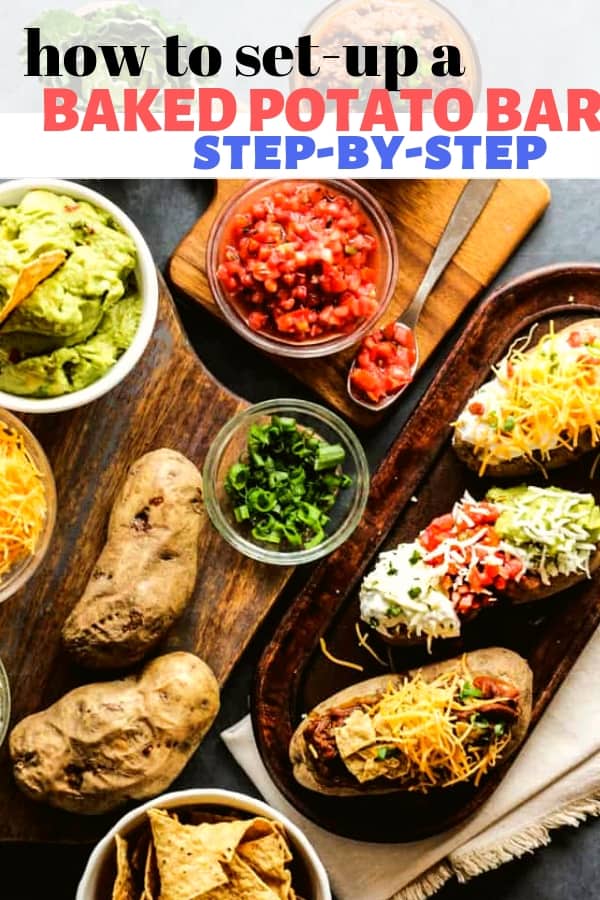 Let's start with the basics!
How to Bake a Potato
Most commonly, people use their oven to cook potatoes. A couple rules to follow:
clean the potato (scrub it under running water to remove any dirt– potatoes grow underground!)
dry it off (gets you that nice, crispy crust)
poke a few holes in it, using a fork (otherwise you risk it blowing up– yep– and making a huge mess in your oven)
To add extra flavor, season with a drizzle of olive oil and salt & pepper.
Potatoes typically bake at 35o for an hour.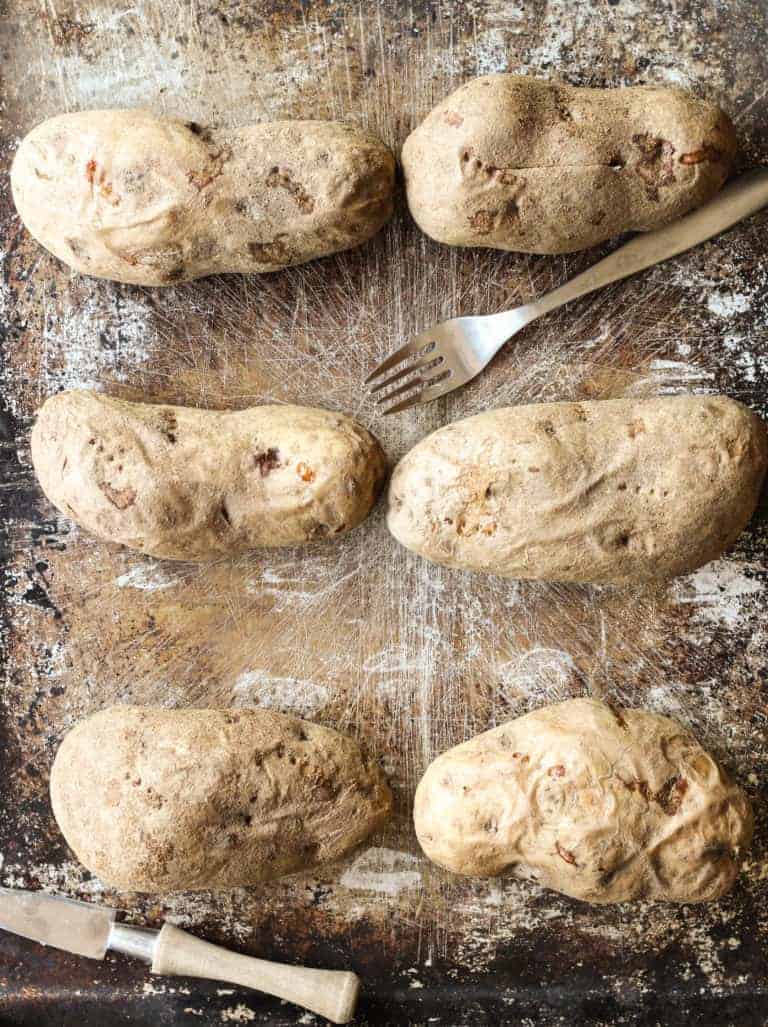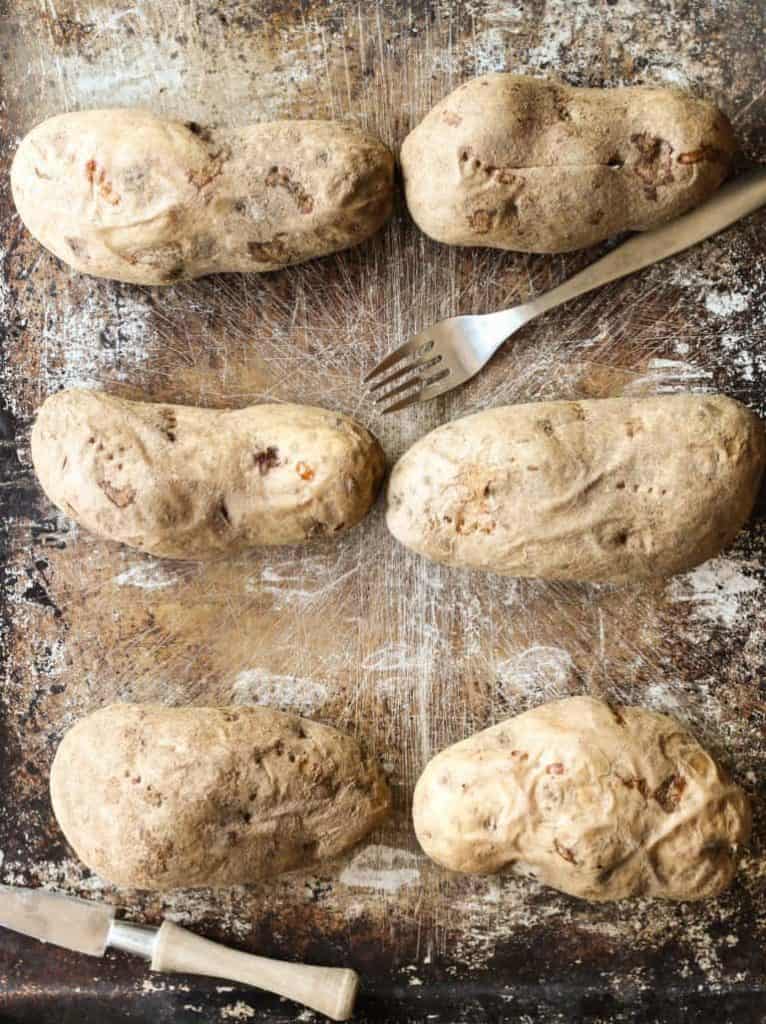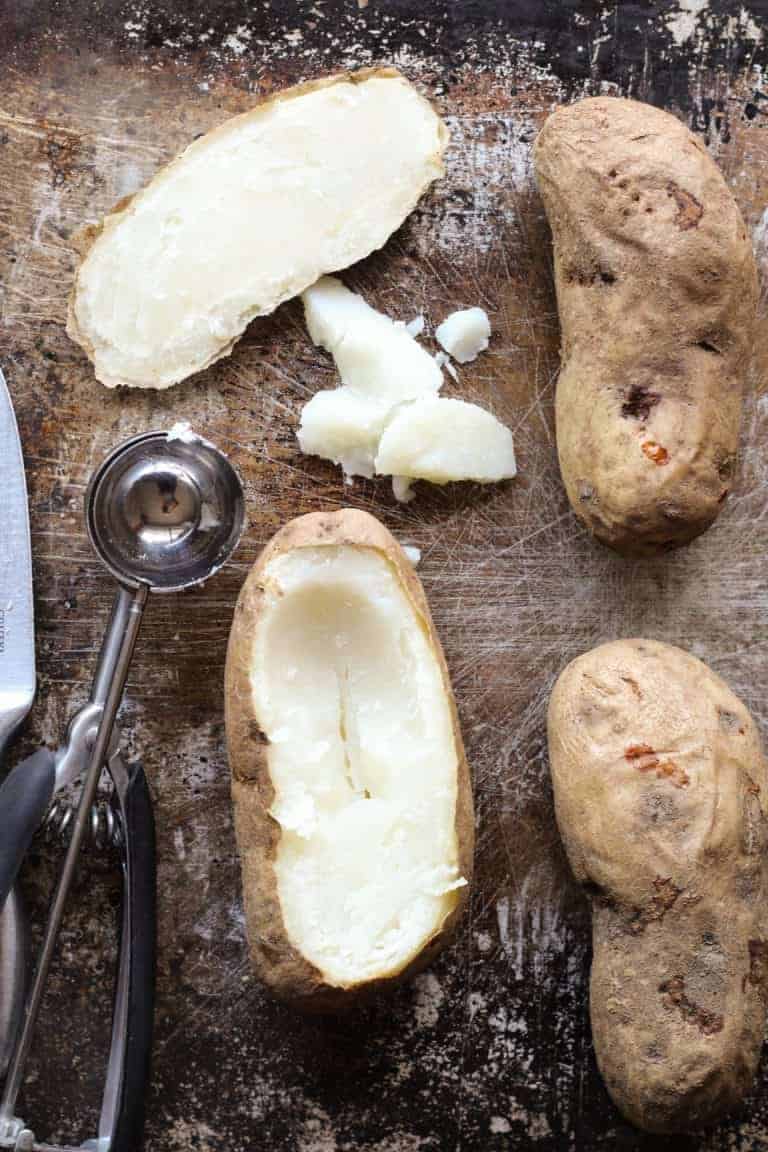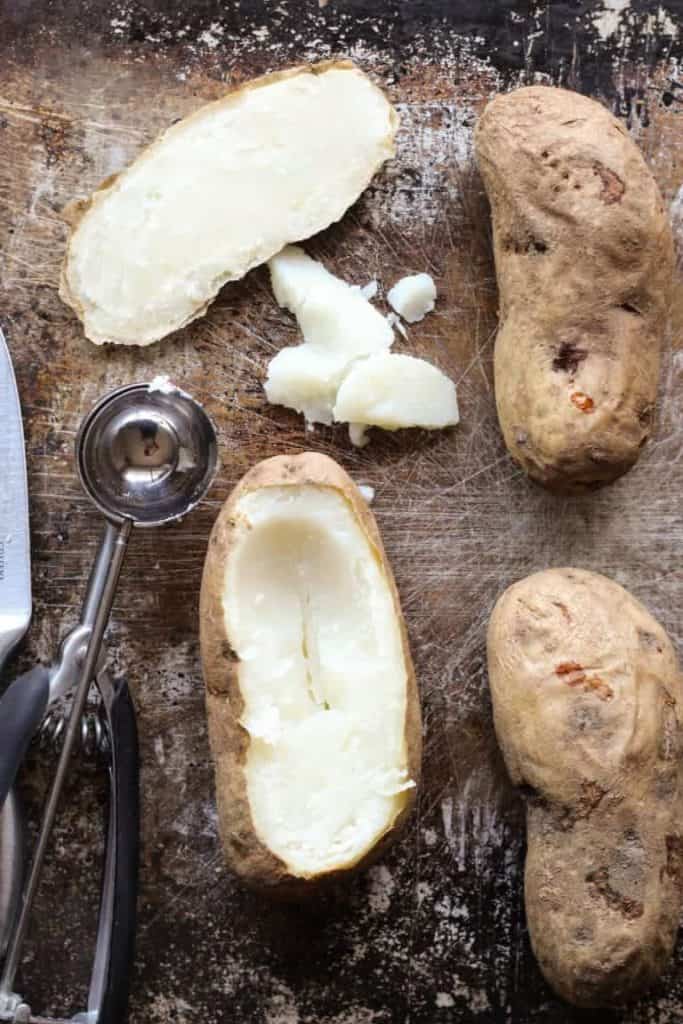 Can you cook a potato without an oven? YES
For all methods– don't forget to poke a few holes in potato first!
You can boil a potato: 2o minutes in a rolling boil
*Try mixing boiled potatoes with cream cheese for this Two-Ingredient Herbed Mashed Potatoes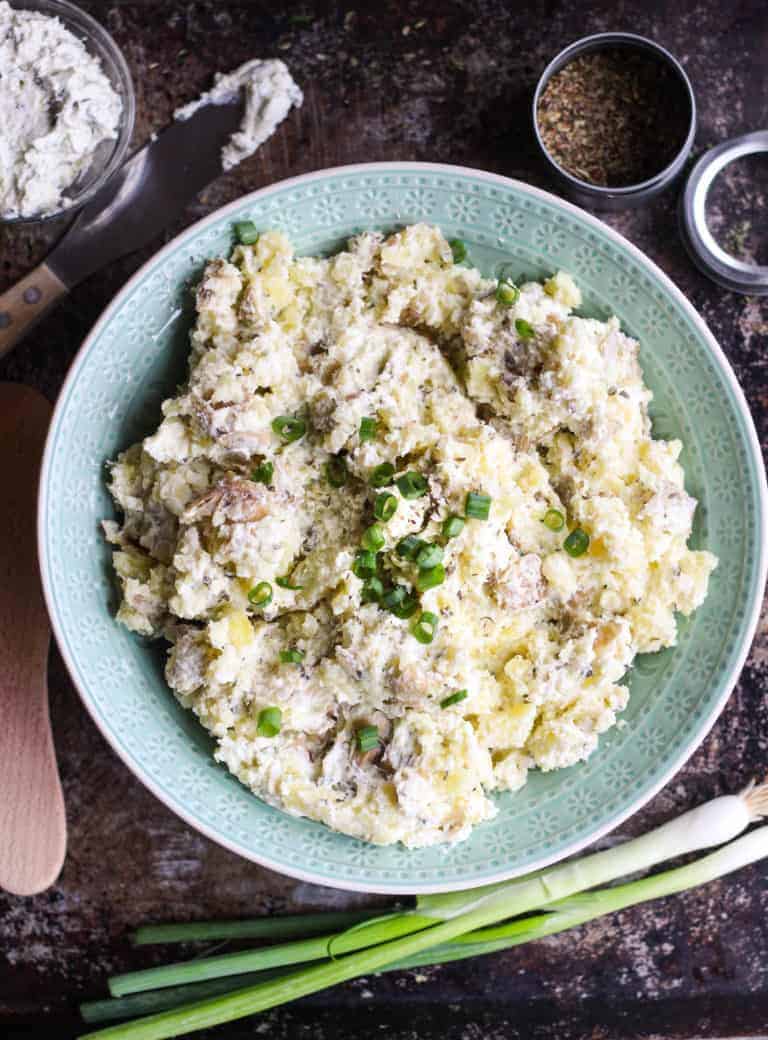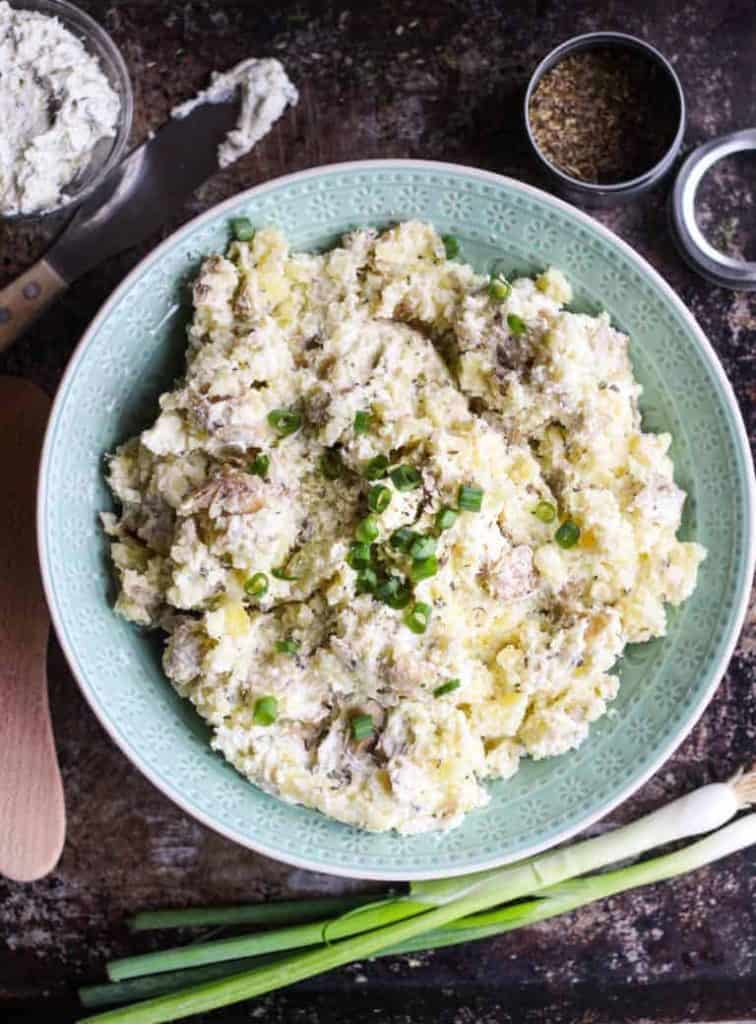 You can microwave a potato: cook 5 minutes, flip over, and cook for another 5 mins
You can cook a potato in an instant pot: place in steamer basket and pressure cook for 10 minutes
Or a slow cooker/Crock Pot: season and then cook on high for 4 hours or low for 8 hours
Do baked potatoes have to be wrapped in foil? NO
This is totally personal preference. If you want a softer skin, use foil. If you want a crispier skin, go without. Also, a drizzle of olive oil will help to make the skin crispier.
Baked Potato Bar: A Complete Guide FAQ's
Are baked potatoes fattening? DEPENDS ON THE TOPPINGS
A plain baked potato has only 160 calories and is naturally fat-free. Plus it's full of nutrients and minerals. If you add high fat toppings to it, like sour cream or cheese, then you up the calorie count. Low fat toppings like salsa or Greek yogurt are better choices if you are watching your calories.
What can you eat baked potatoes with? SMALL OR LARGE SIDE DISHES
You can do baked potatoes as the main dish (Baked Potato Bar) or as a side to hearty meat-based or soup dishes. Really, anything goes!
Enjoy baked potatoes with main dishes like:
Cornbread-Topped Cheesy Corn and Potato Chowder
Pulled Pork Fajita Quesadillas
Or with side dishes like:
Chopped Tomato, Cucumber & Red Onion Salad
What can I have with a jacket potato?
"Jacket Potato" is another name for a baked potato. Basically, it's a potato cooked and served with the skin on. What kinds of toppings can you have on a jacket potato? Glad you asked!
Baked Potato Bar Toppings- What To Put on a Baked Potato Bar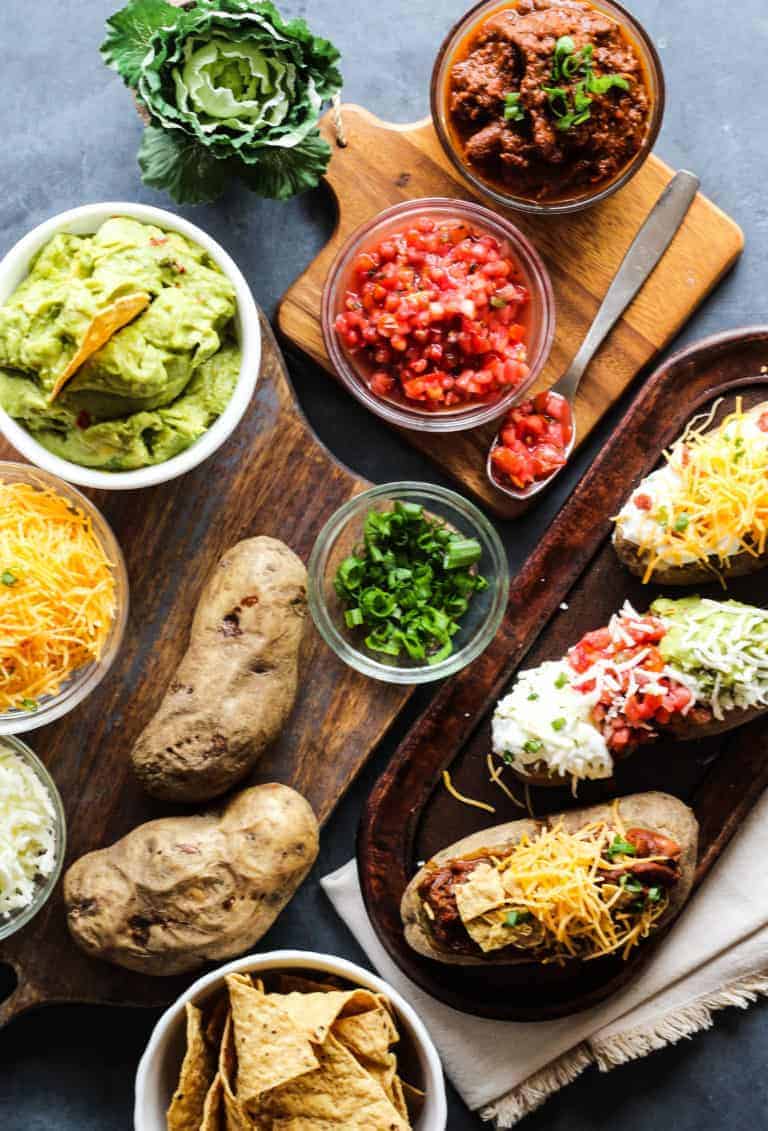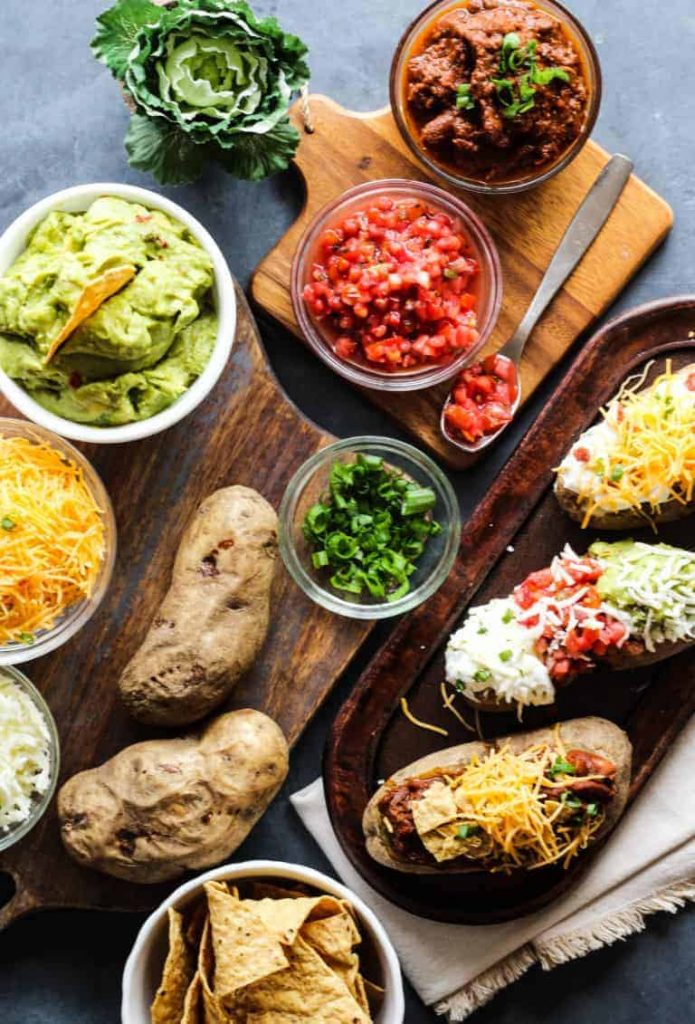 I love to top baked potatoes 3 ways:
Southwest Style
sour cream
guacamole,
salsa
plus a sprinkle of shredded mozzarella cheese
Chili Cheese Style
chili (canned works here)
shredded sharp cheddar cheese
broken-up tortilla chips/strips
Traditional
sour cream
bacon "bits" or chopped, freshly cooked bacon
chopped green onion
Find the full recipes (& pictures) for these HERE.
Other popular toppings for a baked potato:
Protein-
quinoa or brown rice
ground beef (plain or taco-seasoned)
black beans
sliced deli meat
pulled pork or chicken
Fruit/Vegetable-
chopped veggies (broccoli, cauliflower, carrots, and/or bell pepper strips work best)
chopped onions
avocado
pico de gallo
sliced jalapeno peppers
Dairy-
cheese sauce (queso)
Greek yogurt (as a substitute for sour cream)
cream cheese (use a flavored one– such as herbed– to mix it up)
How To Set-Up a Baked Potato Bar
Let's set up the bar– it's a super easy way to feed a crowd!
START WITH POTATOES (russet work best)- cook/bake ahead of time, being sure to use oil so the skins are crispy & flavorful
ADD TOPPINGS (see ideas above!)- try using a theme (like Southwestern or Vegetarian) and set-up each topping in a small bowl with a spoon or fork for serving. Make sure each bowl has its own serving utensil.
SET-UP CUTTING BOARDS or butcher block for people to top/prep their potatoes. I love to use dark wood cutting boards because they add a rustic look to the table.
ADD NAPKINS (things can get messy!) and small plates for serving.
FINISHING TOUCHES- small succulents, candles, and glasses for beverages are all perfect for finishing off the table and adding a festive touch.
GRAB FULL INSTRUCTIONS FOR EASY BAKED POTATO BAR HERE.
What are some healthy baked potato toppings?
It's easy to top a baked potato with healthy ingredients and get a filling, healthy side dish or meal!
chopped veggies
marinara sauce
pesto
avocado
sliced cherry tomatoes
chopped, fresh herbs (chives, basil, etc)
chopped deli meat
caramelized onions & mushrooms
sprinkle of seasoning, like Trader Joe's "Everything But the Bagel" seasoning or "Old Bay" seasoning
What are some Vegan Baked Potato Toppings?
Lots of options for vegans who want to enjoy a baked potato with toppings!
chopped veggies
diced onions or shallots
hummus
beans (pinto, black, etc)
roasted chickpeas (grab easy recipe HERE)
vegan cheese
sprinkle of nutritional yeast
spritz of lemon or lime juice
drizzle of a good, quality olive oil, plus salt & pepper
PIN Baked Potato Bar: A Complete Guide HERE!