Try this super simple loaded baked potato bar for a fun family dinner tonight. Filling, fresh, and yummy– add any toppings your family loves!
Want to make a fabulous BAKED POTATO BAR? Check out the complete guide.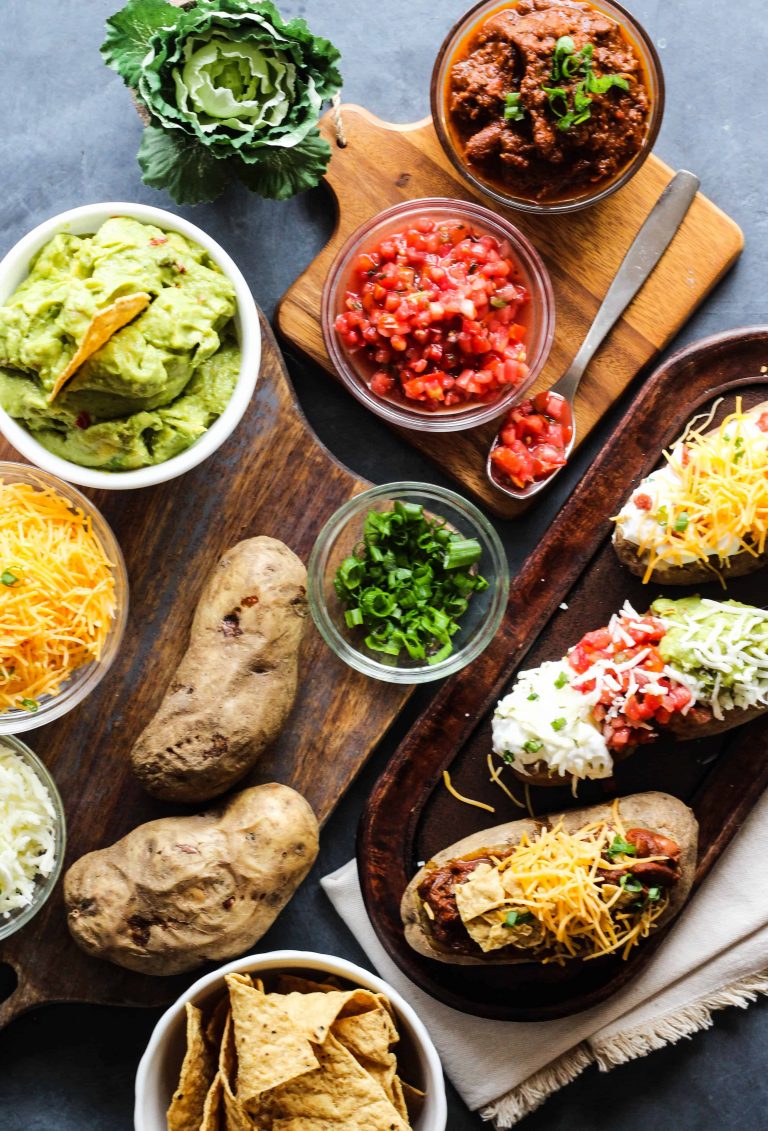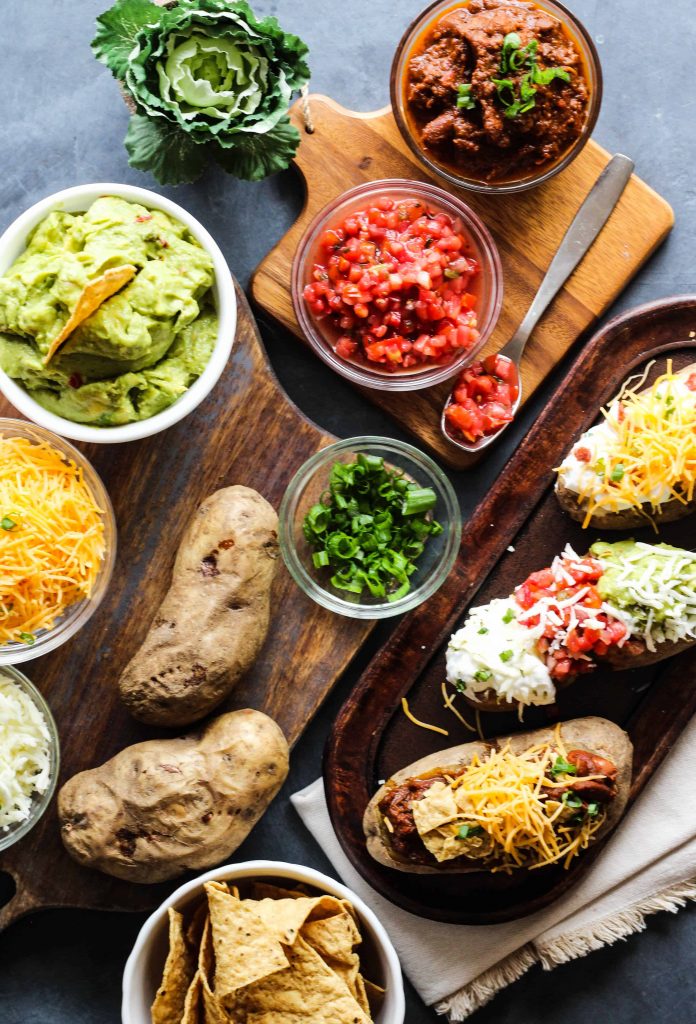 Baked Potato Bar Ideas
This is one of those dinner ideas to have up your sleeve for busy weeknights. It's an easy, quick prep, kid-approved meal that gets everyone excited.
Why? Everybody gets to choose their own toppings. It's completely customizable for even the pickiest of eaters. Which means less no whining at the dinner table. Yes!
Use that trusted, perfectly sized cookie scoop to make your potato into a boat, fill with your toppings, and enjoy!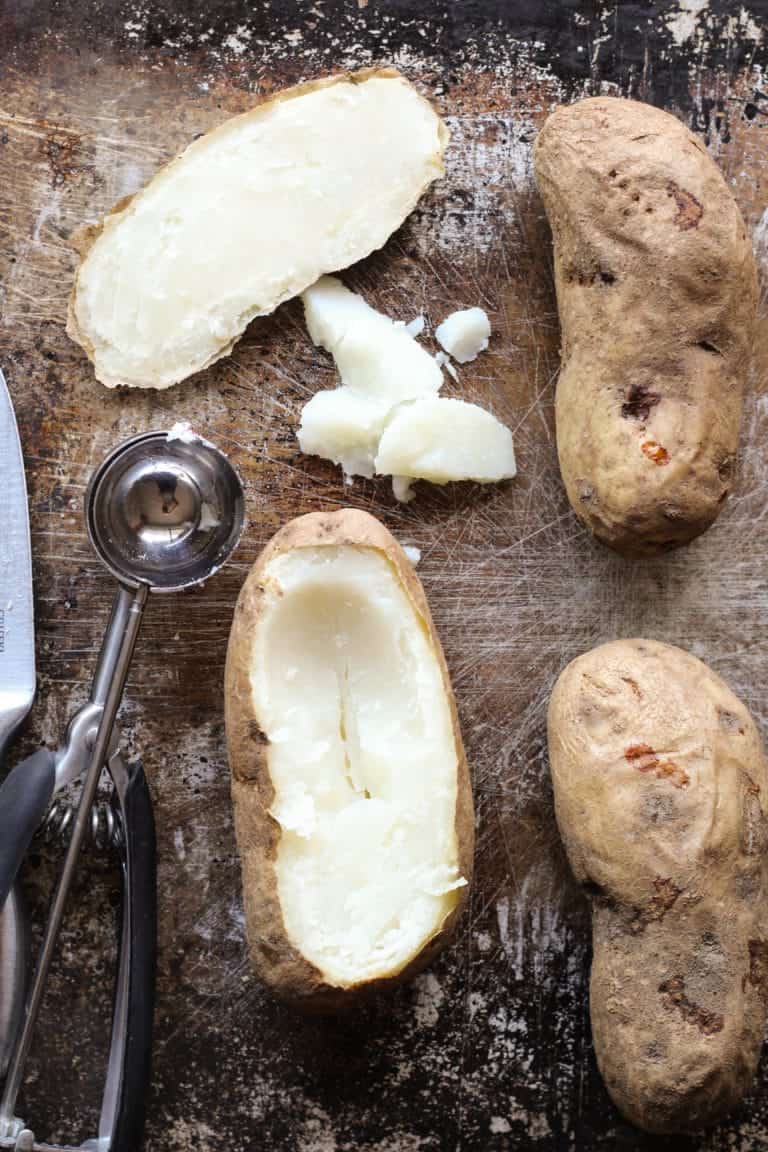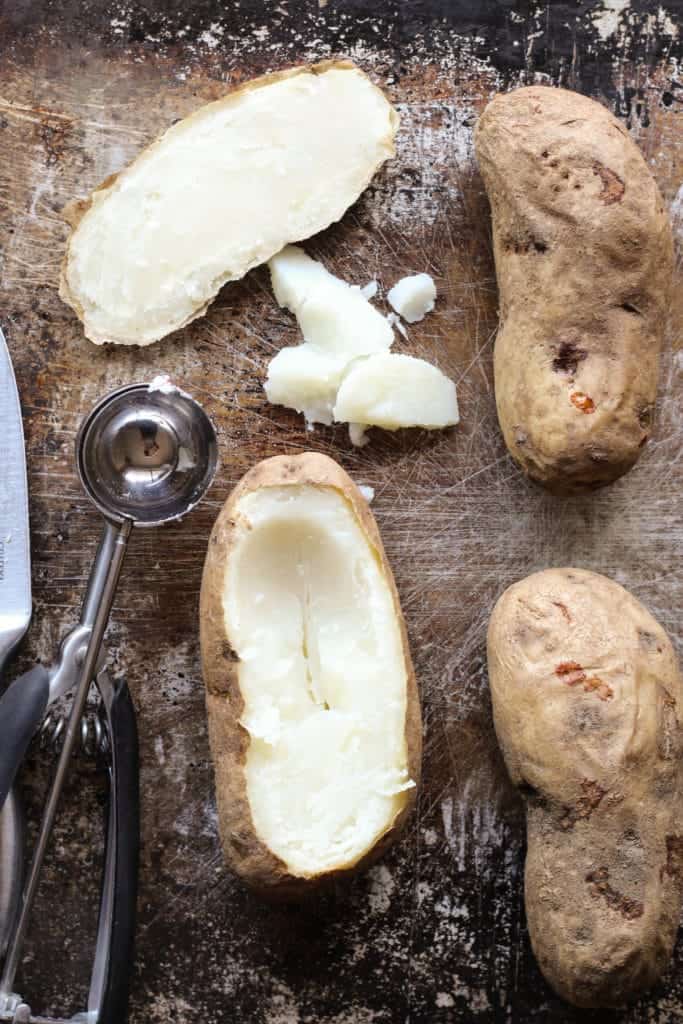 INGREDIENTS
potatoes
desired toppings

sour cream
cheese
bacon
salsa
guacamole
chili
onions
tortilla chips
And any way you dress the potato, it's delicious. Russet potatoes are so versatile. They can go Southwest, with taco-inspired toppings.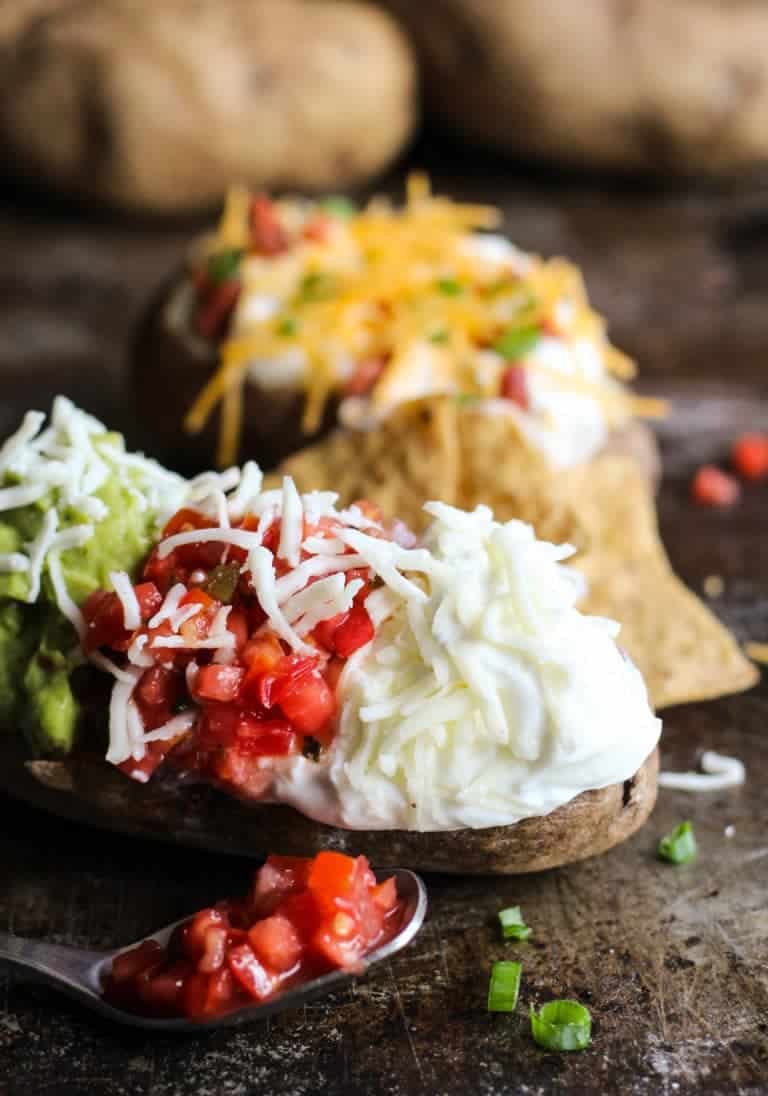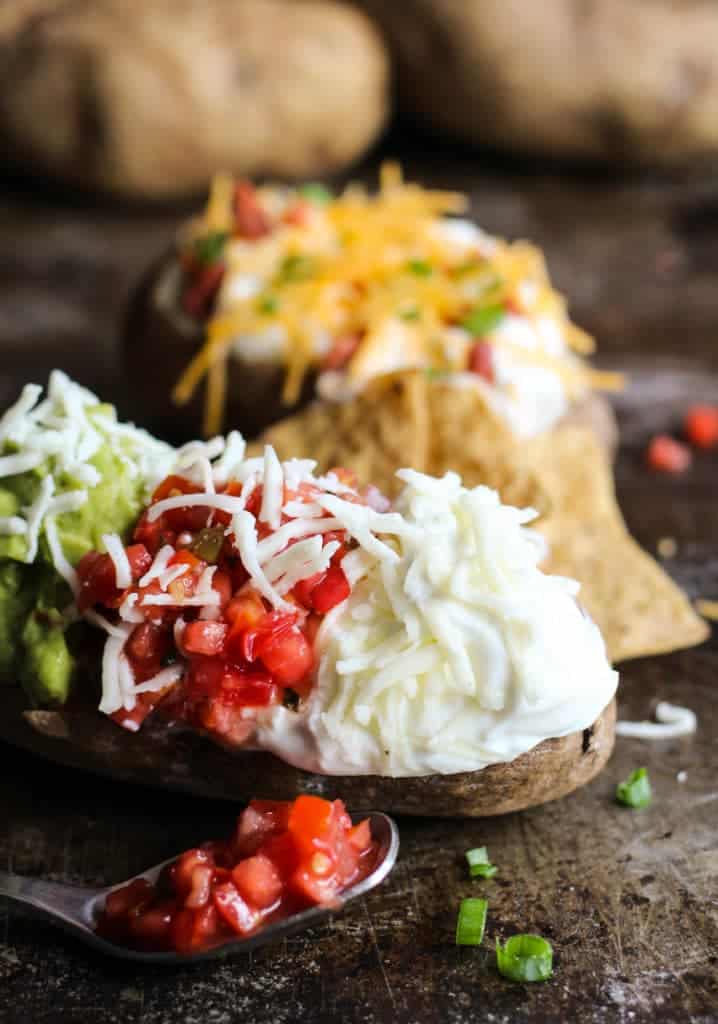 Or extra-hearty with a good dollop of chili and tortilla chips.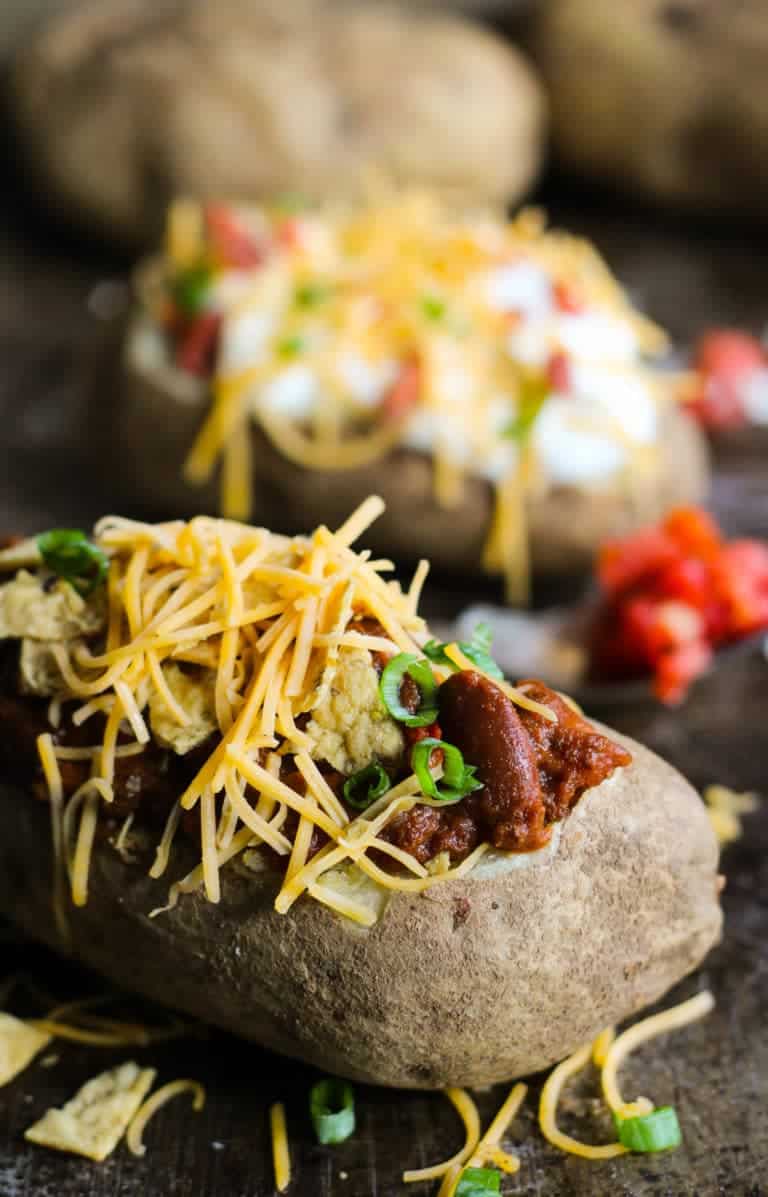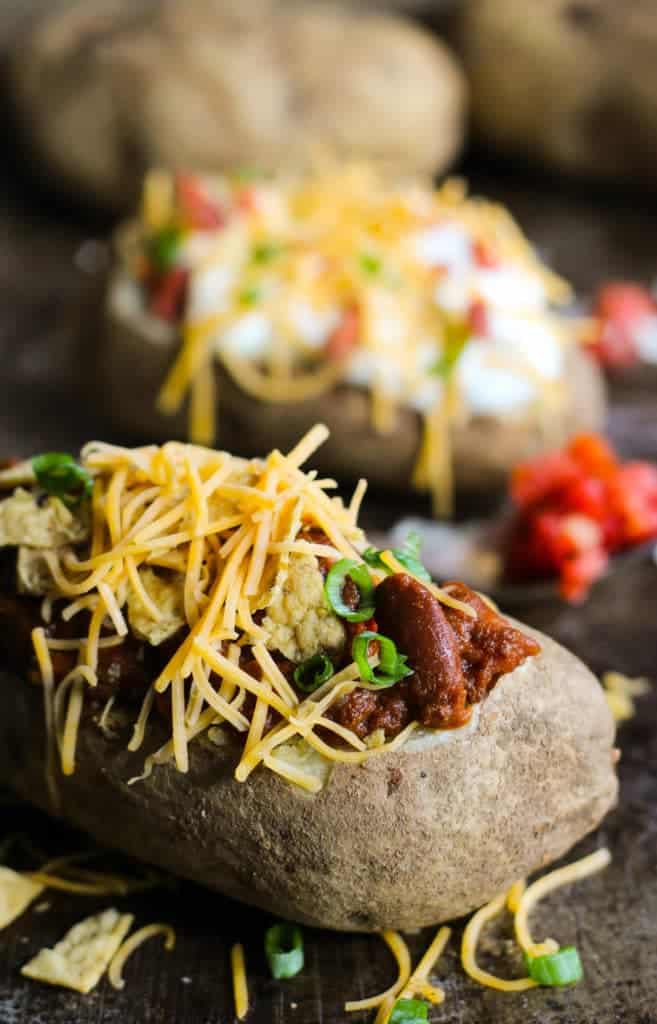 Or classic for the traditional palettes. That's my favorite.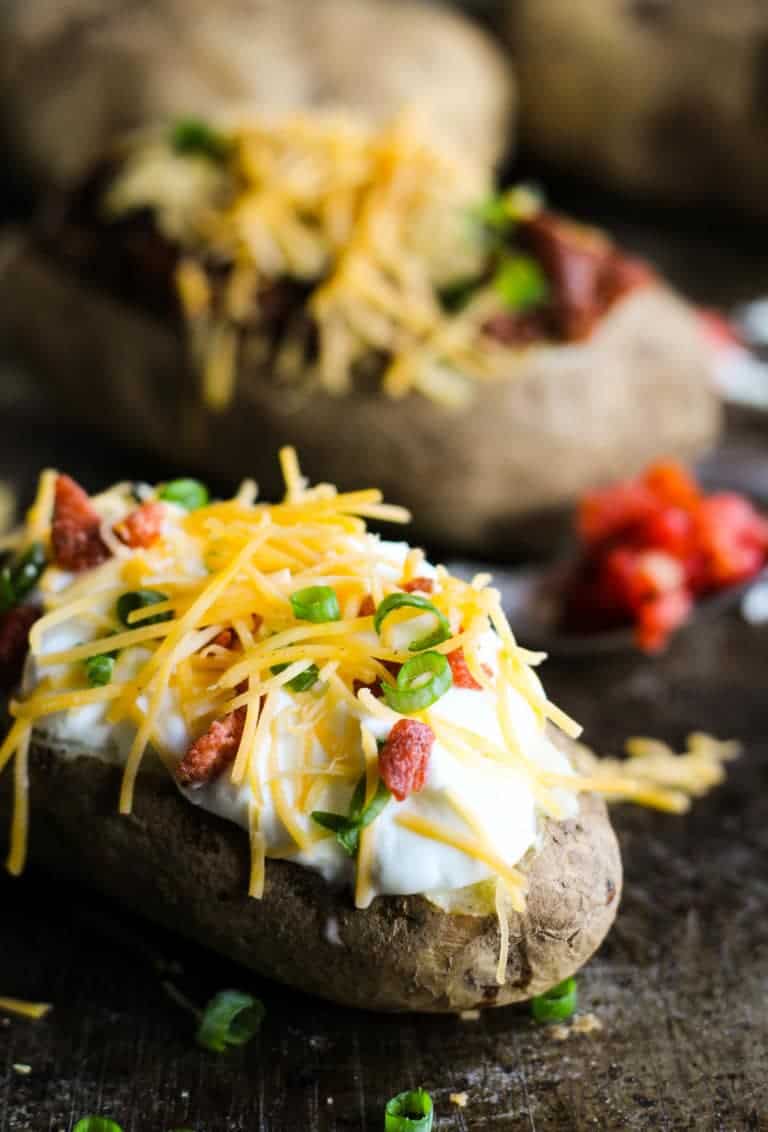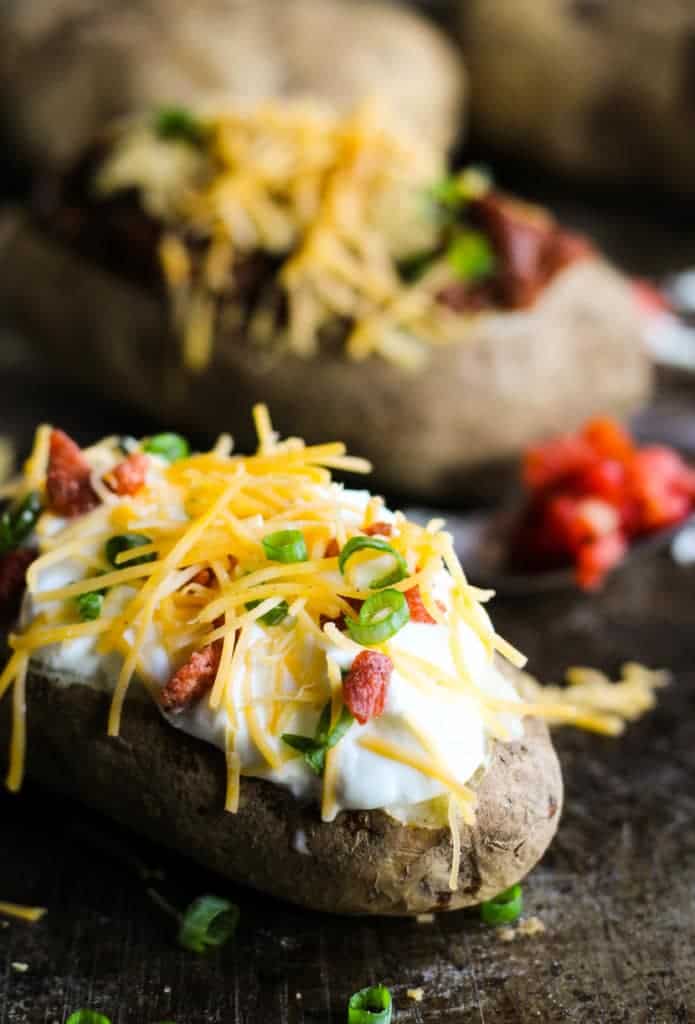 Tip! Use Greek yogurt instead of sour cream for an extra boost of protein.
WHAT CAN I SERVE WITH MY BAKED POTATO BAR?
My family usually likes to balance it out with an easy salad. We tend to go caesar or just a garden salad. Sometimes, in the fall/winter, we like to pair it with some soup. Simple tomato or chicken noodle soup will do.
We love potatoes in our house because they taste great with every type of cuisine. In fact, they're a key staple in cuisines all around the world. Makes sense to me, since they compliment any flavors you add to them.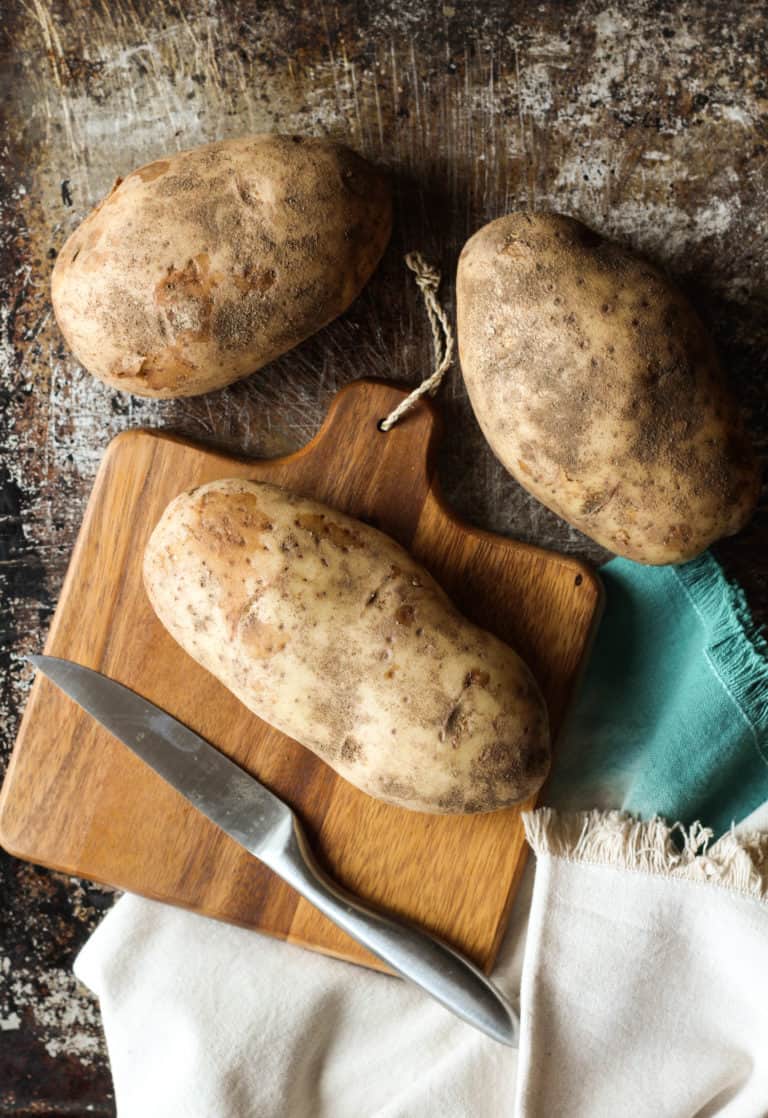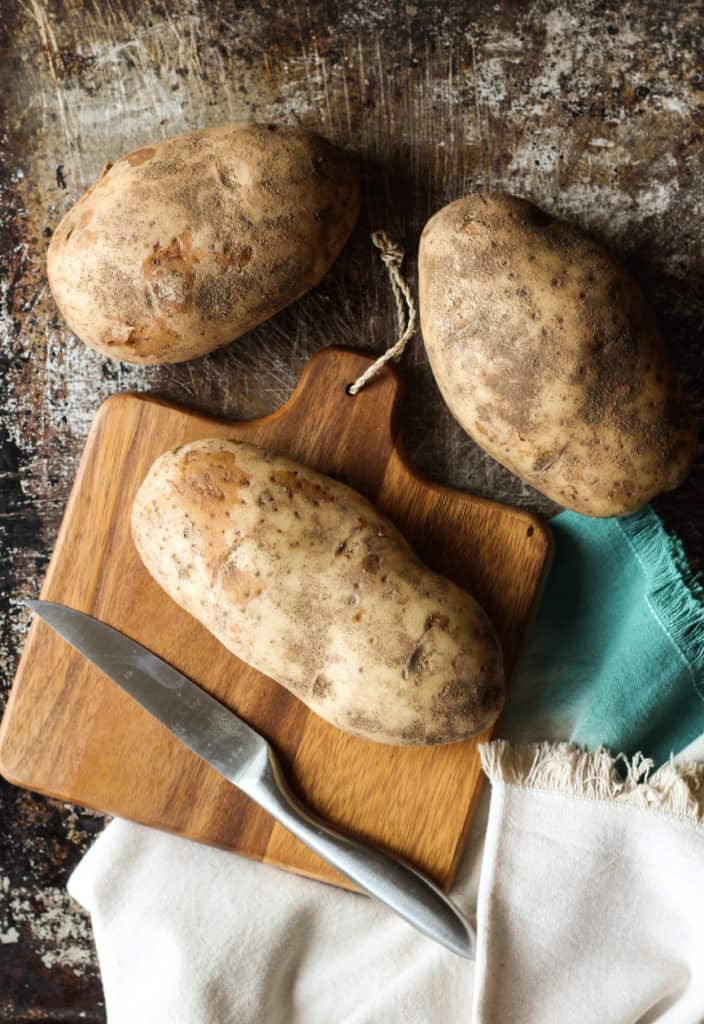 I rely on potatoes every week for creating simple meals that everybody loves. They're base ingredient for so many dishes. It's convenient to keep some in my pantry to bake, boil, or even fry.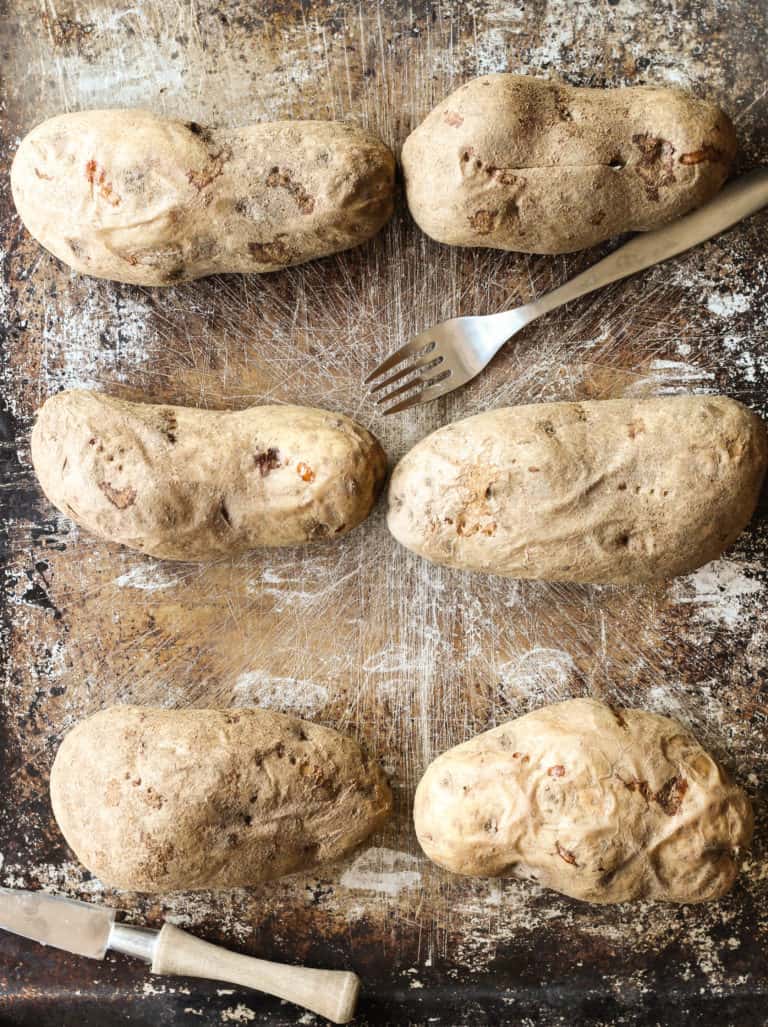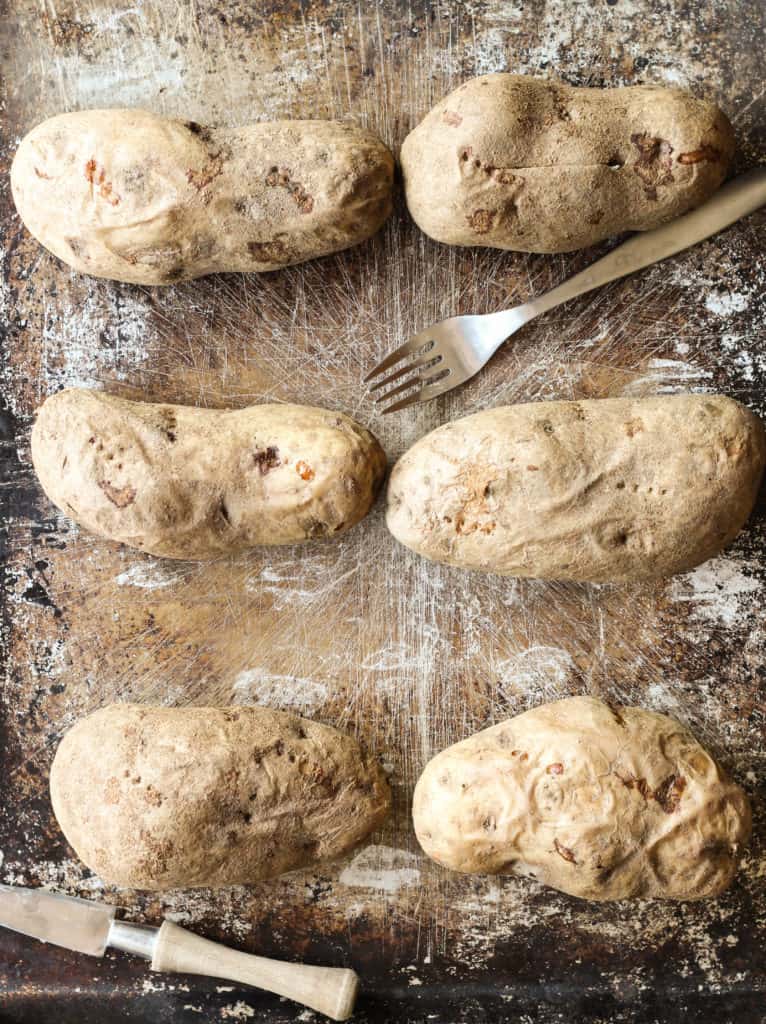 To prep for our loaded baked potato bar, I stocked up on some of our favorite toppings. If you can't get to the store, you could totally use any veggies, sauces, or other ingredients you have in the fridge. Add whichever toppings your family likes!
We like a bit of Mexican flavor with our potatoes, so I served fresh pico de gallo, shredded cheese, and our favorite guacamole. I was able to bake the potatoes ahead of time, and the kids absolutely loved adding their favorite toppings to their potatoes.
Want to make a fabulous POTATO BAR? Check out the complete guide.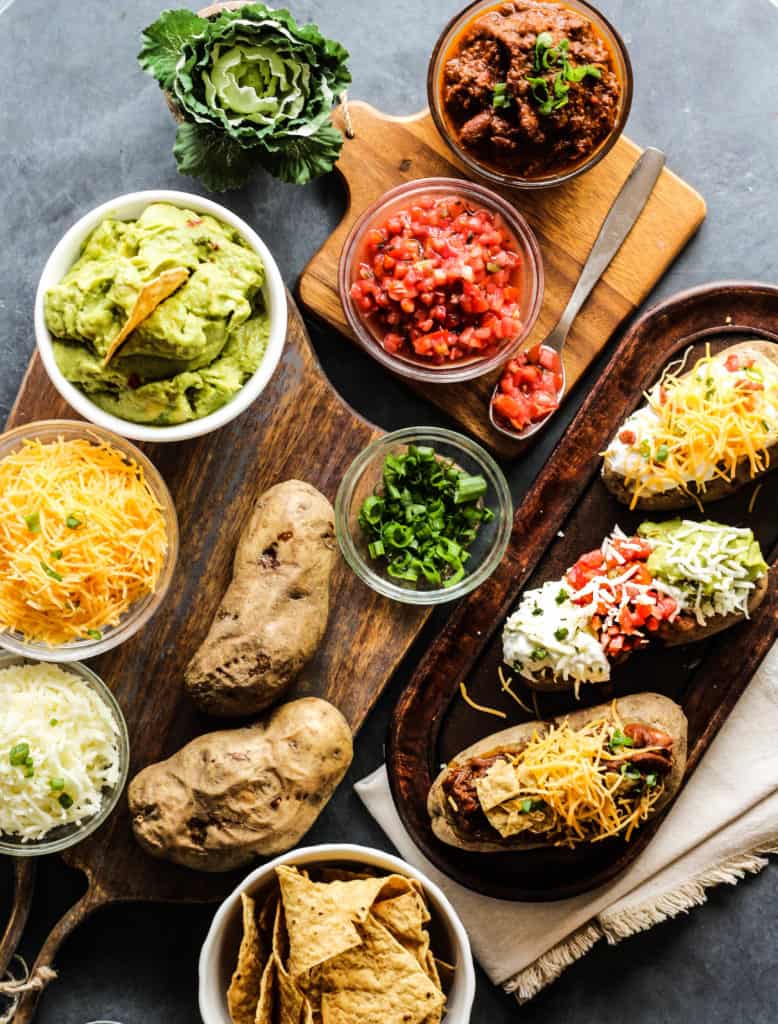 WONDERING IF THIS WILL TRANSFER TO A PARTY AND WHAT TO SERVE WITH A BAKED POTATO BAR?
Since the possibilities are endless, you can keep it as simple or make it as fancy as you would like. The ideas I have listed above would be great, but if you really want to step it up take a look at this post for more baked potato bar ideas.
Filling, fresh, and yummy! This loaded baked potato bar was a hit in my house, and I'm sure your family will love it too!
Love this southwest loaded baked potato bar? Try the Cornbread-Topped Slow Cooker Chili!