A super simple recipe of chili and cheesy cornbread cooked together in a slow cooker. Warm up with a bowl of crockpot chili and cornbread! Tip! We love this Crockpot for chili– programmable and portable.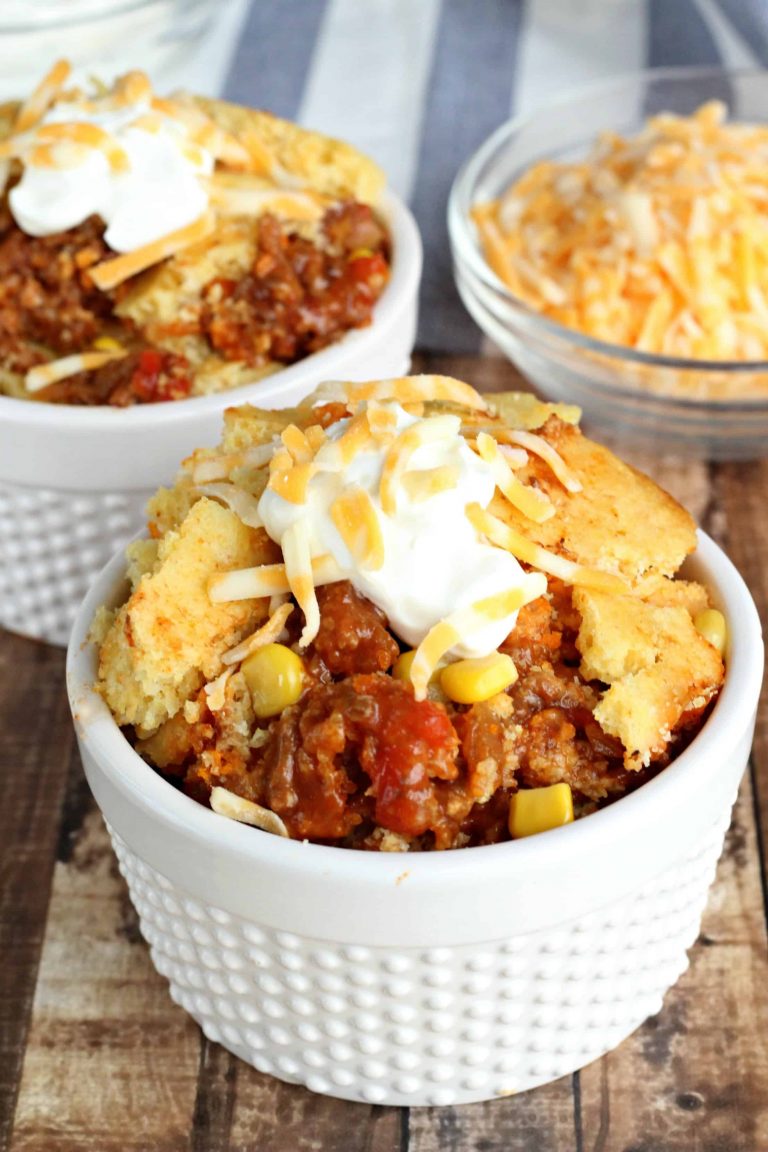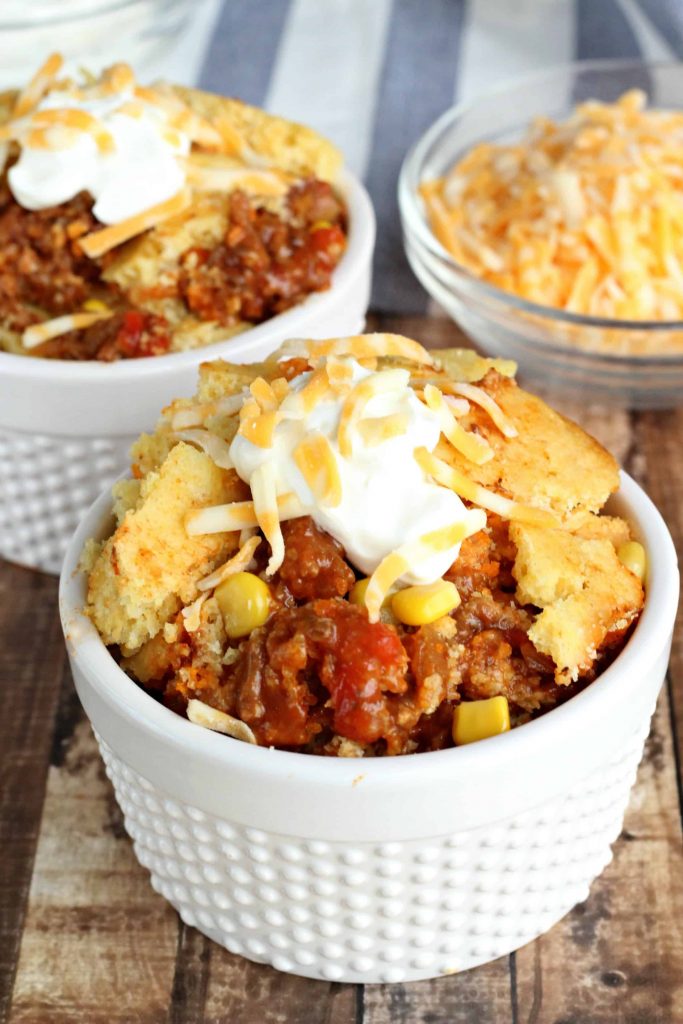 Chili with Cornbread Topping
This dish has quickly become a family favorite. It's everything you want in a bowl of chili! Flavorful tomatoes, corn, and peppers. Plus you get cheesy cornbread…all done in a slow cooker. It's the best.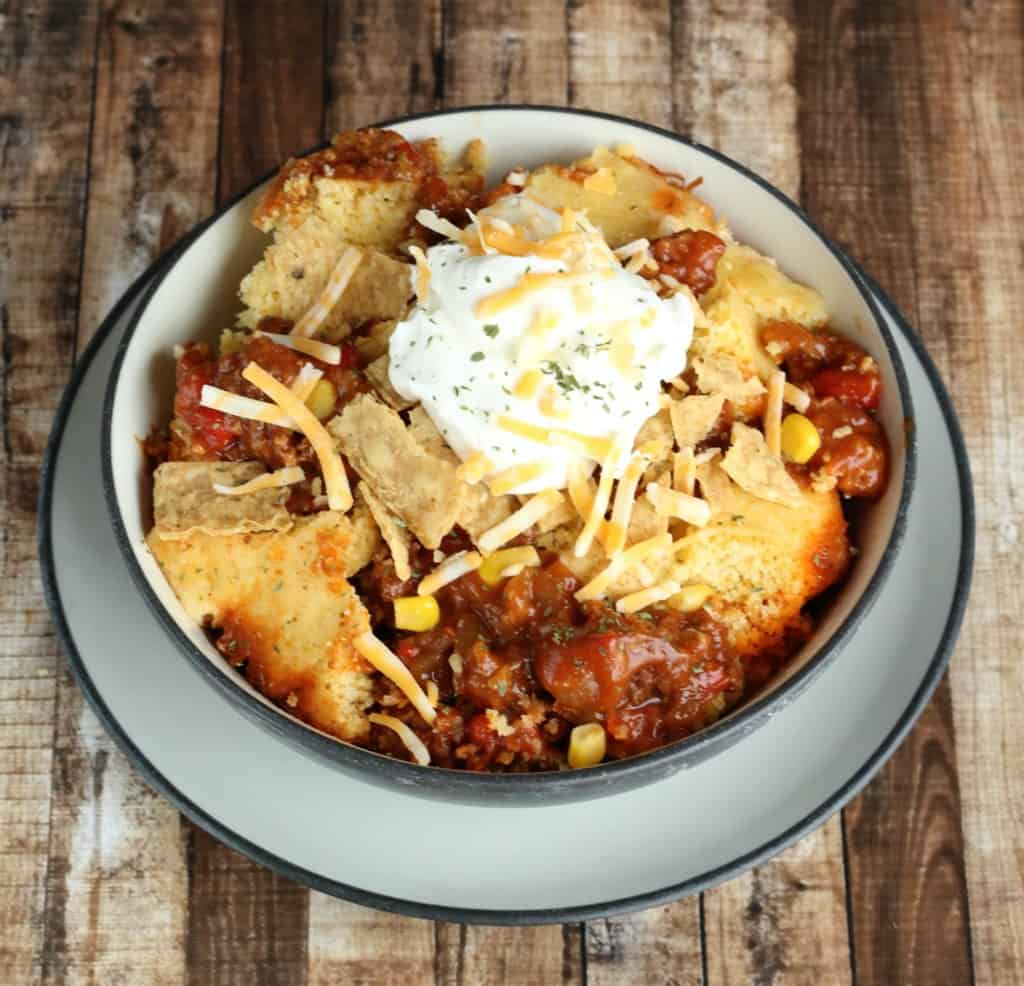 I love this all-in-one meal! Especially for game watching at home. It's a set it & forget it meal, and it delivers every time.
Ingredients to make chili with cornbread on top:
1 pound lean ground beef
1 medium-sized yellow onion, chopped (about one cup)
1 pepper, any color, chopped (about one cup)
1 cup frozen corn
1 package of store-bought taco seasoning
1 can of condensed tomato soup, do not add water
1/4 pound cheese
1 prepared cornbread mix, 1 box plus ingredients to make batter
Optional Toppings: tortilla chips, salsa, guacamole, sour cream, shredded cheese, hot sauce
Directions for making chili with cornbread on top:
Add ground beef, onion, pepper, corn, seasoning, and tomato soup to slow cooker.
Cover with lid and cook on "high" setting for 3 hours, until beef is cooked through.
Break apart beef and mix all ingredients.
Top with shredded with cheese and corn muffin batter.
Add lid and cook to cook on "high" for 60 minutes or until cornbread topping is cooked through.
Scoop into ramekins and add toppings!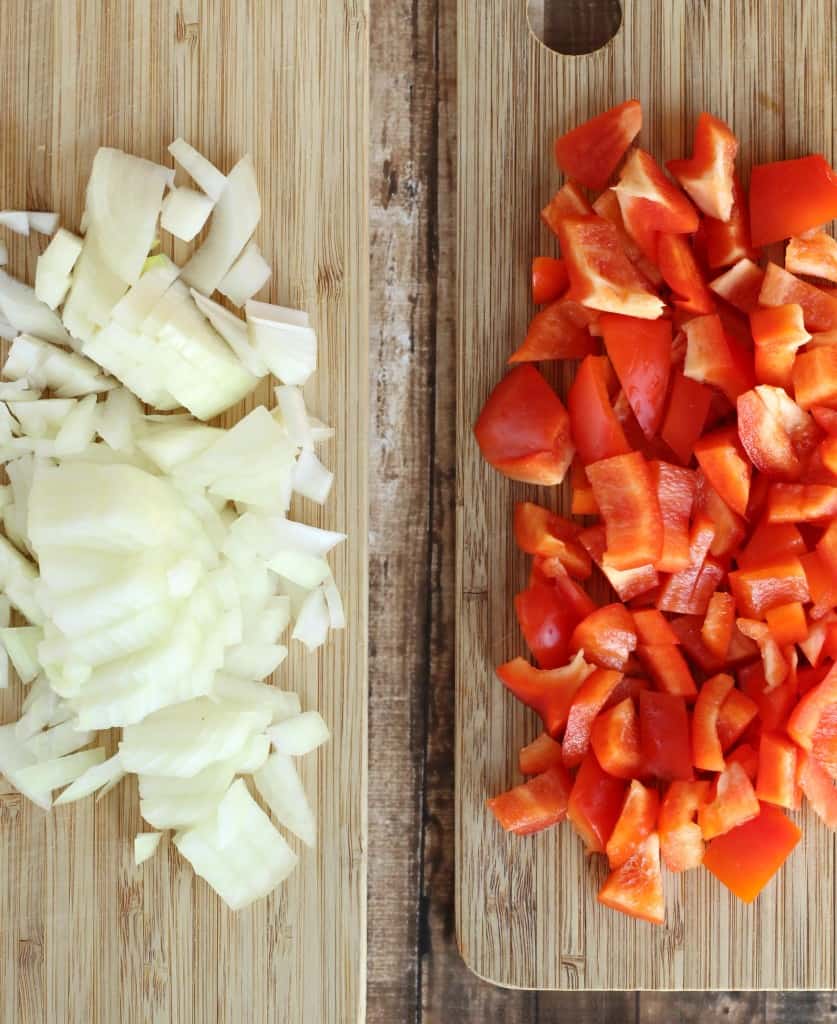 So much seasoning and spices. Just the way we like our chili.
We're big fans of slow cooker meals-especially cornbread-topped chili- for having friends over for football. Slow cooker dishes are low-maintenance, feed a crowd, and warm you up during chilly football season in the Midwest. You can easily load up the slow cooker in the morning and have the chili and cornbread ready for game time.
I like to set up a "topping station" where my guests can help themselves and top their chili the way they prefer. Chips, shredded cheese, salsa, sour cream- I love it all. So I load up my chili and dig in.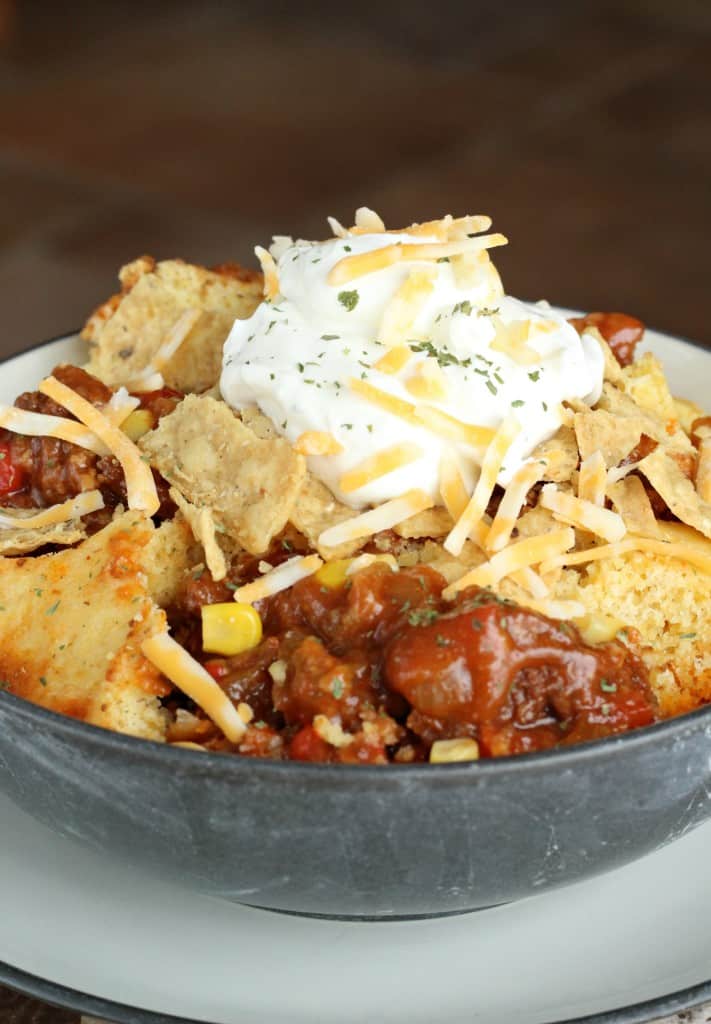 One of our new favorite traditions is to have our daughter pick snacks to go with the cornbread-topped chili. She loves to go to the store and plan the party. At six years old, she's really getting into the game and enjoys talking strategy with my husband. I love watching them bond over their favorite teams.
Useful tools to have when making cornbread topped chili:
Hamilton Beach Slow Cooker – this one has a timer, Intelligent cooking feature and is HUGE!
Ramekins – Ramekins are a fun way to serve it and can be used for the toppings display as well.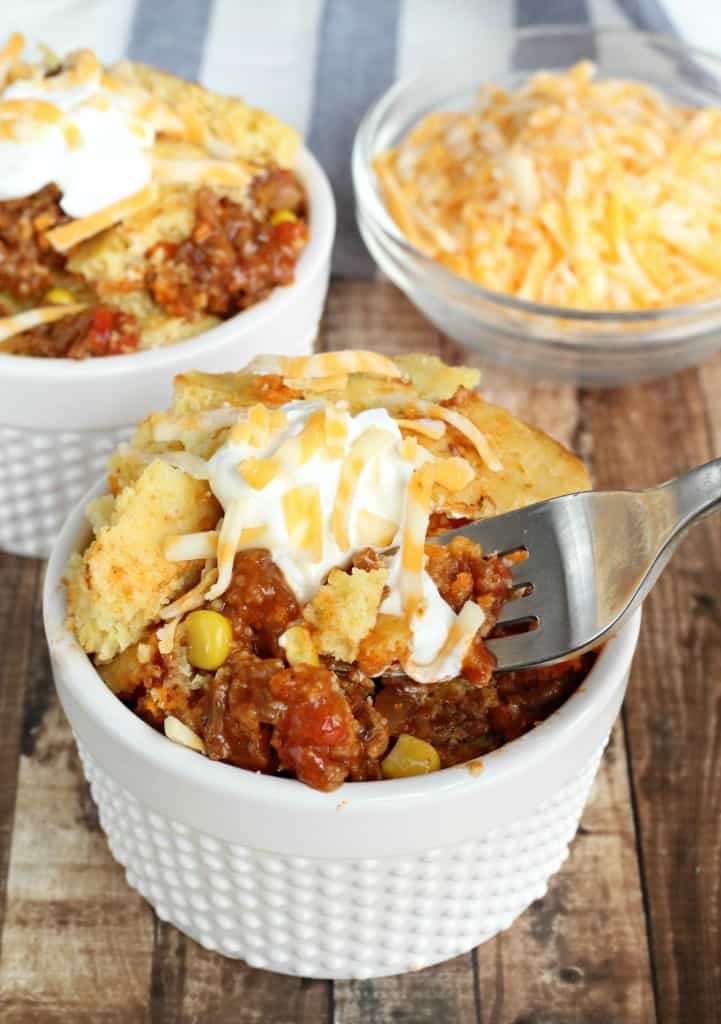 So hearty and delicious. And it keeps you going well into overtime! We're ready for the playoffs at our house!
Frequently Asked Questions
What does cornbread go with?
Chili is the most popular and obvious pairing with cornbread, as it balances the spices in the chili with it's sweetness. However, you can pair cornbread nicely with buttered vegetables, roasted chicken or pork, ice cream, butter and jam, and of course, BBQ. I love cornbread on the side with ribs!!
What do you serve chili with?
Besides cornbread, my house usually has shredded cheese, sour cream, onions, saltine crackers or a nice crusty bread. You also can add different vegetables that you didn't already add to your chili, like corn or black beans.
What do you put chili on?
We for sure put chili on hot dogs! Other than that, you can put in pie dough and make empanadas, you can top sour cream to make a shepherd's pie, you can add some rice to make stuffed peppers, and lastly, you can add to macaroni for a great chili mac!
Lighter Chili Mac Casserole
.