A remarkably delicious and easy chicken curry recipe for the slow cooker.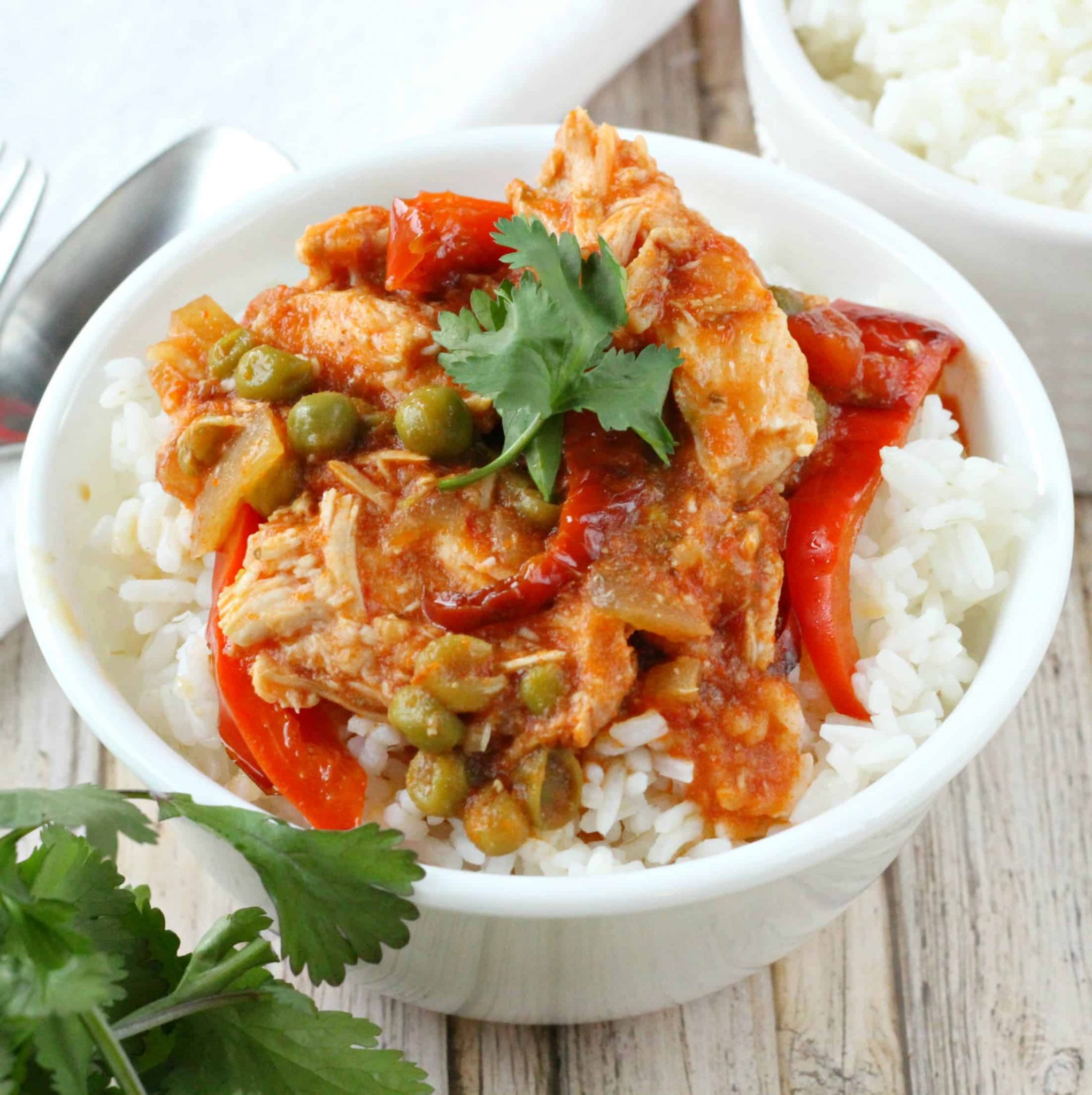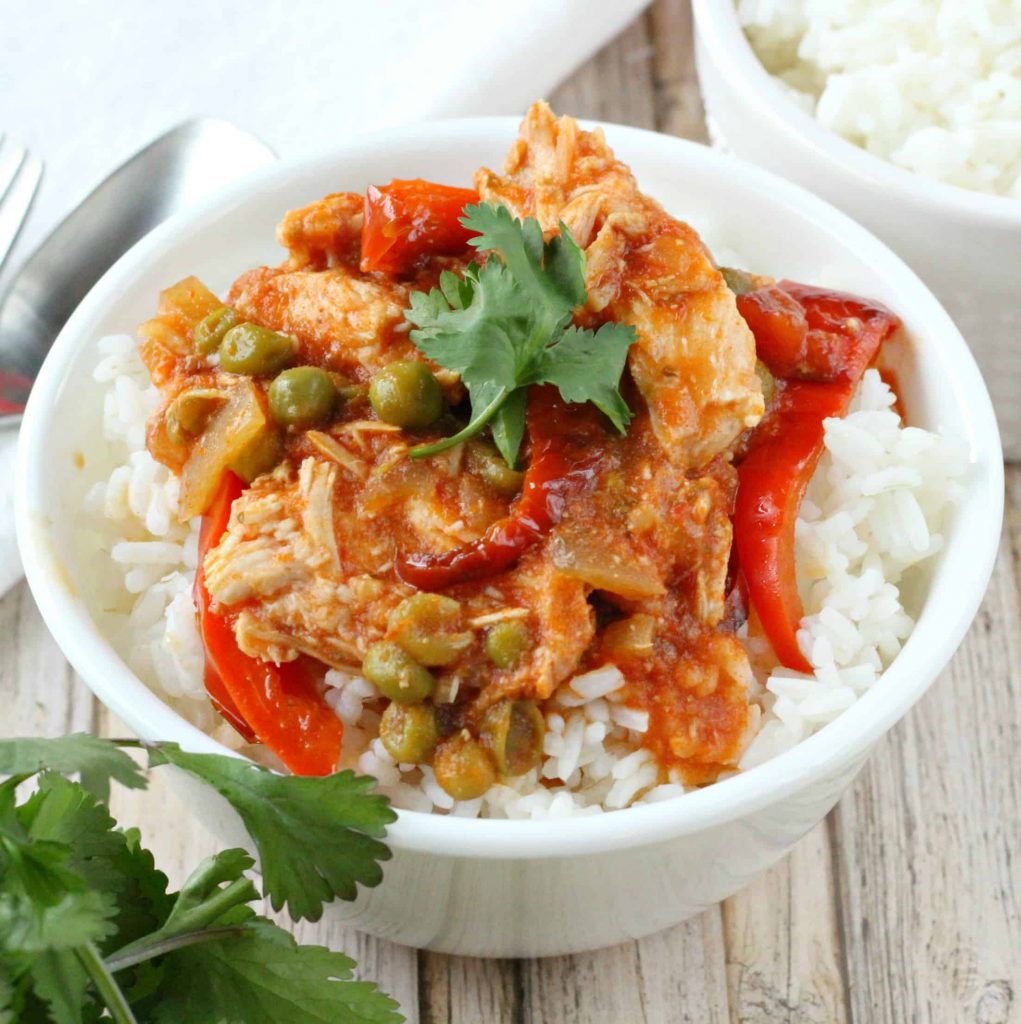 I know, I know. It sounds a little overly confident to say this meal is remarkably delicious, but just hear me out.
I've tried A LOT of methods to make chicken curry. In a skillet, baking in the oven, tossing in a million obscure ingredients. And all of them tasted good… but none were particularly convenient to make.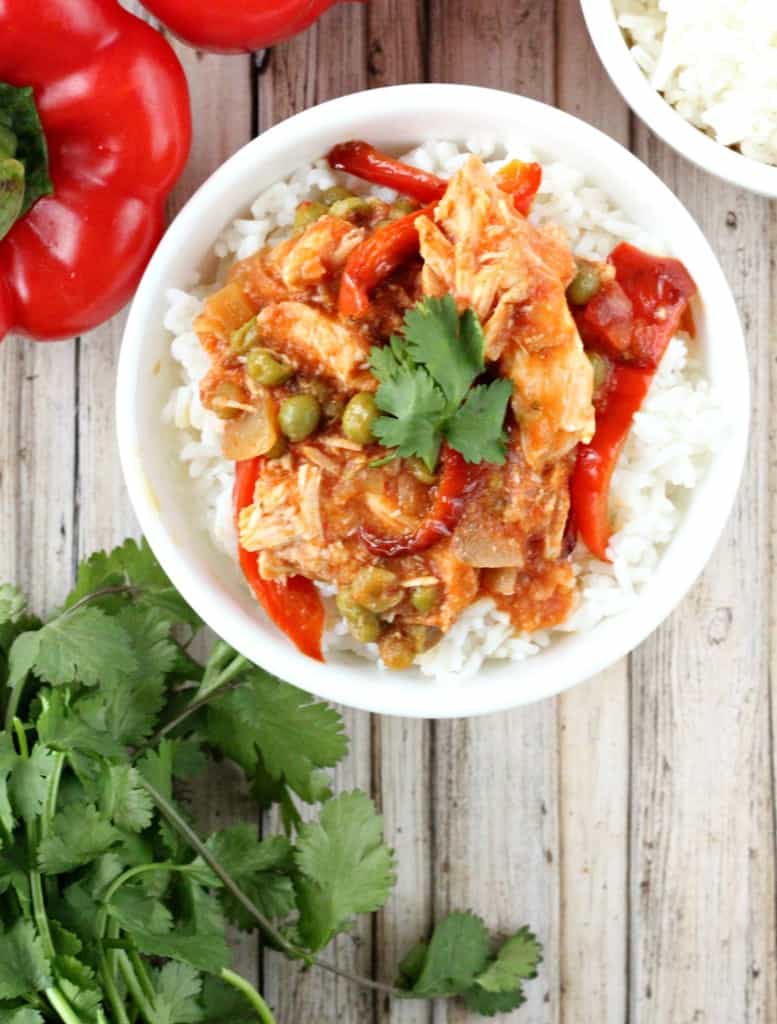 I'm a food blogger, yes. But I'm also a work-at-home-mom, a mother to two little kids, and on and on. I just don't have time (or the energy) to cook first-class ethnic cuisine on a weeknight. Sometimes I'll plan to do a special, cook all day meal on the weekends, but that's pretty much my max commitment these days. So I was determined to create a chicken curry recipe that I wouldn't dread putting on the weekly meal plan. PLUS it had to taste as good as the overly complicated chicken curry's I had made in the past.
To be more specific, it couldn't taste like it came out of a crockpot. Know what I'm sayin'?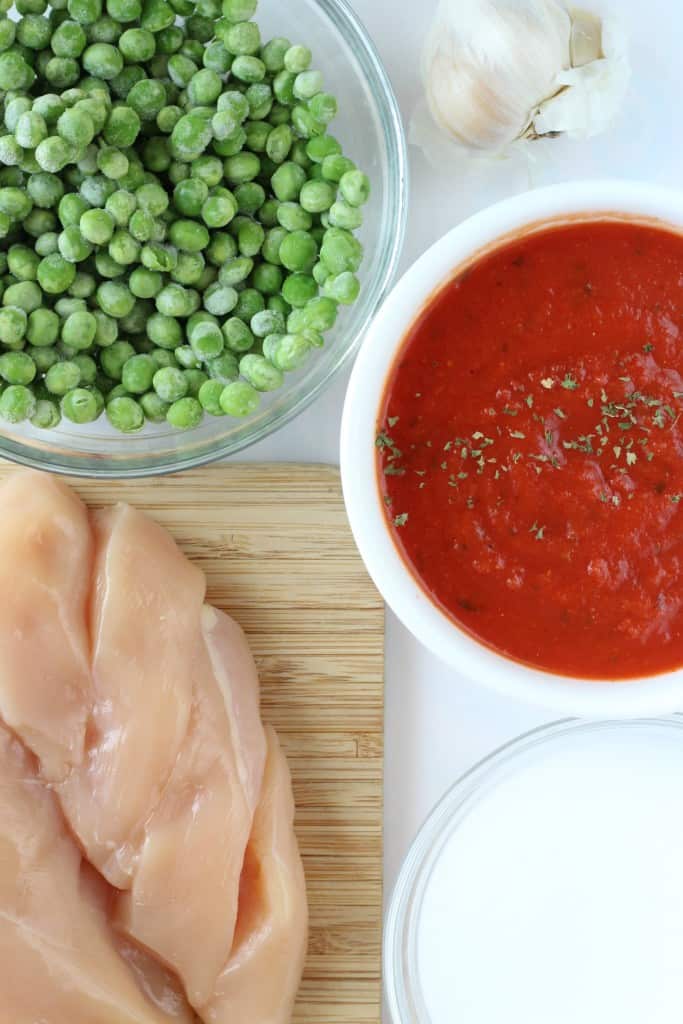 Fresh, bold, and homemade. That is what I was aiming for.  And– just being honest– this is one of the best slow cooker meals I've ever had. You're going to love it.
I didn't take a lot of cooking pictures, because food in a slow cooker is not cute. Nor does it look appetizing. However, the final product?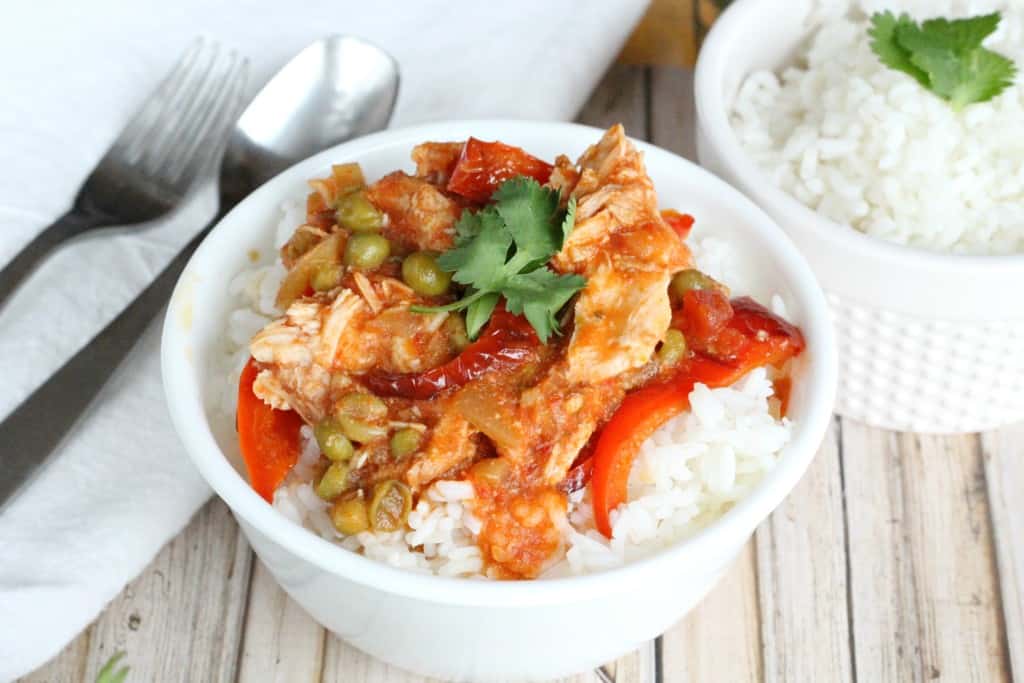 YUM YUMS, as my one year would say.
Peas, red peppers, a creamy coconut milk & tomato sauce… it's got everything. And it's SO easy to make. I've been cooking up weekly batches of this goodness.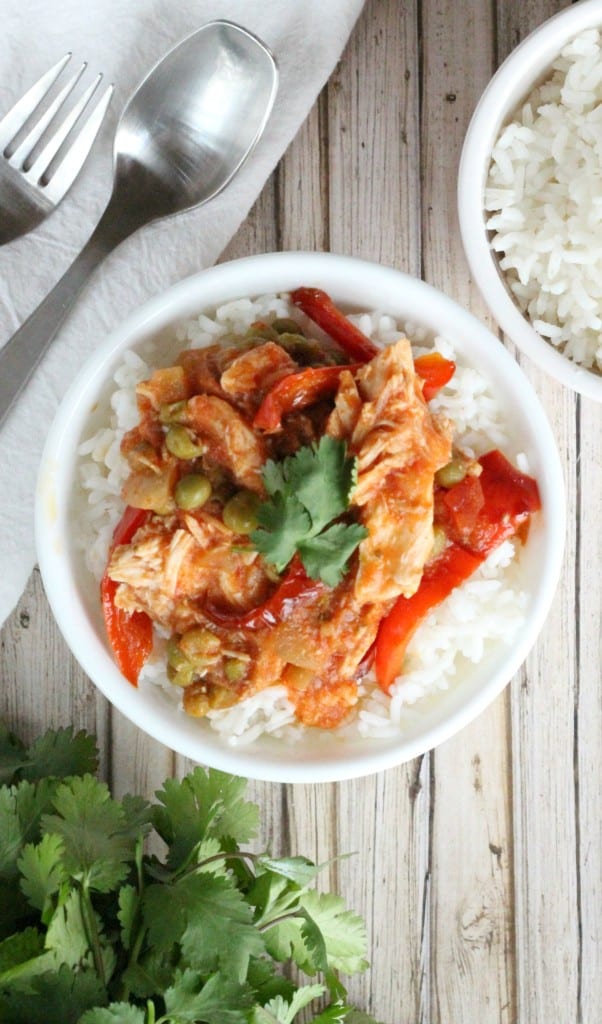 And guess what? The leftovers are even better.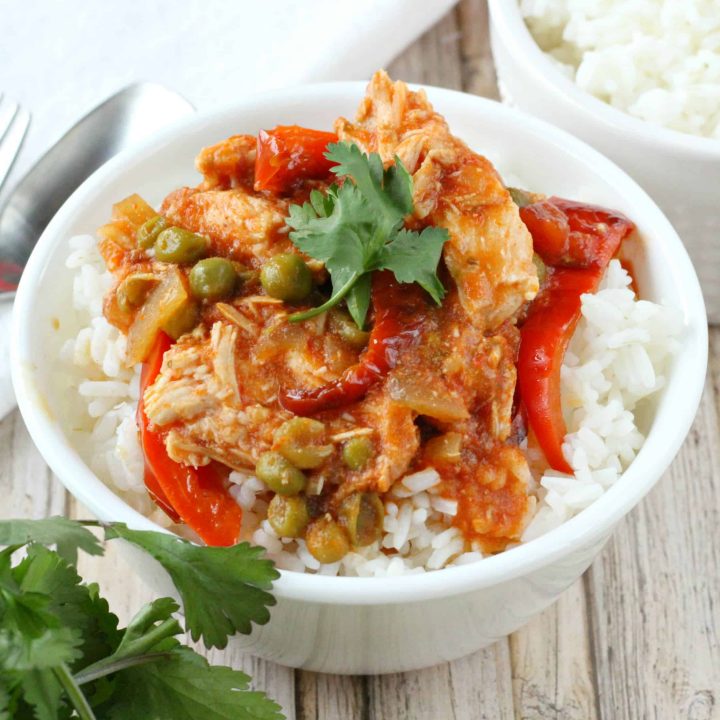 Slow Cooker Chicken Curry
Total Time:
8 hours
10 minutes
A remarkably delicious and easy chicken curry recipe for the slow cooker.
Ingredients
4 cups, instant white rice, prepared
2 pounds boneless, skinless chicken breasts
1, 6 oz can of tomato paste
1, 13.5 oz can of coconut milk
1 small onion, chopped (about one cup)
1 red pepper, sliced into thin strips
2 cups of frozen peas
1, 14.5 oz can of tomato sauce, about 1 3/4 cup
2 large cloves of garlic, minced
3 tablespoons honey
1 teaspoon salt
a sprinkle of crushed red pepper
optional: 1 teaspoon curry powder, I omit to make it more kid-friendly
Instructions
In a bowl, combine tomato sauce, garlic, honey, and seasonings. Set aside.
Add the rest of the ingredients to your slow cooker. Cover with the tomato sauce/seasoning mixture.
Cook on low 8 hours.
Break up chicken with back of wooden spoon before serving.
Serve atop a bowl of white rice.