Enjoy a quick & easy family classic with a twist– Lighter Chili Mac casserole. A hearty meal that the whole family will love.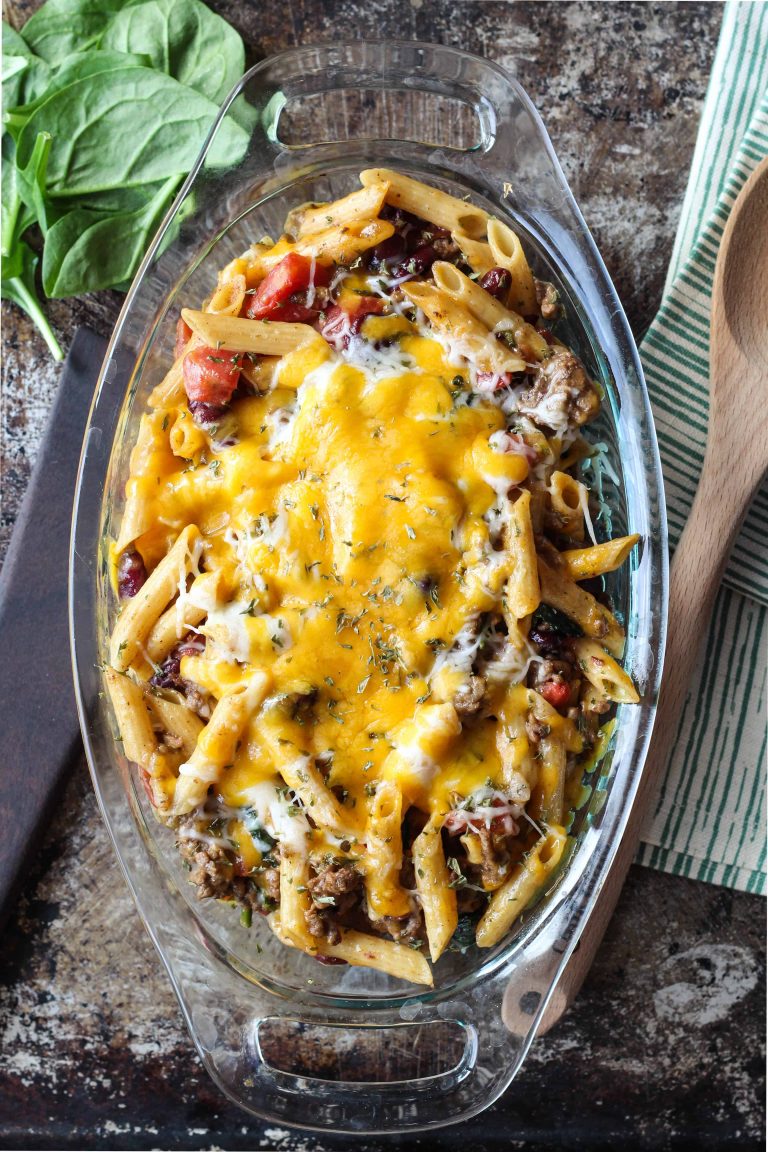 Back-to-school time can be overwhelming for everyone– new schedules, teachers, classes, and busier days all around. Looking for a quick & easy, not to mention delicious, weeknight meal solution? Then let's head to Walmart!
I recently picked up all the ingredients for our family's favorite meal, Lighter Chili Mac Casserole. It has all the flavors we love for dinner, lightened up a bit. It's a great meal to serve on a busy school night.
As many moms can relate, every night my eight year old asks what we're having for dinner. Since her cooking expertise is limited, I list off the ingredients to her.
Thankfully, ingredients to this particular dish are kid-approved. Campbell's® Condensed Tomato Soup, pasta, ground beef (or "taco" beef as we call it in our house), tomatoes, and cheese.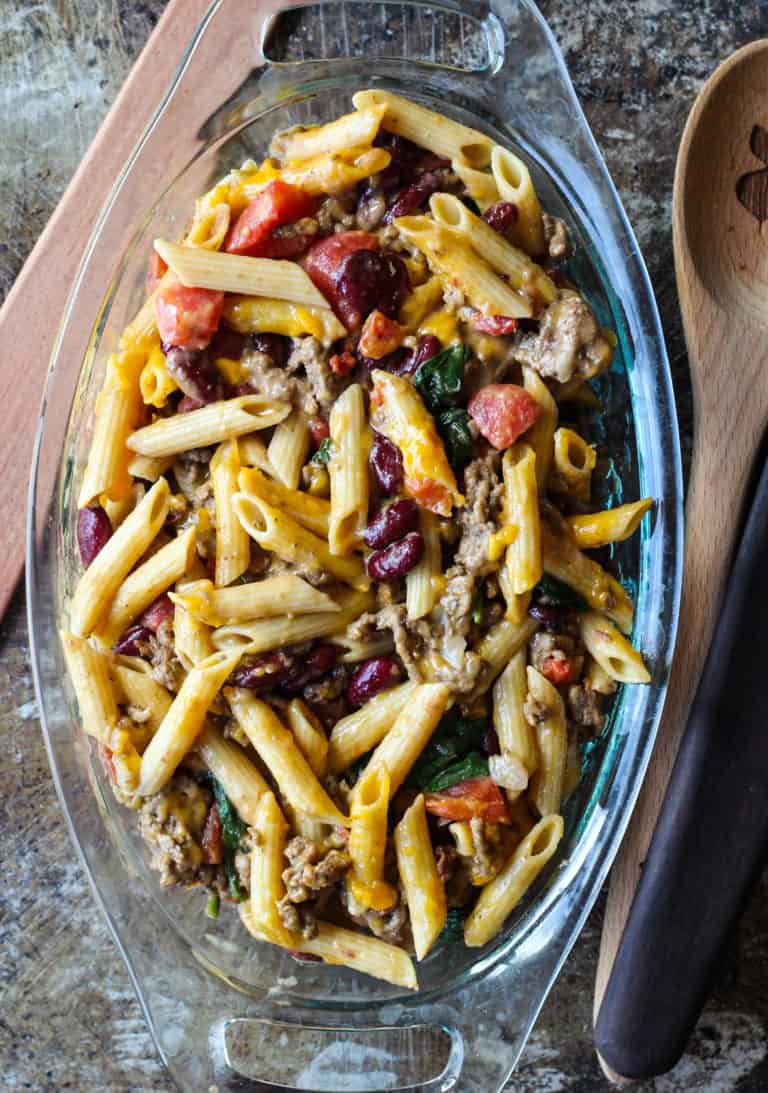 So how is it lightened-up? Well Chili Mac is a pretty classic dish. And I've seen it served plenty of ways…. over salad, over chips, and in a taco shell, to name a few. My version has all flavor of the original Chili Mac, but it's still a dish you can feel good about serving to your littles (or big kids).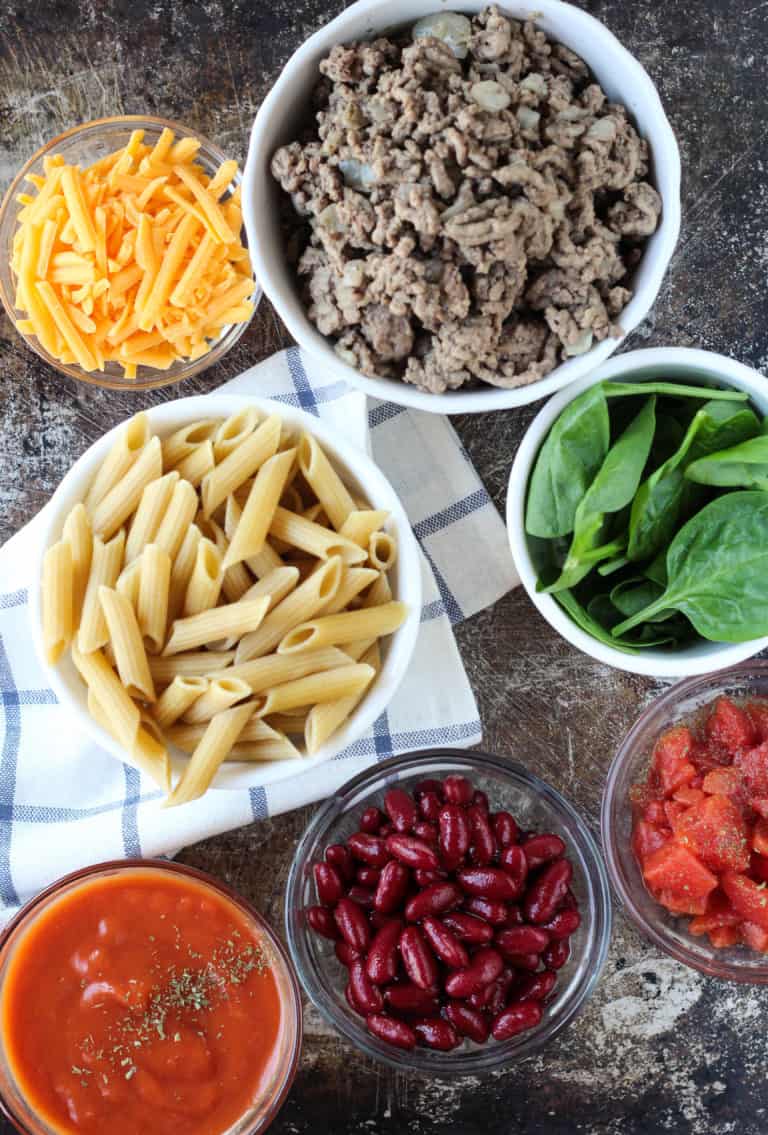 A few of the better-for-you swaps? Whole grain pasta, low fat cheese, and a couple of added veggies. I promise, the kids will love it just as much as the original. And it fills them up with good stuff.
Start with ground beef, and cook it up with diced onions. I like to use frozen (pre-chopped) onions for a short cut. Add tomato soup, diced tomatoes, beans, and a handful of spinach to the pot.
Stir, stir, stir… until the spinach wilts and the mixture is completely combined. Add a cup of shredded cheese (cheddar tastes best!), stir one last time, and spread out into a casserole dish.
Top with more cheese, then bake for about 10 minutes, or until the chili mac gets bubbly and delicious.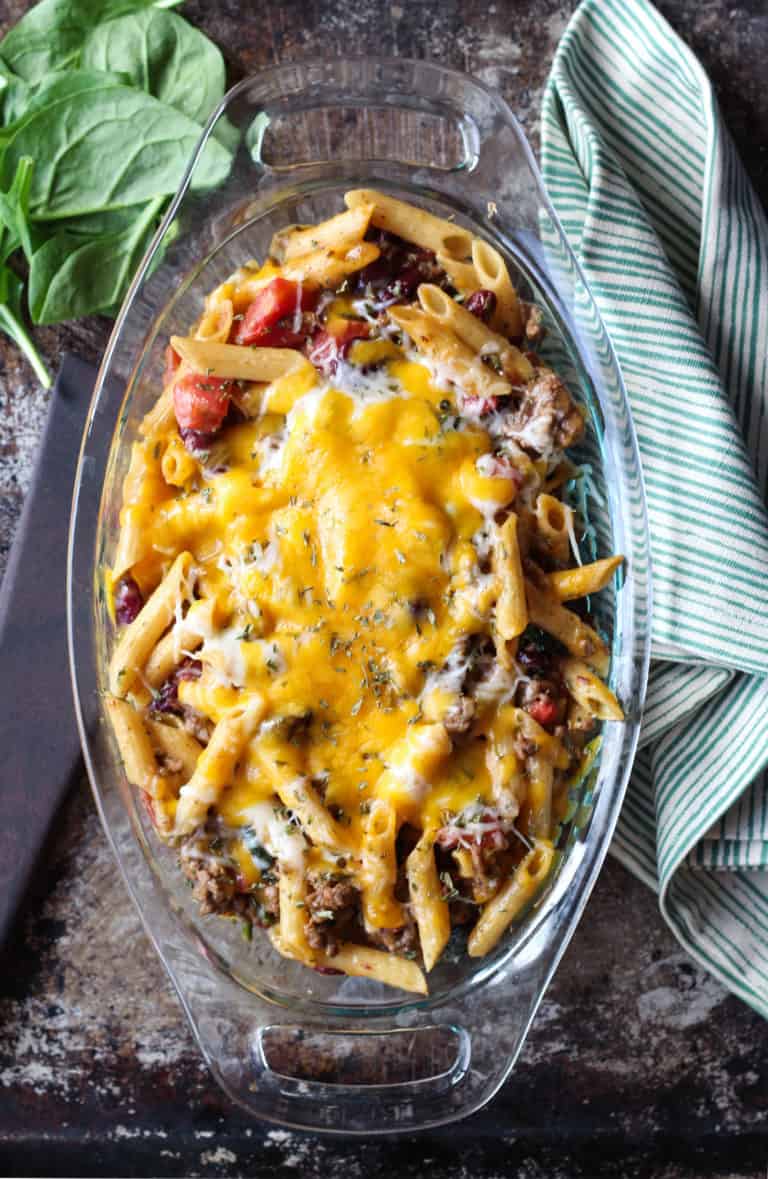 YUM. Trust me, the kids will love it. And you'll appreciate the whole family is getting extra fiber from the whole grains, beans, and spinach. A win for Mom!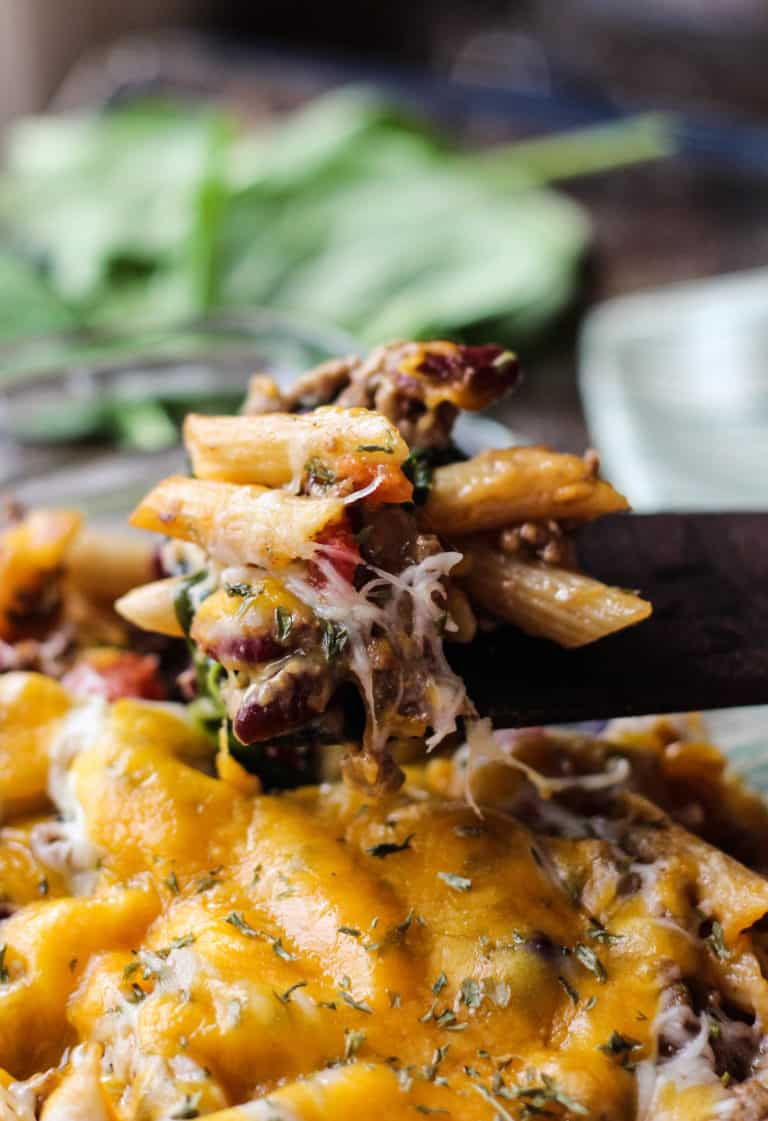 I love how quickly this dish comes together. You could even brown up the ground beef in the morning, for a quicker prep time. Toss the ingredients in a dish, and you're ready to bake.
I love to put my own twists on classic family favorites, and know my kids will enjoy them.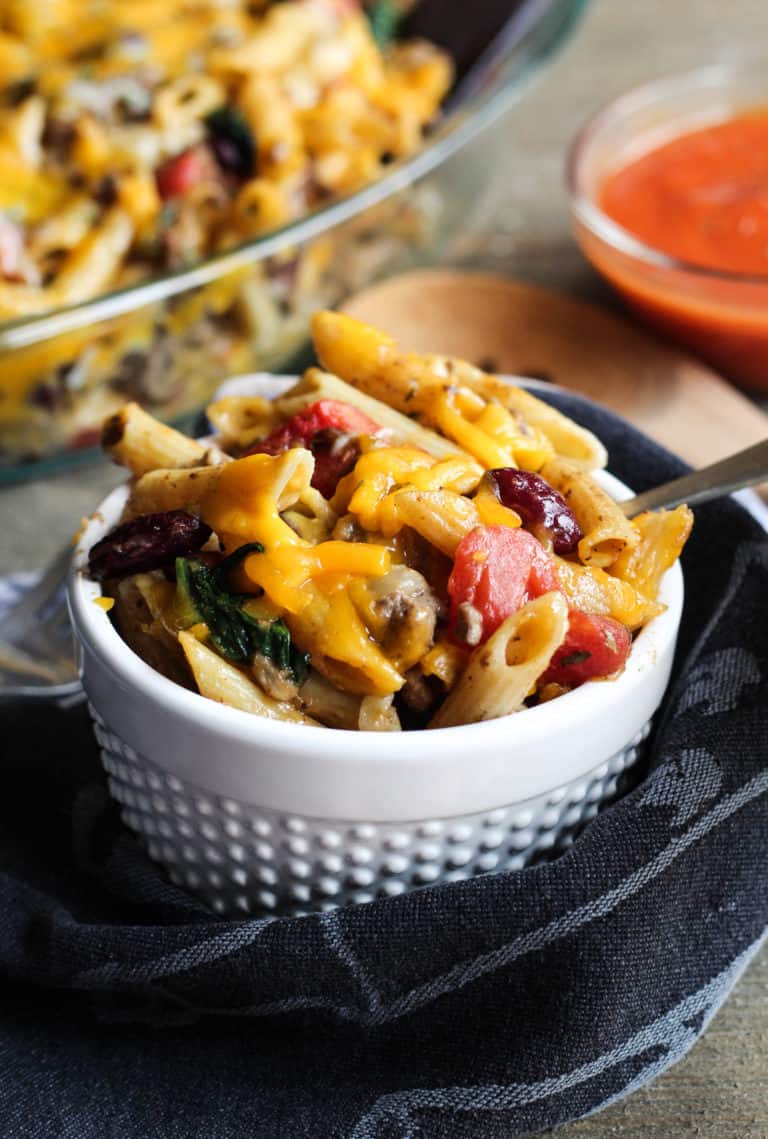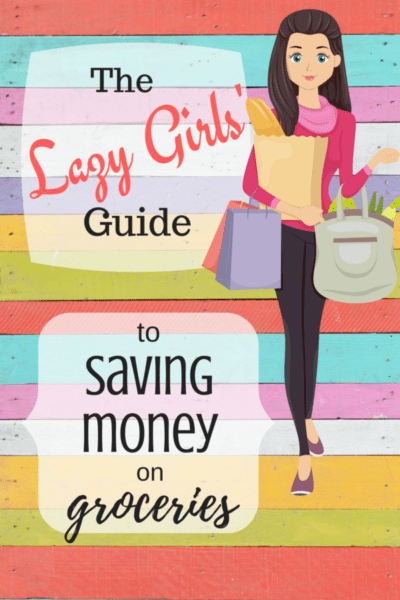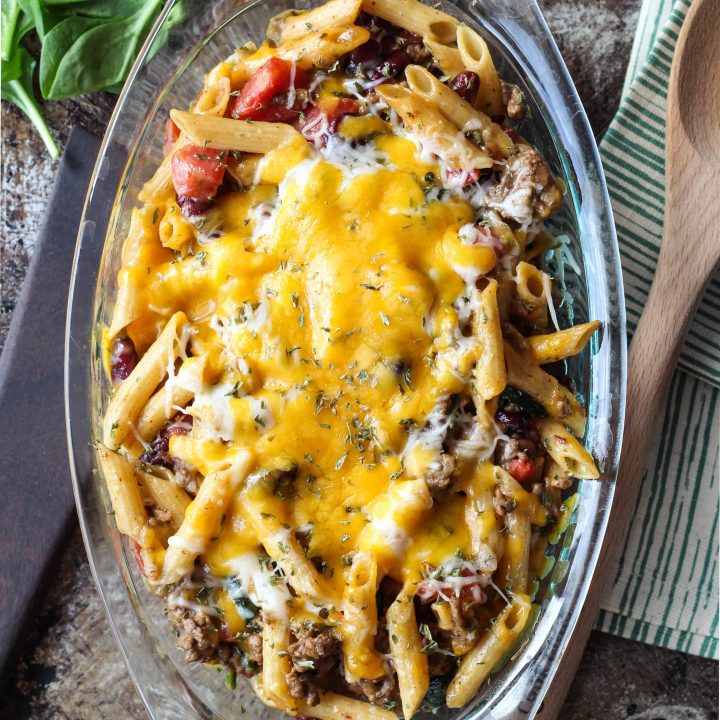 Lighter Chili Mac Casserole
Enjoy a quick & easy family classic with a twist, Lighter Chili Mac casserole, featuring Campbell's® Condensed Tomato Soup and other wholesome ingredients!
Ingredients
2 cups, whole grain pasta
1 lb, ground beef
1/2 cup, frozen (or fresh) diced onion
1 cup, Campbell's® Condensed Tomato Soup
1 can, diced tomatoes
1 can, red beans (drained and rinsed)
1 cup, fresh spinach (or 1/2 cup frozen)
2 cups, shredded Cheddar cheese (can also use an Italian blend)
Instructions
Preheat oven to 400 degrees.
Boil pasta according to box instructions, drain.
Meanwhile brown ground beef and onion mixture in large pot on med/low heat.
Add tomatoes, Campbell's® Condensed Tomato Soup, beans, and spinach to pot, and cook until spinach wilts, stirring occasionally.
Add one cup of cheese, stir to combine.
Layer out in a casserole dish.
Top with remaining cup of cheese.
Bake for 10 minutes, cool for 5 minutes.
Serve and enjoy!
Nutrition Information:
Amount Per Serving:
Calories:

387
Love this Lighter Chili Mac Casserole? Try this Slow Cooker Cornbread-Topped Chili.