I thought about titling this post, "How to Decorate with Cats", but that sounded like I stay at home on a Saturday night and hang pictures with my cats.
Which, these days, does not sound like a bad idea at all.
If you've been reading this blog for a while, you might know that we have two cats. You might also know that living with them has taken some adjustments.
These people know how I feel.
So, in honor of all of us cat owners, who suffer through such decorating fiascoes as chewed-up flowers, knocked over figurines, and regurgitated Christmas ribbon………..I present to you, "Cat-Friendly Decor":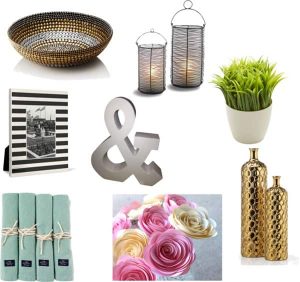 Cat-Friendly Decor by lifelilbrighter featuring Wedgwood
Clockwise from the top left:
They can be empty or filled. Fancy or DIY.
We have candles everywhere in our house. It's our go-to alternative to fresh flowers.
Ok, ok, some of you may balk at this suggestion, but we bought these from IKEA, and they are cute. If you really miss flowers like me, it's a good alternative.
Just because you can't have flowers doesn't mean vases are out of the question. Although, you may want to avoid them if your kitty is in his/her adolescence and finds them to be a threat.
I did this craft a year or so ago (forgive the rough blog style) and still love these "flowers" in our bedroom. So easy to make.
You could do a collection of classics or maybe oversized coffee table books. Cover them in colored paper for a more uniform, modern look.
This has been our best cat-friendly decor option. I love the mix of frames on our china cabinet.
Who doesn't love an ampersand? You can buy wooden symbols for super cheap at craft stores and spray paint them any color you choose.
So tell me… how do you decorate with cats in the house? I'm always looking for new ideas!