I tried out a new recipe this weekend, and it was a winner. It was super tasty, inexpensive, and easy.
I'll share it at the bottom of the post, but first–
…it got me thinking, maybe I could share some of my "easy" meals with you guys. I'm always looking for new ideas. Easy to me means:
1. Little to no prep work (Not many steps, doesn't dirty a bunch of dishes)
-or-
2. Can be made quick & on-the-fly
Some easy meals I do involve the crockpot, which clearly takes some planning. But the prep may be as simple as opening cans and dumping them into the crockpot.
Our Family's Quick & Easy Dinner Dishes:
Soup & Salad– I usually get my soup from the soup station at the grocery store
Salad topped with Chicken Tenders– I'm not a big meat-eater, but my husband is, so this is a nice compromise for us. I add Edamame to the salads, and leave the chicken off mine.
Packaged Ravioli with "Upgrades"– be creative with your toppings, I did a post on it here
Trader's Joe's "Healthy 8 Chopped Veggie Mix"– I top Sean's with grilled chicken & serve TJ's garlic naan on the side
Crockpot BBQ chicken or pork sandwiches– toss pork shoulder or chicken breasts into slow cooker with a 1/2 cup of water. 6 hours later, mix with BBQ sauce to taste, add to sandwich buns
Spaghetti– Usually this is just pasta & sauce, with a side salad. You can also make a bunch of meatballs and throw them in the freezer in preparation for this meal.
One pan pasta– you toss uncooked pasta & fresh Italian ingredients into a skillet to make its own sauce. Inspired by this recipe.
Chicken Tortilla Soup– sounds like work, but it's literally opening cans and dumping them in a crockpot. Recipe below pork tenderloin.
And finally, the dish that inspired this post, our new favorite easy meal–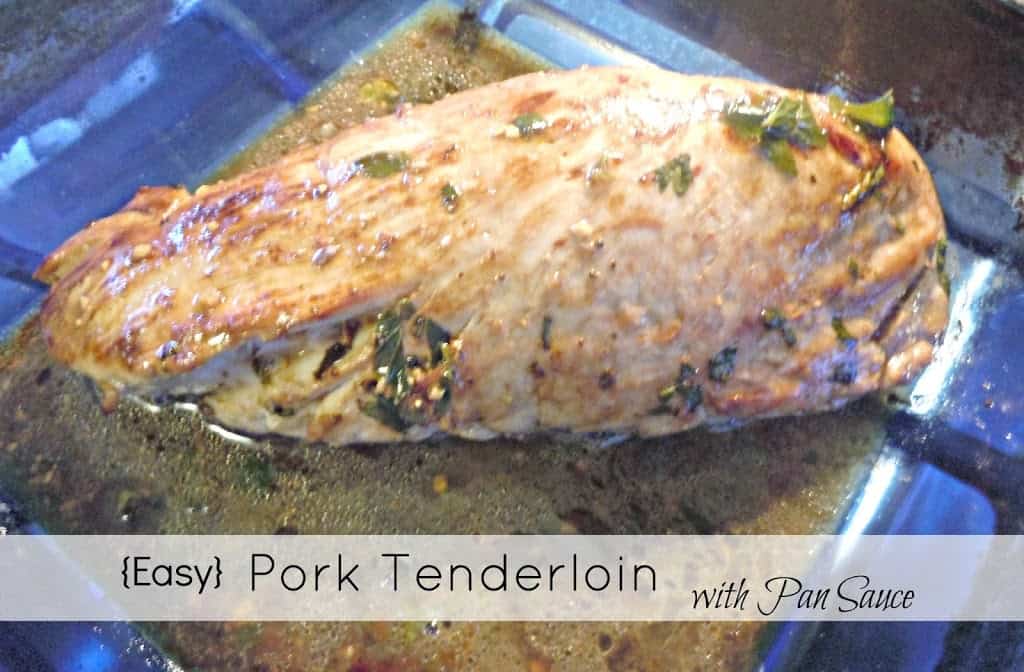 Pork Tenderloin with Pan Sauce
(adapted from Chef Mommy)
Ingredients:
1⁄2 cups olive oil
1⁄3 cup soy sauce
1⁄4 cup red wine vinegar
Juice of 1 lemon
1-2 tbsp Worcestershire sauce
1-2 tbsp fresh parsley, finely chopped
2 tsp dry mustard
Freshly cracked black pepper, to taste
4 cloves garlic, peeled and minced
1 1-lb. pork tenderloin
Directions:
Combine all marinade ingredients and reserve 2-3 Tbsp.
Place the pork tenderloin and marinade in a Ziplock bag and let marinate for at least 3-4 hours.
Preheat oven to 350 degrees. In a hot skillet over medium-high heat, sear each side of tenderloin for 2-3 minutes. Place in the oven and cook for 30-40 minutes or until the meat has reached 160 degrees. Let rest for at least 5 minutes before slicing.
Pan Sauce:
Pan scrapings from pork tenderloin
1/2 cup of chicken broth
2-3 tbsp of pork marinade (thoroughly mixed)
1-2 tsp butter
Meanwhile, place the skillet back on the stove over medium heat. Add the chicken broth and scrape up all the browned pieces from the bottom of the pan. Add the marinade and let it boil down for 2-3 minutes. Add the butter and remove from heat stirring until butter has melted. Pour over the pork tenderloin.

Bonus easy recipe:
Chicken Tortilla Soup-
(makes 6-8 servings)

4 chicken breast halves
2-15 oz. cans black beans, drained
2-15 oz. cans of Rotel tomatoes
1 cup salsa (heat depending on your preference)
4 oz. can chopped green chilies
14 1/2 oz. can tomato sauce
tortilla chips & shredded cheese for topping

1. Combine all ingredients, except chips and cheese, in a slow cooker. Set for 8 hours on low.
2. Break up cooked chicken breasts with spoon, and serve, topped with chips and cheese.