If you asked me what I've learned from one kid to the next, I would say two things:
1. Clothes don't matter.
2. Kids do things in their own time.
Let me be clear on #1, I'm not endorsing that children not wear clothes (though I know my daughter is happiest in a diaper) I'm saying that the actual clothes they are wearing do not really matter. In fact, baby outfits from newborn to three months? Might as well donate/resell them now. My second daughter wore a basic onesie and a swaddle blanket for the first three months of her life. Most people don't see your baby in cute clothes (they're typically snuggled up in a blanket or sleep sack) and when they are dressed up, you want the kid to be comfortable anyway. Why do they make jeans for newborns??

That tangent aside, the far more important lesson to me is that kids do things on their own timeline. Accepting this as early as possible leads to far fewer headaches as a parent.
I'm not talking about good/bad behaviors or learning to be a respectful kid. I'm refering to the little expectations we put on our kids; based on timeline from our childhood, or our friend's kids, or an article we read somewhere.
Case in point: riding a bike.
I decided that a bike was going to be Alyssa's BIG 4th birthday gift. She was at the perfect age to start riding, and I wanted to her to ride with the other kids in the neighborhood.
All summer long, she would watch the other kids ride their (training-wheeled) bikes, and ask to ride hers. I'd pull it out…. she'd hop on it…. and freeze.
She couldn't get the pedals moving for anything. She would grunt and sweat, pushing the pedals forward, then backwards (which really didn't help, since that's the brakes) and eventually burst into tears. Over and over, until she gave up entirely.
Then this summer came. Same deal…. lots of frustrated tears. I did everything I could think of to support her… encouraging words, show her how to use the pedals, give her a little push to get started, nothing worked.
So, after more frustration (for both of us), we put it back in the garage for the season. I figured bike riding just wasn't going to be her thing, for now. Maybe if she worked on it with Sean? Sometimes kids just need a fresh teacher for things.
This September she was invited to a birthday party at a nearby park. When we showed up, all the kids were zooming around on bikes and scooters. I thought to myself, "I wish I'd thought to bring Alyssa's bike with us," and then realized that it didn't really matter, since Alyssa doesn't ride her bike.
After a few minutes of watching the other kids riding around, Alyssa spotted her friend's unoccupied bike, got on, and started riding.
What??!!
I was stunned. I quickly grabbed my friend to show her the miracle in action. It was phenomenal.
Did she fall a couple of times? Yes. Get stuck with her pedals? Mhmm. But–she kept right on trying to ride that bike.
I was so proud of her. We even went back home to get her bike to ride.
Ever since that day, she's been asking to ride the bike again. With school and sports keeping us busy, we haven't had a chance to get out until yesterday. Thankfully, the weather was perfect, so we headed to the park.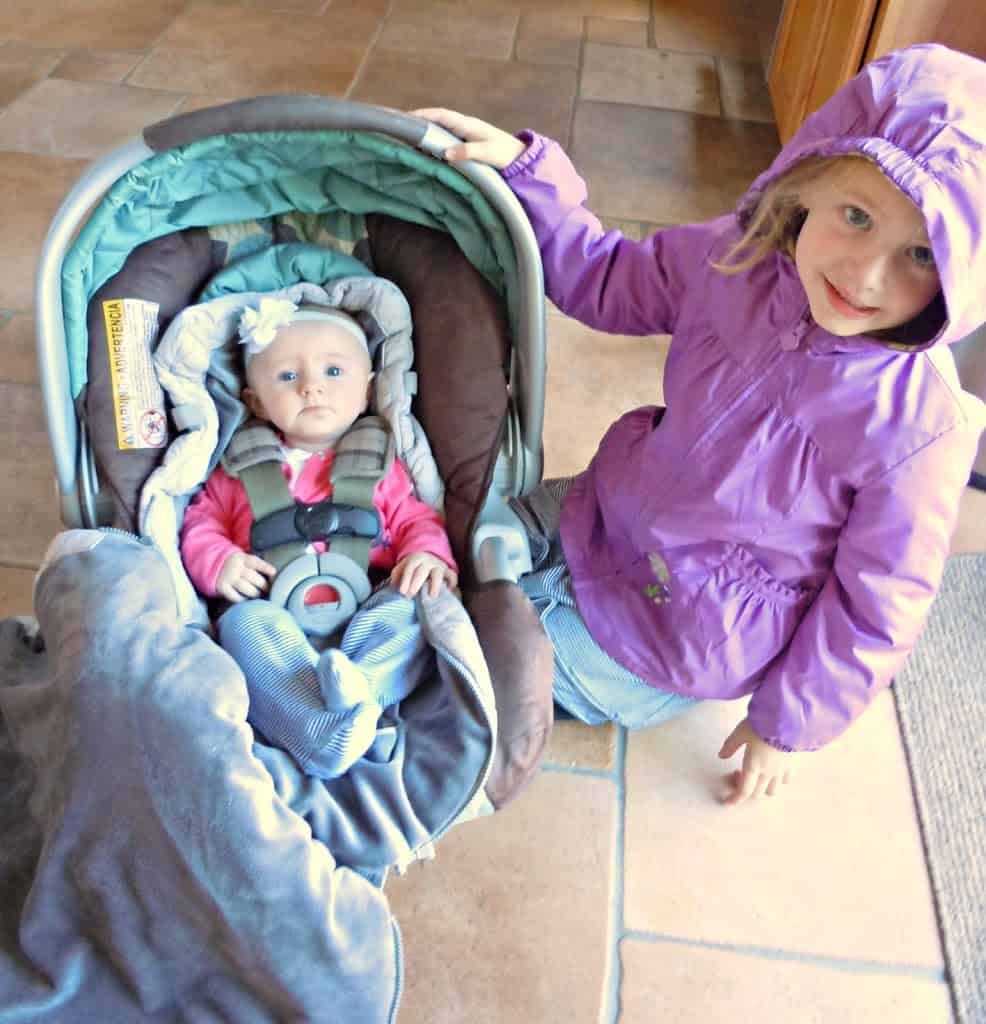 My baby is serious about the park.
It was about 60 degress outside and warmer in the sun, but Brianna was perfectly tucked away her in stroller. It is so nice not to fuss with a coat or blankets, just zip her up in her little "sleeping bag" as we call it.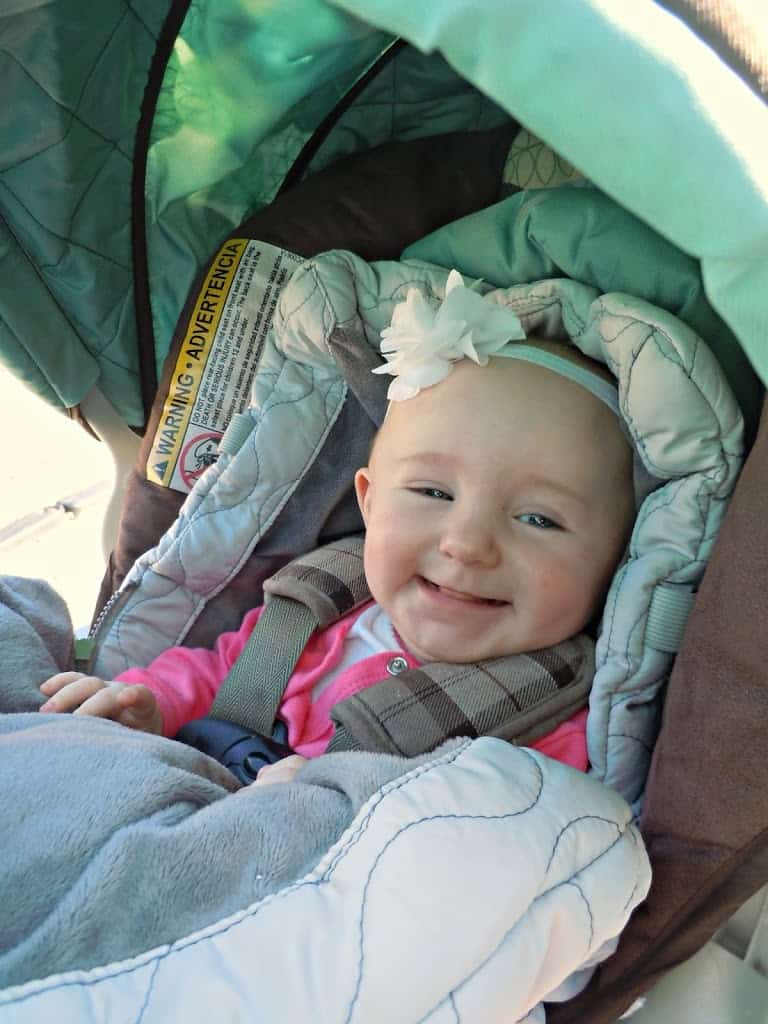 Yep, she's a fan.
By the way, 100% my husband's smile.
There's Alyssa– completely impervious to cold weather. I guess if I spent my entire life sprinting everywhere, I'd run warm too.
Proof! She does enjoy her bike now!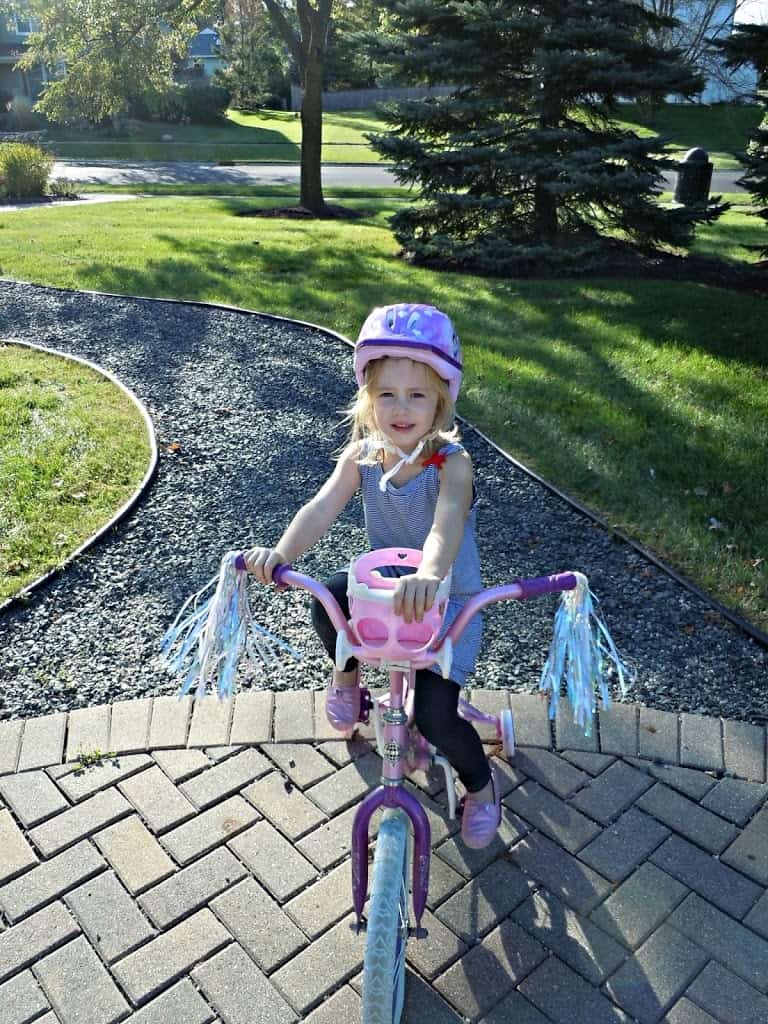 And she's off….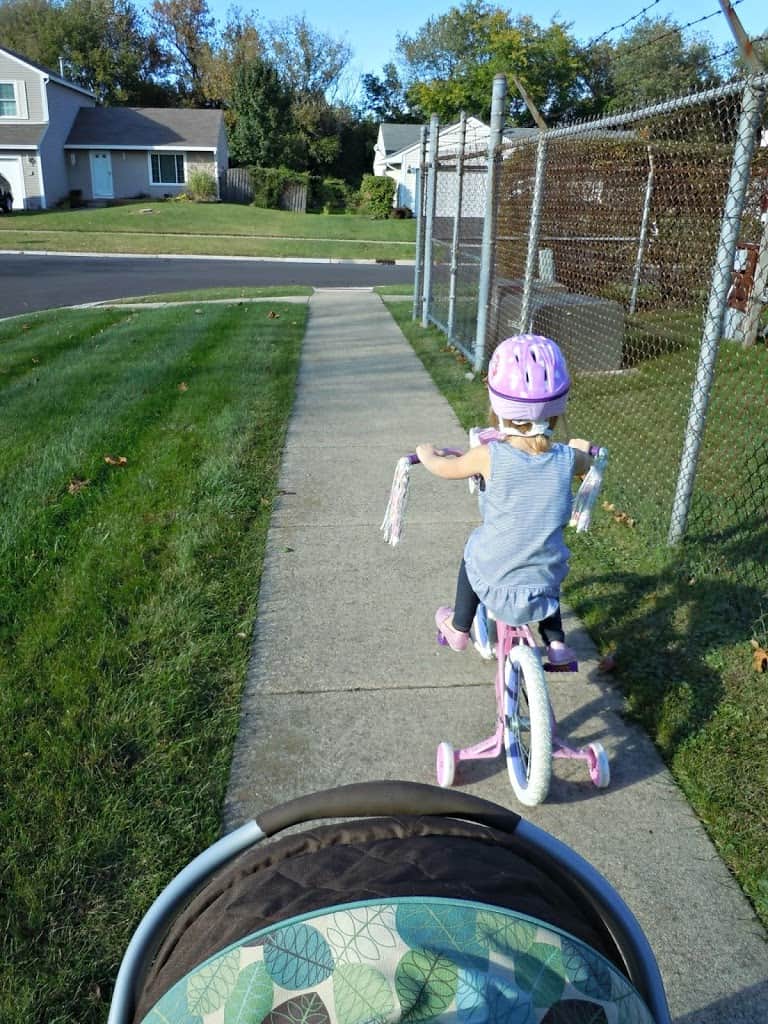 We don't have barbed wire around our park, that's electric stuff…. inside the fence.
Next up… taking the training wheels off. God help us all….
I was given a JJC Bundleme to review, all opinions are my own. I loved this product and would recommend it to any parents for surviving long winters with infants.
They are available at buybuyBABY.com and BabiesRUs.com.