You'll love these No-Bake Chocolate Oatmeal Energy Bars for a quick boost of energy on busy days! With wholesome ingredients like oats, dried fruit, and coconut oil, it's a simple recipe for homemade oatmeal power bars.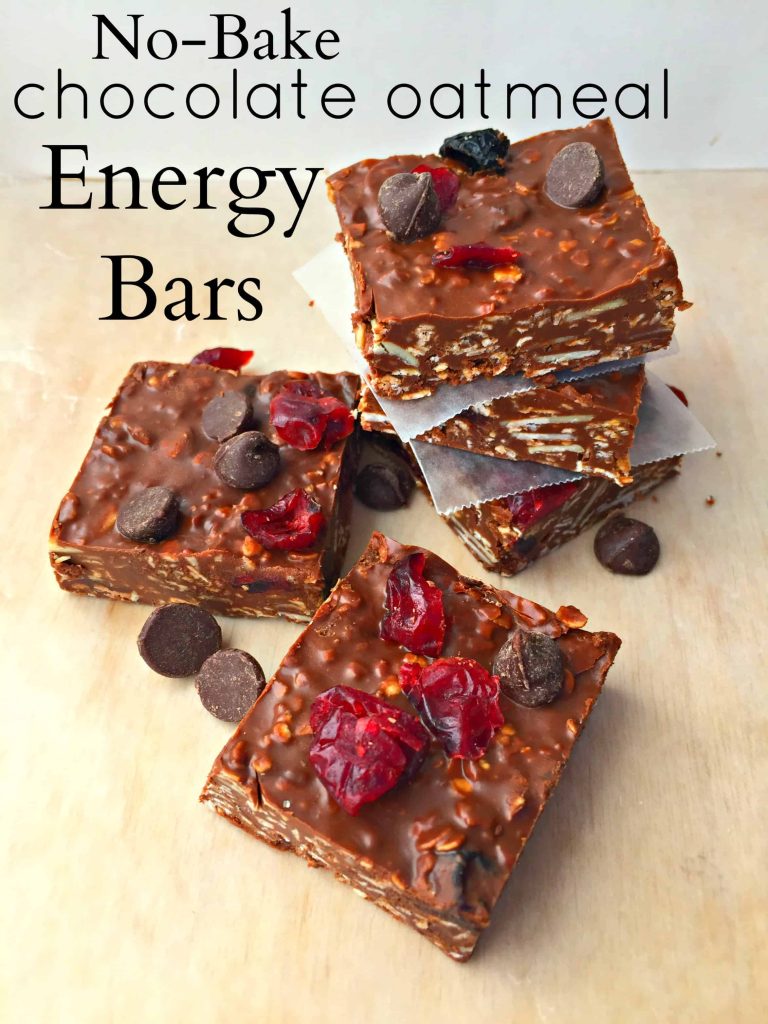 Oatmeal Bars
If there's something I could use more of these days, it's energy. I'm pounding coffee. It's my lifeline. I keep looking out the window and pretending it's about 50 degrees warmer. Heck, I'd take +30 degrees at this point.
INGREDIENTS
peanut butter
honey
Coconut oil
old fashioned oats
chopped or slivered almonds
dried cherries
semi-sweet chocolate chips
HOW DO THESE HOMEMADE OATMEAL ENERGY BARS COME TOGETHER?
Start by melting your peanut butter, honey and coconut oil together in a pan. Mix the rest of the ingredients in, pour and smooth into your desired pan, and cool. You can cut these into whatever shape or size you would like, and then prepare to be energized!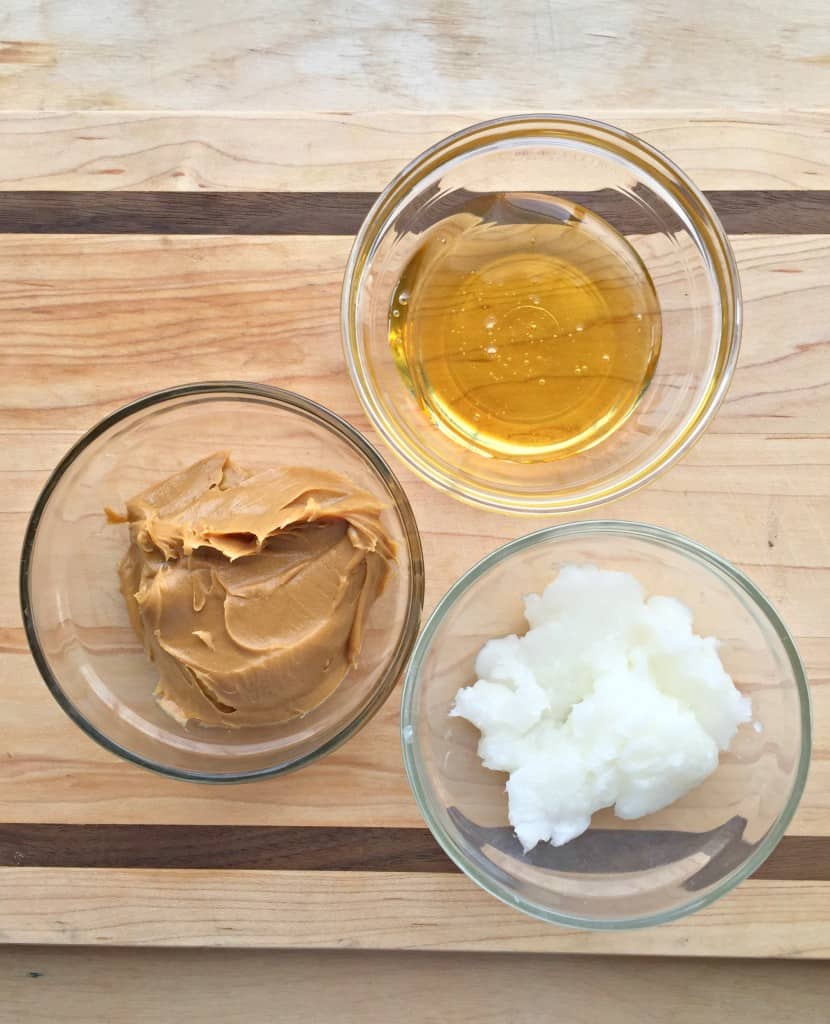 Just warm enough so Alyssa can go out and play. Girlfriend is bouncing off.the.walls.
And I can't blame her. It's the tail end of winter, and we're all ready for a change.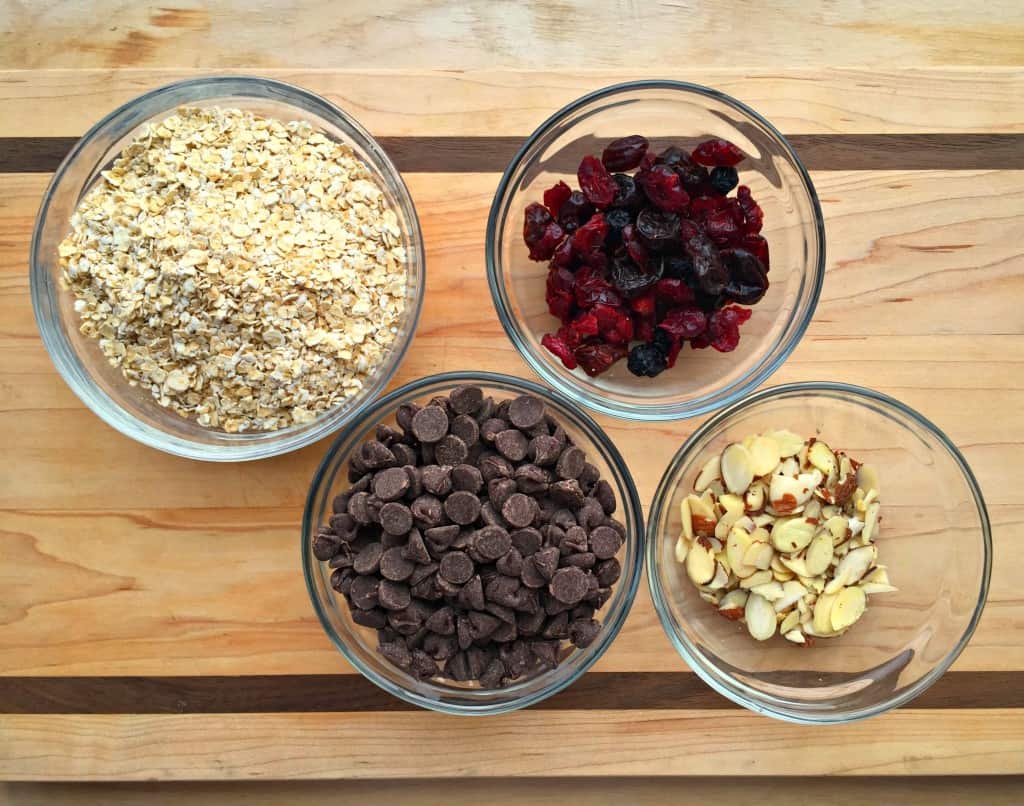 Ok, end of whine. But not the wine. Something has to keep us warm.
Every once in a while, I like to give a new energy/protein/healthy snack bar a try. I owe any afternoon productivity whatsoever to coffee and energizing snacks.
But the latter can get dull. I like to switch it up from time to time. Try new ingredients… change the shape: bars, balls, trail mix. It's all fair game. If you have little ones at home, try a silicone tray with a fun shape. Then you can have smaller portions and entice them with the fun shapes!
And bonus- sometimes the rest of my family will like my concoctions as well.
I tried coconut oil this time, and lot of chocolate. Haven't you heard? Chocolate is good for you.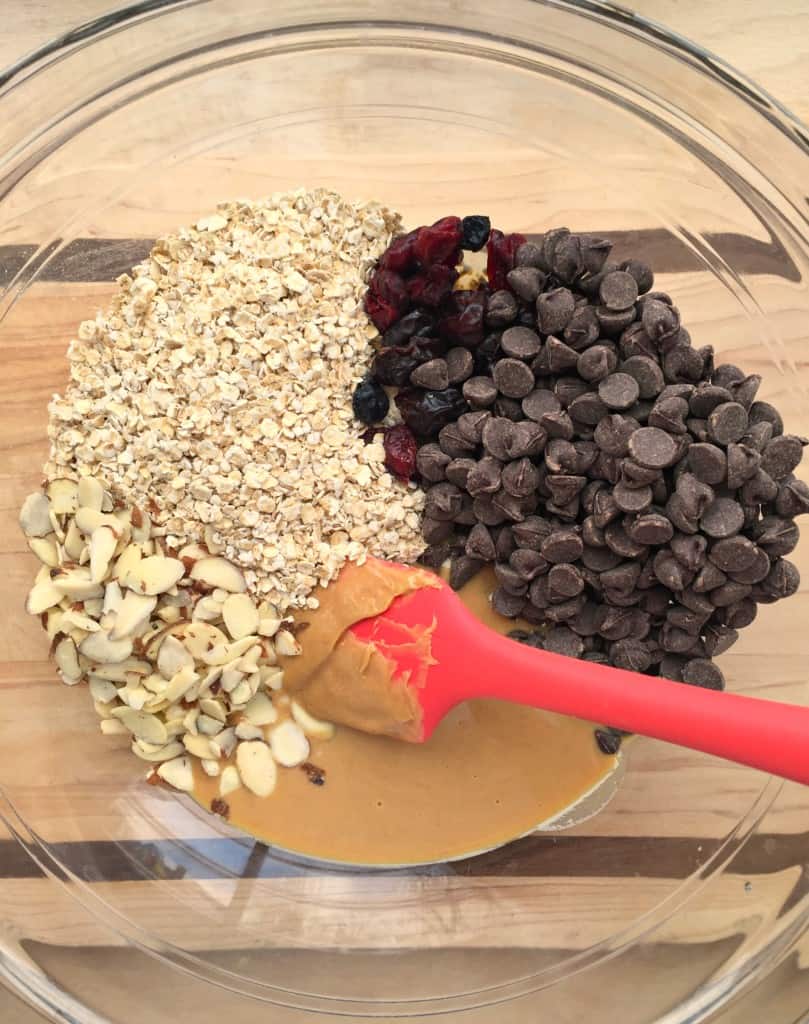 These no-bake bars taste like straight-up dessert, so it wasn't hard to convince my daughter to try them. Great texture- creamy, just sweet enough…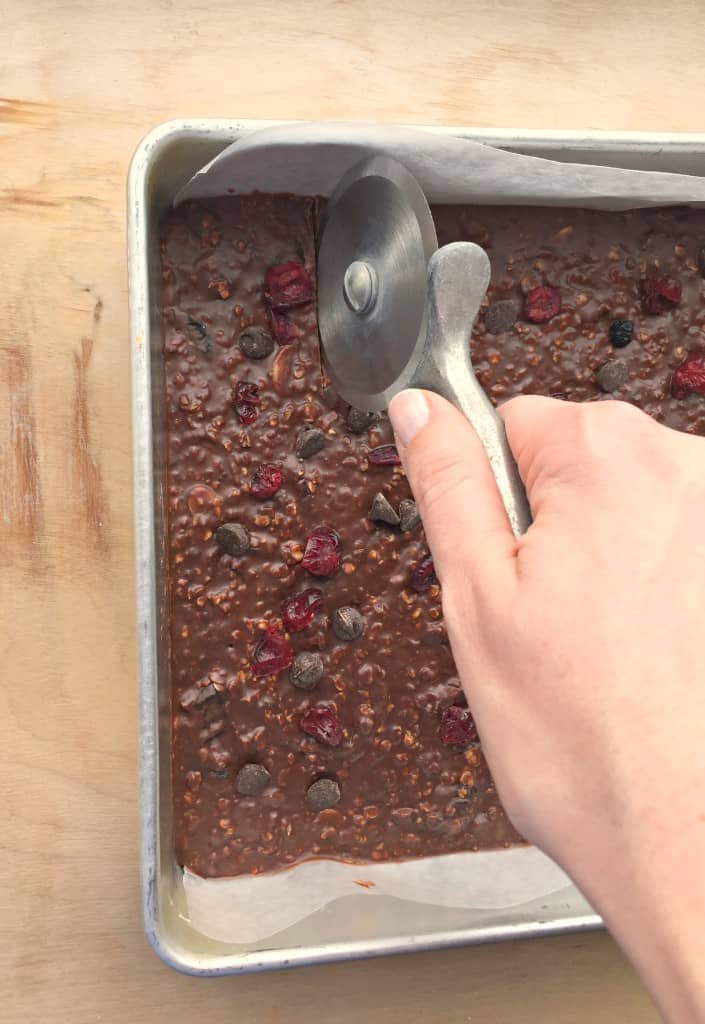 I love to keep them in the fridge. Tastes like a candy bar.
How long do these oatmeal power bars last in the refrigerator?
If you are referring to the time the ingredients stay fresh, I keep them no longer than one week. However, once they are found in my house they barely last a couple days. I love items you can prep ahead, and one way to make these last with kiddos and adults is to make your batch(es) and then portion them out in little baggies or containers. Then they just grab one and go!
Don't you just love seeing all the yummy ingredients popping out of the bars? The best part of homemade, my friend.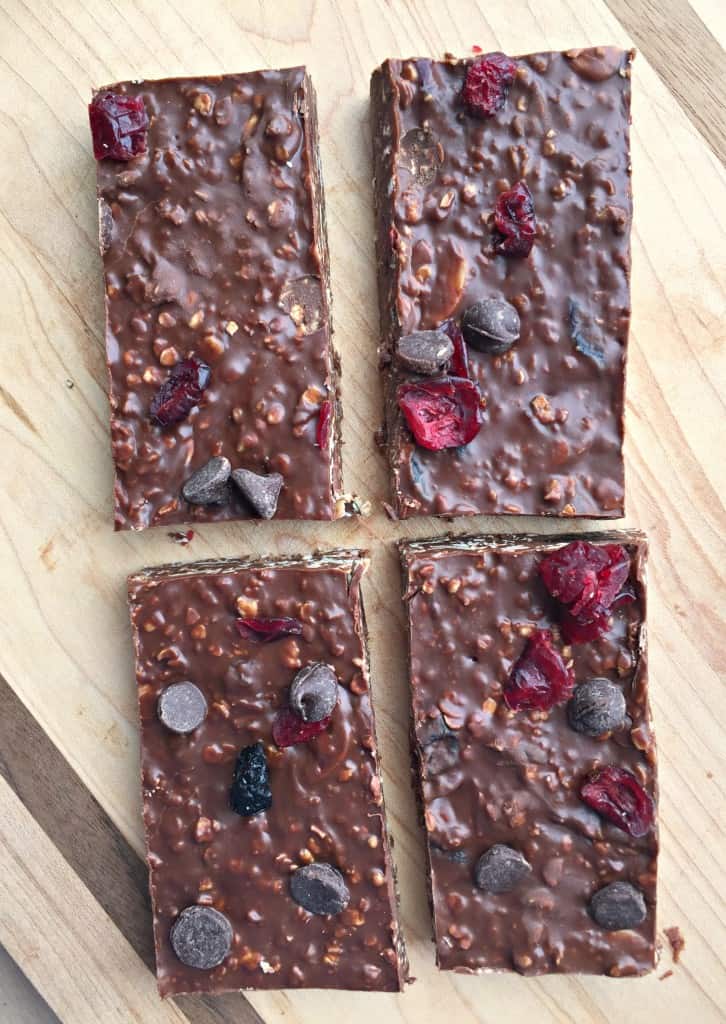 Chocolate… cherries… almonds…oatmeal…
Feeling energized already.
What other combinations are tried and true for helping that afternoon slump?
We have tried many combinations of energy balls, bars, bites, etc… These S'mores Energy Bites ended up being placed on our permanent rotation for sure! If your family is a little more adventurous, and you don't need to trick them with dessert looking healthy snacks, these 3 Ingredient Energy Bars are fabulous. They are similar to a Larabar, without the price tag!
What's your go-to afternoon snack?