Skinny Queso Dip made with coconut milk & Greek yogurt. Traditional queso get a make-over! Creamy, cheesy, and a boost of protein– you'll love this take on queso.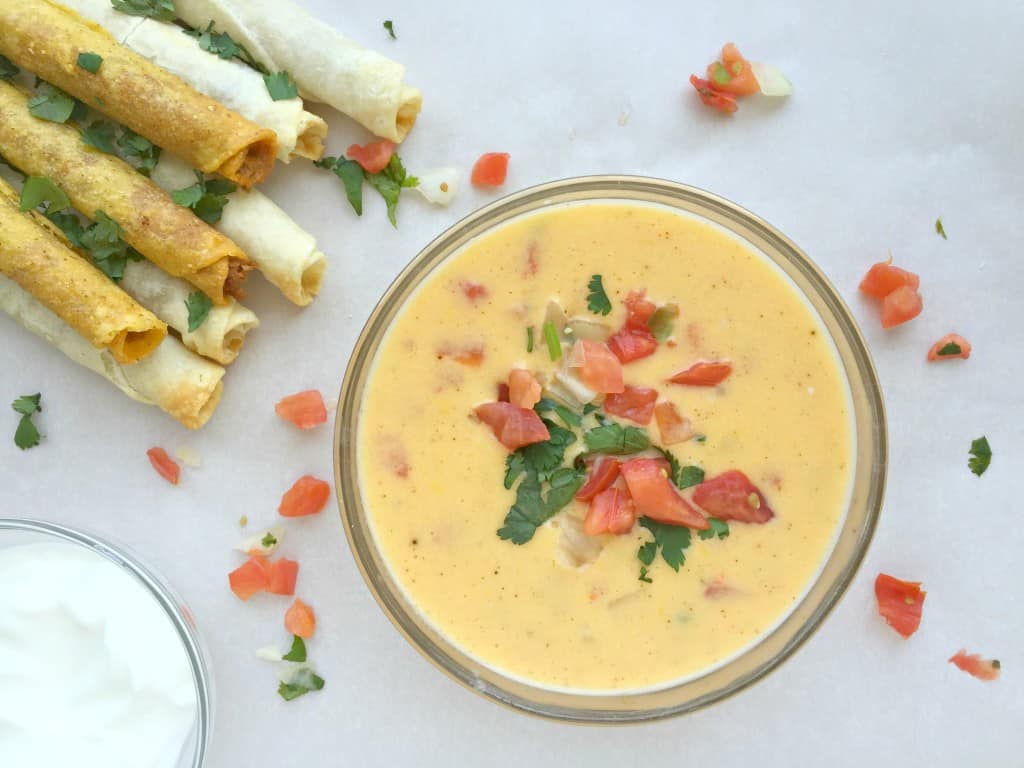 Queso Dip
I love Cinco de Mayo… so much awesome food. Tacos, tamales, and taquitos; not to mention chips & dip.
Don't you love how they place chips and salsa in front of you the moment you sit down at a Mexican restaurant? Light crispy chips, still glistening from the fryer. Let's start that tradition at all restaurants. Can you imagine?! That would be the best.
Edamame shows up while your water glass is being filled? Bruschetta comes to the table before you even order?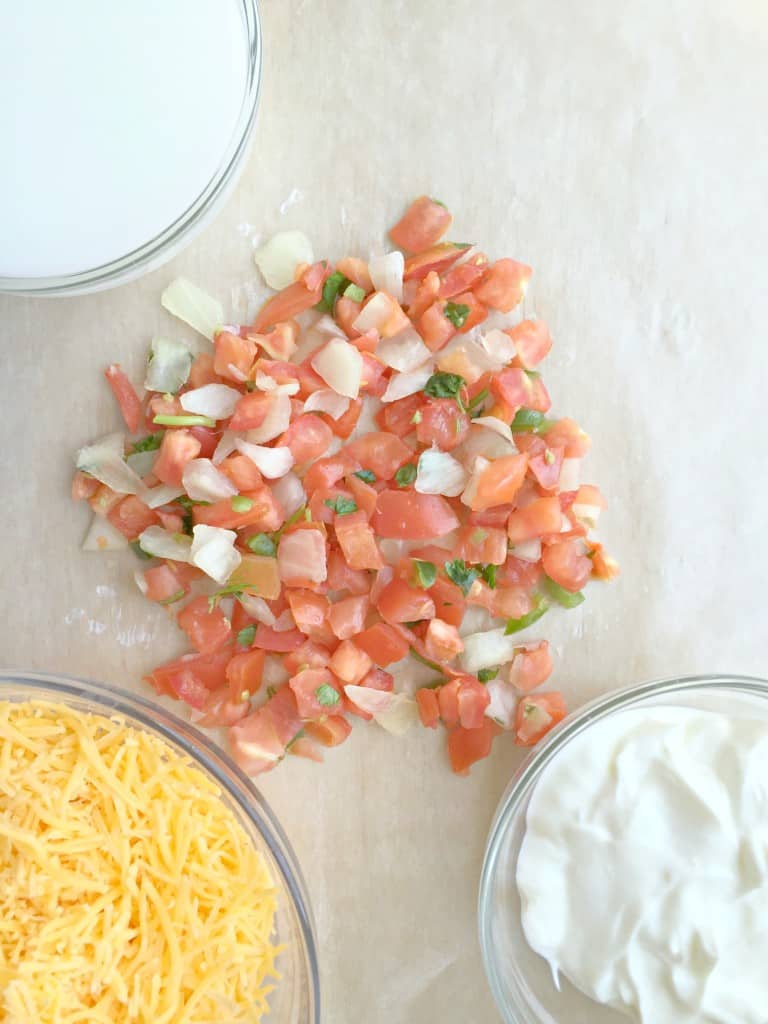 INGREDIENTS FOR MAKING SKINNY QUESO DIP:
1 tablespoon unsalted butter
1 tablespoon all-purpose flour
1 cup unsweetened coconut milk
3 cups shredded cheddar cheese
3 Tablespoons plain non-fat Greek yogurt
1 cup, pico de gallo*
RECIPE TIPS FOR MAKING SKINNY QUESO DIP:
*If additional flavor or spice is preferred, add diced pepper or taco seasoning to taste
Serving ideas: oven-baked taquitos (find in freezer section of grocery store), veggies, or tortilla chips
Freshly shredded cheese (off the block) melts best, for smooth queso dip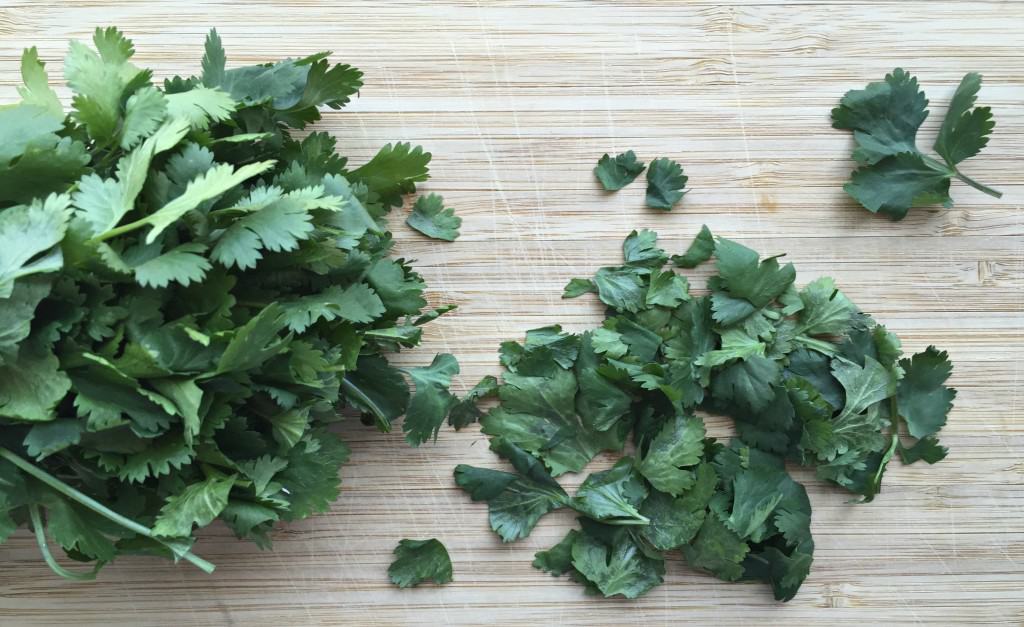 At my favorite local spot for Mexican food, they serve you two kinds of salsa & a to-die-for queso dip. I always add some salsa to the queso. Gives it yummy texture. Whoever decided to make a meal out of a bowl of melted cheese is my personal hero.
Unfortunately, traditional queso is not so good for you. But I want to have my cake and eat it too. Literally.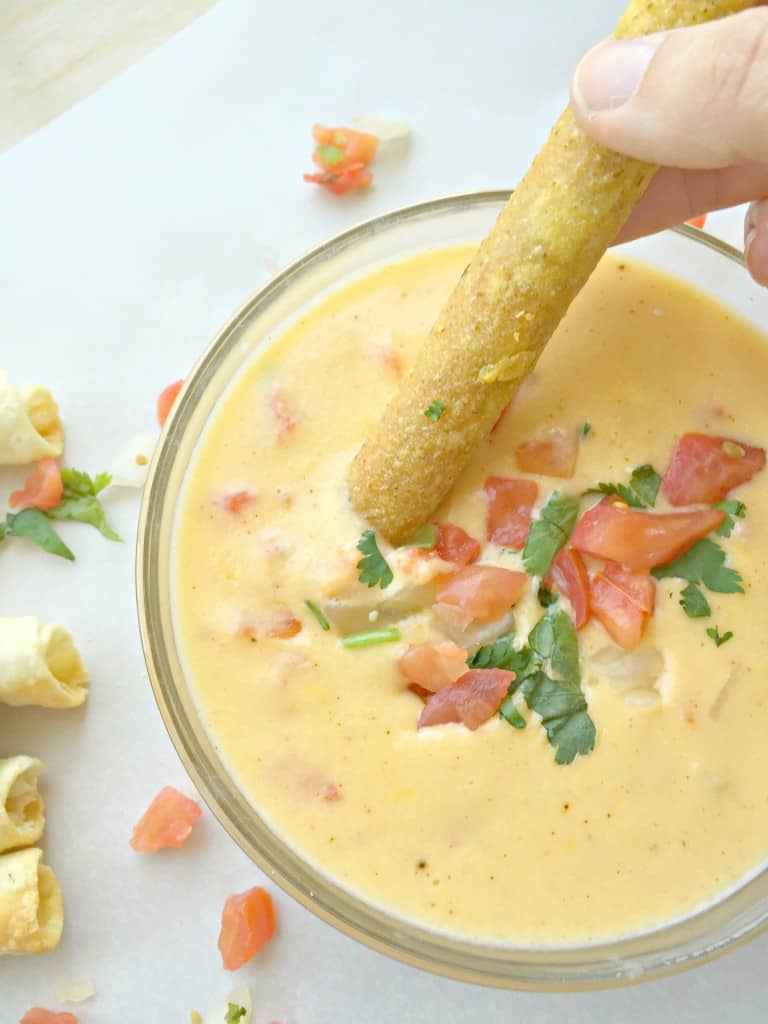 So I lightened this healthy queso dip recipe up with two of my favorite tricks: coconut milk & Greek yogurt.
If you've been reading this blog for a while, then you know all about my fondness for Greek yogurt.
non-fat variety still tastes great
can be used as a substitute to lighten-up tons of dishes
adds protein
Are you on board with this Greek yogurt queso yet?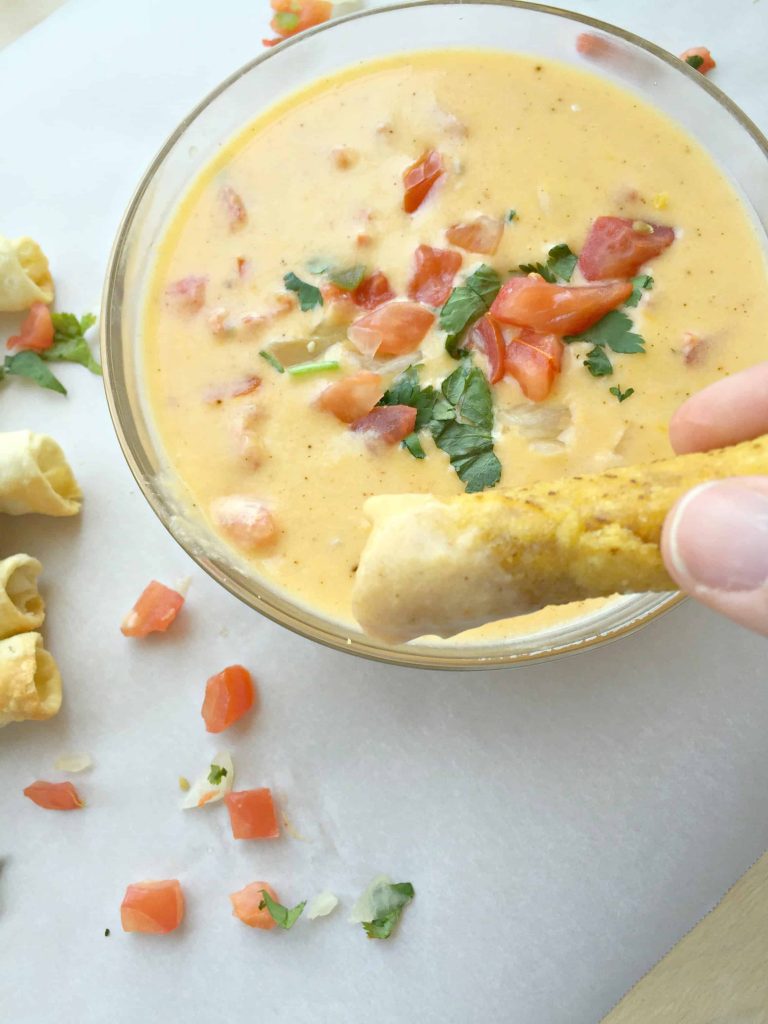 Handy tools to use when making this recipe:
silicone whisk – stir, whisk and scrap sides all at once! (it also won't scratch your pan)
good saucepan – I love that this saucepan has a pour spout! It is also a great size and is nonstick!
faqs
What is queso dip made of?
Queso is traditionally a mixture of cheese, cream and chili peppers. Popular recipes use Rotel, Velveeta, and add peppers and onions.
What type of cheese is queso?
Real Mexican Queso cheese is a mild, creamy, soft, unaged white cheese made of pure cow's milk.
How do you keep Velveeta cheese dip from hardening?
A hint when making something with Velveeta that you want to stay smooth is to stir in some sour cream. About ½ cup to 1 lb. of Velveeta works well. This works particularly well in dips that sit out for awhile. It eliminates the skin on top and the thickening of the dip as it cools.
Love appetizer dips? Try this easy slow cooker Cheeseburger Dip!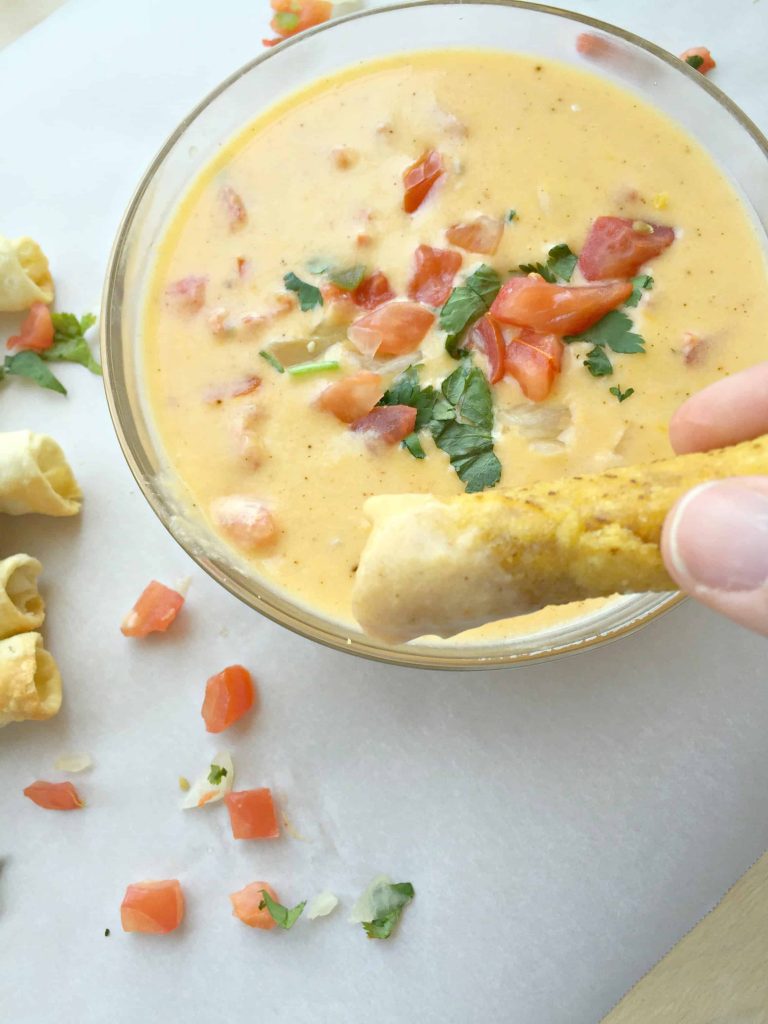 Yield:

4 servings
Skinny Queso Dip
Skinny Queso Dip made with coconut milk & Greek yogurt. Creamy, cheesy, and a boost of protein-- you'll love this take on queso. It's a healthy queso dip!
Ingredients
1 tablespoon unsalted butter
1 tablespoon all-purpose flour
1 cup unsweetened coconut milk
3 cups shredded cheddar cheese (shredded off block is preferred)
3 Tablespoons plain non-fat Greek yogurt
1 cup, pico de gallo
(Optional: sliced jalapeños or 1 tablespoon taco seasoning for additional flavor)
Instructions
Melt butter in a medium saucepan over medium high heat.
Whisk in flour for about 1 minute, then add coconut milk. Whisk for 4-5 minutes, until slightly thickened.
Stir in cheese until smooth, about 1-2 minutes.
Stir in Greek yogurt until well combined, about 1 minute.
Stir in pico de gallo.
Add salt & pepper to taste*
Notes
*If additional flavor or spice is preferred, add diced pepper or taco seasoning to taste
Serving ideas: oven-baked taquitos (find in freezer section of grocery store), veggies, or tortilla chips
Freshly shredded cheese (off the block) melts best, for smooth queso dip
Nutrition Information:
Yield:
4
Serving Size:
1
Amount Per Serving:
Calories:

397
Total Fat:

32g
Saturated Fat:

19g
Trans Fat:

1g
Unsaturated Fat:

10g
Cholesterol:

92mg
Sodium:

684mg
Carbohydrates:

6g
Fiber:

1g
Sugar:

2g
Protein:

20g