A fun way to introduce Prismacolor coloring to the special people in your life.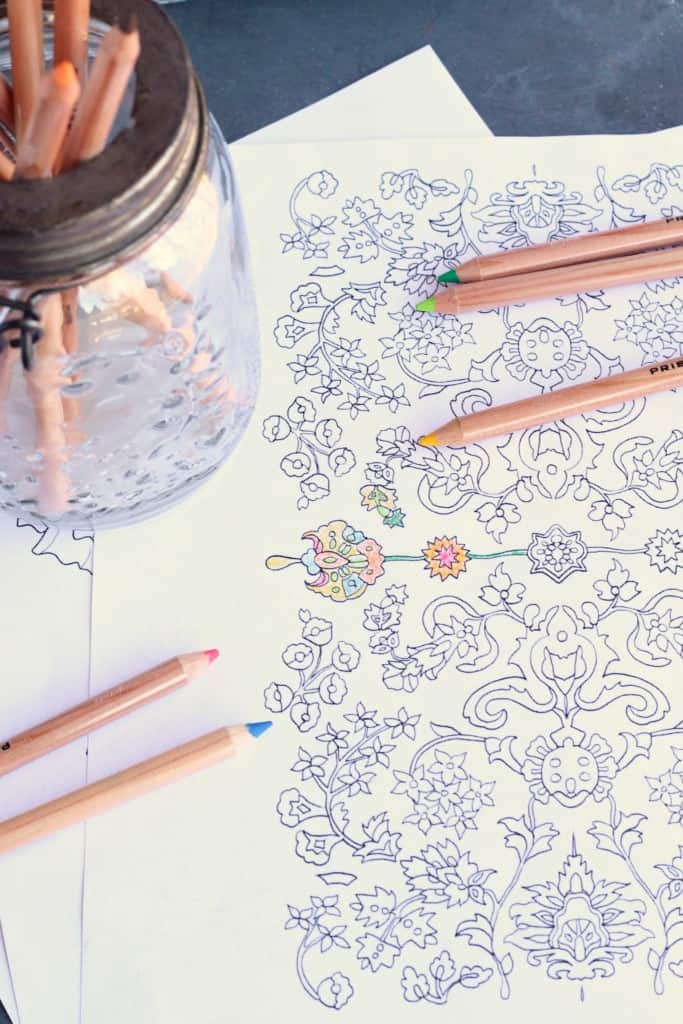 Tell me you're into this adult coloring trend. I mean, what's not to love? Relaxing, rejuvenating, and not to mention– FUN! Trust me, if you haven't revisited this activity, it is just as enjoyable as when we were kids.
We've really been enjoying some coloring time in my house, particularly my six year old daughter and I. It's been such a great way to carve out some quality time, especially since I'm working more and she's in school full-time this year. I've noticed that when little hands are busy, kids tend to get chatty. We've already reached the after school quiet phase, much faster than I would have liked! Sometimes getting her to talk (about the important stuff) is like pulling teeth.
Did you have a good day? Yes!
What did you do? Uh, nothing…. don't remember.
What was your favorite part? Lunch…?
And my daughter looooves school. For real. But for some reason, her tired brain just can't recall her school activities until later. When we color together–with no pressure & nothing but time–it all comes spilling out. Try it. You'll be amazed at what you hear.
To celebrate our new hobby, I decided to make a gift basket with some fresh Prismacolor coloring pencils.
Ok, let's be real. The art supplies were taking over our kitchen table. For both fun & function, I bought a cute polka-dot organizer from Michaels and got it all together.
This was waiting for her on Saturday morning.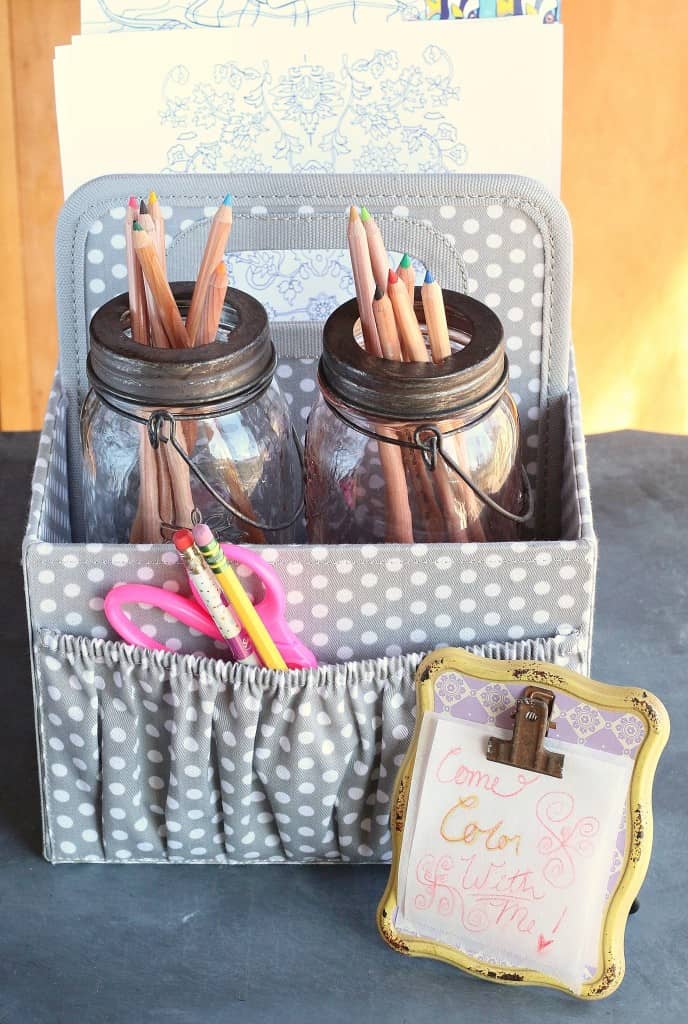 She flipped, you guys. Excited six year olds cannot be contained. So. Much. Fun.
I think the jars are her favorite, they give it a legit, grown-up feel. She knows we trust her with real glass jars, and they're perfect for holding her new coloring pencils. Plus shabby chic is downright adorable.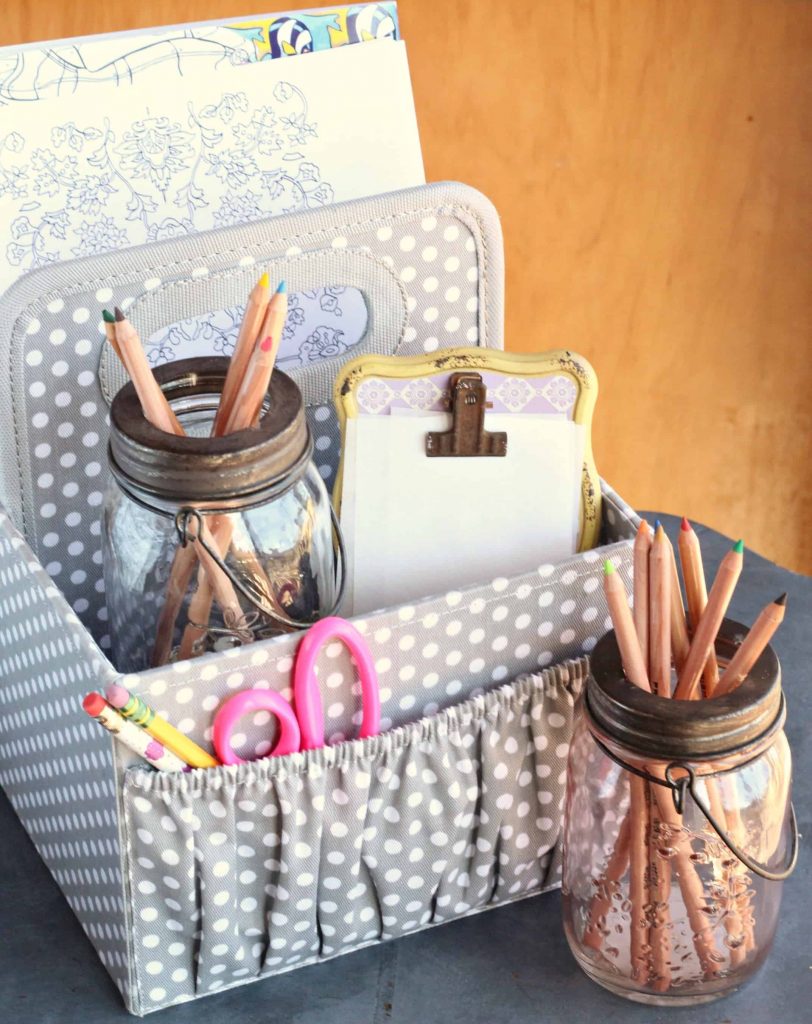 I got all the supplies at Michaels… have you seen their bin collection? Every material, size, & shape you can imagine. I liked this box because of the divider, pockets, and carrying handle. Coloring to go!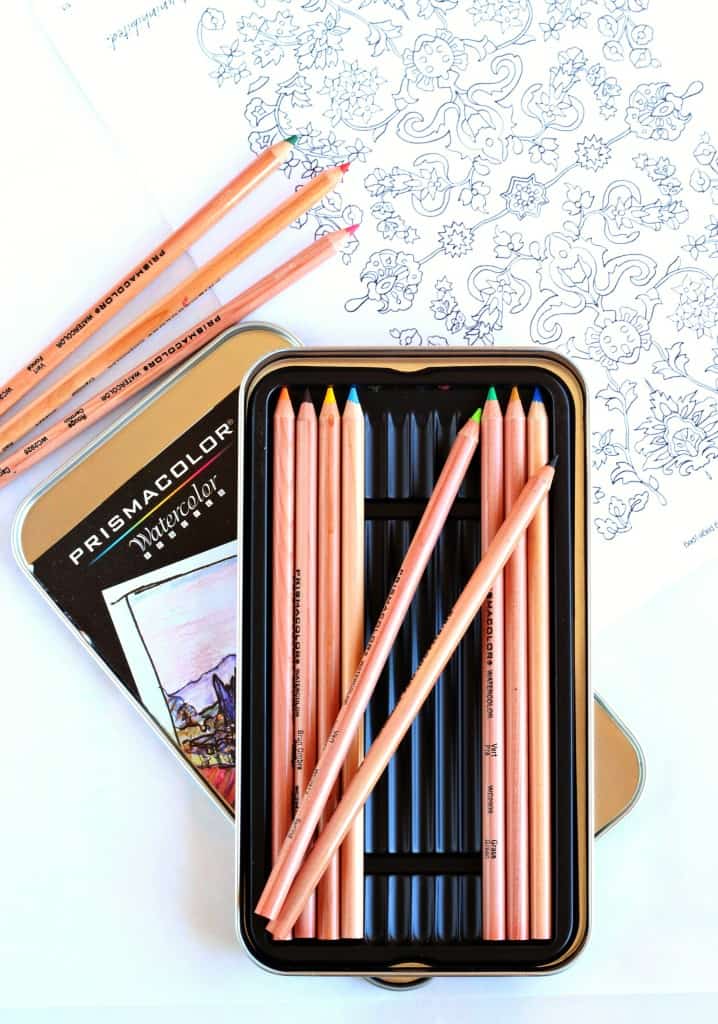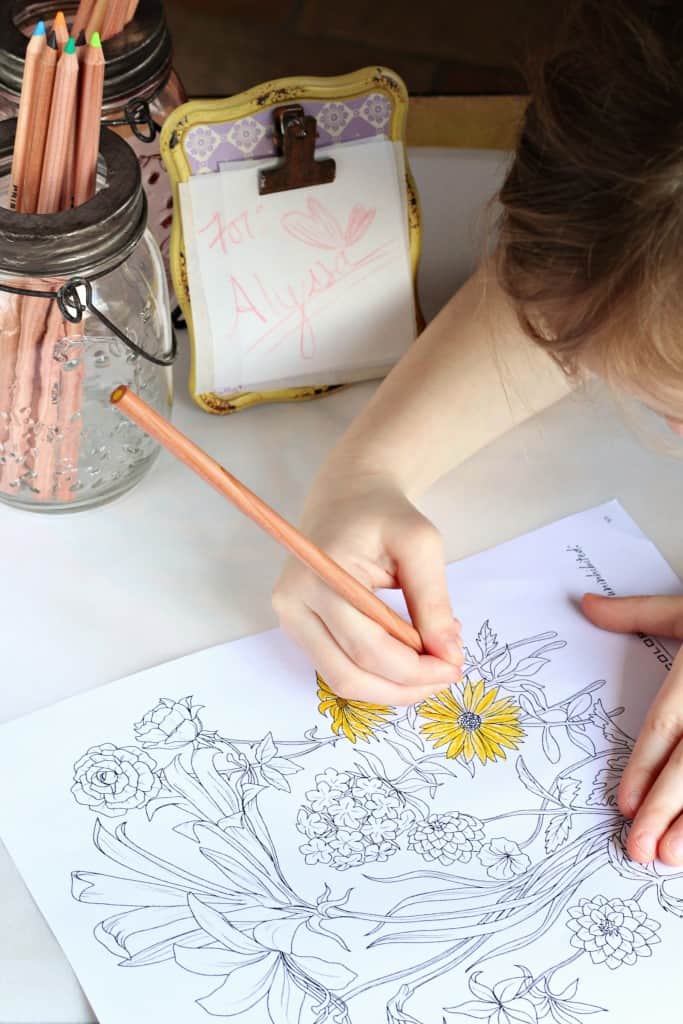 We immediately popped out the Prismacolor colored pencils, and got into some floral Prismacolor prints. It was awesome to see how eager she was to try everything out.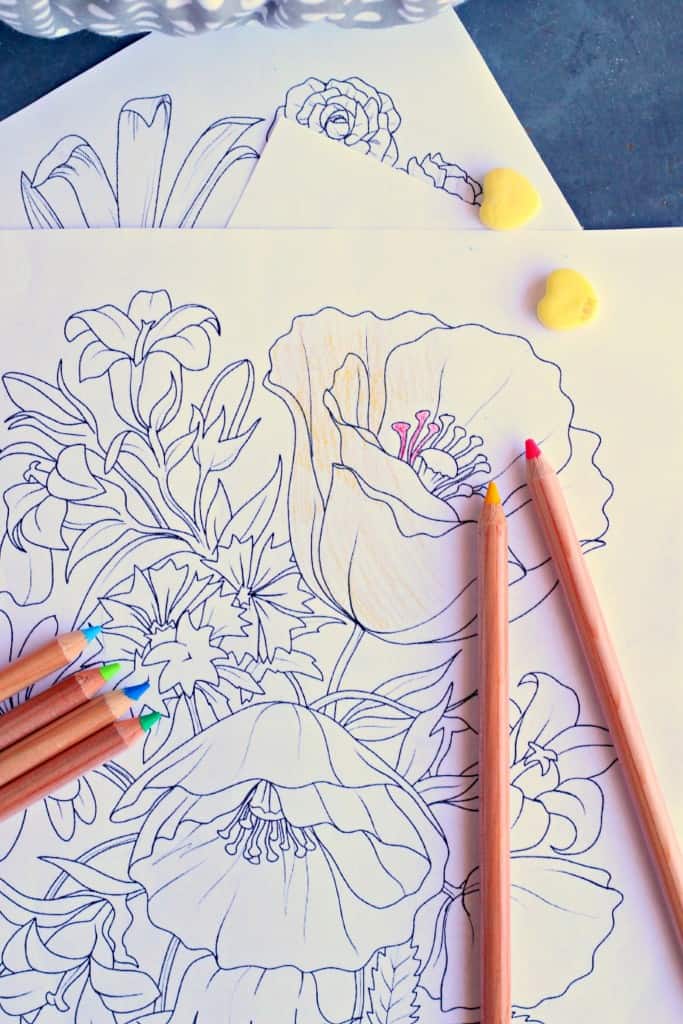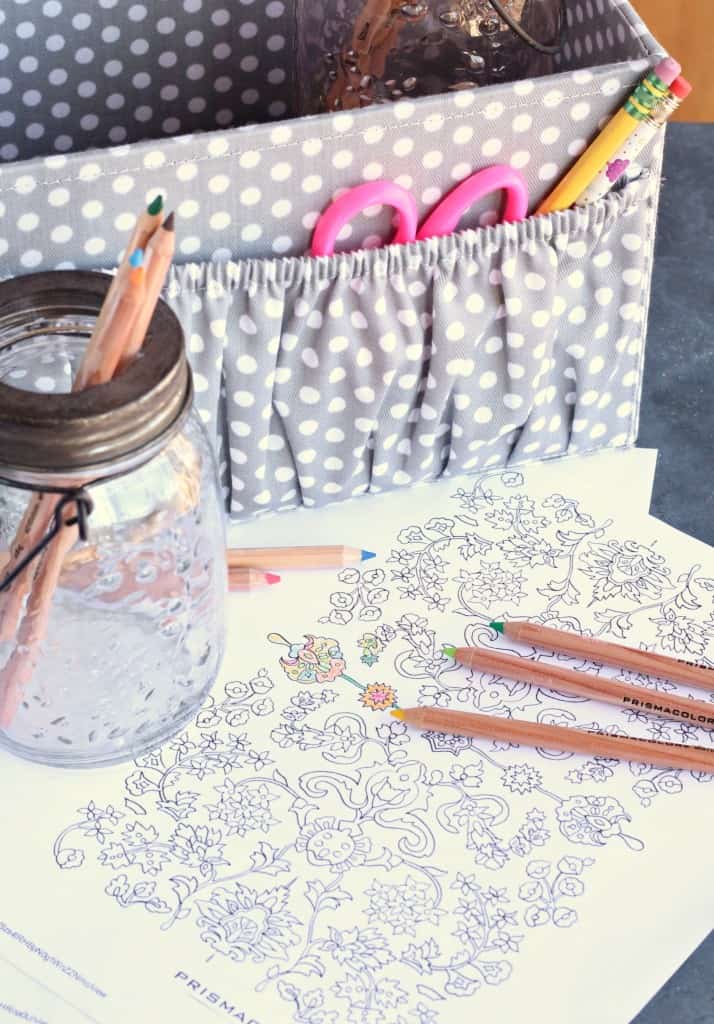 We enjoyed some girl time, and munched on candy hearts. The perfect activity for a chilly Saturday in February.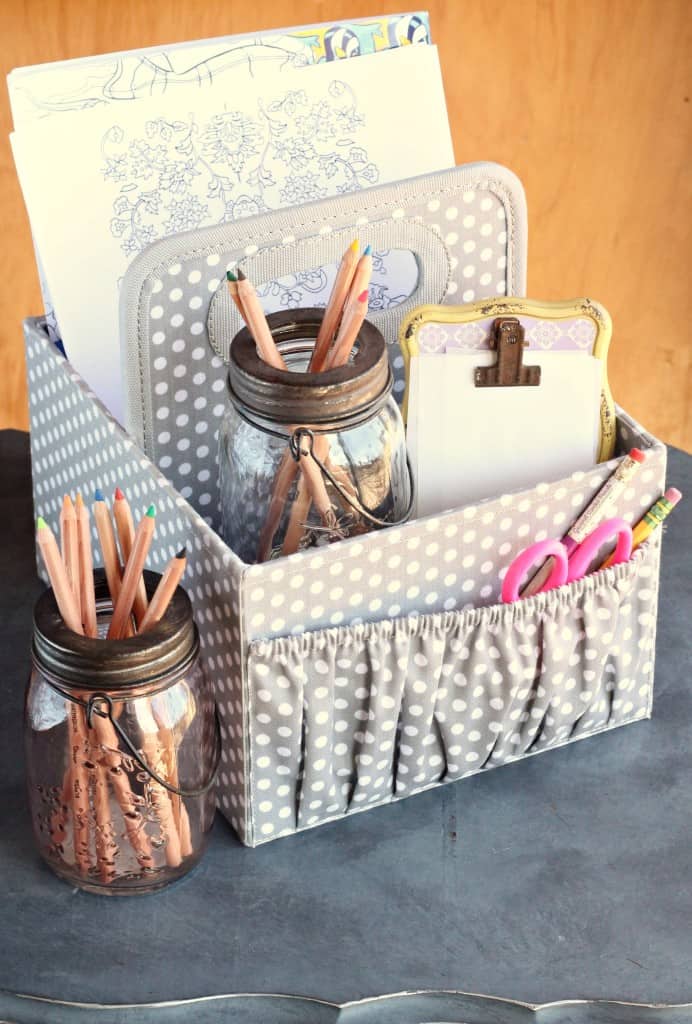 At the end, we just packed it all up in her new art-to-go. It's ready for our next marathon coloring sess!
Organizing Solutions for Coloring:
Buy a container that will look aesthetically pleasing in your living space. Portable is best, especially if you have little kids. You can move your high quality coloring supplies to safety, if need be.
Look for unique containers for individual supplies; like small vases, jars, or decorative bowls.
Create a convenient spot for works-in-progress. (like the back section of our art container)
Like the prints we used in this post? Click here and select "free pages" to download your own free Prismacolor coloring pages!
This post is part of a social shopper marketing insight campaign with Pollinate Media Group® and Prismacolor, but all my opinions are my own. #pmedia #relaxandcolor https://my-disclosur.es/OBsstV