A creamy Italian soup with rotisserie chicken, pasta, and veggies.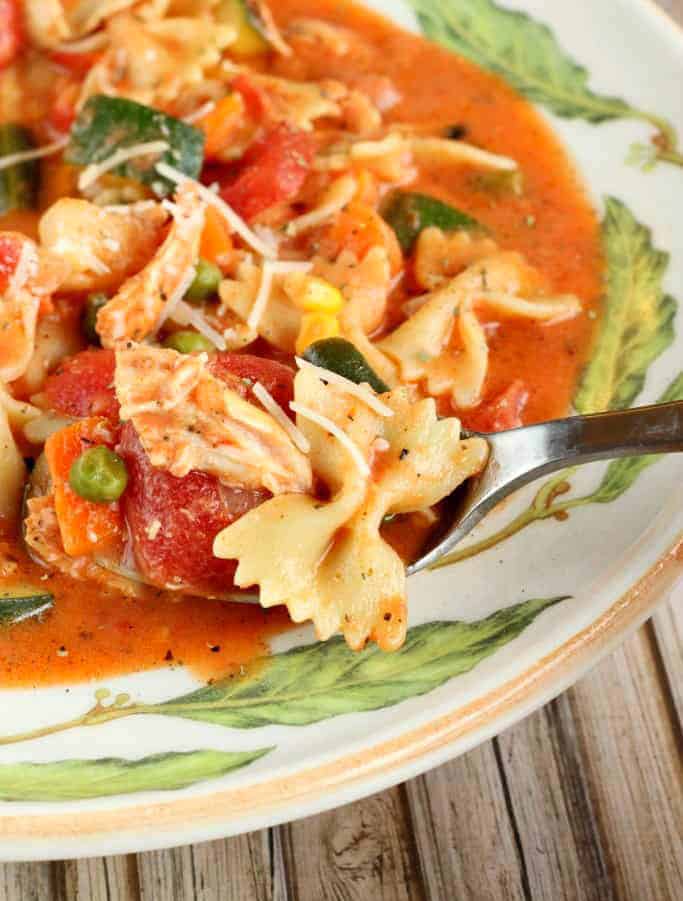 I debated calling this one "Everything But the Kitchen Sink" soup. It's basically everything from your kitchen cooked in a creamy, tomato-based soup. And it is scrumptious.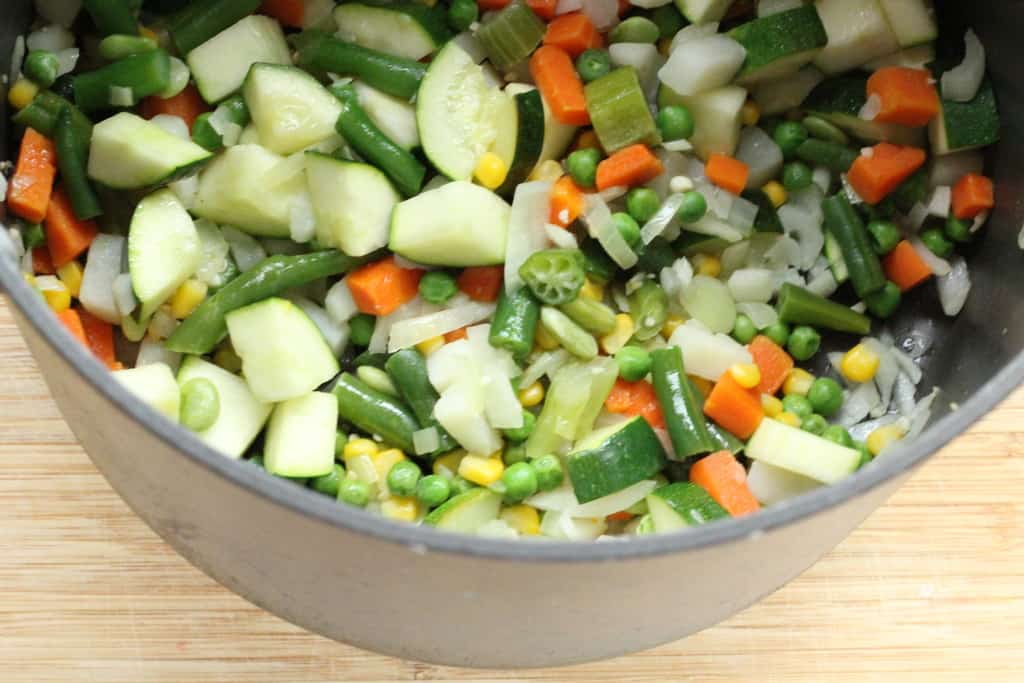 The recipe is real open-ended on the veggies you can use. I like typical soup veggies- peas, corn, carrots. I threw in some fresh zucchini for texture. Chopped tomatoes, bell peppers, or even cabbage would also work.
TIP! When I make veggie soup, I always use a combo of fresh veggies and frozen ones. It's economical, and allows me to use produce that isn't necessarily in season.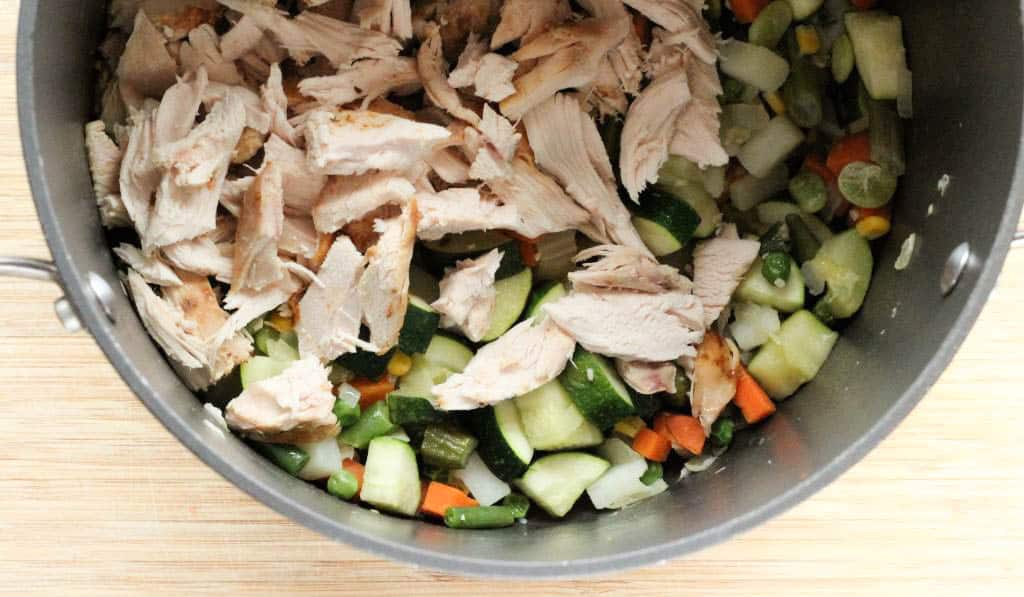 Cook the veggies down for a few minutes, and add shredded rotisserie chicken. You could cook some chicken yourself, but hello it's easier and you can't beat the flavor.
Add chicken broth, tomato sauce, and heavy cream or half and half.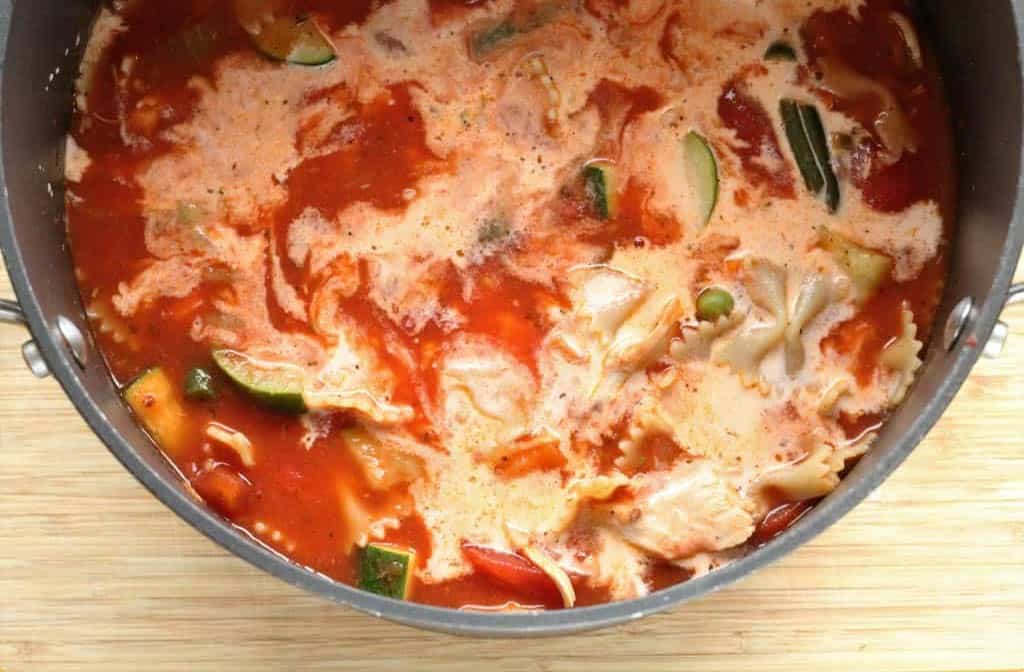 I love creamy sauces (i.e. Alfredo) and my husband prefers marinara-type sauces, so this is a nice compromise.
Heat through and serve with freshly grated parmesan cheese. Delish!
Don't you love dishes that are even better the next day?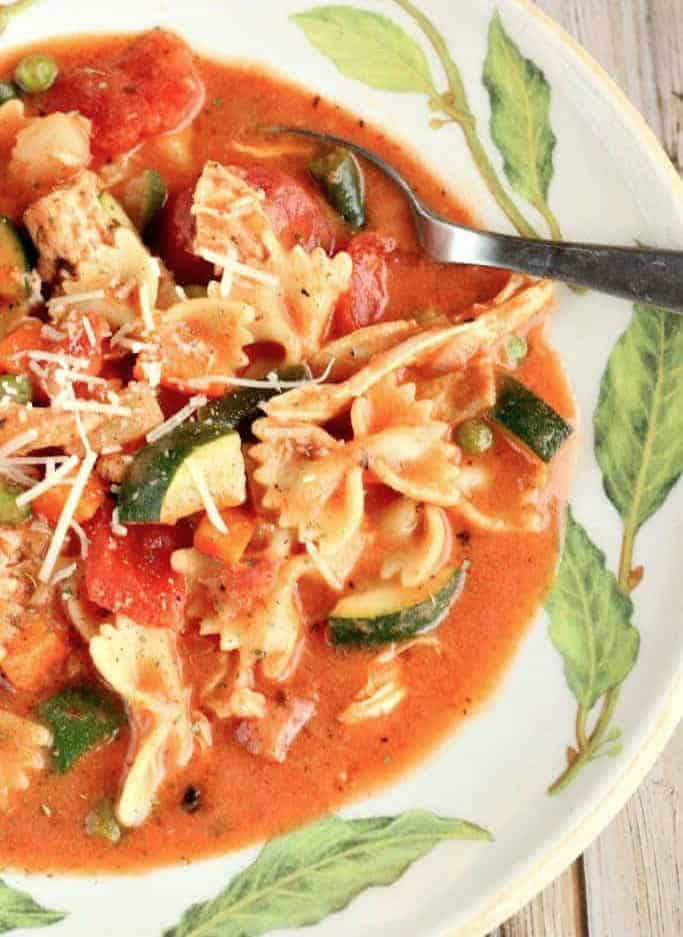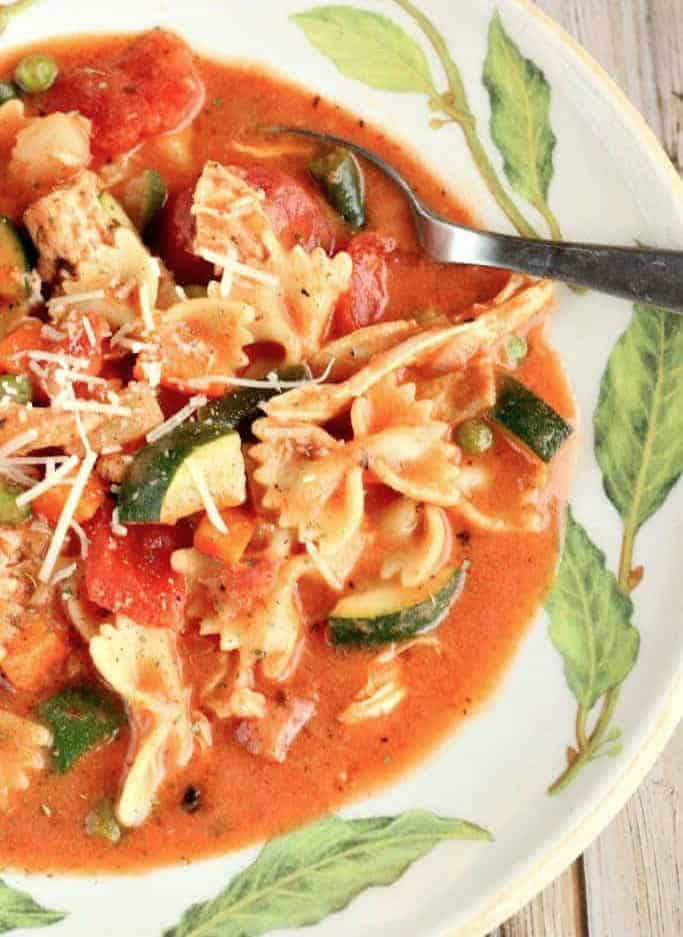 Yield:

6 servings
Creamy Italian Chicken Vegetable Soup
A creamy Italian soup with rotisserie chicken, pasta, and veggies.
Ingredients
1 Tablespoon olive oil
2 cloves garlic, minced
½ cup, chopped onion
2 cups, frozen veggies (corn, peas, green beans, etc.)
1-2 cups fresh veggies, chopped zucchini, tomatoes, and cabbage work best
1 medium rotisserie chicken, meat removed from bone and shredded
1 cup, dried pasta (bow tie or penne)
1 quart chicken stock
24 oz tomato or pasta sauce
1 small can, tomato paste
½ to 1 cup heavy cream or ½ and ½, add to desired creaminess
shredded parmesan cheese to top
Instructions
Heat a large pot to medium.
Add olive oil.
Add garlic and veggies (including chopped onion) to pot, cook down for about 5 minutes or until veggies begin to soften.
Add chicken, heat for 2-3 minutes.
Add pasta, chicken stock, pasta sauce, and tomato paste. Stir to combine.
Heat until boiling and cook until pasta is al dente, about 10 minutes.
Remove from heat, add heavy cream, stir.
Top with parmesan cheese and serve.