Try these easy chicken fajita bowls tonight for a satisfying, wholesome meal that your family will love. Start with rotisserie chicken and add a few ingredients for a fresh dinner that beats take-out any night!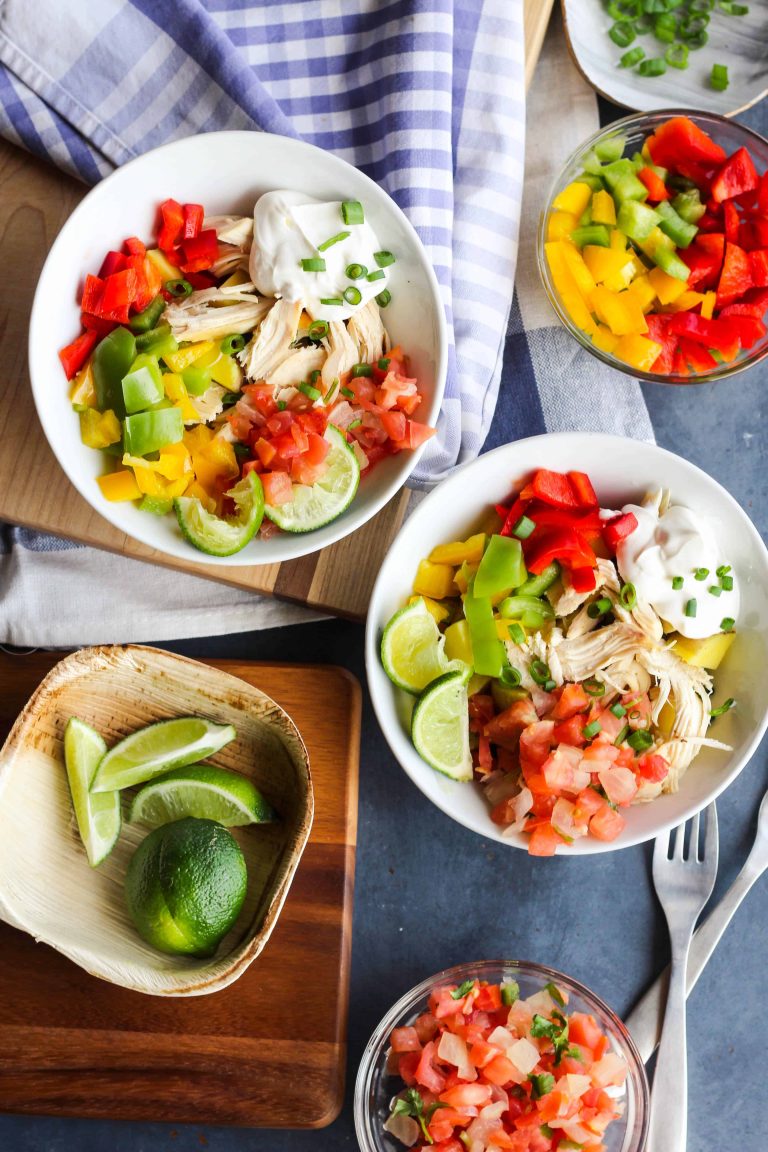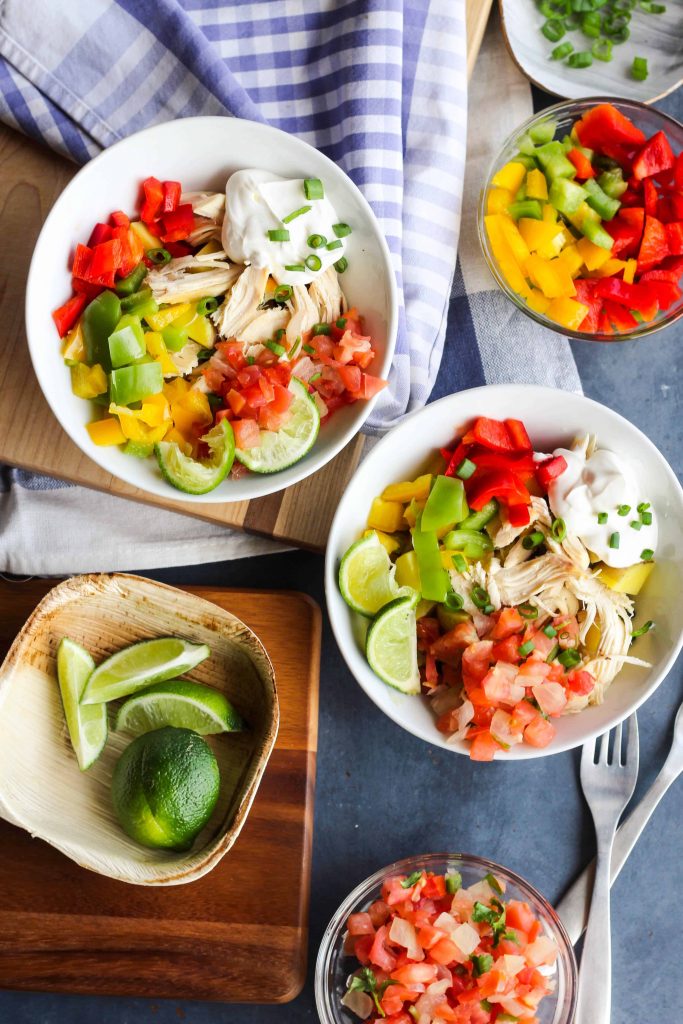 cilantro lime chicken fajita bowls
With two picky little kids and a husband who likes hearty meals, it can be tough to find easy, budget-friendly meals that everyone likes. What I've learned is to start with a wholesome base and let everyone customize it to their liking.
INGREDIENTS TO MAKE THESE CHICKEN AND RICE BOWLS:
½-1 lb rotisserie chicken meat, shredded
2 cups bell peppers, chopped
2 cups pico de gallo
½ cup sour cream , or greek yogurt
1 Tablespoon chopped green onion, optional, for topping
1 lime, cut into wedges, optional, for topping
2 cups tortilla chips, optional, for serving
1 cup pico de gallo, optional, for serving
HOW TO MAKE CHICKEN AND RICE BOWLS:
Shred rotisserie chicken into pieces.
Add to bowls- ¼ of chicken and each of the toppings.
Serve with chips and pico de gallo, enjoy!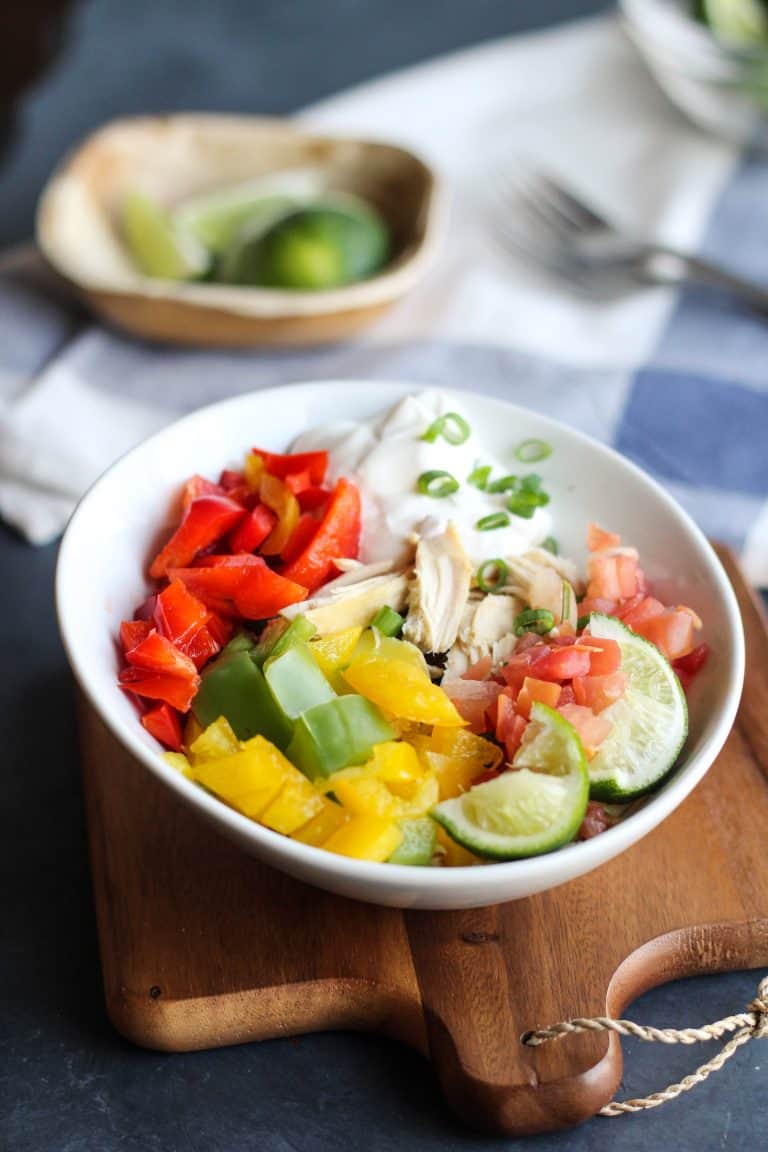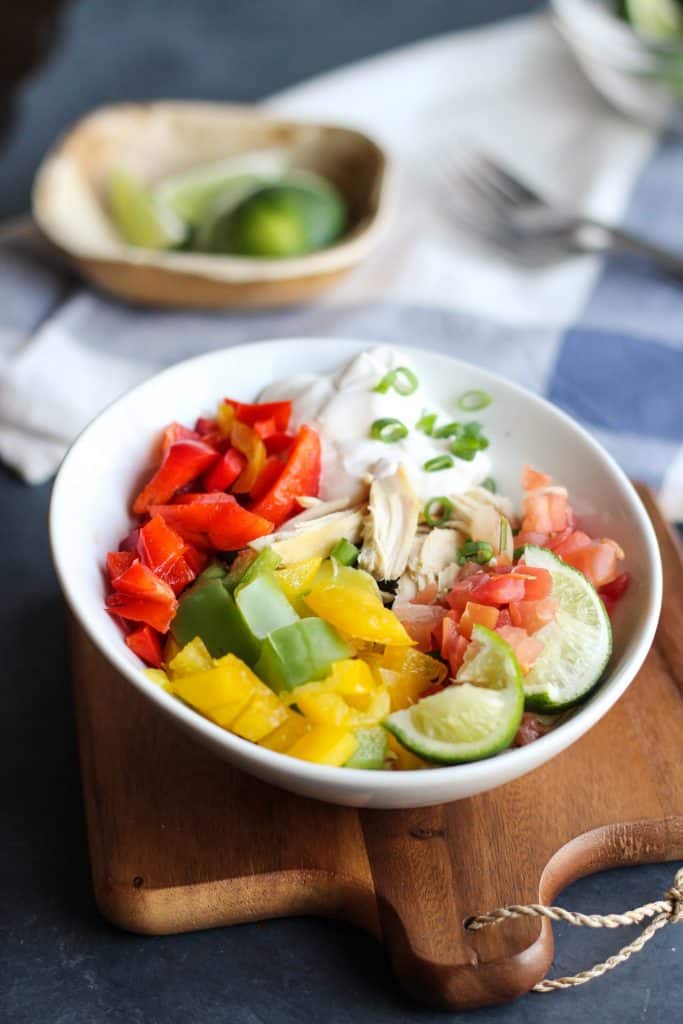 Take this chicken fajita bowl, for example. It's simple, yet flavorful dish, and everyone tops their differently– which makes it a hit for the whole family!
I start by shredding up some rotisserie chicken. You could also cook the chicken breasts, or use leftover meat. I love taking advantage of the rotisserie chickens at the store, for the convenience and the flavor!
Next, top the bowls with Mexican-inspired ingredients! We like chopped peppers (the more color, the more nutrients!), pico de gallo, and sour cream. You can swap out sour cream for Greek yogurt to get a protein boost, which is always welcome.
handy tools to easily make these chicken fajita bowls:
dinner bowls –

great size, nice edge to keep sauces from spilling, matches with any other dishes

kitchen knife –

sharp, knife protector, easy to wash

oval ramekins –

easily display toppings, dishwasher safe, versatile for use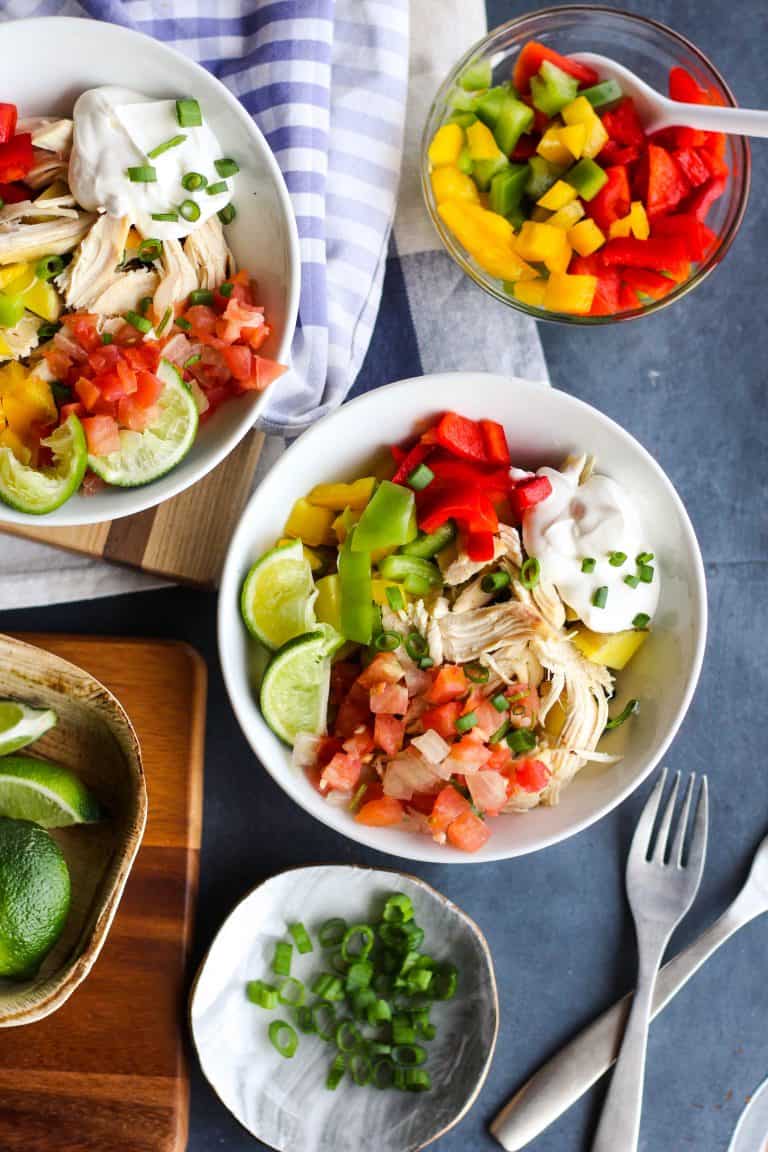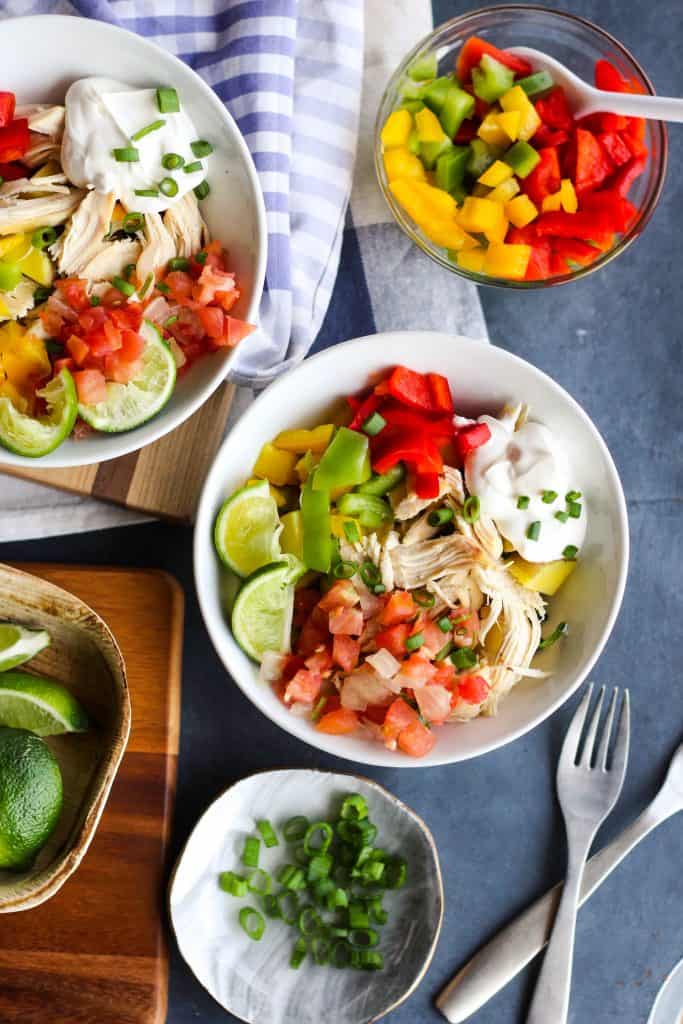 Serve with tortilla chips and extra pico de gallo. It's a fiesta for dinner!
frequently asked questions
How to make a chicken fajita freezer meal?
Place your sliced chicken, onions and peppers into a bag with your favorite fajita seasons and some vegetable oil. mix it all up and remove any extra air from the bag. Now you are all set to freeze!
What do you serve with chicken fajitas?
Rice and beans are great options to go with chicken fajitas. You can also serve chips and salsa and guacamole!
Are fajitas healthy?
As far as Mexican food goes, fajitas are much more healthy than any fried foods and they fill you up just as much!
Love this chicken fajita bowl?! Try these easy dinners with your family:
Chicken Parmesan with Frozen Breaded Chicken Tenders