You'll love this beer margarita to enjoy with Mexican food or for happy hour. Just a few ingredients to a refreshing Corona Strawberry Margarita.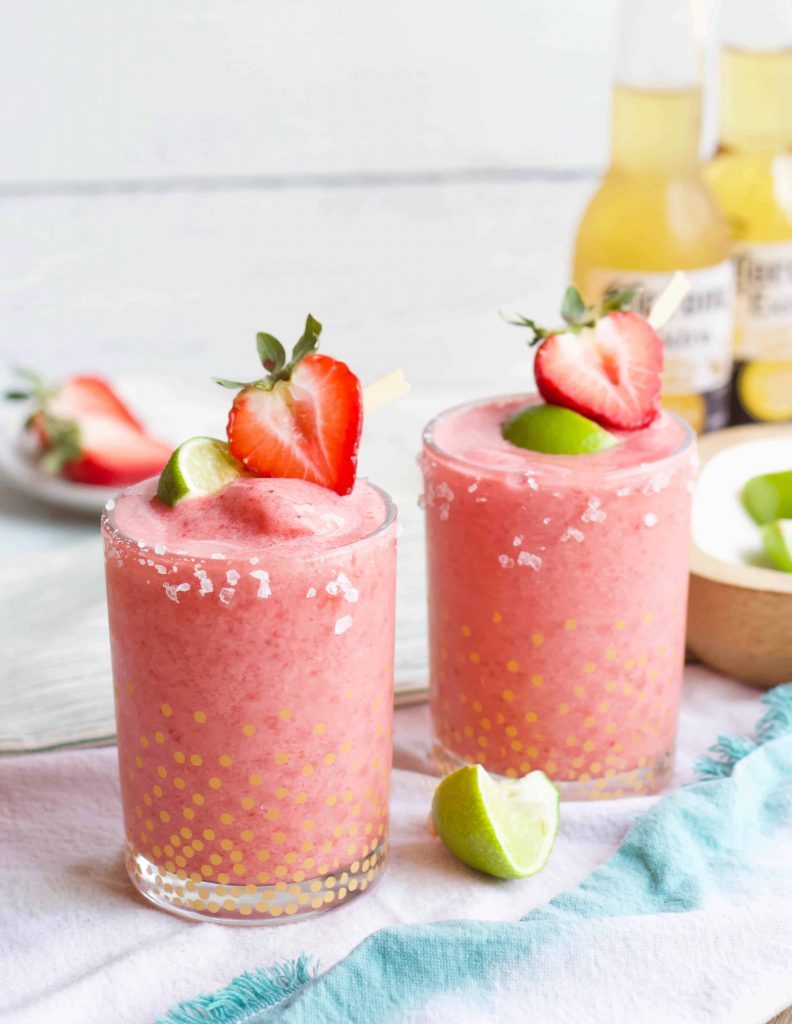 Who doesn't love a chilled marg when the weather turns warmer? Just give me a bowl of fresh guacamole and chips and I'm set for dinner. Honestly, there's nothing better.
Margarita and Corona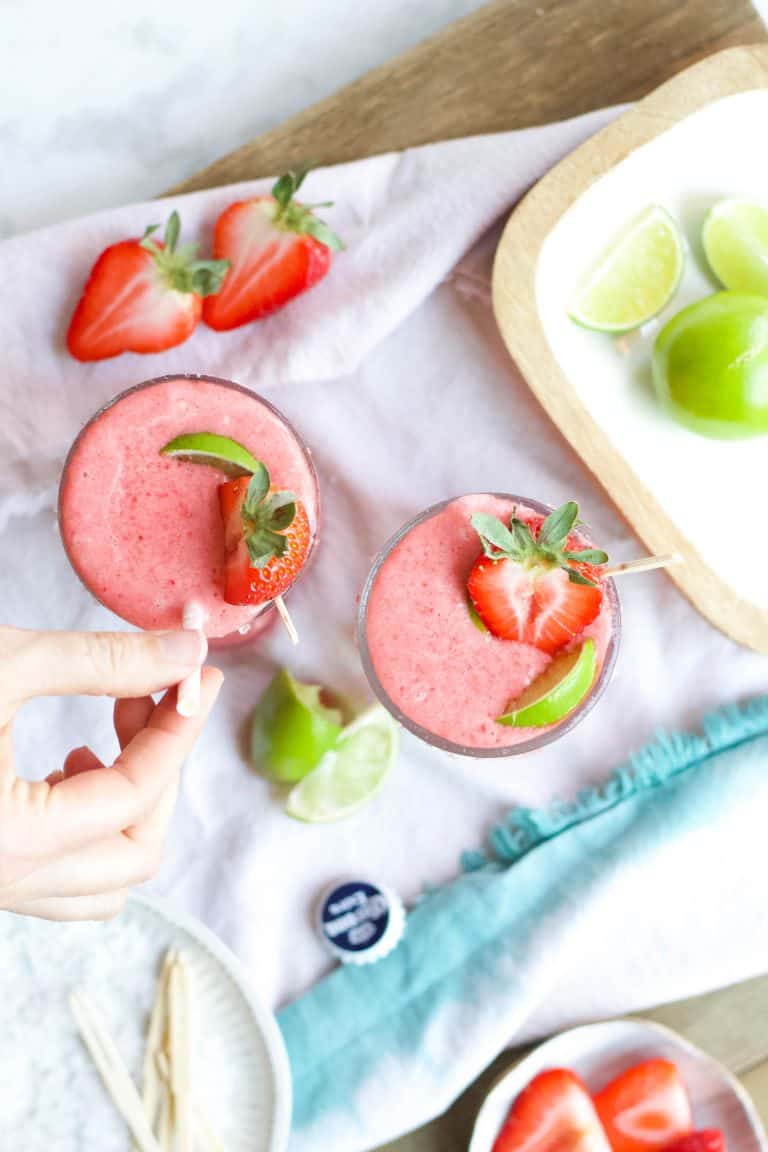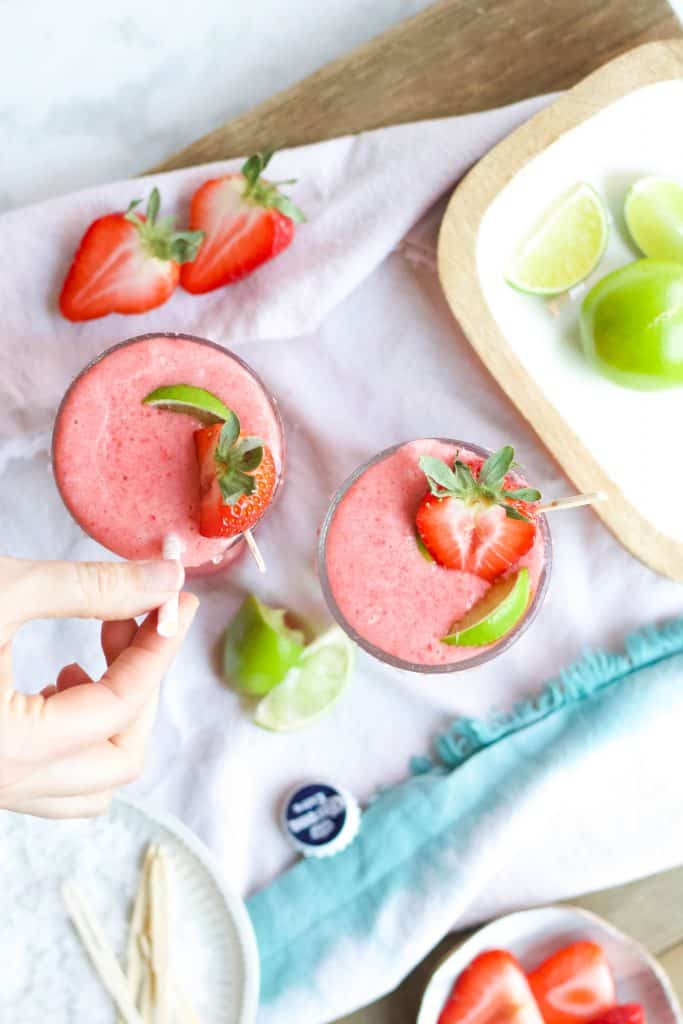 I love to make margaritas with Corona to add a little zing to the drink. It mellows out the tart strawberries and adds some fizz. Super yummy– you'll love it!
Ingredients for Corona Strawberry Margarita:
frozen strawberries (easiest to buy them already prepped and frozen)
bottle of Corona beer
1/2 cup, orange juice, for added flavor and sweetness
1 cup, fresh strawberries (for garnish!)
couple of limes
(optional) 1/4 cup, simple syrup
ice
sea salt for the glasses
I love to rim my margarita glasses with salt. You can also use sugar, sprinkles, really anything goes! To me, drinks are best with plenty of garnish. Agreed?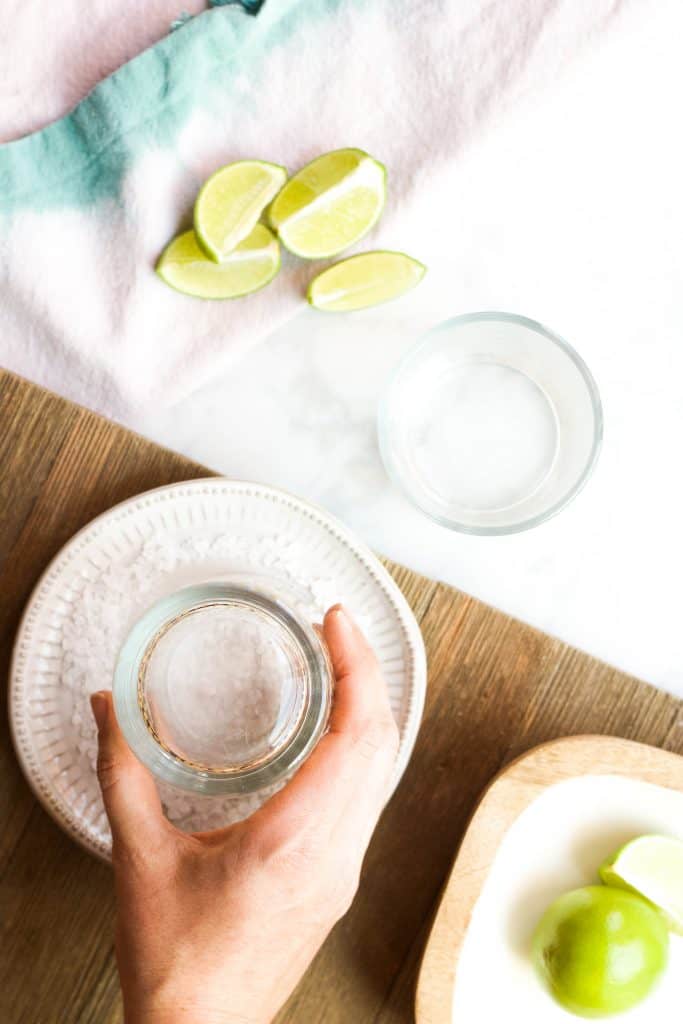 How To Make a Corona Strawberry Margarita:
Prep glasses– wet edge and dip in a small bowl of sea salt (large granules work best)
Add to a blender– frozen strawberries, Corona, OJ, and ice
Finish off with a squeeze of lime
Blend until smooth
Pour into glasses and serve with lime & strawberry slices
It's a party!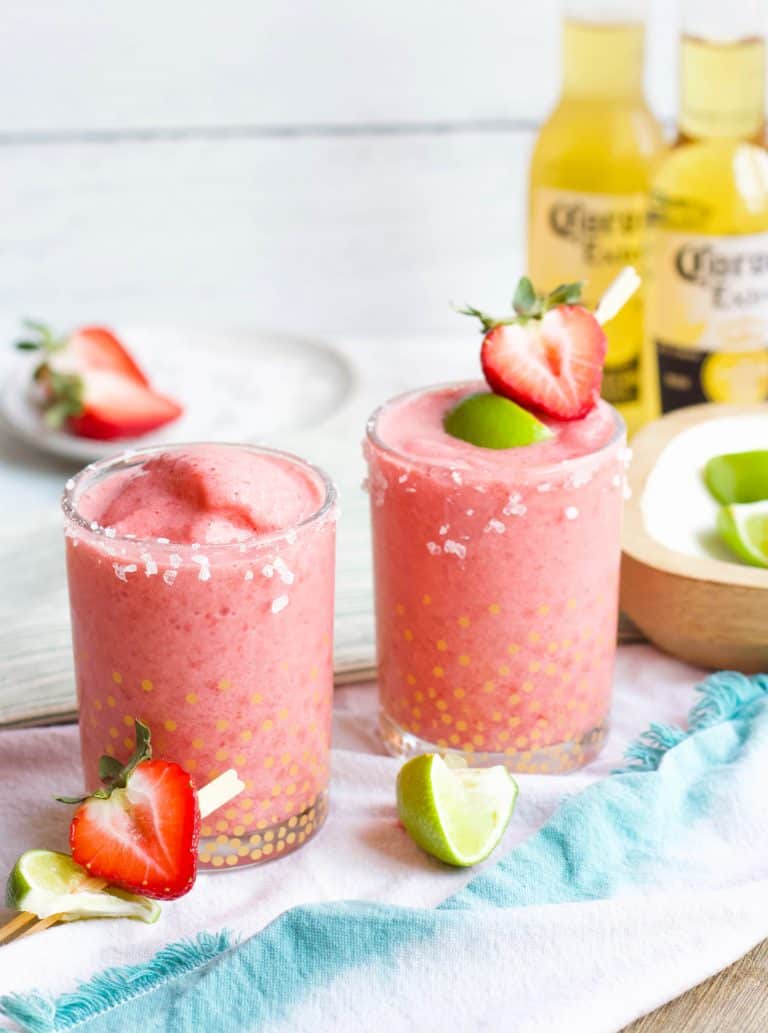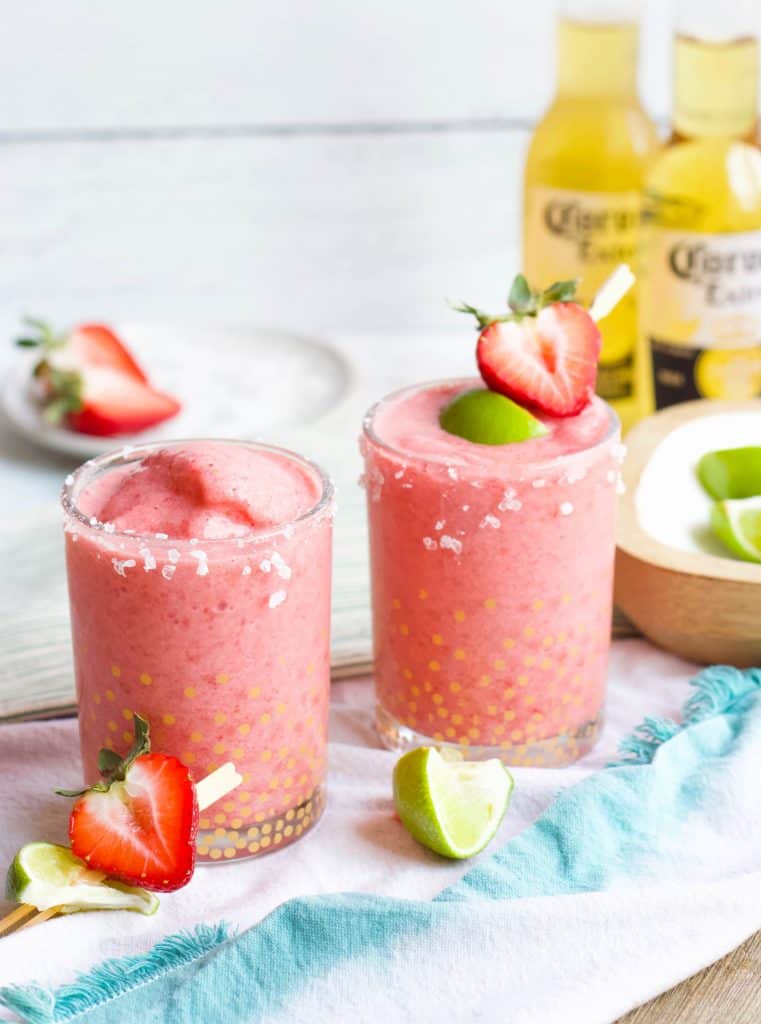 FAQ's for this Corona Strawberry Margarita Recipe:
What is the difference between a strawberry daiquiri and a strawberry margarita?
The main difference between the two is that daiquiris use rum and margaritas use tequila (or beer!). Both drinks can be served either on the rocks or blended with ice.
How many carbs are in a strawberry margarita?
For a typical margarita, there are 50 grams of carbohydrates.
What is the difference between Corona and Coronita?
The difference is the size. Coronita has 210ml while Corona has 330ml.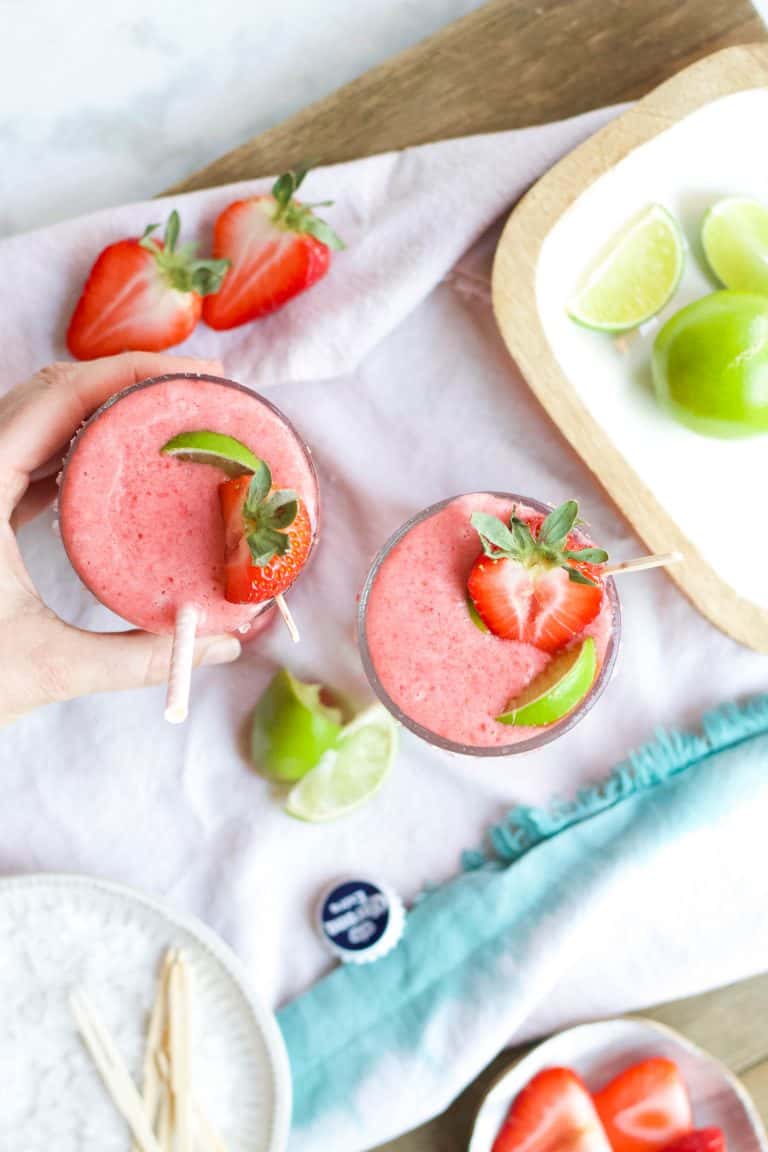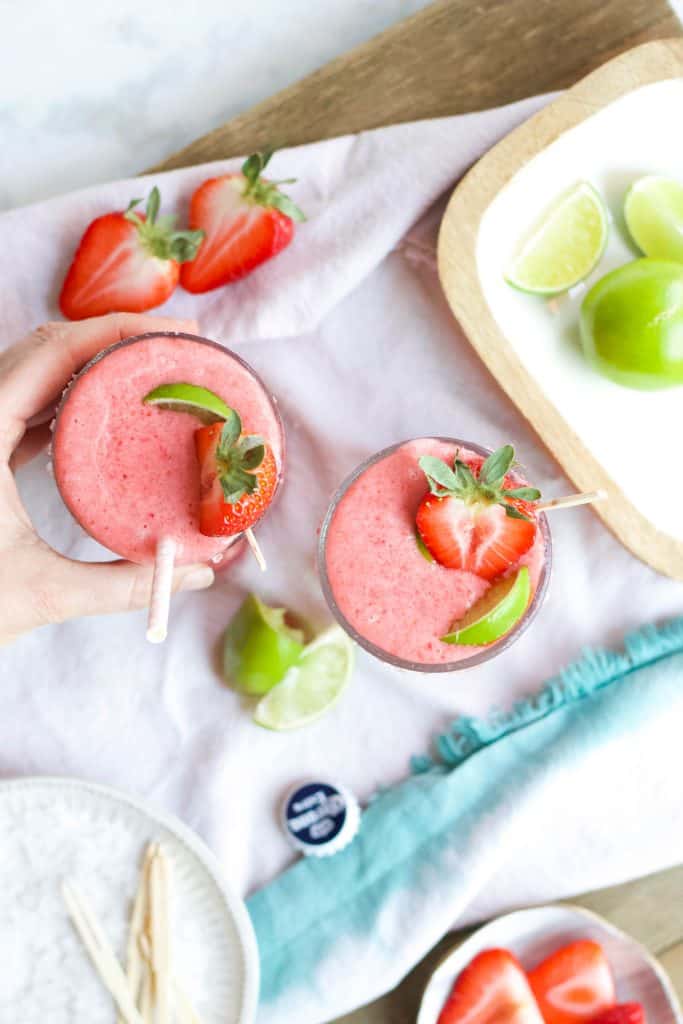 We love these glasses for serving margaritas– or any fun beverages! I like choosing drink cup shapes that aren't traditional. It adds a little something, don't you think?
Need a beast of a blender for the perfect marg? Check this one out. It's our go-to for pumping out pitches of drinks during a party.
lightened-up Corona Margarita
! Skinny margarita with all the flavor.