Classic Sausage and Cheese Party Rye Appetizer in Air Fryer, made with crumbed sausage and Velveeta cheese. A real crowd-pleaser!
Crumbled Sausage Appetizer
This is a traditional appetizer with a twist. Using chopped onions and smooth velveeta cheese adds flavor and just the right amount of melty goodness. Pop these into the air fryer for toasty bread that's golden brown and delicious.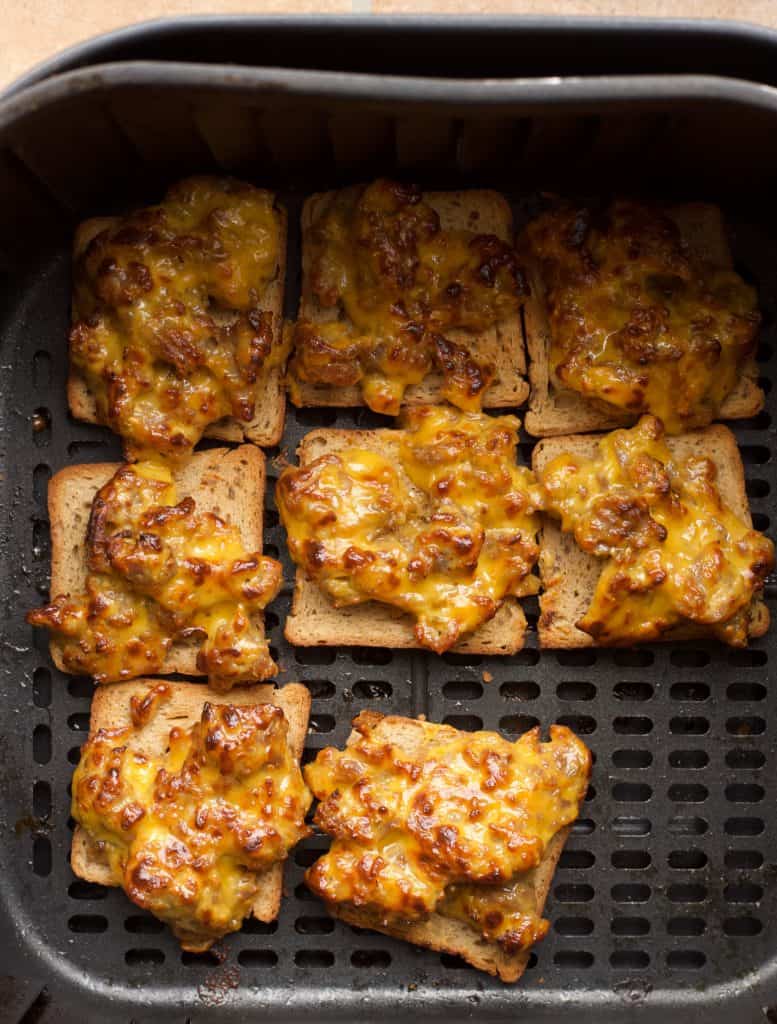 Want to prep ahead? Just cook the sausage, onion, and cheese mixture first. Allow to cool to room temperature, then pack in the fridge until you're ready to serve the appetizer. Scoop onto rye bread slices as usual and cook in air fryer. You may need to add a minute or two to the cooking time if the sausage mixture is cold. But this way, you can cook up a hot & fresh appetizer in just minutes. Yum!
How To Make Sausage and Cheese Party Rye
Start by cooking up the sausage. This recipe calls for mild, but you can also try sweet or spicy. Add the onions at this point as well.
Use spatula to break up sausage into crumbles and mix with chopped onions. Once sausage is browned and cooked through, drain any excess oil as needed.
Meanwhile, cut velveeta into cubes for easy melting. Add velveeta to skillet and stir occasionally, cooking until cheese is melted (but not boiling).
As soon as cheese is melted and mixed with sausage, remove skillet from heat.
Preheat air fryer to 400 degrees.
Once air fryer is ready, carefully lay out rye bread slices in one single layer in air fryer basket. Then add a dollop of the cheese sausage mixture to each rye slice. If necessary, use back of spoon to spread sausage and cheese evenly over bread.
If you would prefer, you can also prep the rye slices outside of the air fryer and add to the basket using a spatula. Whichever is easiest for you!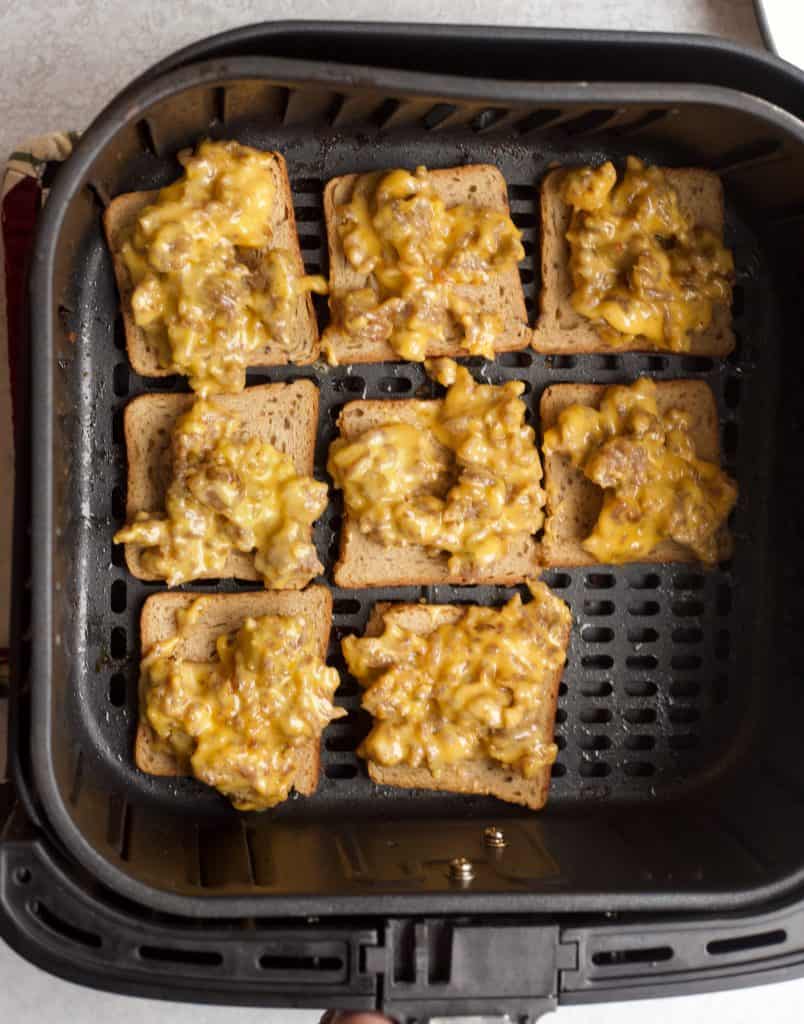 Cook at 400 degrees for 5 minutes. Toast should be crunchy and golden brown, with a slight crust on the cheese topping.
Carefully remove party rye from air fryer with a spatula and lay out on serving dish.
Cooking Tips
You can also cook the party rye in the oven. Lay out slices on a parchment paper-lined baking sheet. Cook on low broil until bread slices are toasted and cheese is melted.
Use a cheese knife to make life easier! This one is perfect for cutting up Velveeta. Make clean cuts with no sticking.
You can chop up fresh onion or use my favorite cooking hack– pre-chopped, frozen onions.
What To Serve with Sausage and Cheese Party Rye
Other hearty appetizers that pair well with party rye are Cream Cheese-Stuffed Dates, Stuffed Mini Sweet Peppers, and Sausage & Pepper Bites.
As far as cocktails, a yummy Vanilla Coke Italian Soda or Lemon Cardamom Sparkler would be a bright complement to the party rye appetizers.
What Can You Substitute For Party Rye Bread?
Cocktail pumpernickel bread is very similar. You can also cut thinly sliced rye or pumpernickel bread into quarters. It'll taste very close once toasted!
What Makes Rye Bread Different?
It is typically denser than white bread. It is higher in fiber, darker in color (sometimes coloring agents are added), and stronger in flavor. This creates a good flavor balance with the cheese and sausage topping for the "party rye" appetizer.