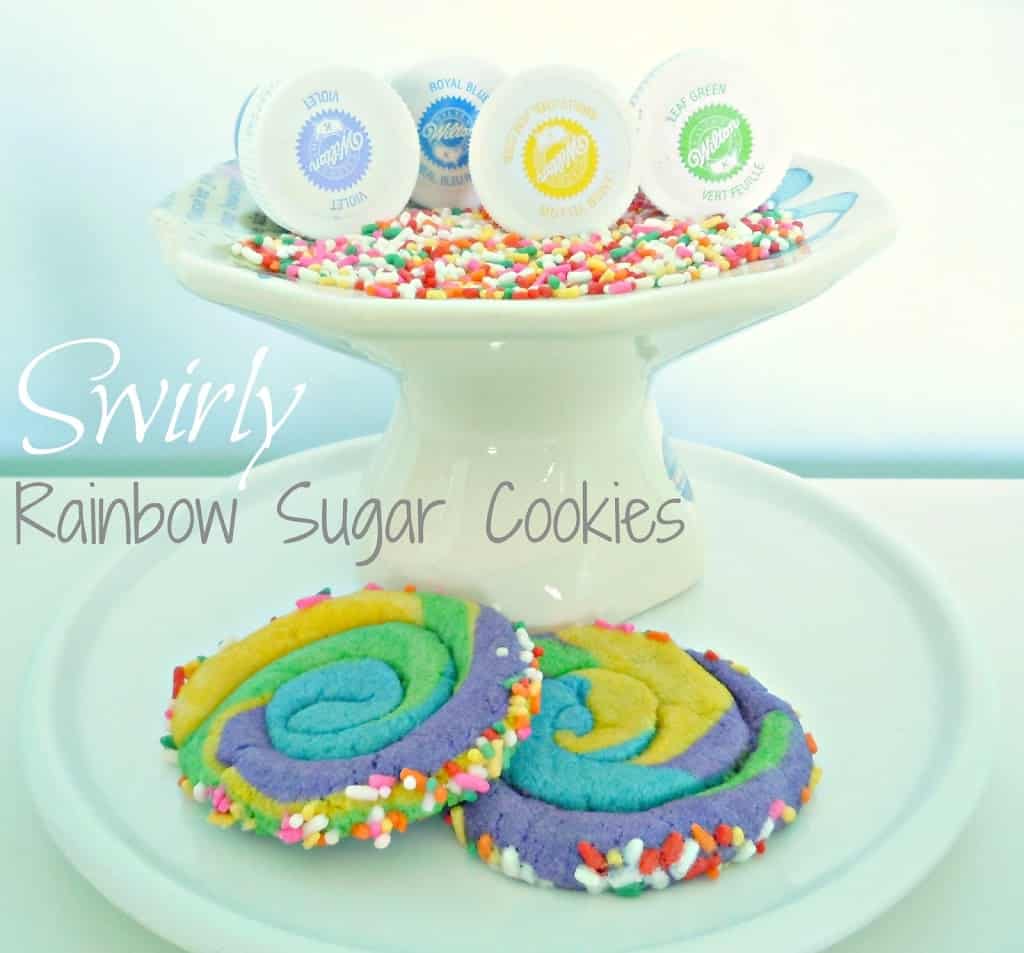 These cookies look like a good time, right?!
These are more work than the average cookie. But totally worth it. Especially when you can show them off to your husband, who actually looks impressed… by cookies!! I actually got an "Oh" with inflection.
A few years ago I stumbled upon an eggless sugar cookie recipe, and it changed how I bake with my daughter. We don't have to wash our hands at every turn. Awesome.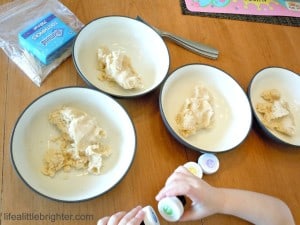 So, first we made the dough and divided it up. I HIGHLY recommend using Wilton gel food coloring, not the liquid stuff you get at the grocery store. It's way easier to deal with, and you won't get the right texture with the liquid. I add mine with toothpicks because that's what they taught me in a cake class I took years ago. You don't really want to double-dip into those containers.
Mix the colors and roll each into a little ball. Here's my dough ball, and my daughter's attempt. Cute.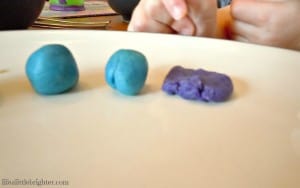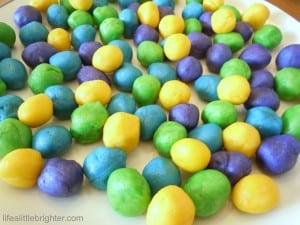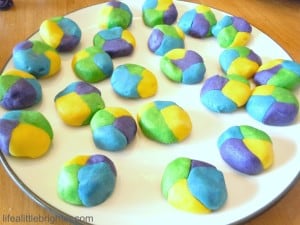 Combine the four colors together, make into a snake, and then roll into the swirl shape.
At this point, the dough has been sitting out for a while, so it might be dry and break apart when you make the snake. Try to roll the ball between your hands and warm it up a bit before you make the snake. Also, important: twirl the snake as you coil it up, that way you see all the colors.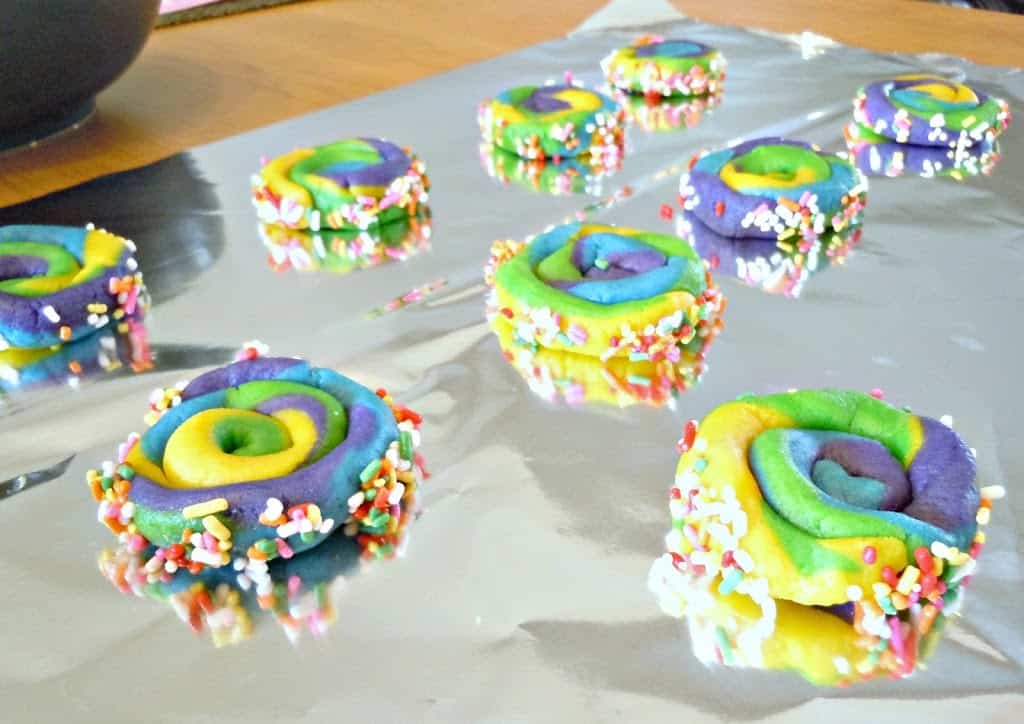 Add sprinkles… bake… love!
-The sprinkles would not stick to dough (remember it gets dryer throughout the process?) so I had to add a couple drops of water to a pile of sprinkles and then drag the cookies through the pile. Wet sprinkles look both gross and cute.
-Ideally, you would do this with older kids. My three year old loved watching me do it, but her attempts at snake-making just frustrated her.
-The sugar cookie recipe is egg-free and so tasty! You really should try it if your project requires you to work with the dough a lot. *cough* Christmas cut-outs…:)

Swirly Rainbow Sugar Cookies:

Adapted from Better Homes and Gardens Magazine
Ingredients:
2 teaspoons cream of tartar
1 tablespoon & 2 tsp vanilla extract
4 or more Wilton gel food colors
(optional) toothpicks to use with gel food coloring
Directions:
In medium bowl whisk together flour, cream of tartar, baking soda, and salt. Set aside.

In large bowl beat butter with an electric mixer on medium speed for 30 seconds. Add granulated sugar and beat until smooth and creamy. Beat in milk and vanilla. Beat in as much of the flour mixture as you can with the mixer. Stir in remaining flour mixture by hand. Dough will be soft.

Preheat oven to 350 degrees.

For rainbow pinwheels, divide dough evenly into five bowls, and color each with a different color liquid food coloring.

Roll each color dough into 14 grape-sized balls.

Combine a ball of each color and quickly roll into a larger ball. It will look like a little beachball.

Then roll that ball between your hands and the counter or cutting board until you have a cylinder about 6 inches long.

Starting from one end of the cylinder, roll the dough into a coil, twisting the cylinder as you go.

Roll edges of the cookie in sprinkles.

Repeat with remaining cookies.

Bake the cookies for 10 to 11 minutes, or until done (fully done middle with the barest touch of golden brown on the edges).

Let cool on a cookie rack, makes approx. 2 dozen cookies.