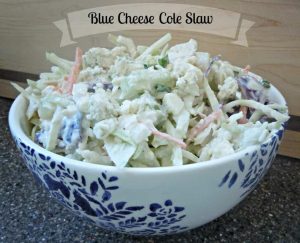 I am not a Cole Slaw person. At all.
I'm pretty sure this makes me un-American, since I see it at every cookout and BBQ. And I always pass. Even on the legendary KFC Cole Slaw that my husband thinks is magic.
A few months ago, I went to a party to watch the Bears game, and was starving. I grabbed some Cole Slaw thinking food.
My, my, my. This was something totally different.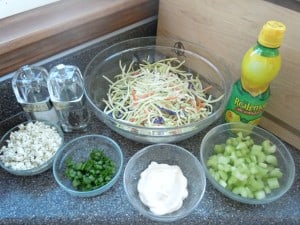 Tweaked out my own recipe, and discovered a Cole Slaw with tons of flavor. An awesome mix of tangy lemon juice and creamy blue cheese.

Make that extra cheese.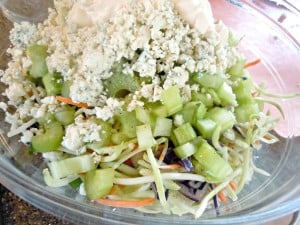 I mixed regular Cole Slaw mix with "broccoli slaw" and celery for some variety. It also kept its crunch really well.


All my stinky cheese fans out there, this needs to be a side at your holiday table.


Blue Cheese Cole Slaw
1-16 oz. package shredded Cole Slaw mix*
4 green onions, tops thinly sliced
3 stalks celery, thinly sliced
1/2 cup of mayo (or more to taste)
2 lemons, juiced or 2 "glugs" of lemon juice (eyeball it)
1-5 oz. container blue cheese
Add toppings to Cole Slaw mix in a big salad bowl, mix well. Add salt and pepper to taste.
*can use any variety of Cole Slaw mix, I used "broccoli slaw" to add color and crunch