A surprisingly simple, decadent dessert with just 2 ingredients!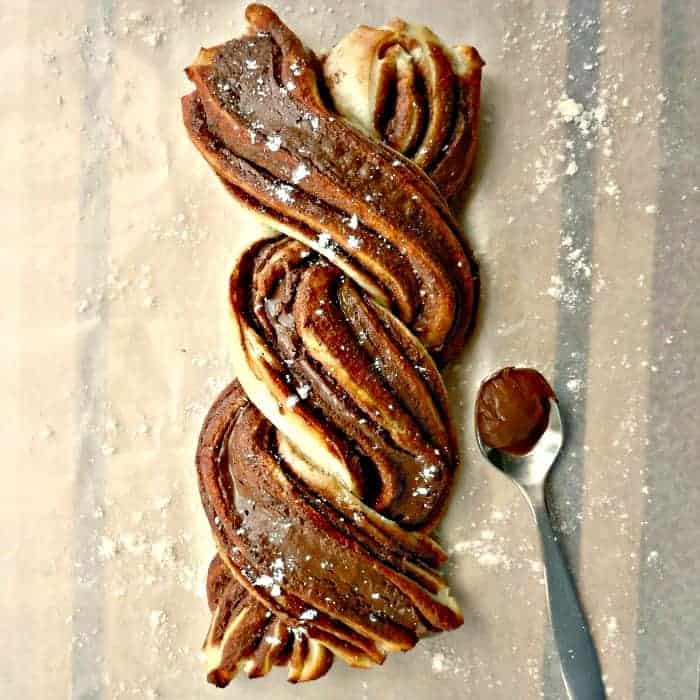 I feel like this recipe needs a disclaimer: NOT hard to make. Do not need to be baker. No yeast involved.
But really, it's one of the easiest (and tastiest) desserts I've ever made. Two ingredients, people.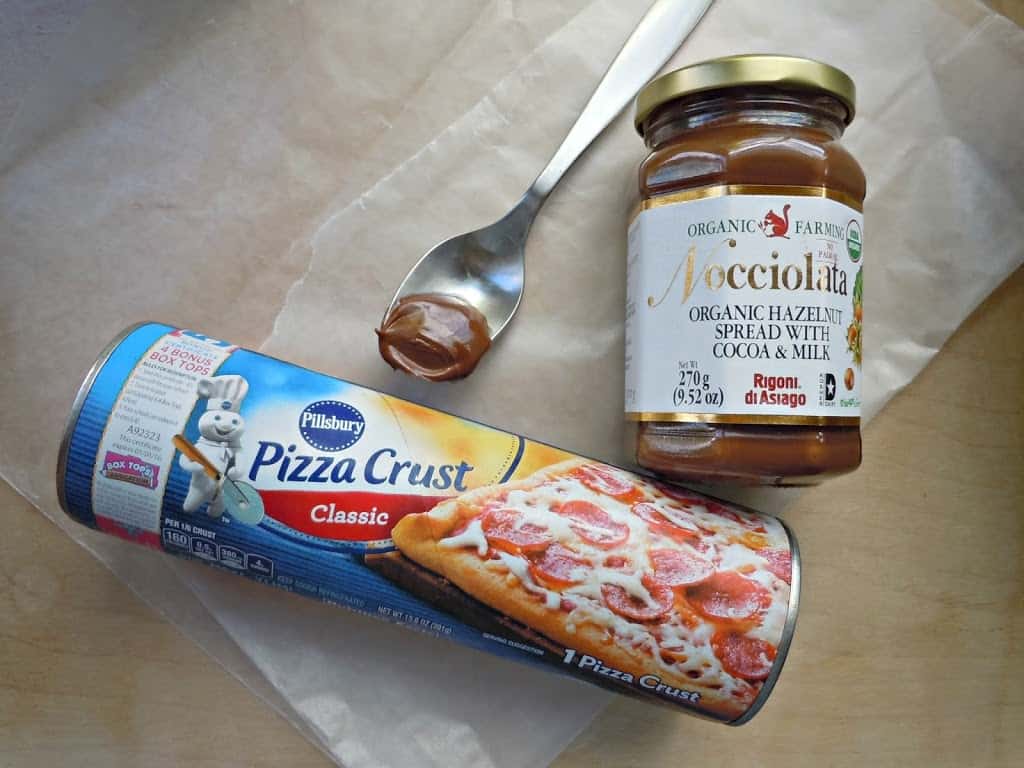 Yep, I took the easy way out. Already made pizza dough….because I didn't want to wait for this treat.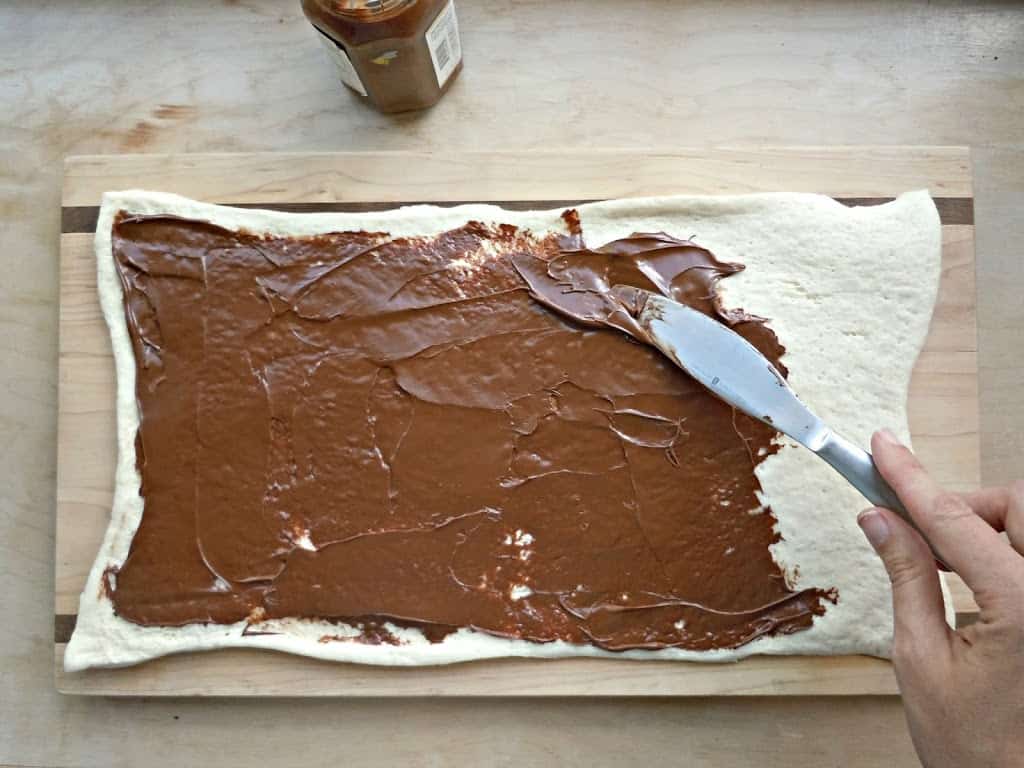 Not to say that homemade dough isn't amazing, but maybe there's a time and place for shortcuts?
I turned 33 last month, and the older I get, the more I pick and choose how I use my energy. Maybe because time is far more precious these days? If I do something for myself, it comes at the expense of time with kids, or working. If I decide to spend the afternoon playing with Alyssa, I have to forgo a clean house or getting phone calls done. It's a giant balancing act, no?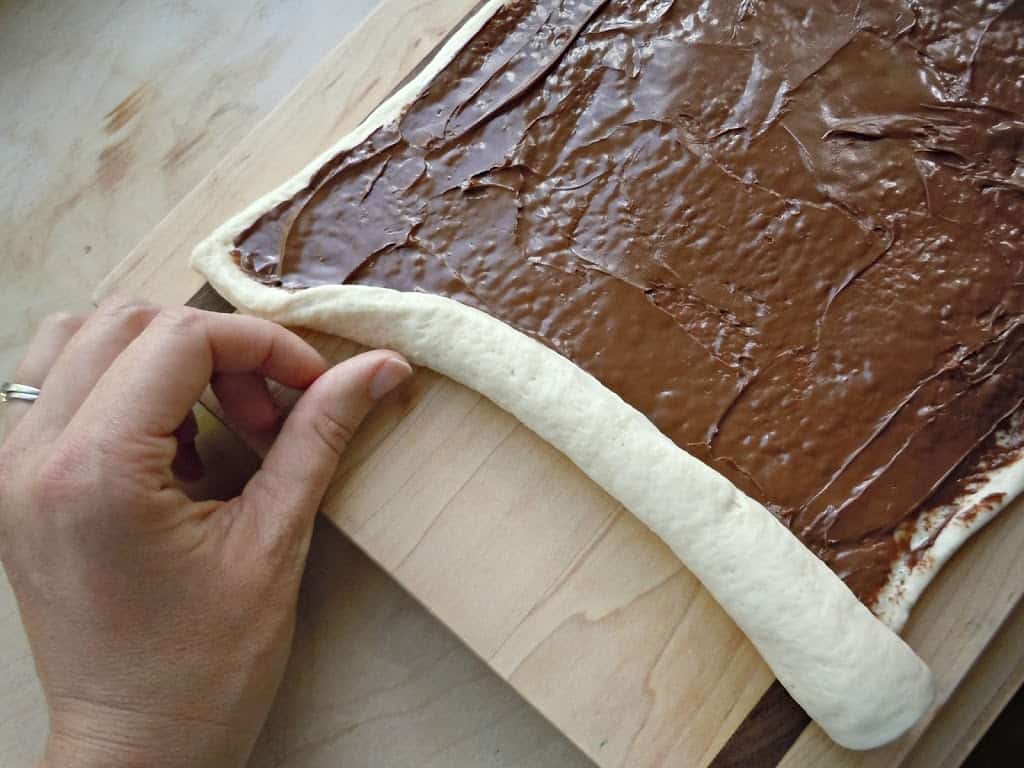 But that's not the only trick. I've had to work on not feeling guilty or remorseful over my decision to use shortcuts, or just care less about something. I am forever beating myself up over the activity I chose not to do. Worrying about the cat's dirty litter boxes while talking on the phone to my mom, for instance. I do not recommend cleaning a litter box while on the phone.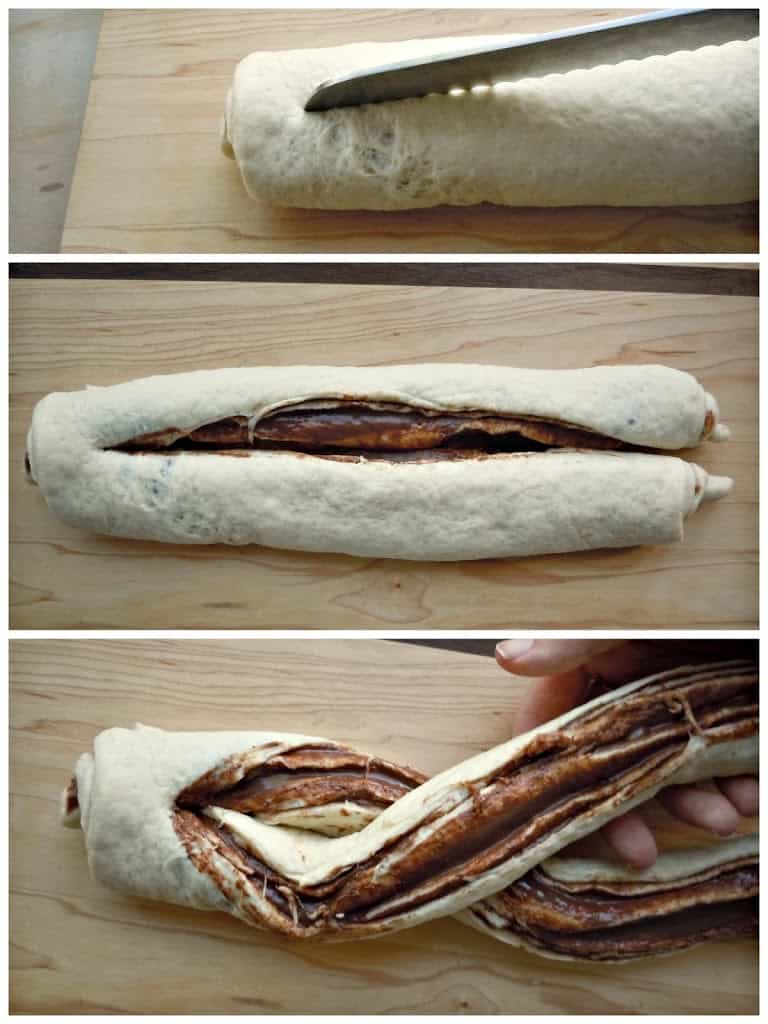 I'm jealous of my husband in this regard. He, and so many other men, can be totally single-minded and completely absorbed in a task. Me? I'm thinking about the 10 other things I could be doing at the moment. Or maybe what I'll do next.
However, I've really been working on sticking with my decisions and just letting everything else go.    Sounds kind of funny; working to be less stressed. But honestly, I just need to worry less.
Worry less about that stain on my shirt. I have an infant for goodness' sakes.
Worry less about my daughter's hair. Let her run around and get some tangles.
Worry less about my daughter eating every last veggie on her plate. She ate all her meatloaf, and that'll be good enough for tonight.
Worry less about the sink full of dishes as we run out the door. My husband would rather have a happy wife than an empty sink.
And so on. In fact, I think I could go on for a while. I just need to remind myself that it's healthy to pick and choose my battles.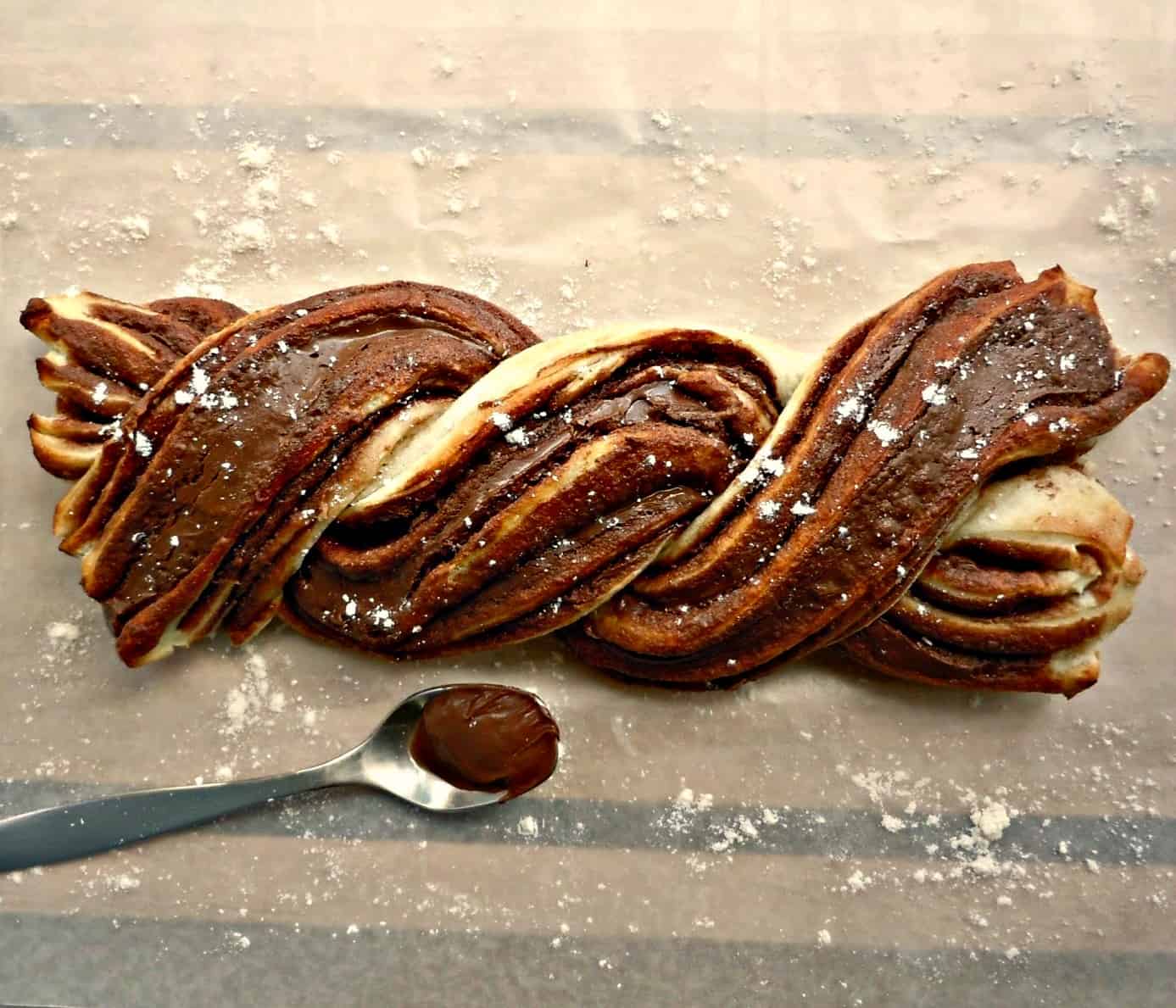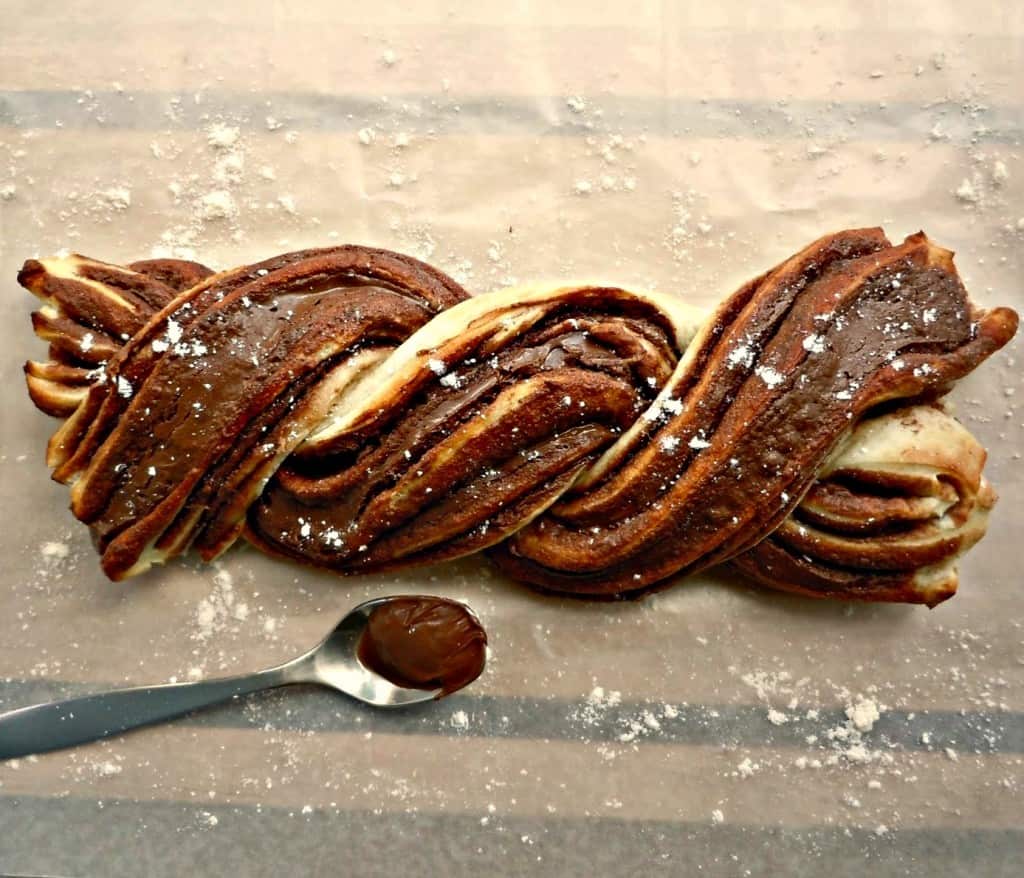 So today I'll use pizza dough from a can, and my family will enjoy a tasty dessert.
And no one will notice the shortcuts.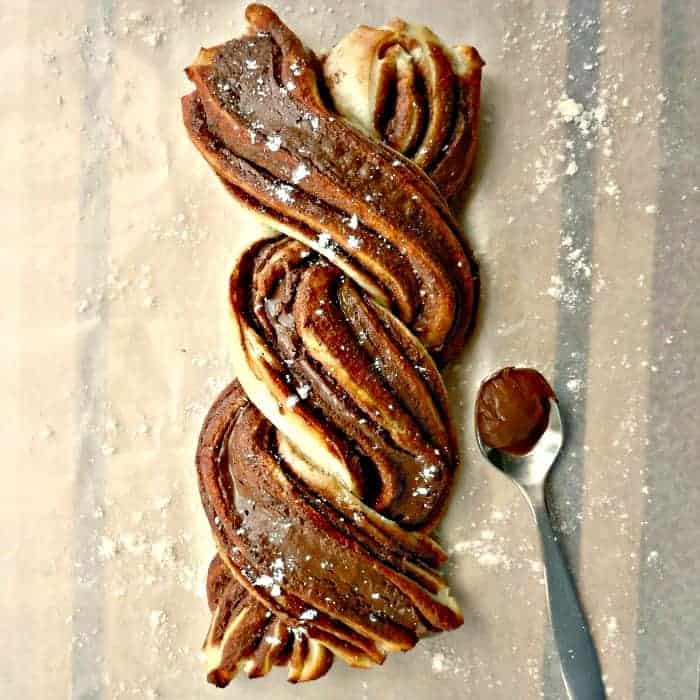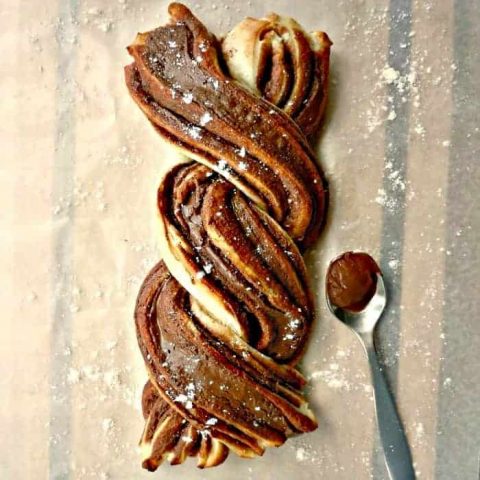 Chocolate Hazelnut Braid
A surprisingly simple, decadent dessert with just 2 ingredients!
Ingredients
1 jar Nocciolata Hazelnut Spread or Nutella
1 can-pizza dough
Instructions
Preheat oven according to temperature on pizza dough package.
Roll out pizza dough onto greased cookie sheet.
Spread thin layer of Nocciolata or Nutella onto dough, roll up dough into log shape.
Cut log in half, lengthwise, the separate halves.
Twist the two parts of dough around each other, as see in pictures above.
Bake braid according to pizza dough instructions.
Allow to cool, slice in pieces, and enjoy!