The best of both worlds— pizza and a quesadilla! This ultimate pizza quesadilla is cooked up skillet-style, with toasted pepperoni and melty mozzarella cheese.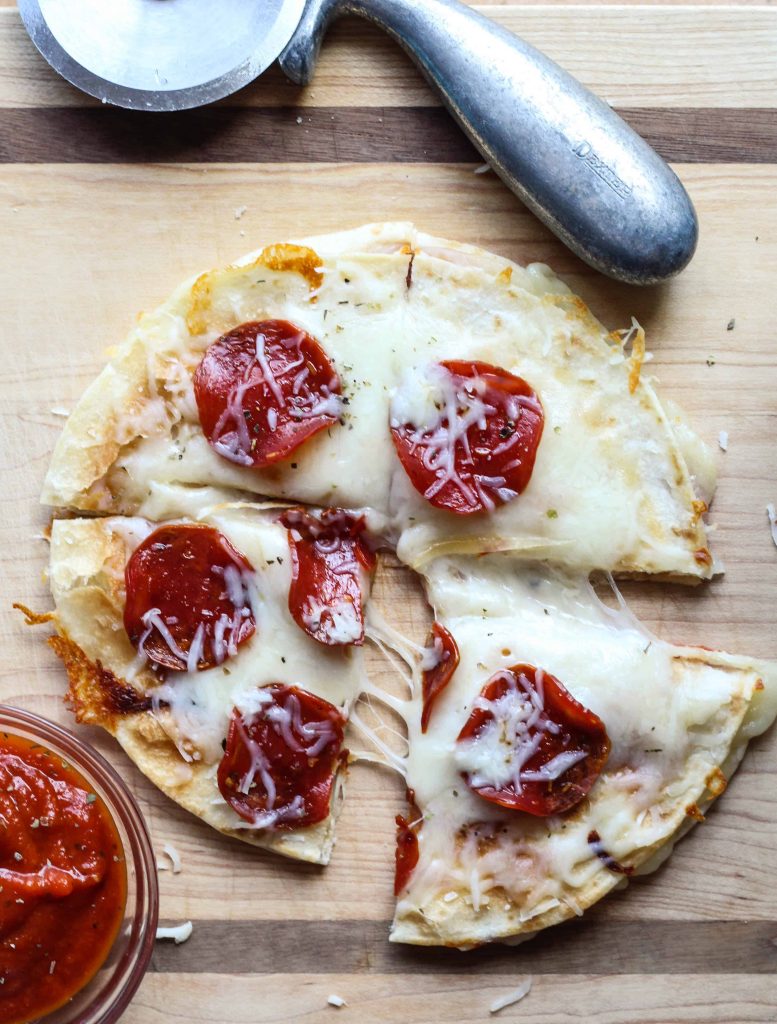 Pizza Quesadilla
Sometimes us adults make junk food and call it a meal when it's really just a giant snack…because we can. And my inner parent says, "Where are the vegetables?" No balance in this one. It was one of the best lunches I've ever made.
INGREDIENTS NEEDED TO MAKE THIS STOVETOP QUESADILLA RECIPE:
2 flour tortillas, small size
handful of pepperoni
1 cup shredded cheese, Italian blend
1/2 cup shredded Parmesan cheese
1/2 cup pizza or spaghetti sauce
DIRECTIONS FOR HOW TO MAKE THIS STOVETOP QUESADILLA RECIPE:
Heat a medium-sized, nonstick skillet to med-low on the stove-top. Nothing will stick to this pan!
Cook up 5 or so pepperoni on the skillet until slightly crispy, about 2 minutes per side.
Remove crispy pepperoni from skillet, assemble quesadilla (tortilla, 1/2 of the cheese, pepperoni, tortilla on top) then cook on skillet.
Cook quesadilla until edges get crisp & cheese is melted, about 4 minutes per side.
Remove quesadilla from skillet, add remaining cheese & crispy pepperoni to the top of the quesadilla, microwave until cheese on top is melted.
Cut into pieces with this sturdy, no fail pizza cutter. Enjoy!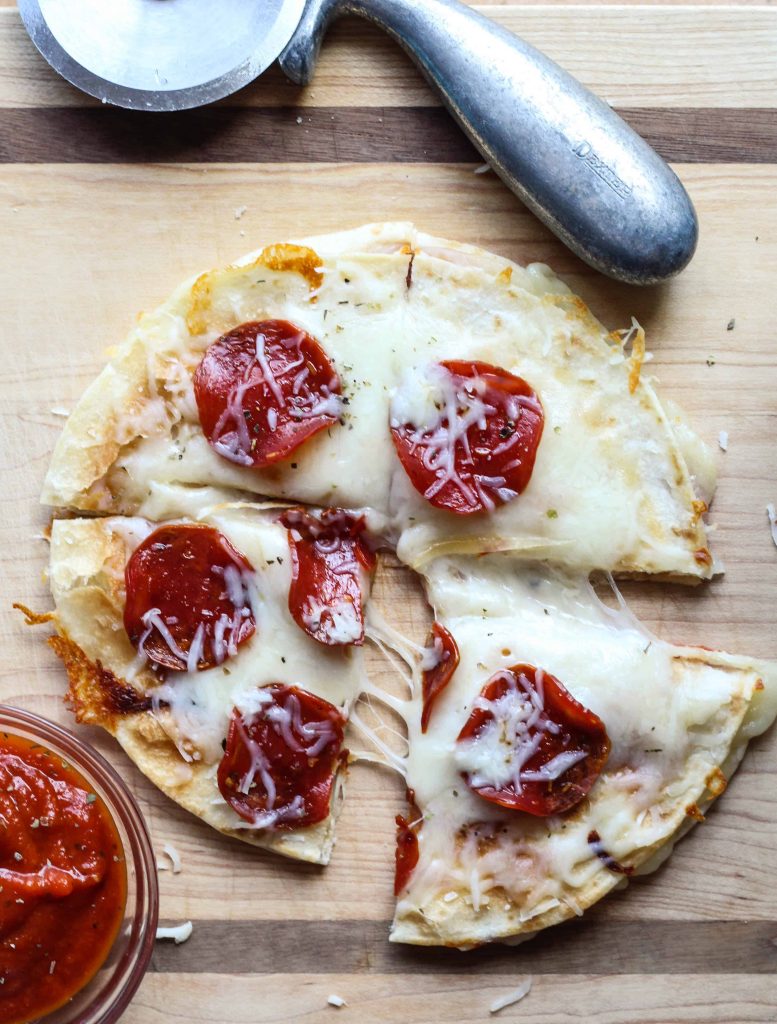 Layer the tortillas with cheese & pepperoni, then pop in the skillet. OH but we don't stop there.
Let's take a minute and toast up some pepperoni's. (It's so worth the extra step, I promise) Makes 'em crunchy and chewy, perfect for topping that ultimate pizza quesadilla, friends.
Then top the ultimate quesadilla with more cheese and the toasted pepperoni. Slice it up with our favorite pizza cutter and serve with marinara sauce for dipping.
HANDY TOOLS TO HELP MAKE THIS ULTIMATE PIZZA QUESADILLA:
pizza cutter – sturdy design, cuts easily, easy to clean
fry pan – nonstick, perfect size, easy to clean
You'll be a hero at home. Perfect for an appetizer or lunch, this pizza quesadilla was made for sharing. Check out this awesome pizza platter and plate set that we love to use at home!
Frequently Asked Questions
How to prepare pizza at home in the microwave?
This link shows step by step (with pictures) how to make a good pizza in the microwave, and you can even get a crispy crust with the right tools!
What are some easy dorm microwave recipes?
There are a couple different ways you can whip up a pizza in your dorn microwave. You can try this Mug Pizza Recipe or you can give this Pita Pizza Recipe at try!
Can you make a quesadilla vegetarian?
Yes! This Vegetarian Quesadilla recipe is great! You can easily swap in a cheese substitute if you want to go dairy free as well. Load up those veggies, choose your cheese type and melt away! Yum!
Grab a slice & enjoy!
Love this ultimate pizza quesadilla? Try these Easy Pizza Dough Pretzel Bites!