Goat cheese & honey blended into ice cream and sandwiched between two shortbread cookies.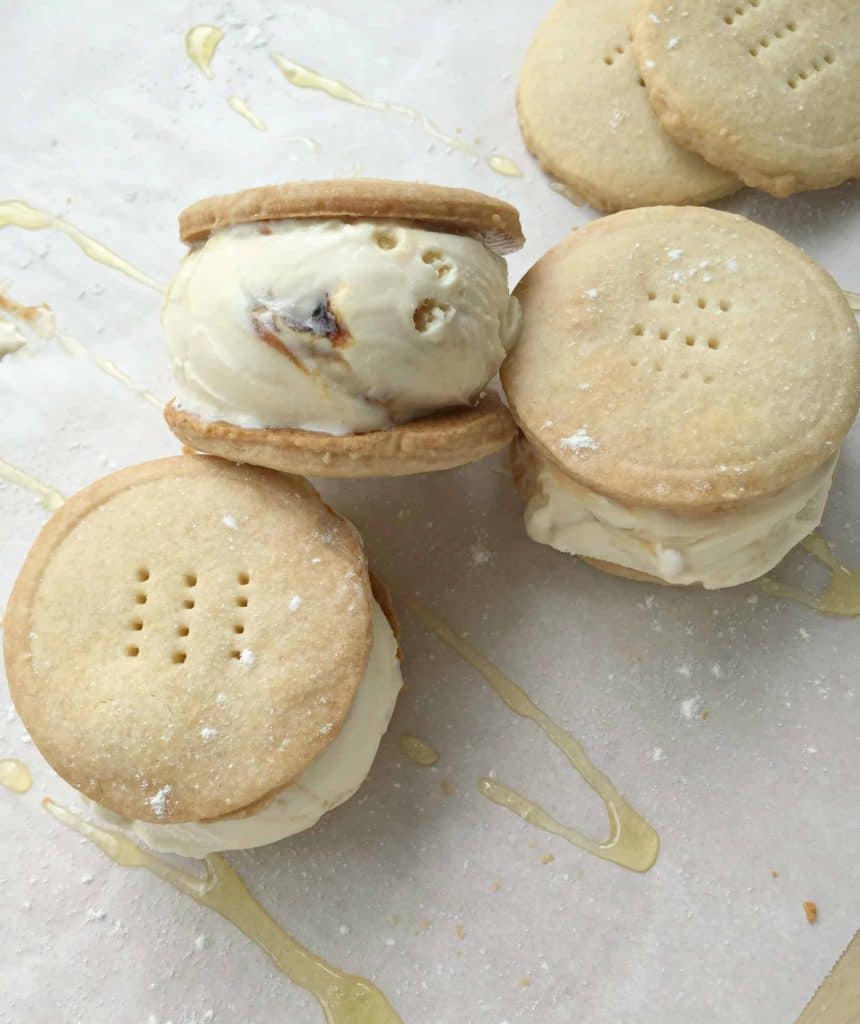 Today I have the perfect summer recipe for you. Kids love it, adults love it.
Easy to make, looks gourmet.
Can't go wrong.
It starts with a simple shortbread recipe.  I love shortbread! Only 4 ingredients gets you to wholesome goodness. Sounds just right for summer.
For this dessert, I chose to use Blue Bunny Ice Cream, specifically the "Flan" variety. Whoever thought to make that classic Mexican dessert into an ice cream was a genius. I snatched it up as soon as I saw it.
Plus I knew it would get along famously with other flavors I added in… honey and goat's milk cheese.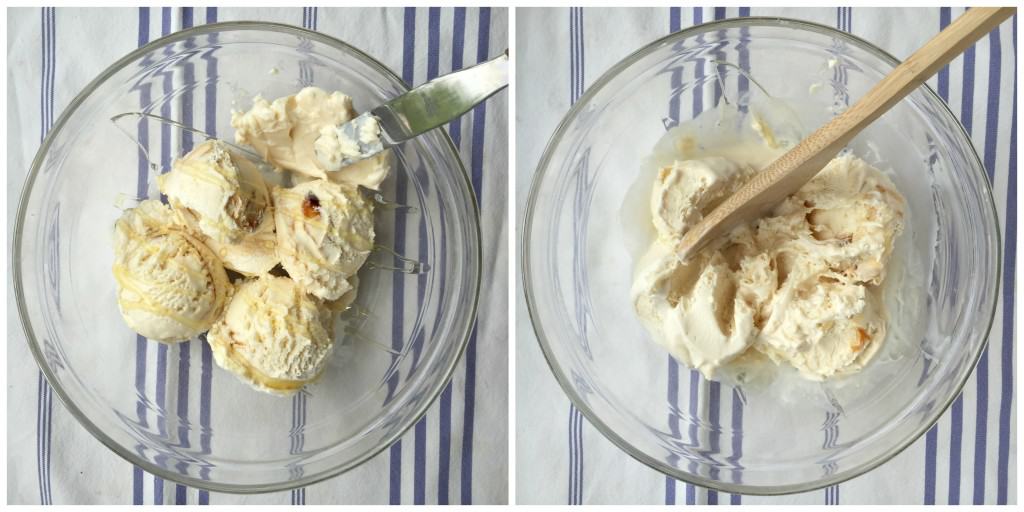 Yep, I added cheese to dairy.
The goat's milk cheese adds a creaminess and a tart flavor to the ice cream. It tastes like heaven.
The shortbread is nice and light, mellow enough to not overpower the ice cream. Crunchy on the edges… buttery & flaky on the inside.
It all just kind of crumbles in your mouth. I highly recommend eating them outside, on a hot day. That's actually part of the instructions.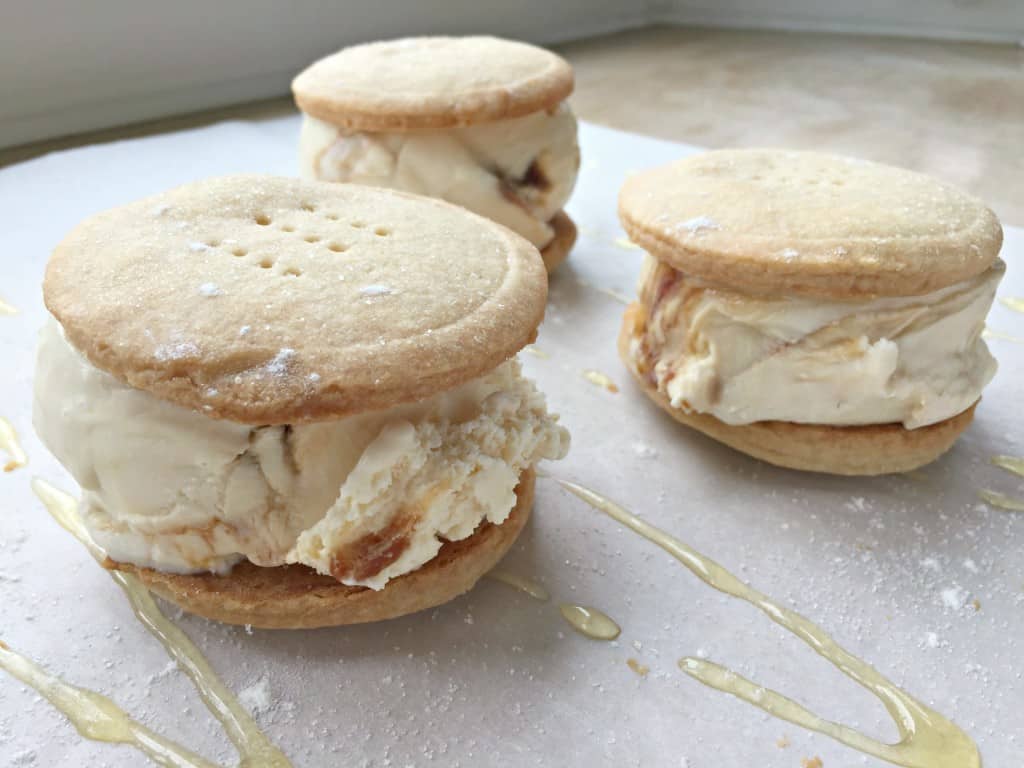 Mix up some ice cream this summer and pop it on shortbread cookies. You could even make the cookies ahead of time. Impress your friends, be that mom on the block; the one with the homemade ice cream treats.
These sammies will earn you a reputation.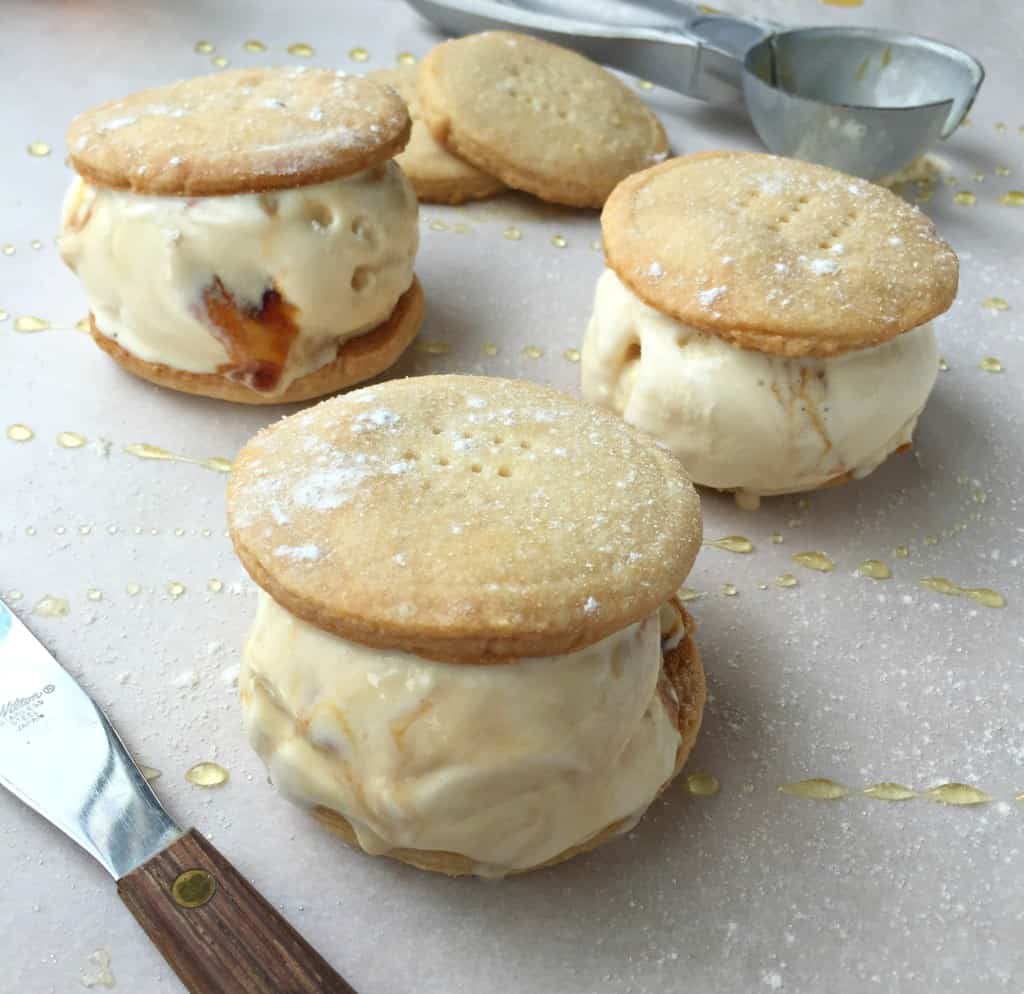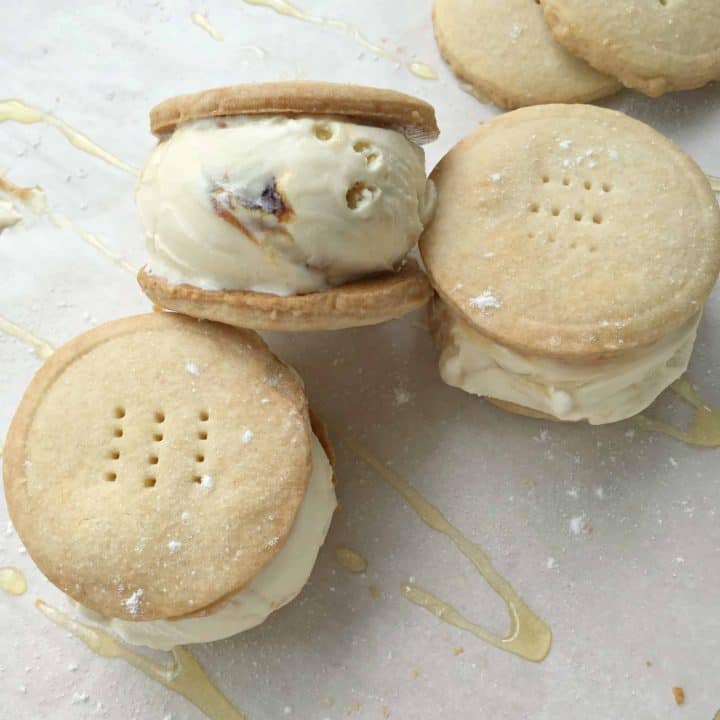 Goat Cheese & Honey Shortbread Ice Cream Sandwiches
Goat cheese & honey blended into ice cream, sandwiched between two shortbread cookies.
Ingredients
Shortbread:
2 cups sifted flour
12 Tablespoons (1.5 sticks) unsalted butter, room temperature
6 Tablespoons white sugar
2 Tablespoons, honey
1/2 teaspoon, salt
Ice Cream:
6 cups, Blue Bunny Ice Cream, Flan flavor
1/2 cup, goat's milk cheese
1/4 cup, honey
Instructions
Preheat oven to 325 degrees.
Scoop out the ice cream, place in a medium-sized bowl.
Add goat's milk cheese and honey, fold into ice cream.
Put ice cream back into freezer until ready to make sandwiches.
Mix all shortbread ingredients with a hand mixer or stand mixer.
Roll out dough onto a parchment paper-lined cookie sheet, about 1/2" thick.
Use a round biscuit butter (or any round cookie cutter, about 3" in diameter) to make circles in the dough. Remove excess dough from sheet.
Bake shortbread cookies for 20 minutes, or until edges are slightly brown. Let cool.
Remove ice cream from freezer, scoop large mounds onto shortbread cookies, and top with another cookie.
Best enjoyed outside on a hot day!