A warm latte with delicious cinnamon spices, perfect any time of the year. Enjoy a cinnamon spice latte at home or take it iced, to-go. Easy to make in the Ninja Coffee Bar!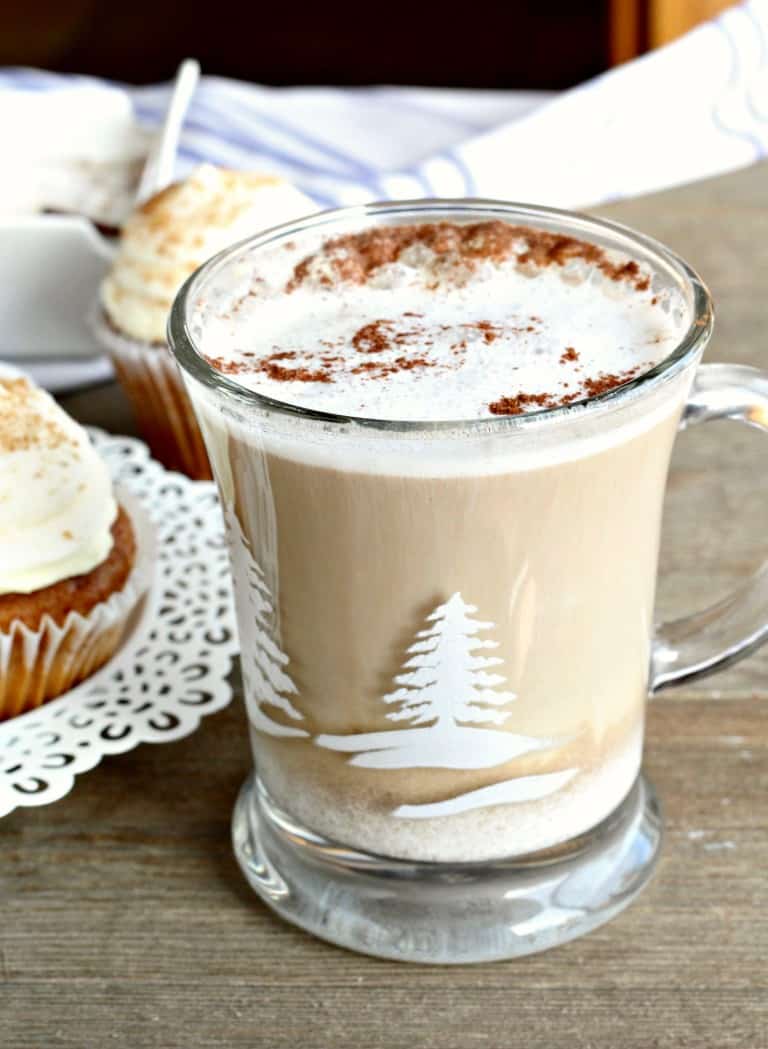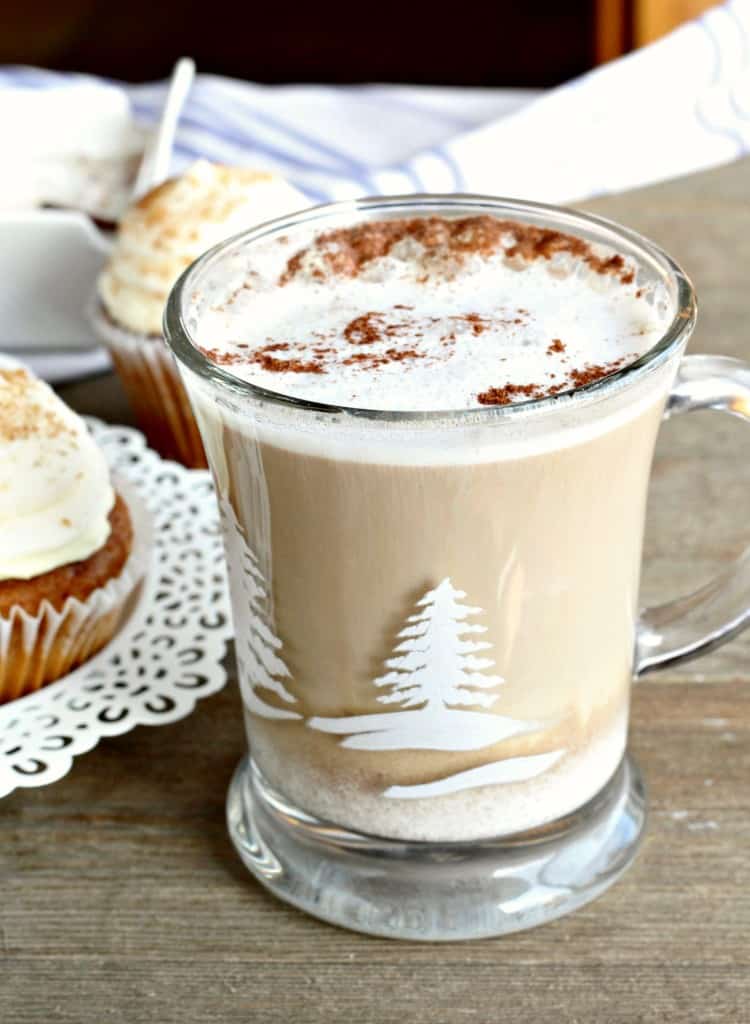 Last week, the weather dropped about 30 degrees in Chicago, but I'm not complaining. It feels seasonal, just like snow on the ground and a piping hot latte in my hands. All things cozy & fleece just feel right this time of year. I've got holiday parties on my mind, and a seemingly endless to do list. My kids are 2 & 7, and they are pumped about the Christmas season. I find myself scheduling more holiday events, baking a little extra, and stepping it up with the decorations.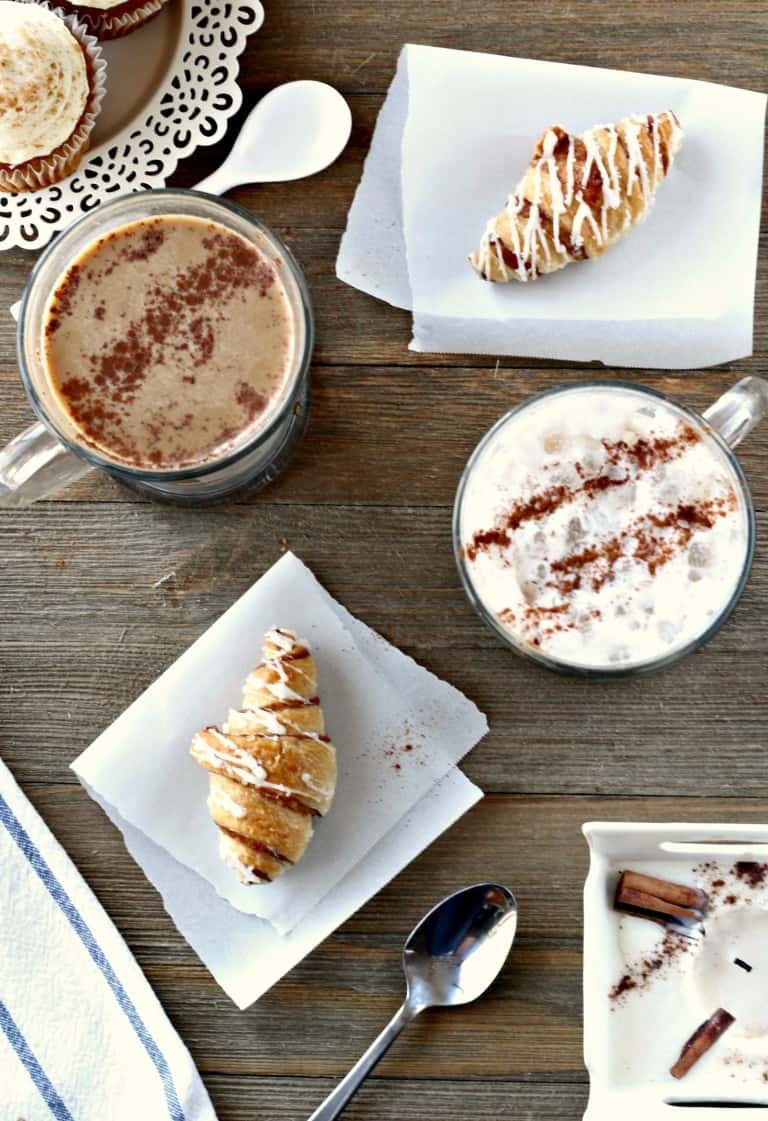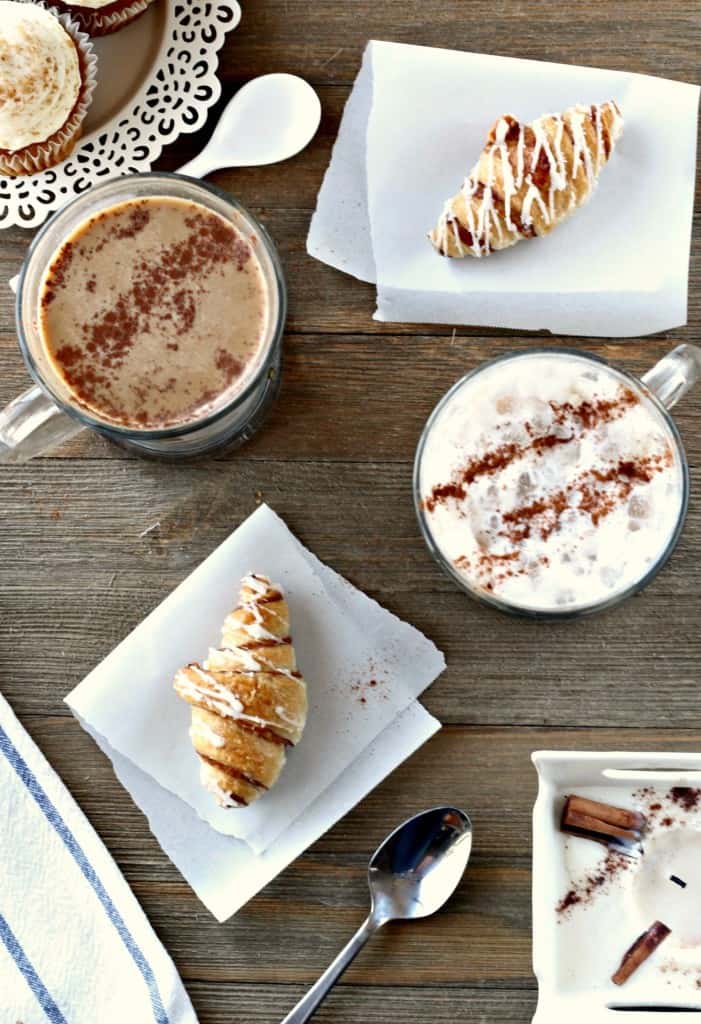 Cinnamon Spice Latte
It's a magical time of year, but it's also loaded with stress. Funny how that happens.
I simplify things for myself by finding ways to get more done in less time. The whole, two birds, one stone principle. I find ways to be more efficient and look for tools that will make my job easier. You know, my part-time job as an elf this time of year.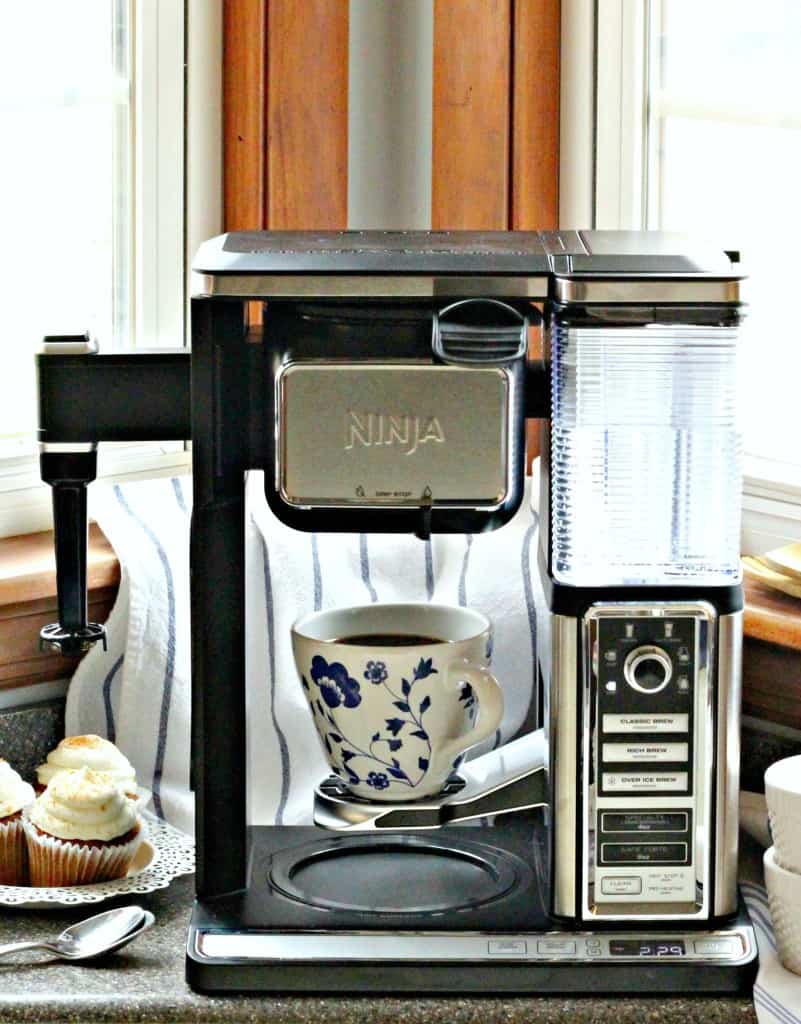 Ta-da.
This machine is my right hand assistant. Not only does it make the best pot of morning coffee that I've ever had, but it wows every guest who has entered our house this season.
INGREDIENTS FOR CINNAMON SPICE LATTE
coffee grounds
milk
cinnamon
brown sugar
nutmeg
Grab an ALL-IN-ONE, best-selling coffee & latte maker from Amazon HERE. Prime shipping, baby!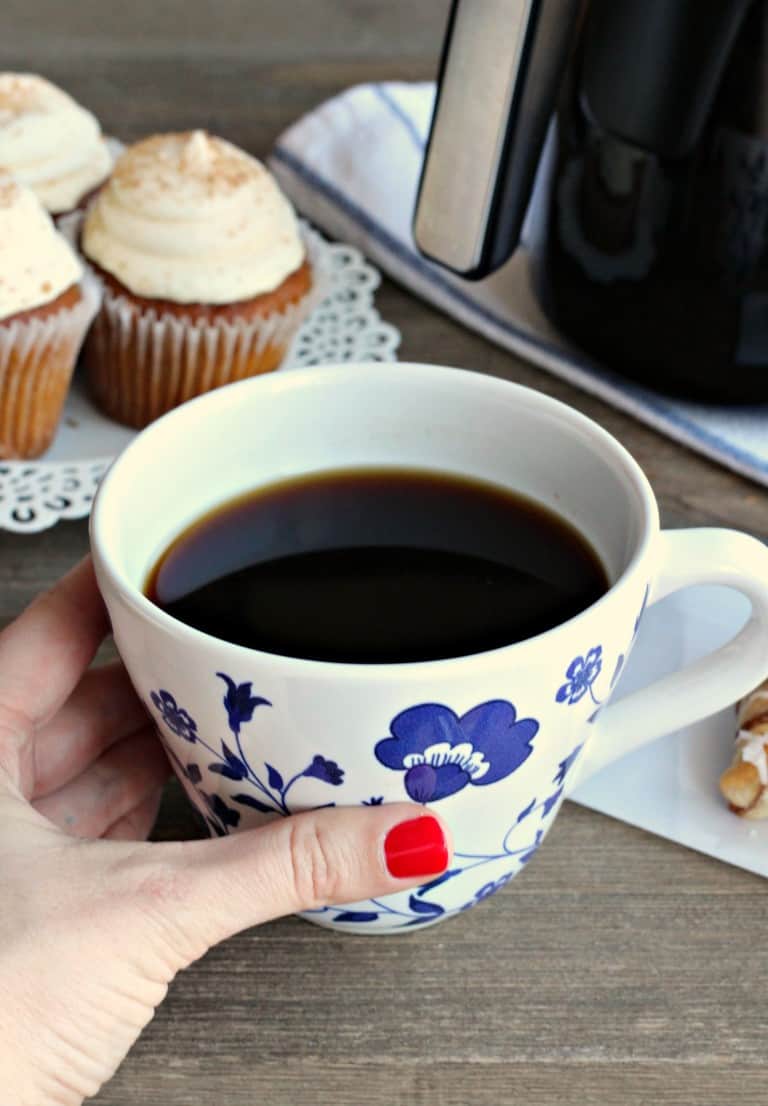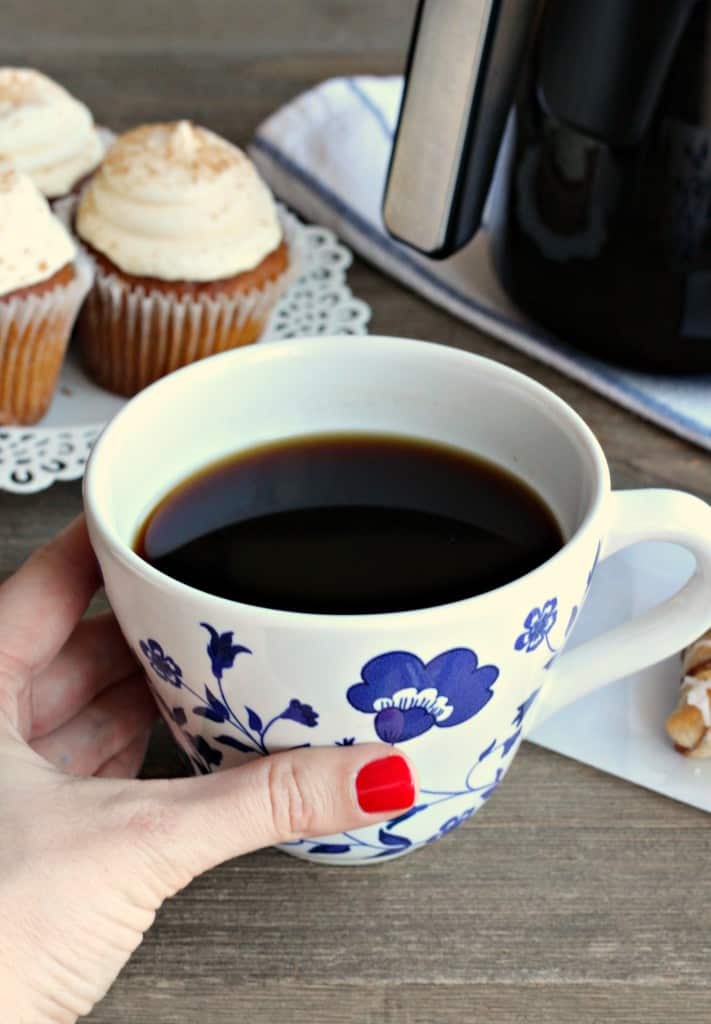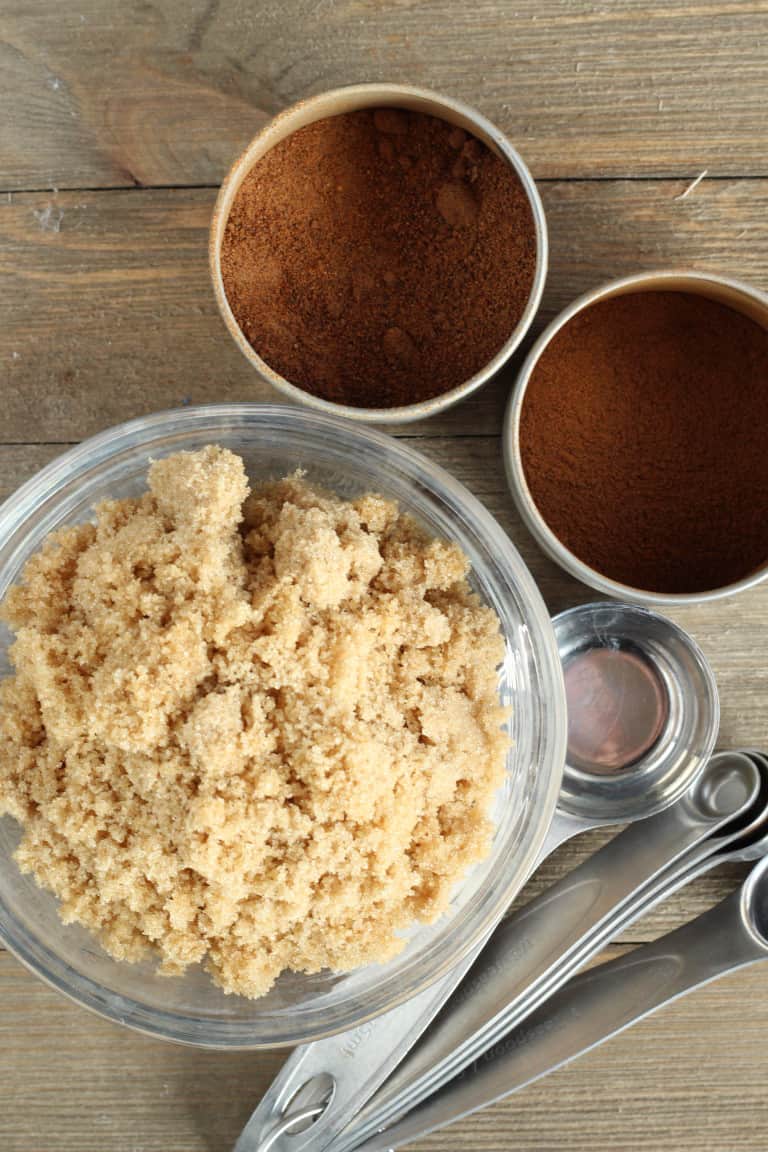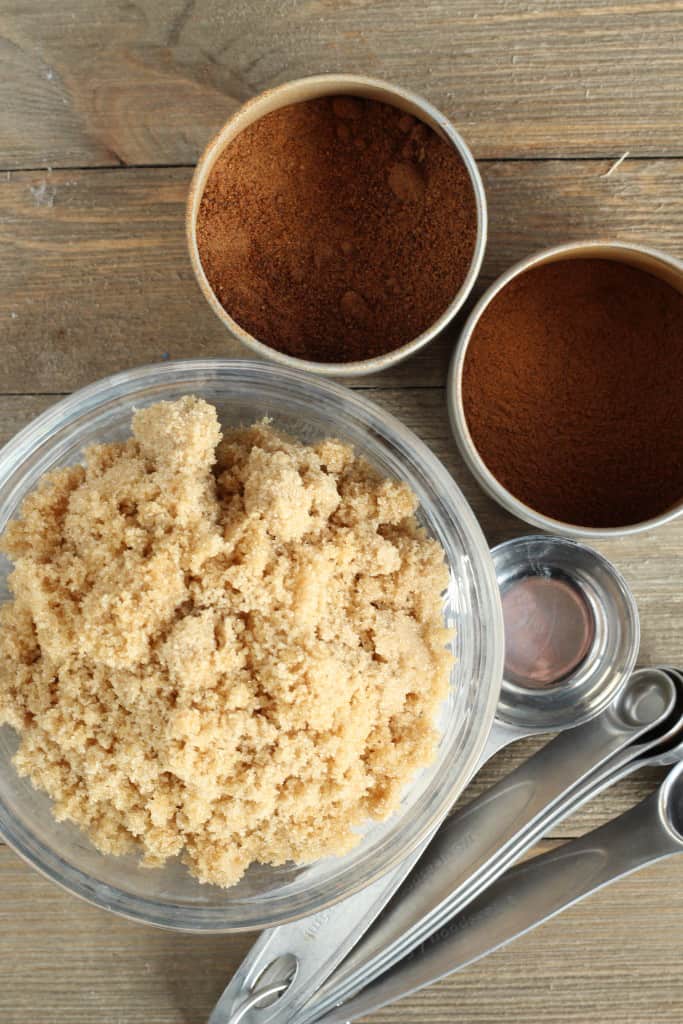 HOW DO I MAKE A CINNAMON SPICE LATTE? (tip! BEST COFFEE SYSTEM linked here)
Choose a cup size & brew the coffee
Mix the milk, brown sugar and cinnamon and heat in the microwave.
Give it a quick froth on the Ninja Coffee Bar System and then add to the top! How easy?!
The Ninja Coffee Bar® System can six brew sizes and five brew types, and we've tried every delicious variation. Mostly because it's fun. (And tasty.)
See the built-in hot & cold frothing tool on the left side of the system? That's how I make my signature latte… the Cinnamon Spice!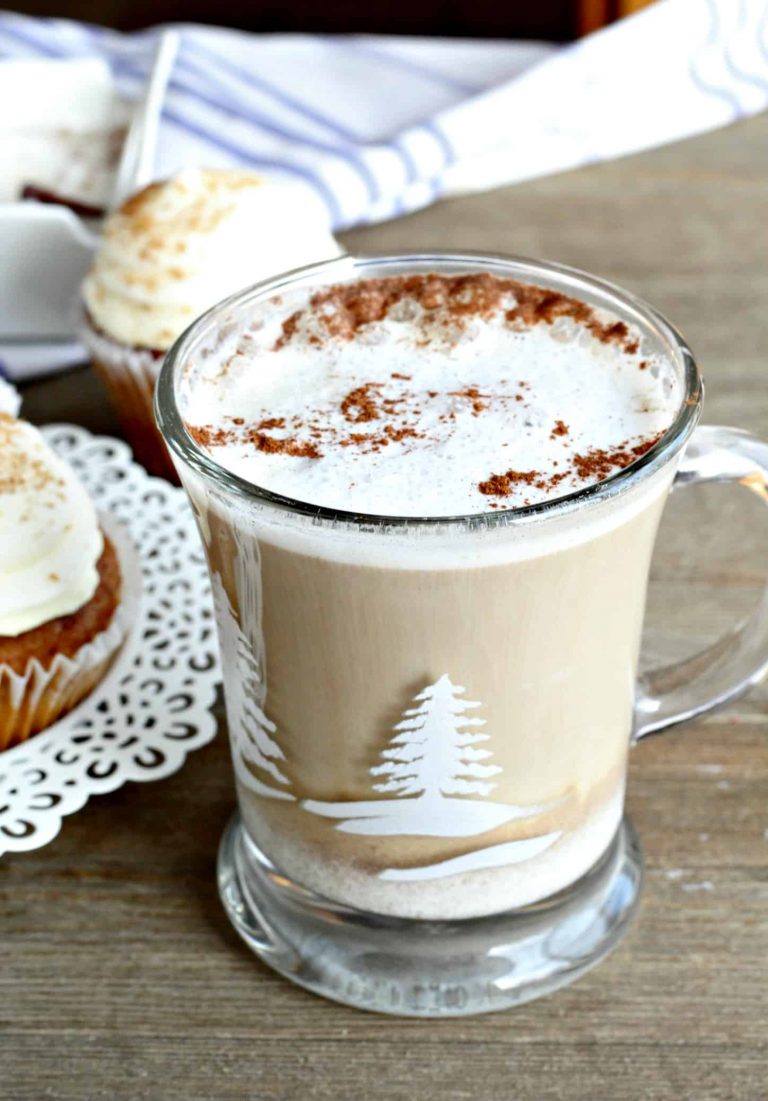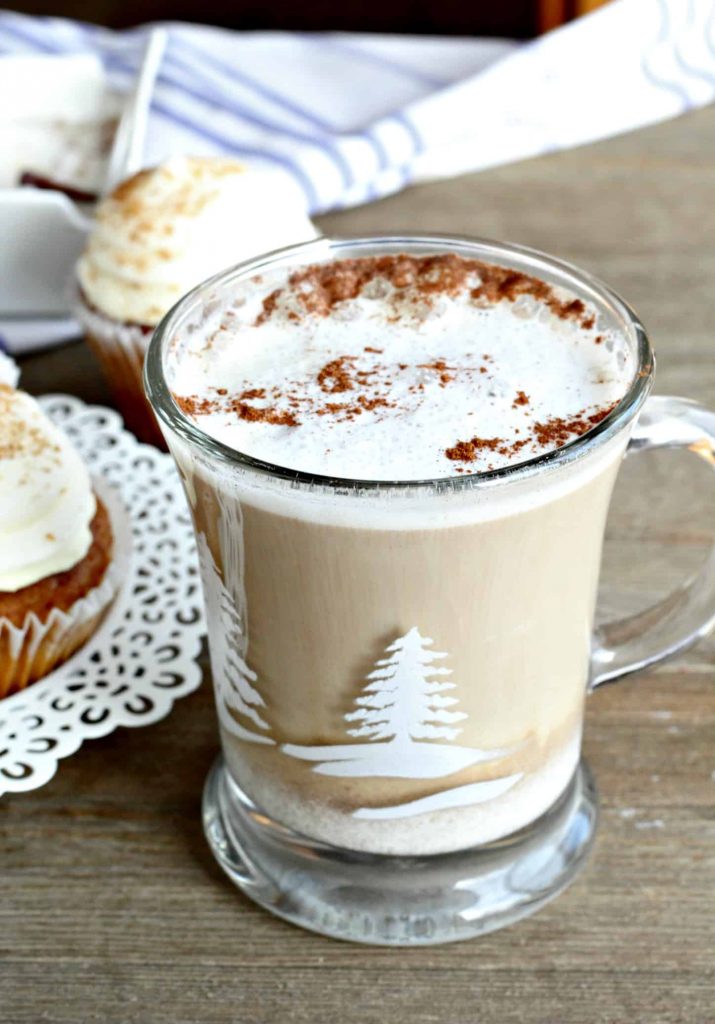 Following the incredibly easy directions, I use coffee grounds to make a Ninja® Signature Specialty (Concentrated) brew. While the system is doing its thing, I heat up some milk, with brown sugar, cinnamon, and nutmeg mixed in.
I then froth the milk, according to the directions, for 20 to 30 seconds. Top the coffee with milk, and add a sprinkle of cinnamon spice.
WHAT ARE SOME OTHER NINJA COFFEE BAR RECIPES?
You can easily turn this recipe (listed below) into a Nutmeg Latte, by adding slightly more nutmeg than cinnamon spice. Done!
The Roasty Coffee has a great list of 17 Great Ninja Coffee Bar Recipes to Spice Up Your Routine. If you want even more Ninja coffee recipes you can get this Ninja 100 Recipe Cook Book, and you will be an at-home barista in no time!
Couldn't be easier. Or faster… it happens in a matter of minutes. Perfect for when you're taking multiple coffee orders during a party. Everyone can have a drink made just for them. Cool, right?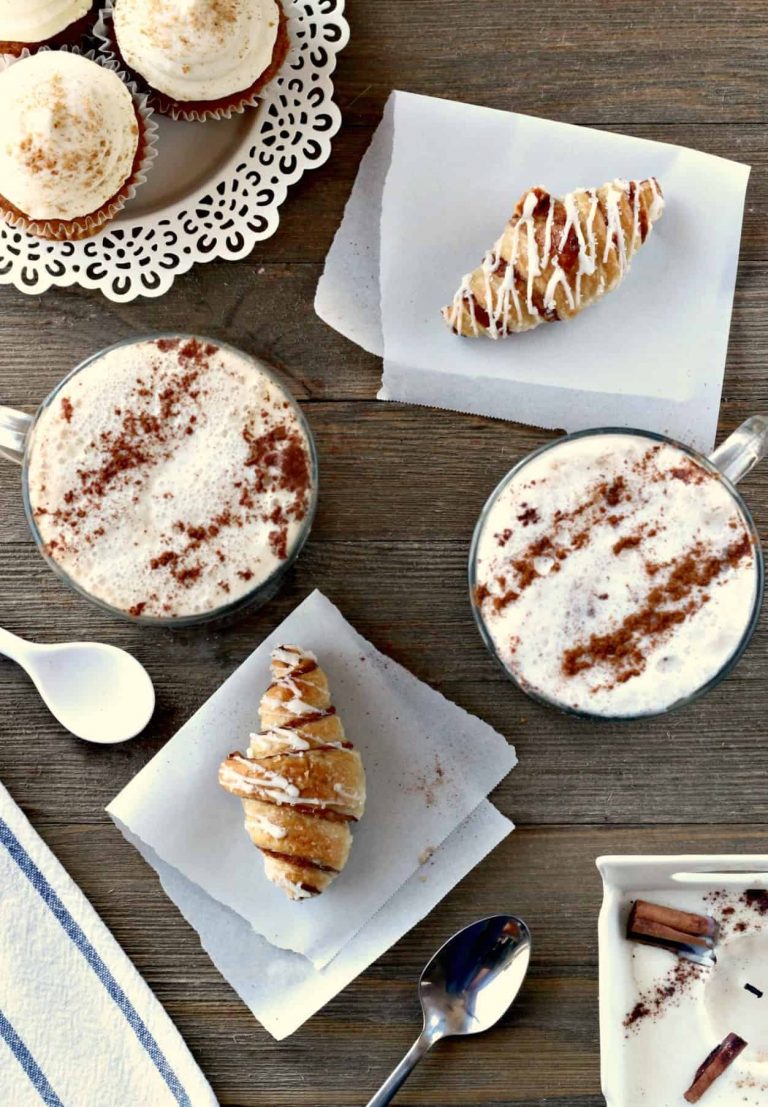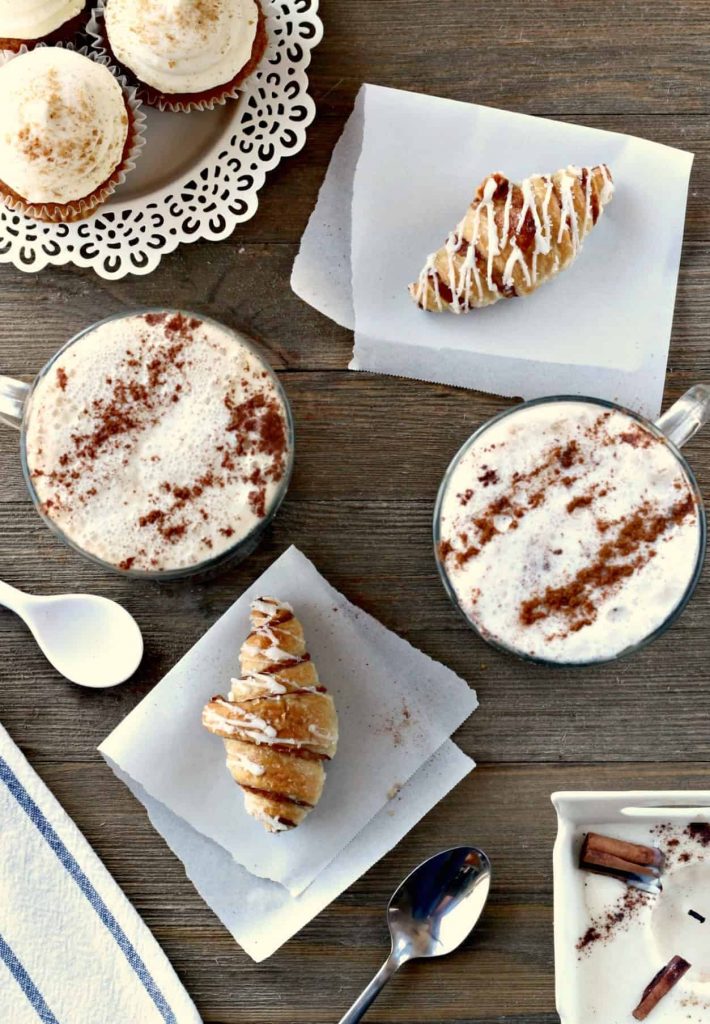 Such a fun way to make each guest feel special. I love getting inspired and trying out different variations on beverages…strong & bold, smooth & mellow, hot or cold– we've tried it all.
Honestly, the iced latte recipe has saved me so much time & money this season. I can brew up my own delicious iced latte, and take it to go on my many errand runs this season. Fuels me up! I love that you can use the travel cup for both hot and cold beverages.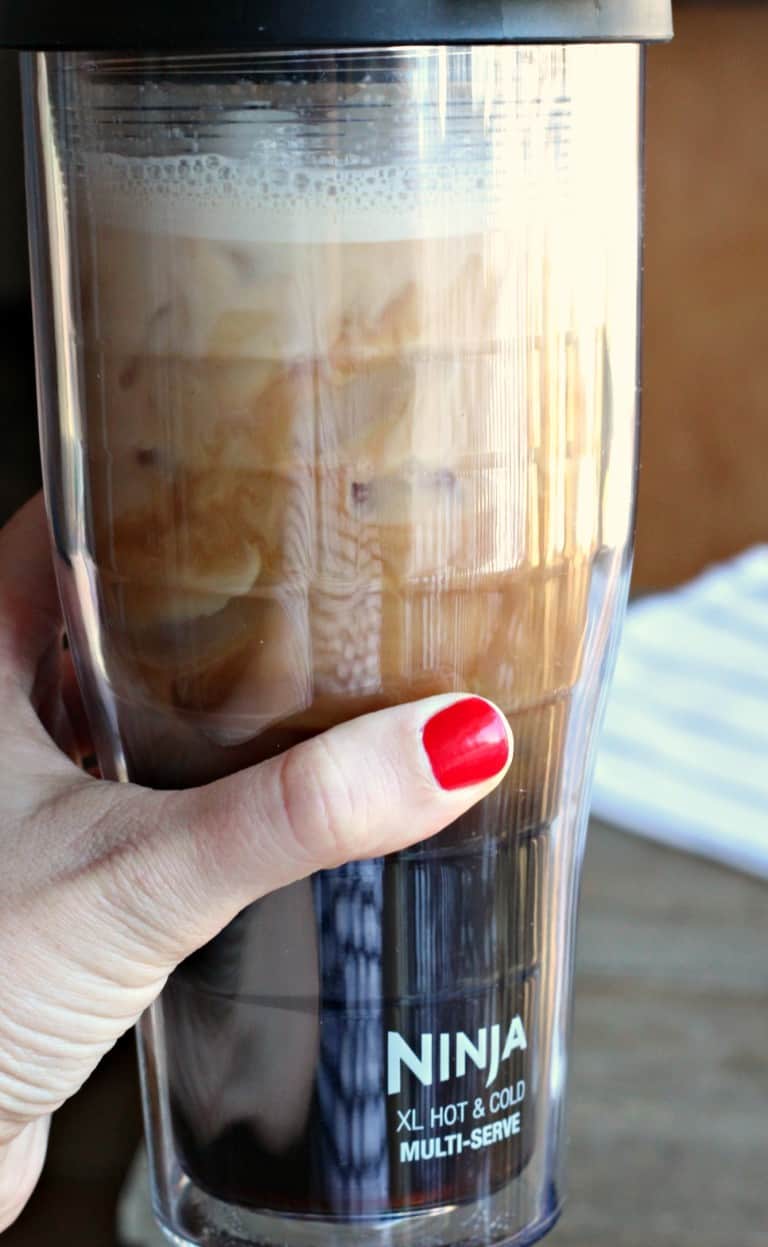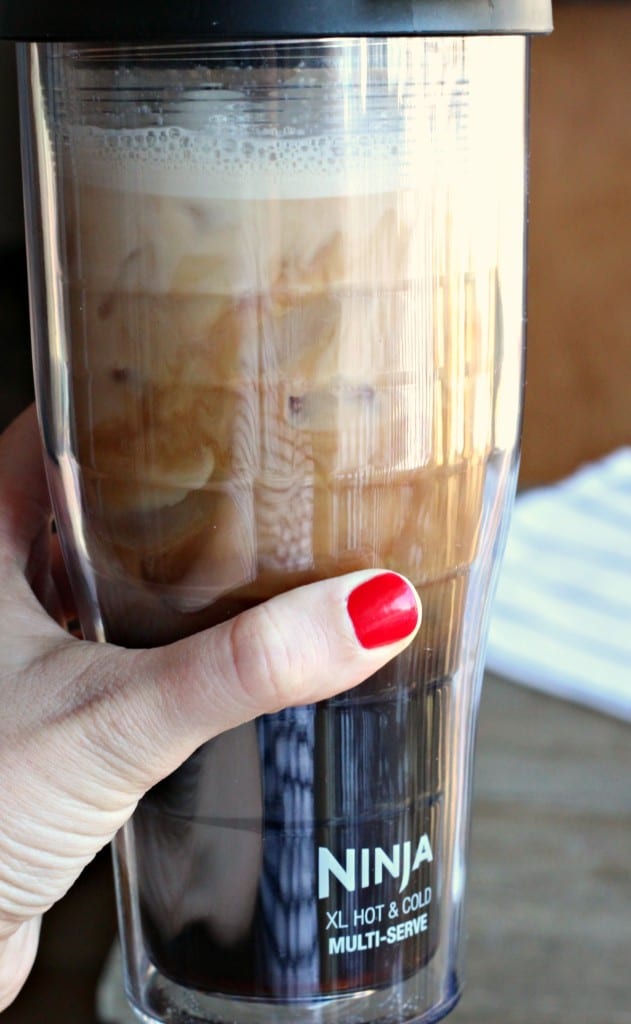 Everything about the Ninja Coffee Bar® System is designed to make it super easy for you to make a variety of delicious coffee drinks. You can have any coffee house beverage you can dream up, right at home in your slipper socks. We've had the best coffee ever in our house, since getting this system. You'll love this Ninja latte maker.
Love this cinnamon spice latte? Try the ever-popular Maple Pecan Frappé!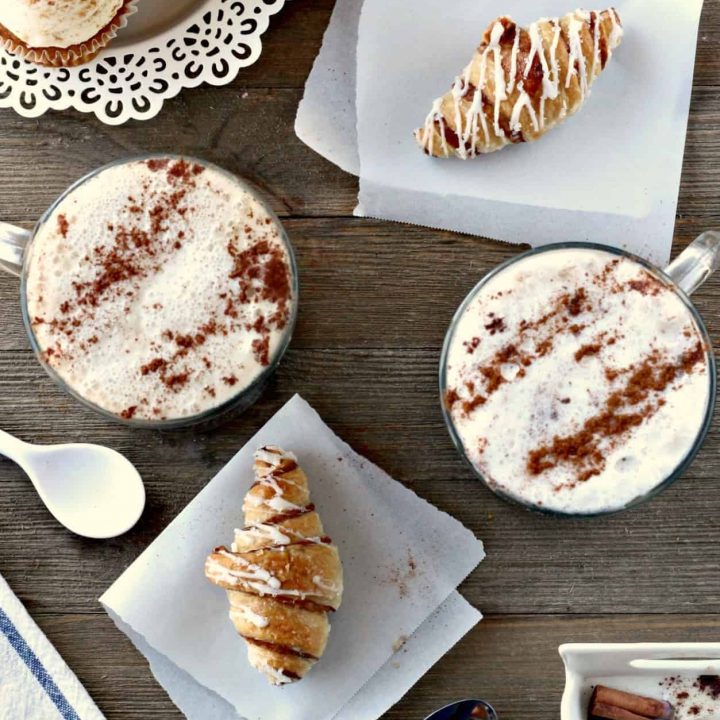 Cinnamon Spice Latte with Ninja Coffee Bar
A warm latte with delicious cinnamon spices, perfect any time of the year. Enjoy a cinnamon spice latte at home or take it iced, to-go. Easy to make in the Ninja Coffee Bar!
Ingredients
2 big scoops, decaf or regular coffee grounds
½- cup milk
¼- teaspoon ground cinnamon
½- tablespoon light brown sugar
pinch of ground nutmeg
Instructions
Make Ninja® Signature Specialty Brew for one cup, according to instructions for Ninja Coffee Bar® System.
Meanwhile, add light brown sugar, cinnamon, and nutmeg to ½-cup milk, microwave for 30 seconds, stir, then froth for 30 seconds. This glass measuring cup is perfect for both the microwave and to froth in.
Top coffee with frothed milk, add a sprinkle of cinnamon if desired.
Nutrition Information:
Yield:

1
Amount Per Serving:
Calories:

250