Surprise your best gal pals this Valentine's Day with these fun & easy DIY glitter candles. You'll learn how to put glitter in candles for a unique gift.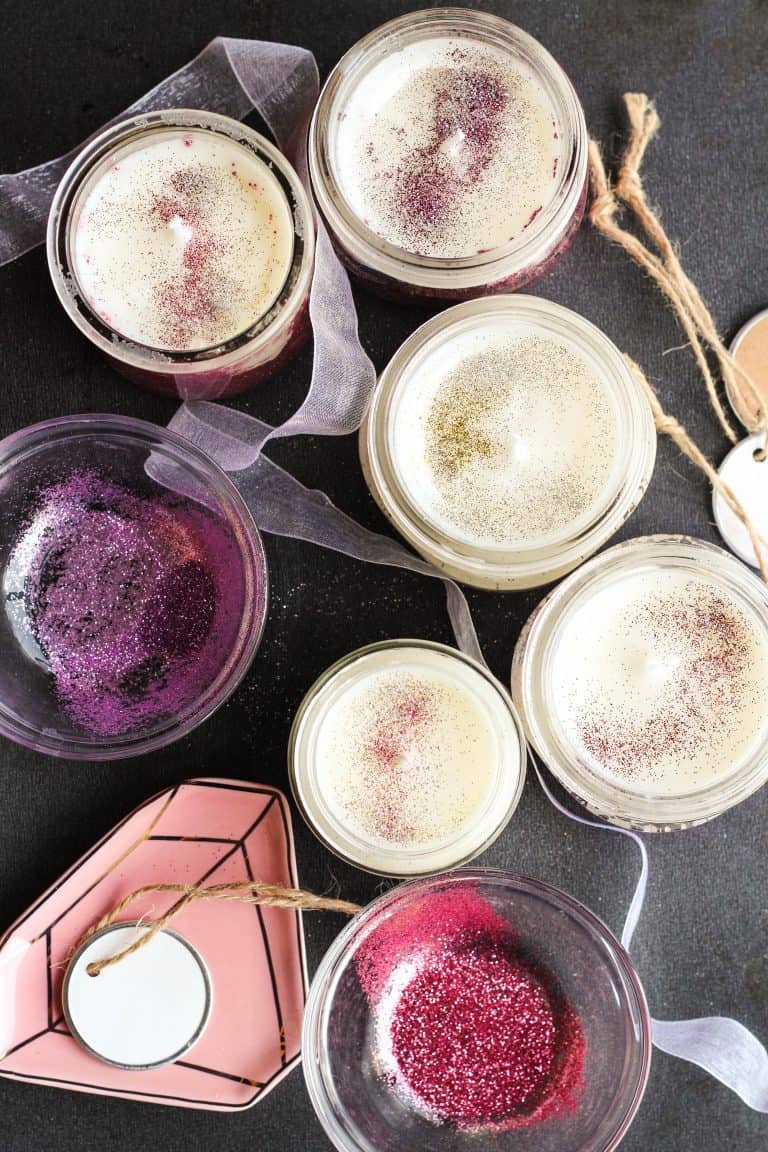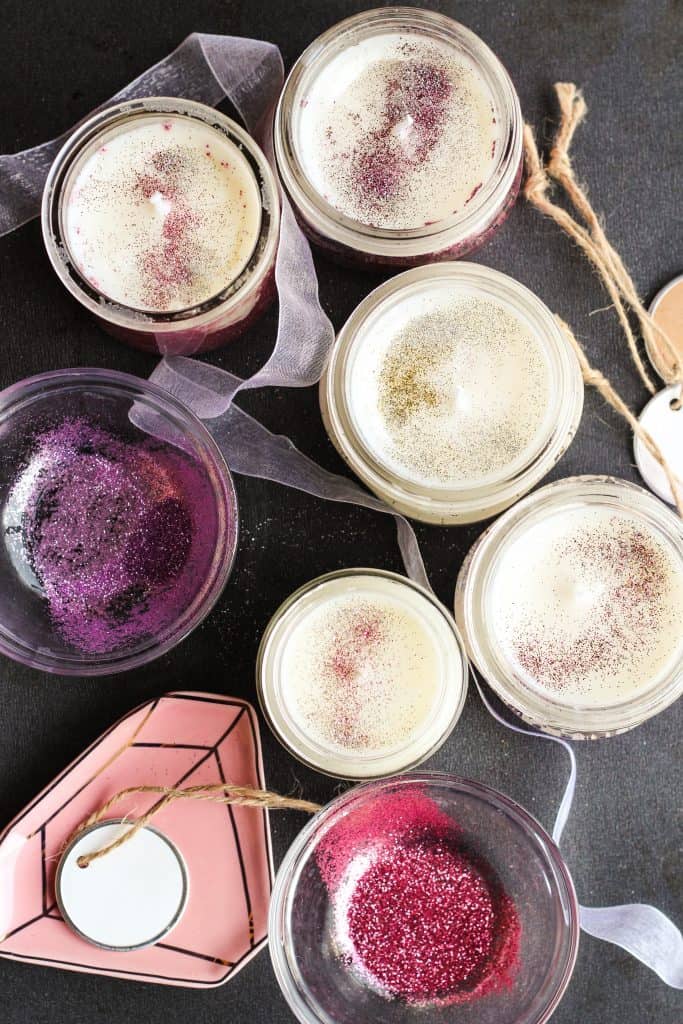 A holiday that's all about love? I'm in! I'm a huge fan of celebrating life's little moments, and Valentine's Day is all about taking time to show appreciation for friends and family we spend time with everyday.
As a busy mom, my girlfriends are my lifeline. I dearly love my kids and husband, of course, but sometimes you just need your girls when you're in the trenches of motherhood. My friends have helped me through potty training two strong-willed kids, supported me as I navigated the world of working from home, and were there in those little moments when I texted the latest kooky thing that happened in the comedy that is parenting.
In short, the girls deserve a thank you. And this Valentine's Day, I decided to gift them a fun, homemade craft that I know will be used & enjoyed over many a night of chatting and laughter.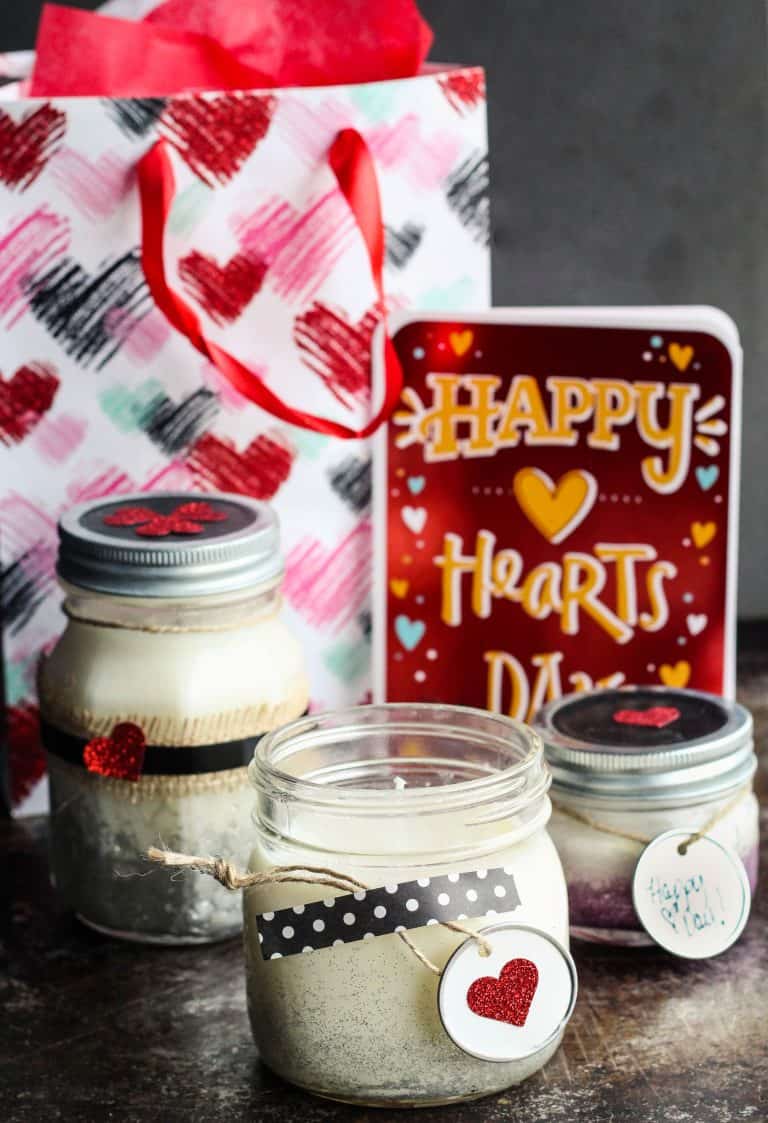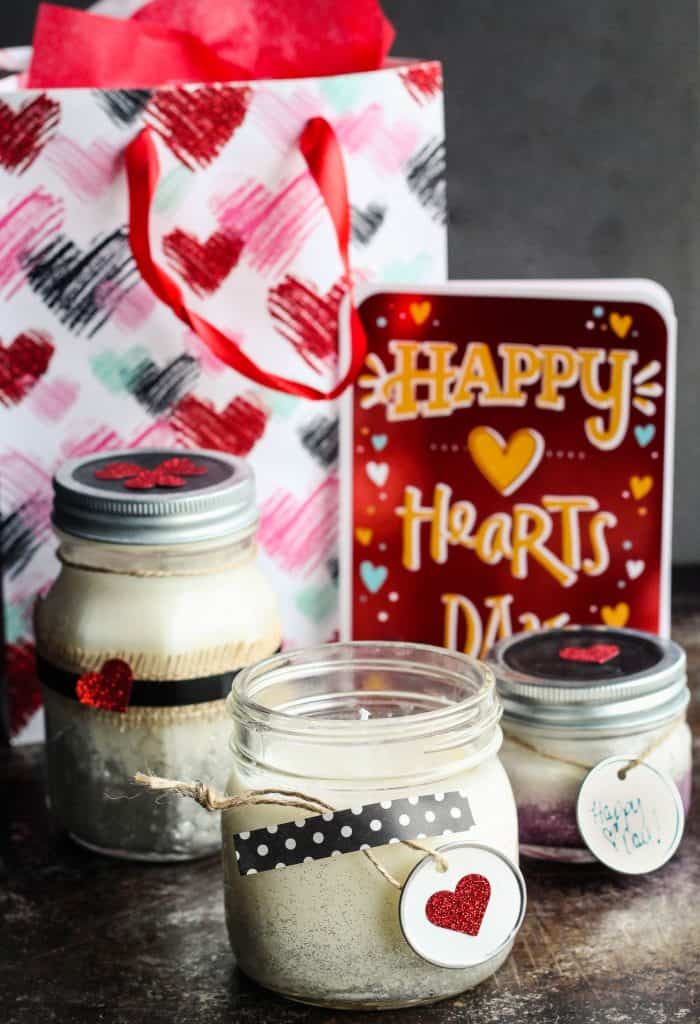 SUPPLIES NEEDED TO MAKE GLITTER CANDLES: (tip! supplies linked here)
HOW TO MAKE A GLITTER CANDLE:
Using a medium-sized paintbrush, apply a light coat of corn syrup to inside of jars. Experiment with different techniques– all over the jar, bottom half, top half, etc.
Pour in a bit of glitter into each jar and roll around until corn syrup layer is covered. Pour out excess glitter.
Attach wick to the bottom of each of the jars using straws and glue dots.
Melt wax in the microwave, using a heat-safe container. I do five minutes per 1 lb of wax. (you could also use the double boiler method)
Add the essential oil (1 oz. per 1 lb of wax), and pour wax/oil mixture into the candle holders. I have used this brand in the past with excellent results. Once it's mostly dry (opaque white on top), I sprinkle a little more glitter on it.
Let it cool, then trim the wick. Gorgeous!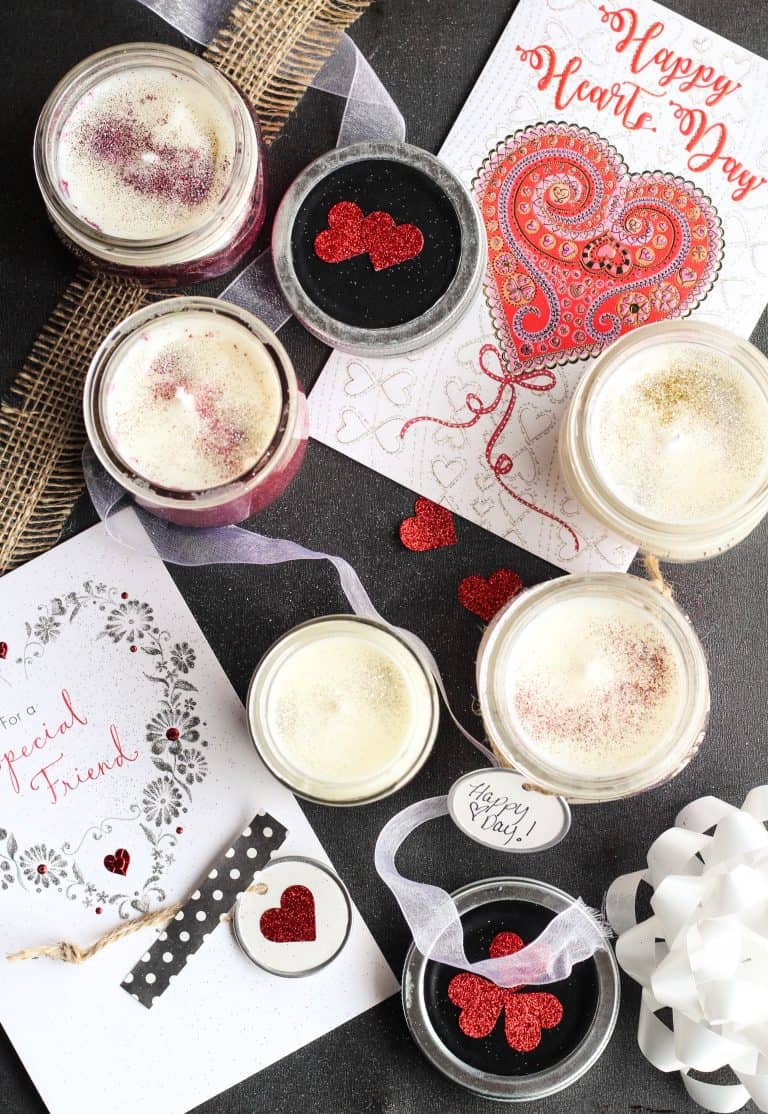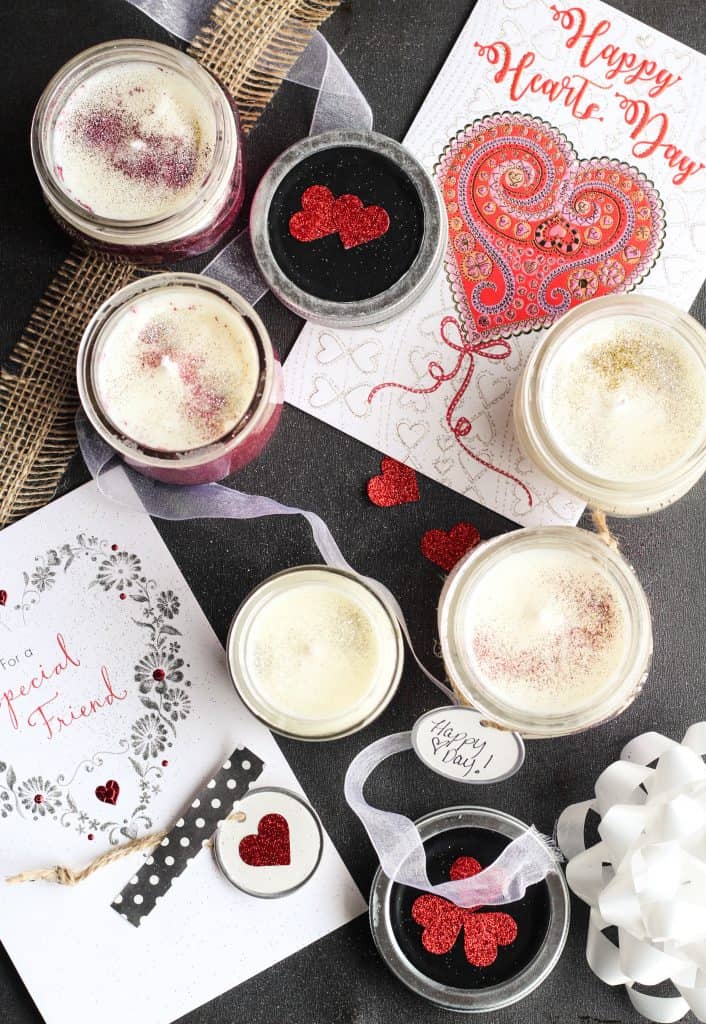 I'm all about DIY candles because it's a fun & easy craft that you can personalize for each person. It's a truly unique gift, and every girl loves getting candles! Plus, it's really easy to control the "ingredients", and only use soy (or your preferred wax), and pure scented oils.
For these candles, I went with mason jars, and used glitter for a festive touch.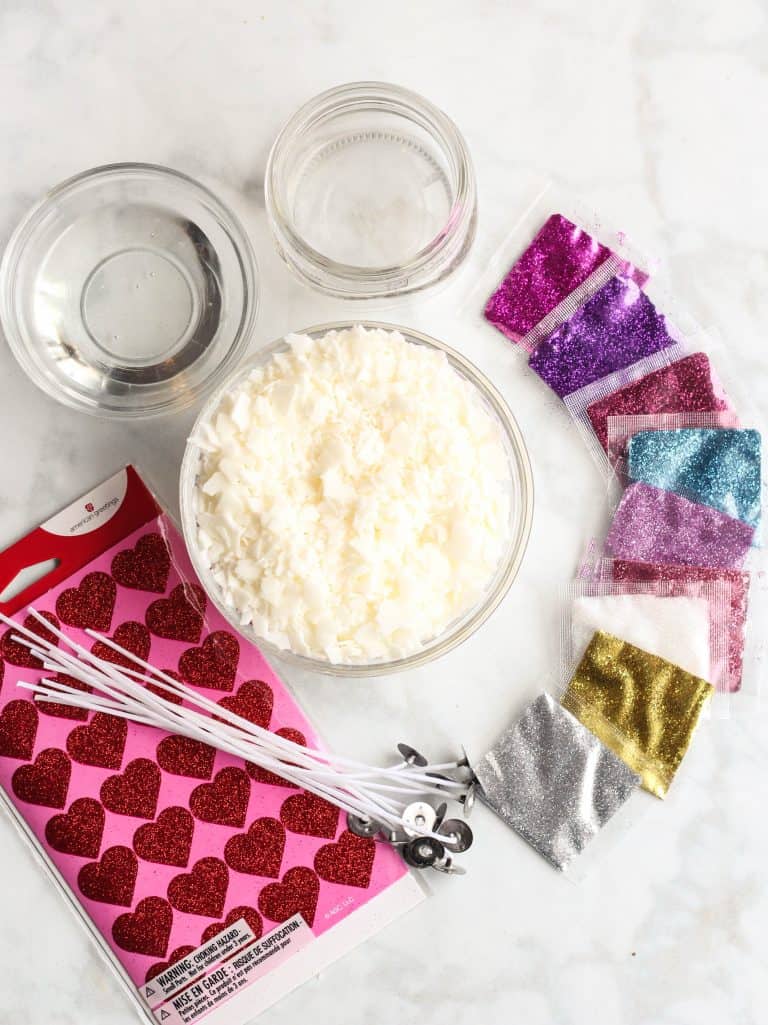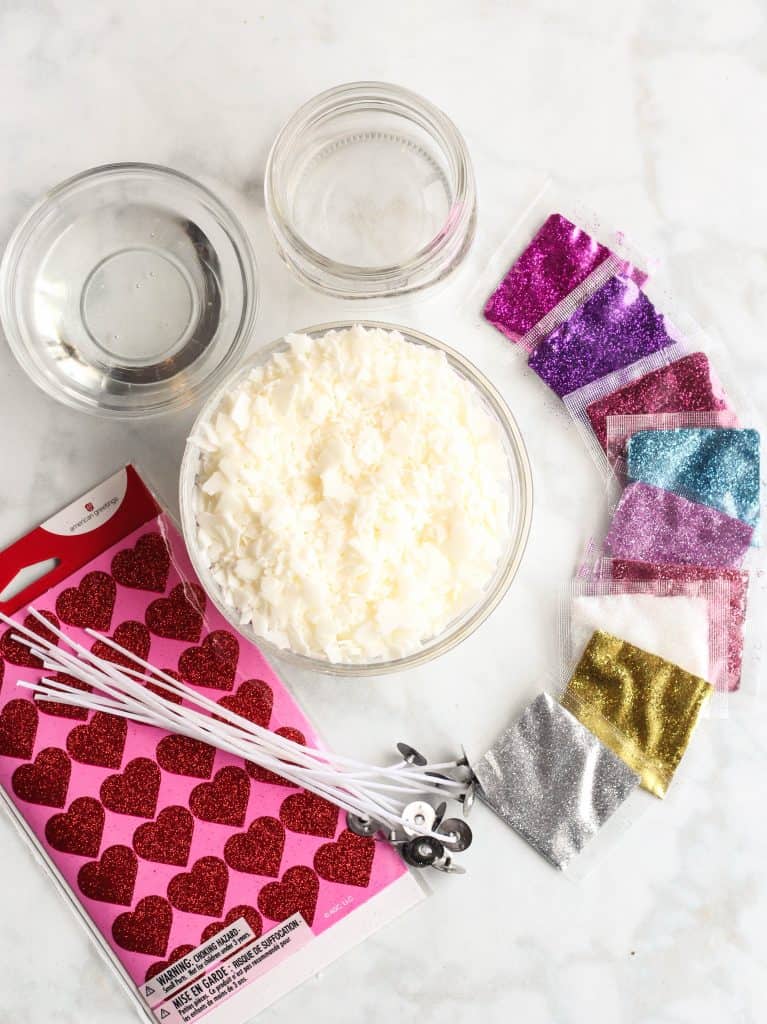 Attach the wick using a glue dot (a small piece of tape would also work) and press it to the bottom of the container using a straw.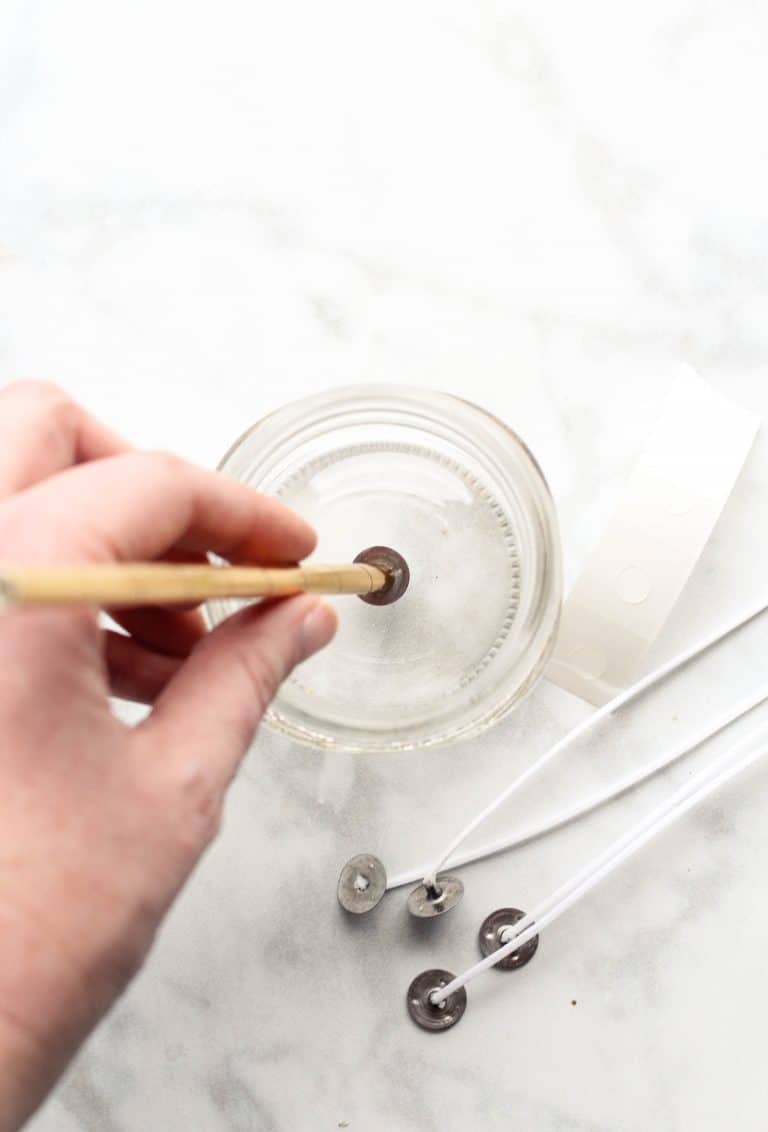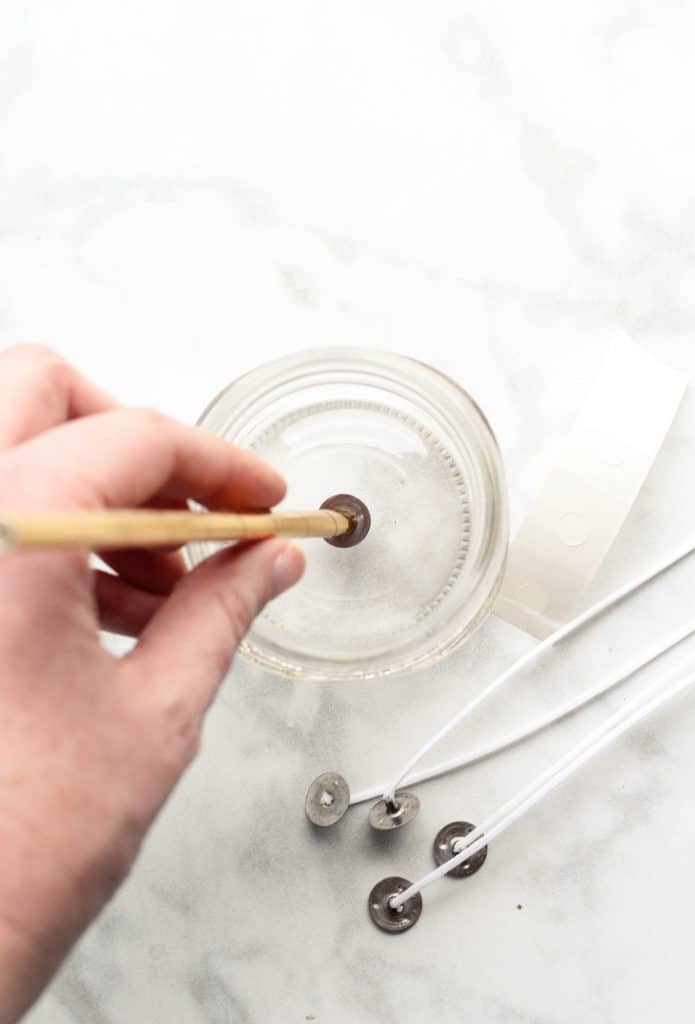 I used a light layer of corn syrup (a paint brush or sponge brush helps here) to attach the glitter to the inside of the jars, and swirled it around to create a homemade, festive effect.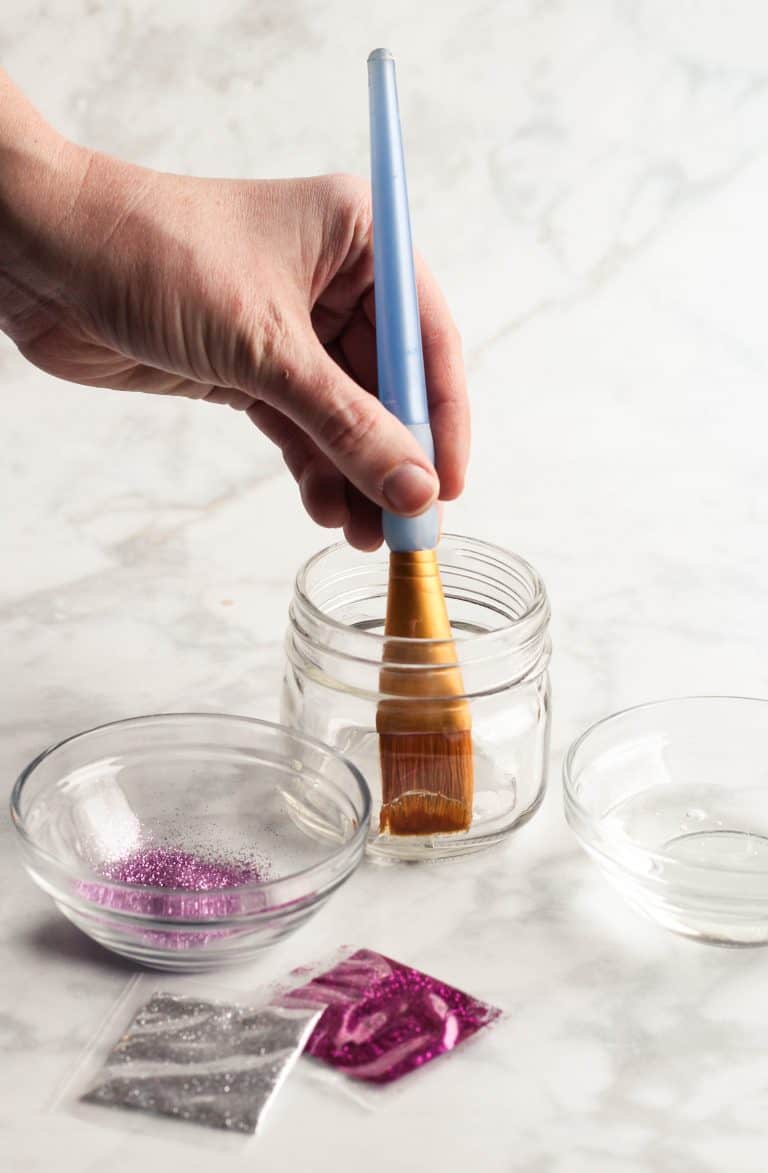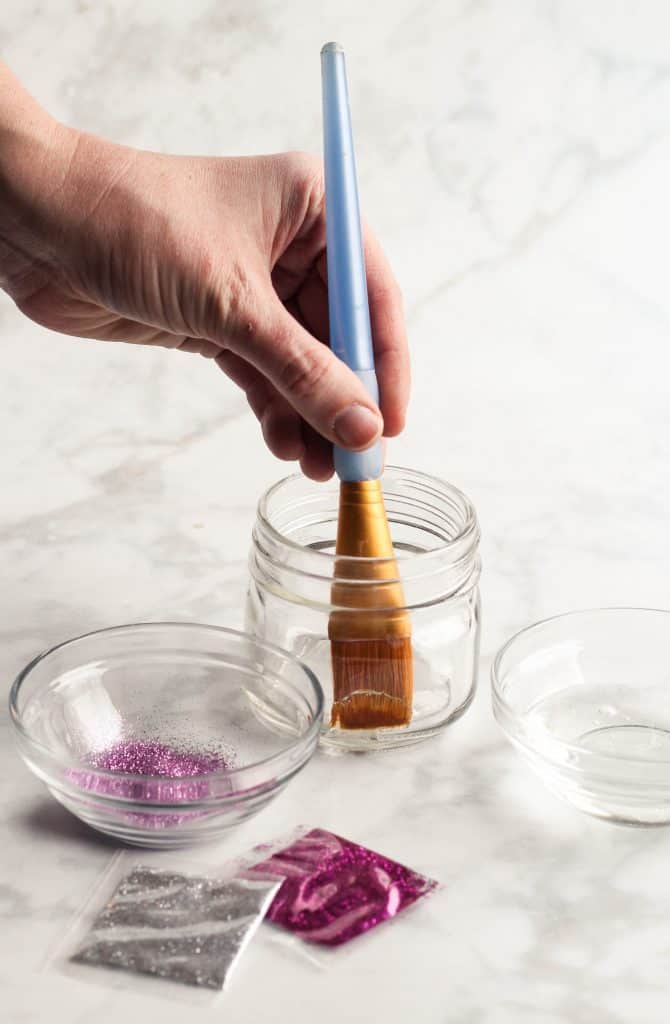 Fill the candle with melted soy wax and rose oil (1 oz oil to 1 lb wax), and allow to cool. That's it! Couldn't be easier, right?
handy tools to use when making these glitter candles:
I made a big batch all at once, and then had a blast wrapping them up in gift bags. I love coordinating the bags, tissue paper, and cards for the ultimate gift. It's so fun to hand a surprise present over to friends, especially moms who often spent their holidays thinking of others.
frequently asked questions
Is glitter flammable?
Yes, some glitter is. Just always check your packaging first to make sure you bought glitter that is not flammable!
Is it cheaper to make your own candles?
Sadly, unless you've already got a cabinet full of candle-making supplies, creating your one of own can cost you more than double the price of just buying one.
How do you make candle wax from scratch?
This article does a fantastic job of explaining step by step how to make your own candle wax. It seems a labor of love for sure! You will also be amazed how many recipes for glitter candles pinterest has for you!
Love these easy diy glitter candles? Try another homemade candle craft!