Love the convenience of the instant pot? This classic Minestrone Soup can be made in the slow cooker, pressure cooker, or even on your stovetop! Made with wholesome ingredients like chopped veggies, pasta shells, and beans, it's a filling meal that will warm you up!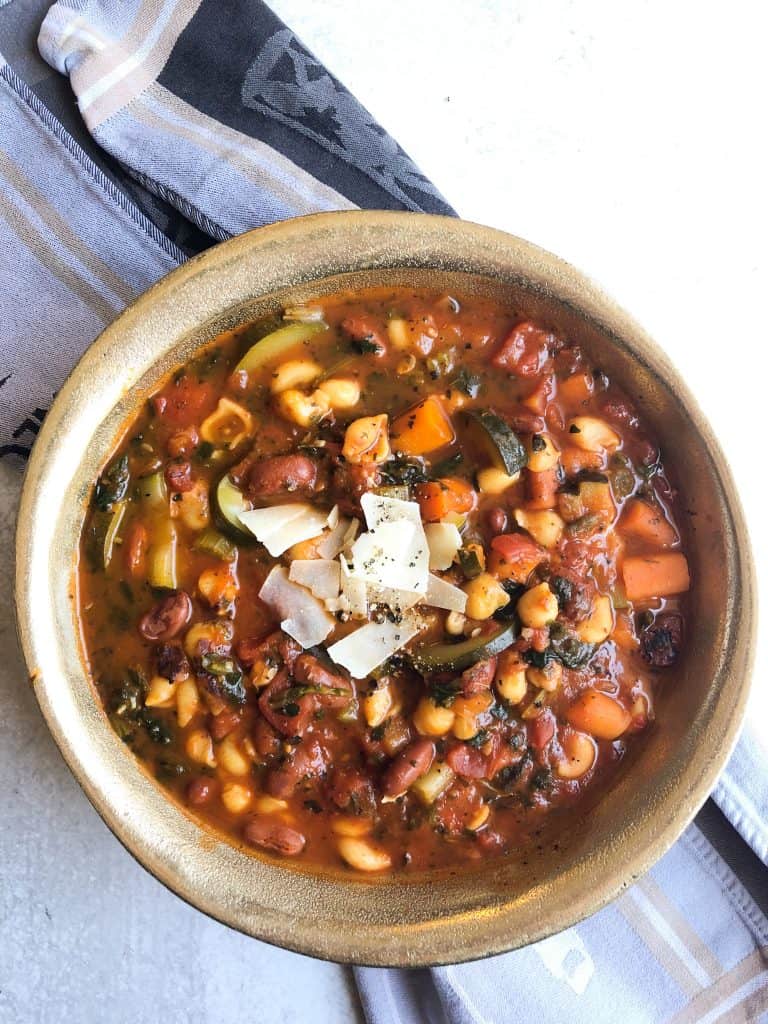 crockpot minestrone soup
I have never met a soup that I didn't enjoy day after day. Don't you think the flavor of soup gets better with time?! I always make a huge pot for the week, or freeze it for soup on the fly. You can add as many veggies as possible, and make a wholesome meal for your family with little work involved.
There are 3 ways to make this soup!
Use the Instant Pot if you want this soup during the week or want it on the table fast.
Use the crockpot when you're entertaining, as it is such an easy way to keep it warm for tailgating, parties, and such.
The stove top is great for the weekend, simmering, and getting the house to smell so good!
In the Instant Pot you can literally have this soup ready to eat in 20-30 minutes. You will get faster as you use it, and get used to the pressure, releasing it, venting, etc…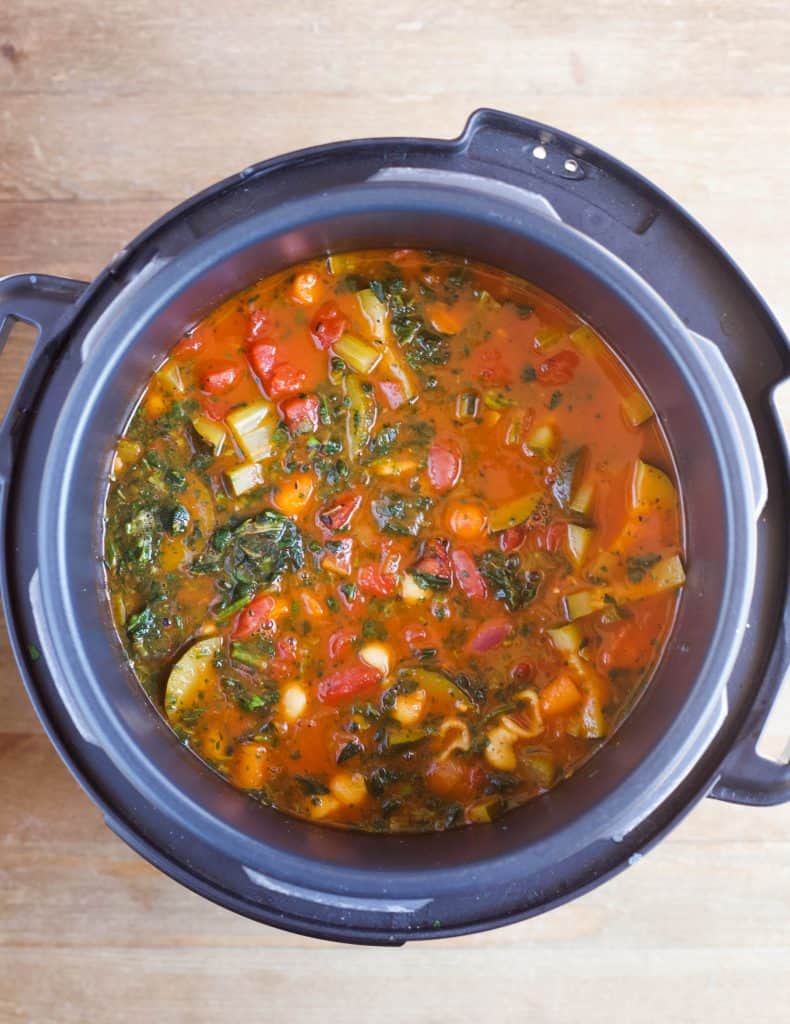 Ingredients for this Minestrone Soup recipe:
1 small onion , about 1/3 cup, diced (TIP: use frozen, chopped onions to save time!)
2 cloves garlic , minced
1 medium carrot , about 1 cup, chopped
1 large celery stalk , about 1 cup, chopped
2 teaspoons dried basil
1 teaspoon dried oregano
3/4 teaspoon dried thyme
1 32-oz can fire-roasted diced tomatoes
1 small can tomato paste
32 ounce carton , 4 cups vegetable broth
1 cup dry uncooked small shell pasta
1 medium zucchini , around 2/3 cups, sliced into halves or quarters
1/2 cup canned or cooked red kidney or cannellini beans , drained and rinsed
1-2 cups baby spinach, roughly chopped (TIP: use frozen to save time & money!)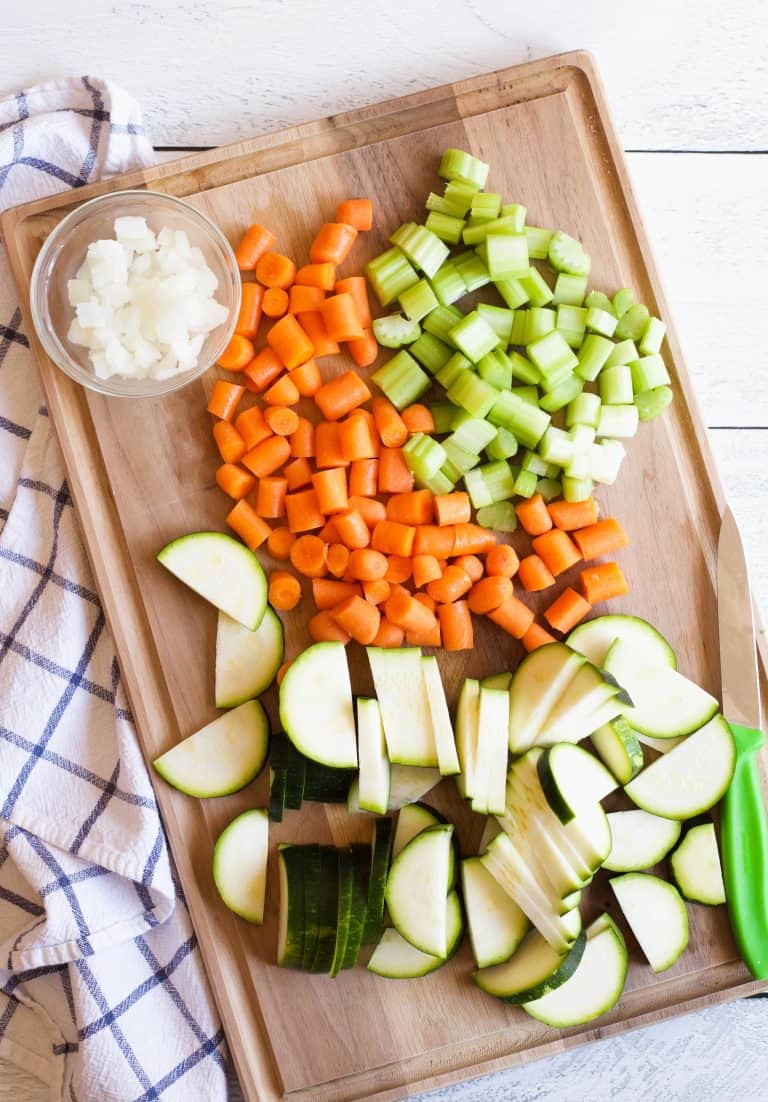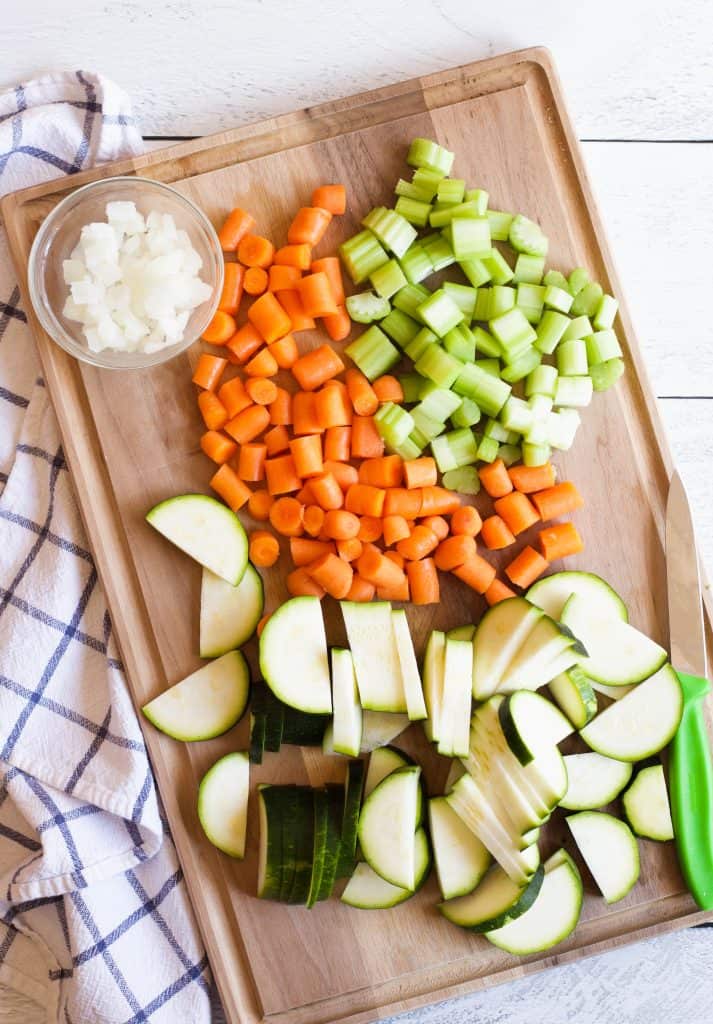 How to Make this Minestrone Soup recipe in the Instant Pot:
1. Press the SAUTE button on your instant pot and allow to heat up for 2 minutes. Add olive oil and saute onions and garlic for about 3 minutes, or until fragrant.
2. Add the carrots, celery, basil, oregano, thyme, tomatoes, tomato paste, vegetable broth, and dry pasta.
3. Press Cancel then close the lid. Press the MANUAL (older models) or PRESSURE COOK (newer models) button and set on HIGH for 2 minutes. Turn the valve to SEALING.
4. After the soup has finished cooking for the 2 minutes and the instant pot beeps, do a quick release by turning the valve to VENTING to release the pressure.
5. Once the pressure is released, open the lid and add zucchini and beans. Press the SAUTE button and cook for another 5-6 minutes, or until the pasta and beans are tender and cooked.
6. Stir in spinach and allow to sit until wilted (about 1 minute). Add more water as needed if you like a thinner soup.
7. Season with more salt and pepper as needed. Serve and enjoy!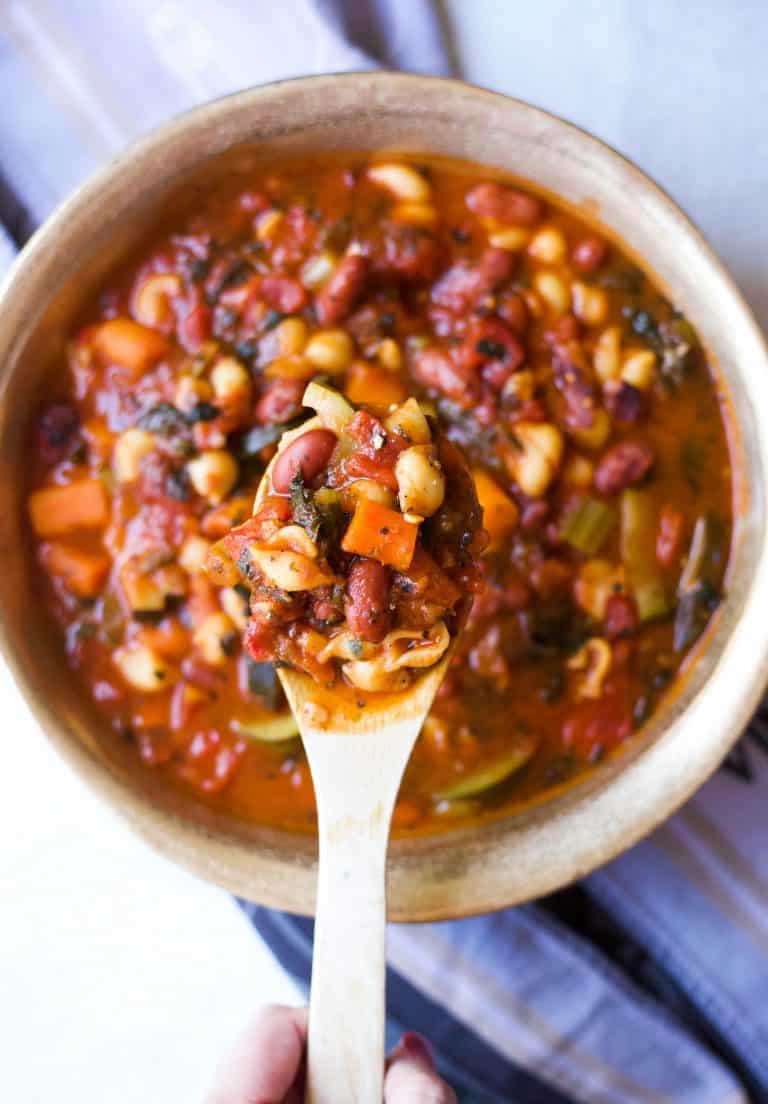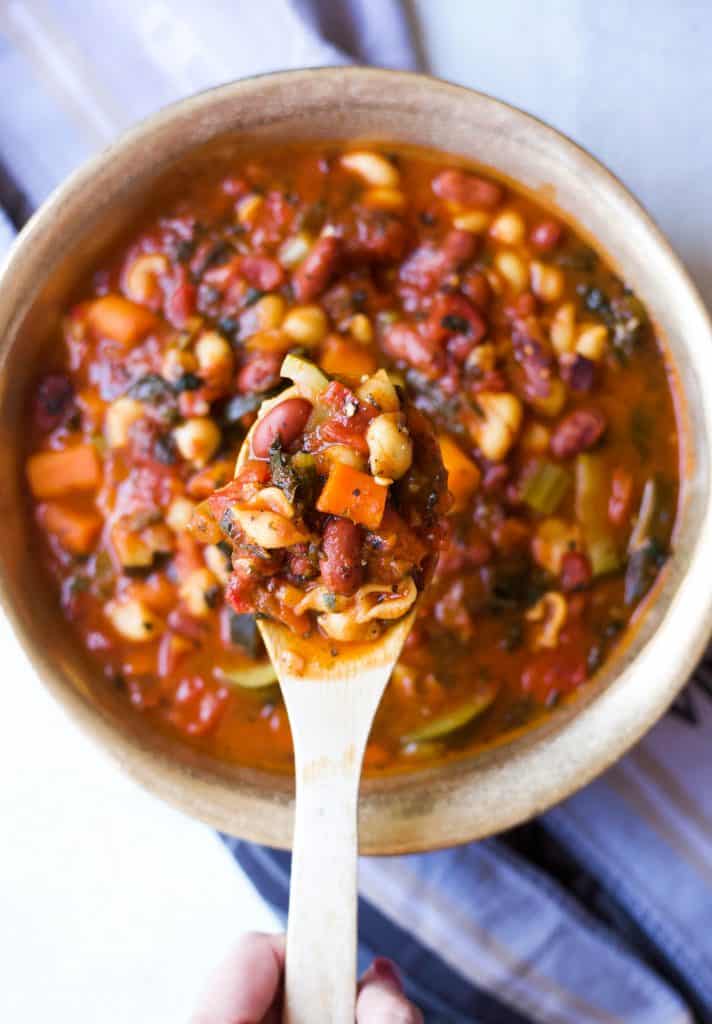 3 handy tools to make this minestrone soup any way you want:
Instant Pot – Pressure Cooker, Slow Cooker, Rice Cooker, Steamer, Sauté, Yogurt Maker and Warmer
Slow Cooker –

Timer, intelligent cooking, huge

Large Soup Pot – heavy duty, nonstick, dishwasher and oven safe
With all the veggies in this soup it is literally a meal on it's own. We usually serve it with bread, but if you are serving to guests you can add a salad, cornbread, or crackers.
Below are the instructions when using the slow cooker or stovetop. You use the same list of ingredients above for the Instant Pot, but just adjust the instructions as shown.
How to Make Minestrone Soup in Slow Cooker:
Add all ingredients to slow cooker, except pasta and spinach.
Heat on high for 1 hour or low for 3-4.
When slow cooker time is over, remove lid. Add pasta, give it a stir, and replace lid.
Cook for another 20 minutes or until pasta is done.
Stir in spinach and cook until wilted (2-5 minutes).
Add water as needed for a thinner soup. Add salt and pepper to taste.
How to Make Minestrone Soup on Stove Top:
In a large heavy bottomed pot or dutch oven, heat olive oil over medium heat.
Add onions, garlic, carrots and celery and saute for about 4 minutes, or until vegetables are slightly softened.
Add basil, oregano, thyme and cook for an additional 1 minute. Add the tomatoes, tomato paste, vegetable broth, and beans.
Bring soup to a boil, then reduce heat and allow to simmer for 20-25 minutes.
Stir in the dry pasta and zucchini and cook for another 10 minutes, or until pasta is tender and cooked. Stir in the spinach and allow to wilt (about 1-2 minutes). Add more water as needed if you like a thinner soup.
frequently asked questions
What is the difference between minestrone and vegetable soup?
Minestrone is a type of vegetable soup. The ingredients just vary slightly based on the region the recipe comes from. It also always has pasta and lentils. Some vegetable soups do not have those.
What goes with minestrone soup?
Since minestrone soup already is chock full of veggies it is usually best served with some bread or cornbread.
What bread goes with soup?
Crostini and french bread are the usual go-to and great choices.