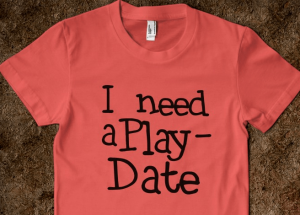 My friend Whitney writes the mommy blog, "Playdates on Fridays" which is on my daily read list. She discusses all kinds of parenting topics, and some of her most popular posts include:
My Quest to Break the Mom Circles
My 12 Year Old Was Blackmailed For Nude Photos
Five Questions Mom of Girls Should Be Prepared to Answer
Fascinating stuff, right? Now you know why I'm hooked.
In this guest post, she talks about the stress that consumes our families when we are over-scheduled. And, as always, she leaves you thinking. Take it away, Whitney!
Two travel soccer leagues, piano, gymnastics, horseback, theater and various school activities. And sometimes a lacrosse clinic. Or basketball. Or we may take a cooking class some place.
Sometimes when I write it all down, it freaks me out a bit, and I ask myself, "Are we doing too much? Do my kids have enough time to play, or breathe?"
And then I forget about it because I haven't washed a uniform and we have a game the next morning, or I need to order new riding pants, or I have to pick up the next set of piano books.
When our kids are little, it's easy to put them in a lot of activities because the commitment level is low. Games are just once a week and local, or a session of a class may only be a few weeks long. However, as your child gets older, the intensity and time commitment needed to participate grows exponentially alongside the pressure to have a multitude of extracurricular activities to list on college applications.
For example, in our house travel soccer is year round without breaks. Games can be as early as 6:15 a.m. and practices are two to three times a week. My friends that do competitive cheerleading and hockey spend their weekends traveling across the country for their competitions. Marching bands practice all of August and then take trips to Disney or even Europe. I even had a friend's daughter that went to a state competition for her high school's Speech team. The group practiced for two hours four days a week for a month. It's all pretty intense.
But how do we know if we are enriching our kids' lives, or just plain stressing them out?
The Chicago Tribune discussed this issue earlier this year. In the article, Tiffany Sanders, a certified adult and school psychologist, talks about how too many activities can overwhelm a child, leading to a host of other disorders, such as anxiety or ADD.
"Some parents need to ask themselves, 'Is this what my child wants to do, or is it something I always wanted (him or her) to do?'" Sanders said. "There are some parents who believe that 'this is going to get us our next big break' or that their child is going to be a star athlete. And most kids will do what they can to please their parents."
Sanders said it can be especially difficult for younger children because they might not know how to express feeling overwhelmed. She said a common indicator in younger children is when they often complain about feeling sick before going to particular activities.
On the other hand, older children and teenagers may not speak up because they feel they are obligated to be overachievers like their parents, Sanders said. (source: "Are kids involved in too many activities? – Chicago Tribune. https://articles.chicagotribune.com/2014-01-01/news/ct-x-over-scheduled-kids-0101-20140101_1_helicopter-parents-activities-kids.)
If you are enrolling your kids in activities just to keep them from sitting around or because you think they may miss out on something that other kids are doing, you may want to just talk to your kids about it to see how they feel. Ask yourself: Is your child already doing something they love, but you think sitting idle two days a week is a waste? Are you making your child play a sport just because you never were able to fulfill your dream of playing varsity football? Did your two year old learn how to swim and you see a future Olympian?
This is a tough one for me. I am a joiner. I love to be busy and have always looked at these activities as an opportunity to be social. Two of my daughters are the same and have never met an activity that they didn't love. The third, not so much.
We decided to reduce the amount of extracurricular activities for her to two that only meet once a week (unless you count performances or competitions, which aren't often.) One had to be a "sport" because we think fitness is important (horseback riding….I know, it's a tough life for her), and another one had to be creative (theater.) She could choose what she wanted to participate in, as long as it was accessible and affordable. Although it was heartbreaking to me, she elected to not partake in piano lessons anymore.
At the end of the day, I had to realize that it was my dream to have all my girls play the piano, something I always wanted to learn, but never did. But it certainly wasn't my daughter's dream, and I think we're all a little happier now that we don't have to fight about practicing.
And sometimes I just have to say no. My youngest begged me to take gymnastics, but I just didn't think we could handle it last year. We were completely over-scheduled and when some carpools fell through, I did not feel like it would fit. Fortunately, our soccer schedules this year are more flexible, so I signed her up, and she's loving it. I don't think you'll see her at the Olympics, but I'm happy that she's enjoying it — for now.
For me, it's about understanding each individual kid, and then understanding how that fits what's best for our family. As my girls get older, I envision cutting our activities back to two each maximum. Between my husband's hectic work schedule, the academic demands of school, and the growing travel commitments of competitive sports, I think any more than that would break us as a family. Although I love watching my kids tear it up on the soccer field or perform well in a play more than anyone, I like spending quality time with my husband and kids more, and think it's critical to keeping our family unit solid.
Even more importantly, I don't want my kids to do things just to be busy. As a parent, my job is to help them find their passions and develop a sense of character that will help them succeed in life. I think sports, music and other activities can bring a lot of joy and life lessons to a child; however, I also think kids need time just to be. Time to play with their friends, watch a movie, or just relax in whatever way they choose. Since scaling back on activities, my one daughter now reads a lot more (albeit due to the fact that we are often at the soccer fields or her sisters' piano lessons, but she's reading) or plays with other kids waiting for their siblings. She definitely needs more downtime, and I'm glad we were able to recognize that early on before school became more challenging for her.
As parents, I think we all know how it feels to be pulled in a million different directions — to feel over scheduled and too busy to do anything well. While I think (some of us) adults are emotionally equipped to deal with that pressure, it is crazy to think that tweens and teens can handle those same demands.
Yes, some kids thrive in situations like these. They can be elite students, president of the student body and an award-winning athlete. But for most, it's a little much.
And honestly, it's a little too much for me, as well. I have three kids roughly the same age, so a multitude of activities it's just the price we pay as a family. Even two activities per child equal out to about 10-12 runs in the minivan per week. But I don't feel too over-scheduled just yet.
Ask me again in a few more years….
Are you concerned your child may be too busy? Here is a great article from Kids Health on signs your kid may be over scheduled and suggestions for a busy family. I would also love to hear how you deal with this issue? Please share your comments below!
You can follow Playdates on Fridays on Facebook & Twitter