This shop has been compensated by Collective Bias, Inc. and its advertiser. All opinions are mine alone. #WhenImHungry #CollectiveBias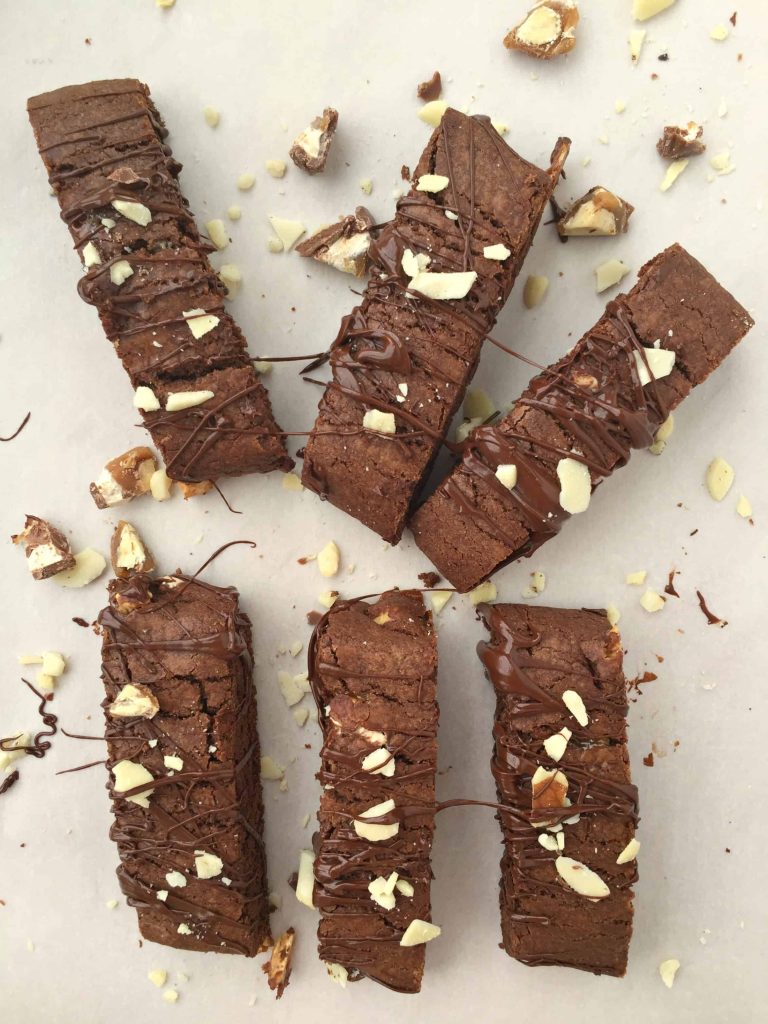 Let me just tell you, these are downright scrumptious with coffee. I should know, I'm snacking on one right now.
I have friends who do smoothies, or tea, or even hot chocolate in the morning. I cannot imagine the morning (or afternoon… sometimes the evenings) without coffee.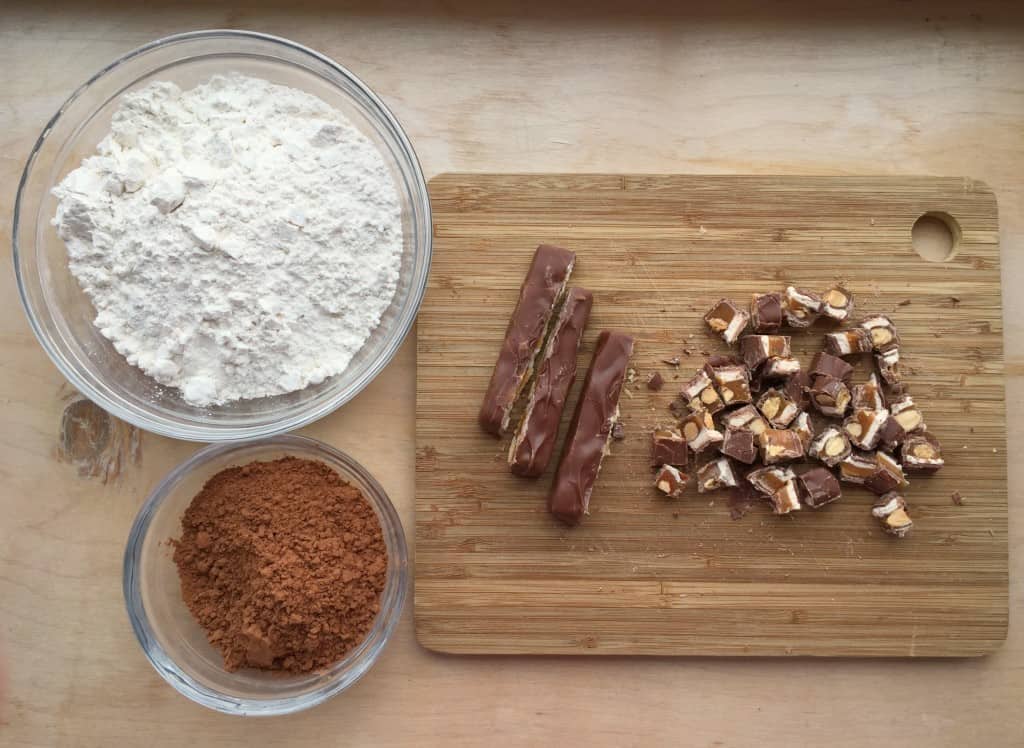 It wasn't always like this. I managed to make through my twenties, a job that started at 6am, even having a baby before I became a caffeine junkie.
But after I became a SAHM, the coffee intake started to slowly creep up. And I noticed something. Sure it was tasty and made for a lovely warm beverage in the morning, but it kept. me. awake. It made me productive.
Like, loads more than in my twenties.
I felt like I had discovered a secret and everyone else was already taking full advantage. Ok, not everyone, but you get my point. It made me a morning person. It helps me to power through the 3pm…5pm… sometimes even 8pm stretch. Hey, parents have long days.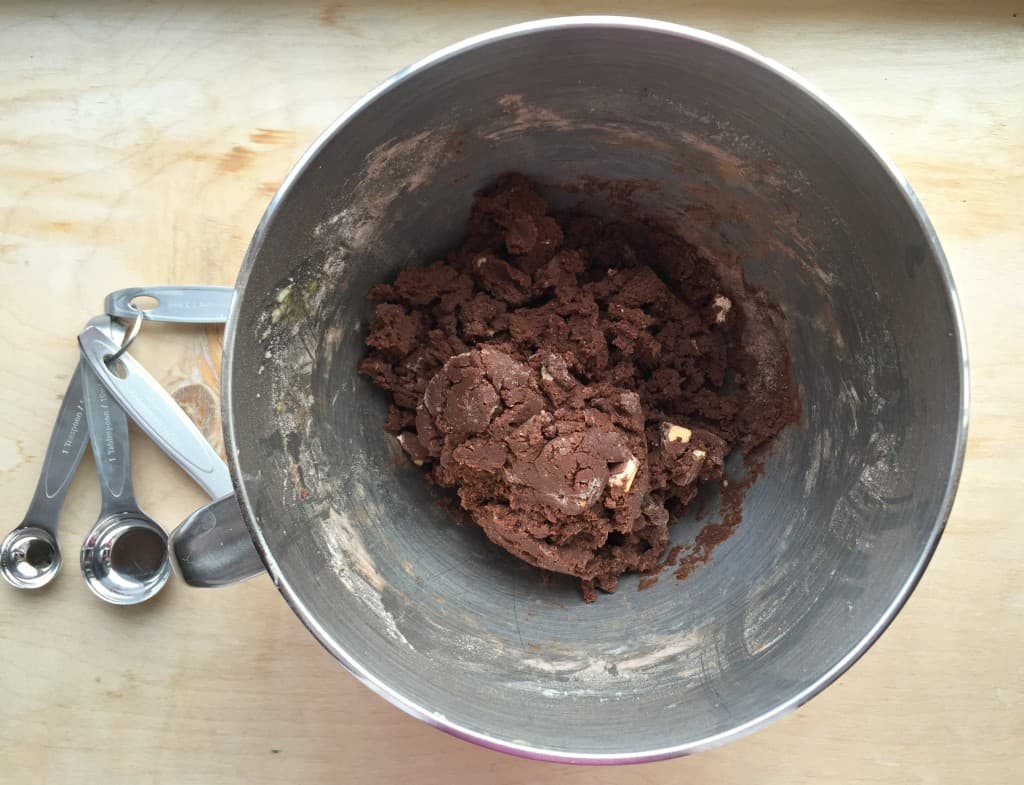 And I can't get enough of coffee treats to pair with my favorite beverage. Biscotti is so perfect, the way it just melts into your coffee. And yet it's still crunchy? Yum.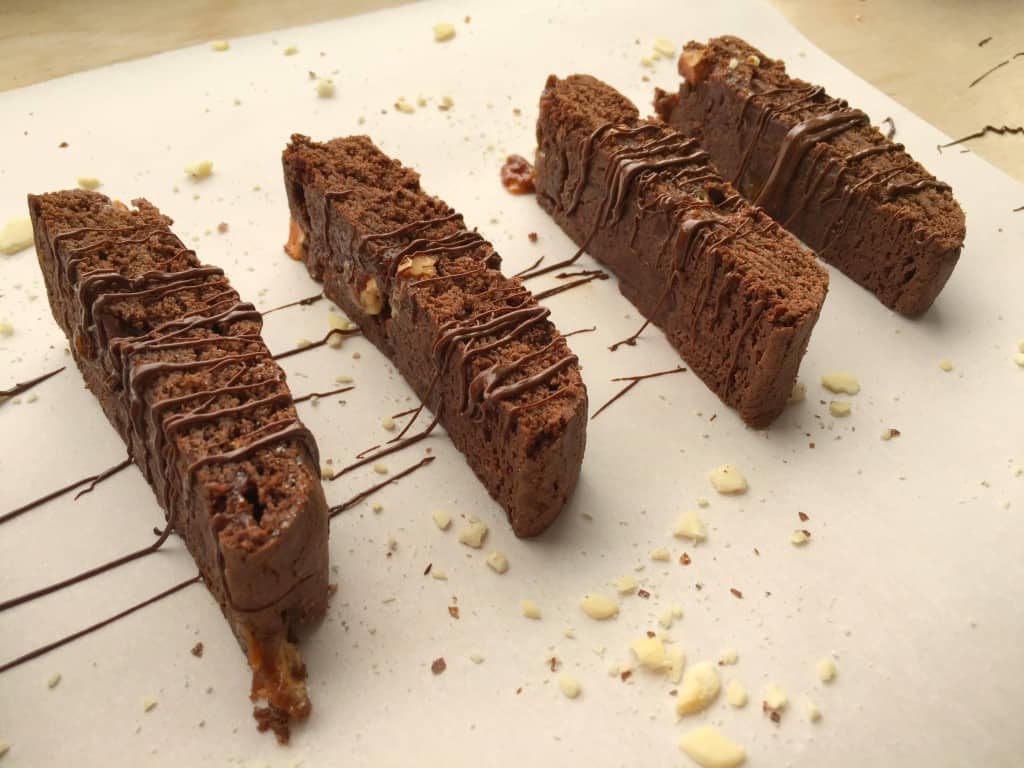 I mixed SNICKERS® bars into my favorite chocolate biscotti recipe, and the results were magical. Really.
Little chewy bits of SNICKERS® bars throughout crunchy, chocolate pastries.
Plus, this is totally breakfast food. And we all know how important it is to eat breakfast.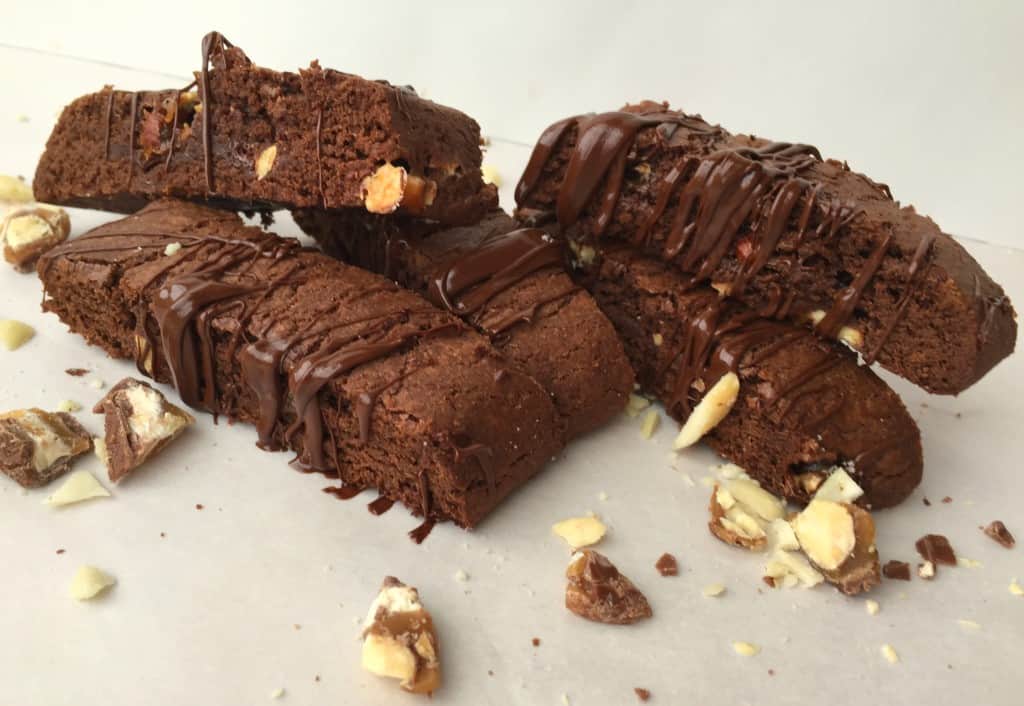 It's really a public service that I make time everyday for coffee and some munchies in the morning. I am not one of those people who can go hours without eating, or forgets a meal. You could probably guess that by this blog.
These are the perfect snack for me…. light, delicious, and keeps mama happy.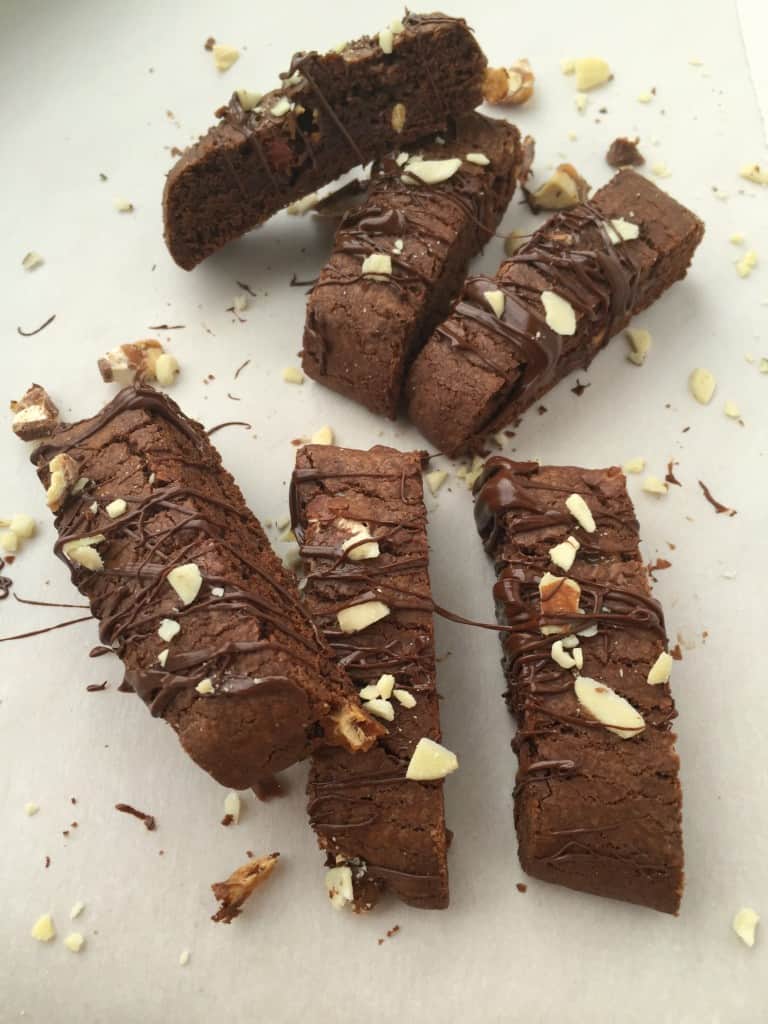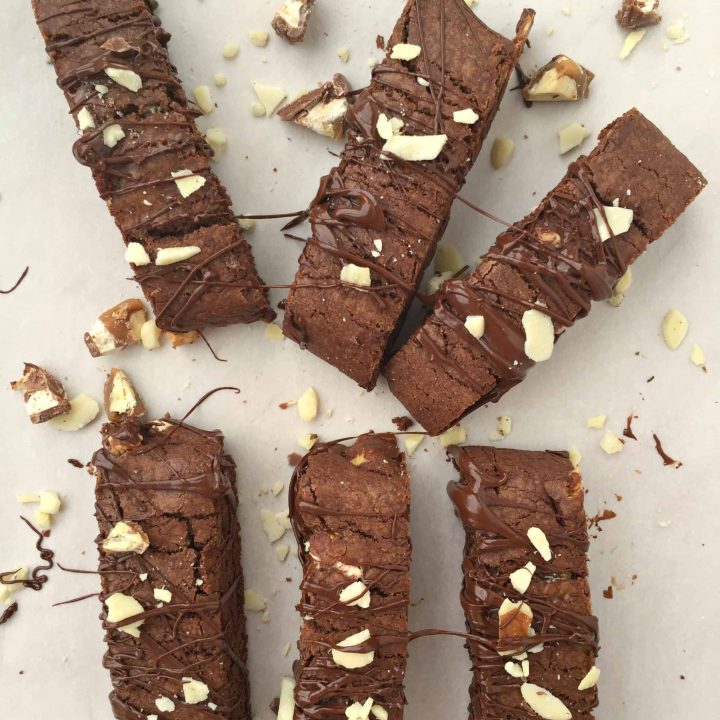 SNICKERS® Chocolate Biscotti
Inactive Time:
40 minutes
Total Time:
1 hour
50 minutes
Chocolate biscotti with bits of SNICKERS® bars mixed in.
Ingredients
For biscotti:
2 cups all-purpose flour
½ cup unsweetened Dutch-process cocoa powder
½ teaspoon salt
2 teaspoons baking powder
4 ounces SNICKERS® Almond bars, chopped or broken into small pieces
8 tablespoons (1 stick) butter, room temperature
1 cup granulated sugar
2 large eggs
2 teaspoons vanilla extract
For topping:
½ cup semi-sweet chocolate chips
½ cup chopped almonds
Instructions
Pre-heat oven to 300 degrees F. Line a baking sheet with parchment paper.
Chop up SNICKERS® bar into (approx.) pebble-sized pieces.
In the bowl of an electric mixer, cream together the butter and sugar.
Mix in the eggs and vanilla.
Combine flour, cocoa powder, salt, and baking powder in a medium-sized bowl.
Gradually add the flour mixture to the butter until combined.
Stir in the SNICKERS® bar bits.
Divide the dough in half and form two logs about 14" x 2". Place on baking sheet at least 4" apart. The logs will spread.
Bake for 30-35 minutes. Logs should be firm but not hard.
Cool on a wire rack for 30 minutes. Leave the oven on.
On a cutting board using a serrated knife, cut each loaf into ¾ -1 inch slices. (If the slices are crumbling, let the loaf cool a little longer.)
Stand the slices, ½ inch apart, on a parchment lined cookie sheet. Bake for 30 minutes until the surface of the cookies is dry (the caramel bits will be gooey).
Cool completely on a wire rack.
Spread almonds on top of biscotti.
Microwave chocolate chips for 15 seconds.
Drizzle chocolate on top of biscotti with a spoon. (chocolate will help almonds to stick to the biscotti)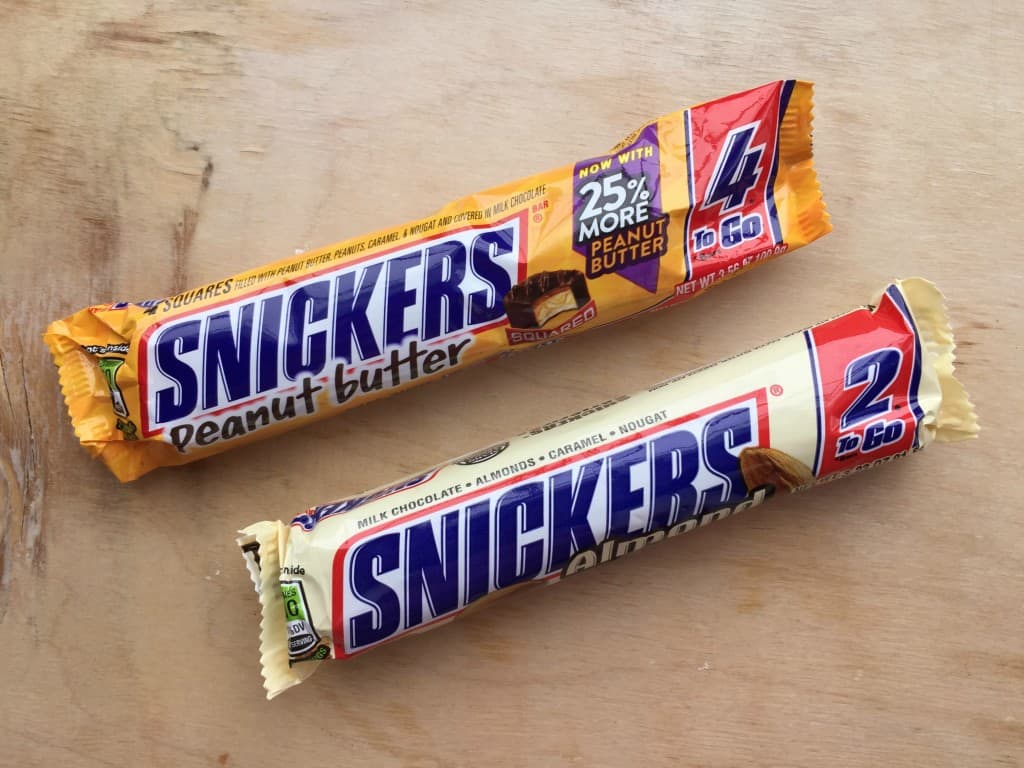 See more great SNICKERS® recipes and fun stories on the SNICKERS® social hub
Enter the SNICKERS® "Who are you when you're hungry?" contest by uploading a personal photo or video from your Computer, Facebook, Instagram or use the SNICKERS® Meme Generator to create something new! Voting begins at Noon on 5/11/15 and ends at 11:59:59AM ET on 7/15/15