Simple, delightful toffee shortbread cookies to enjoy with a cup of tea. Dip them in dark chocolate, for that extra little bit of indulgence.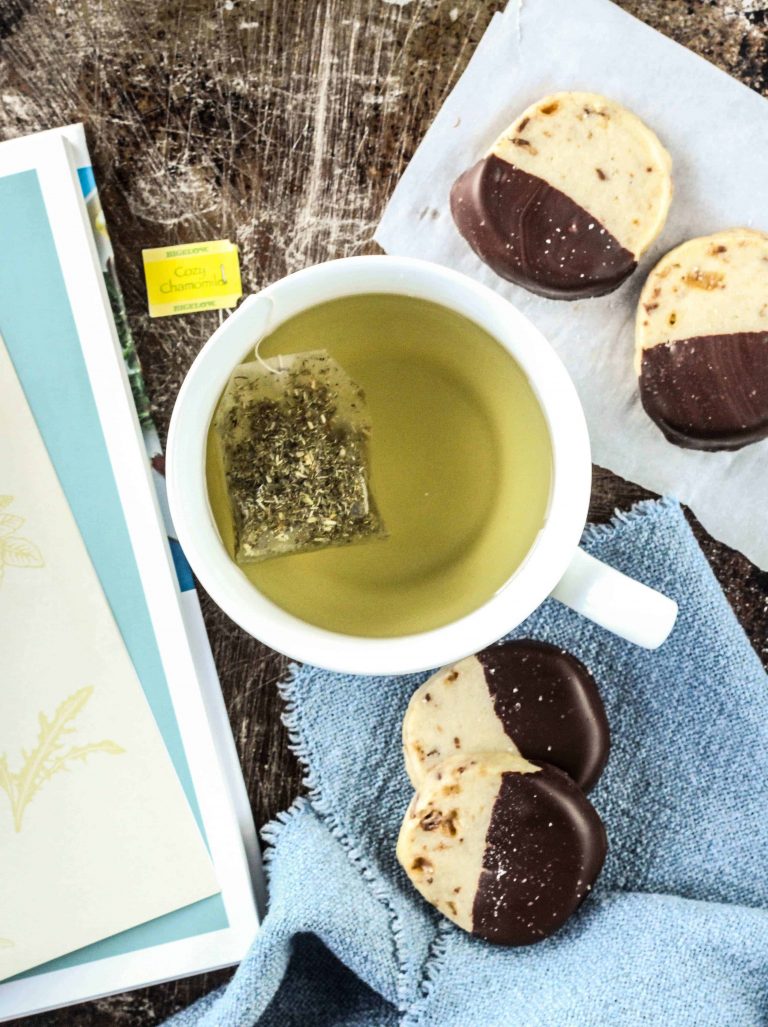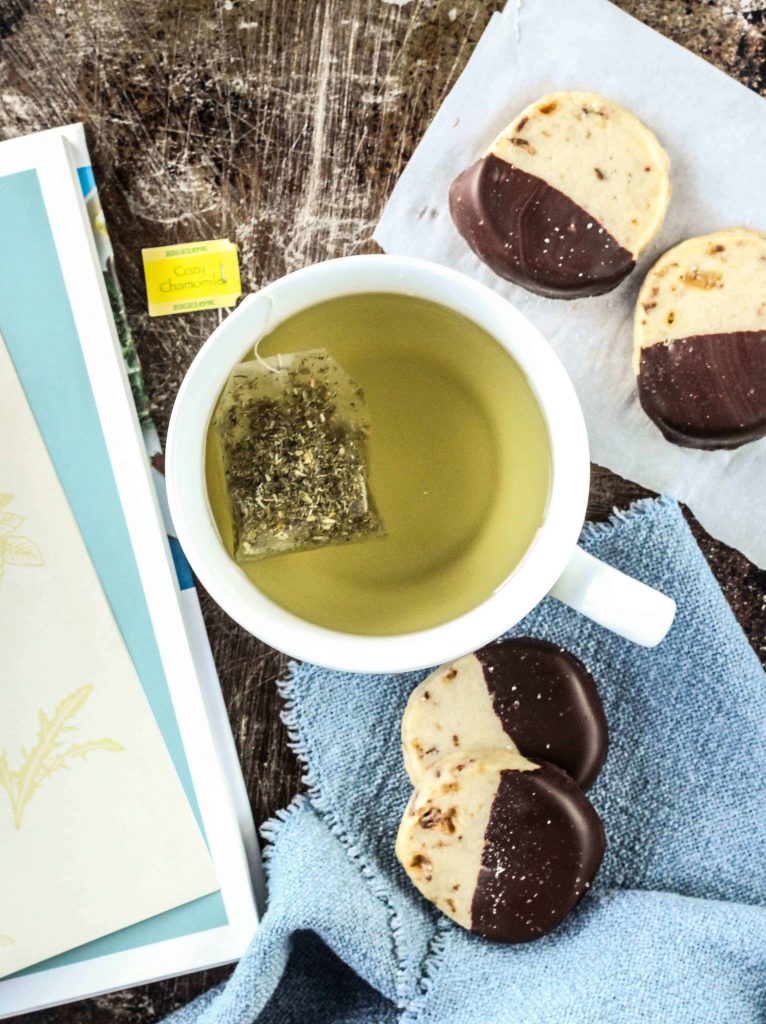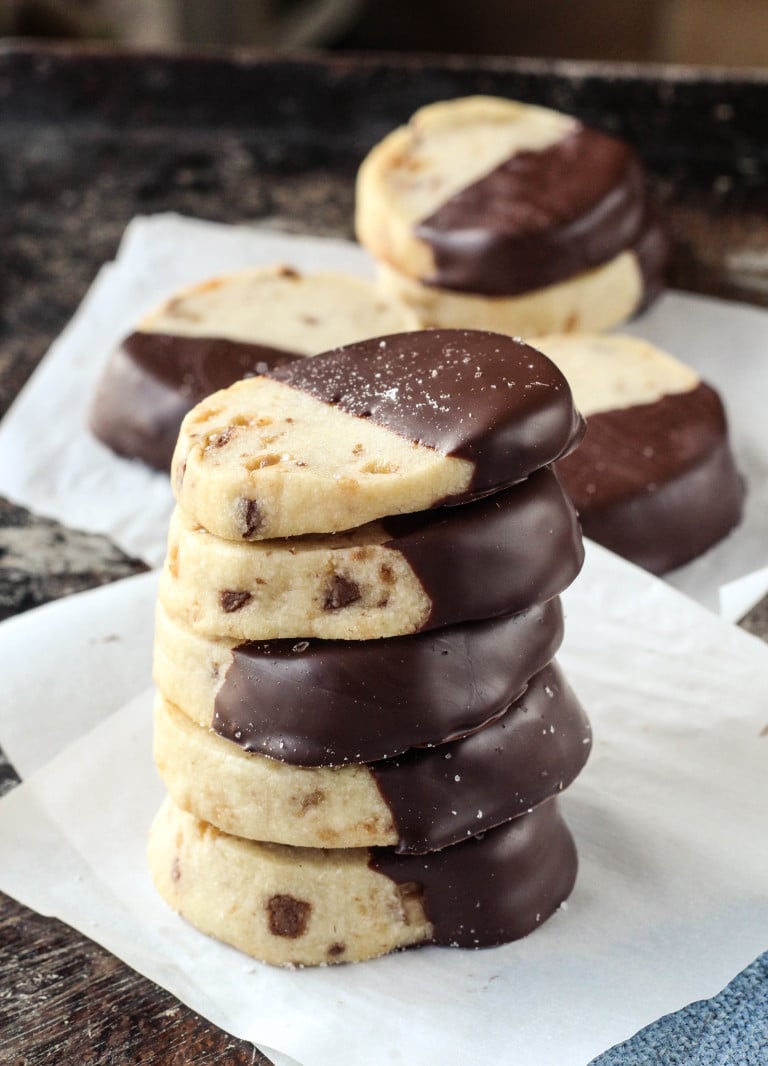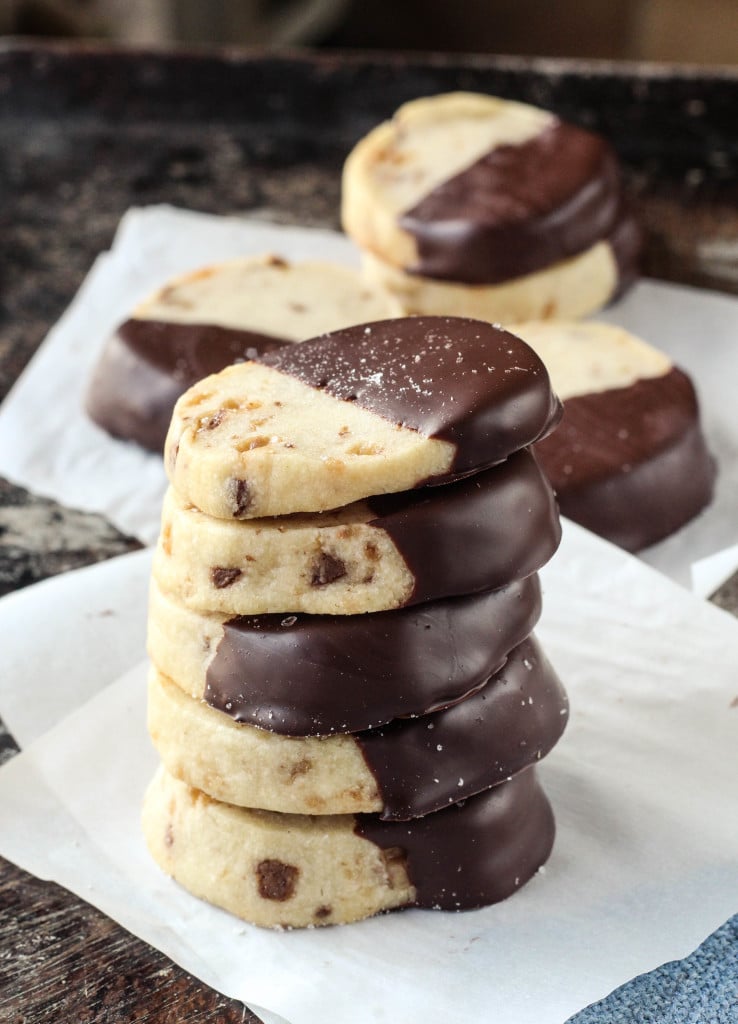 How do you unwind?
Reading a good book? Flipping on a favorite movie? Catching up with girlfriends?
…Maybe you're just drawing a blank on this one? It's been so long since you took a moment to yourself and you need some inspiration?
I hear you… and I've got the perfect remedy. The most delicious tea to warm you up, and a snack pairing that you will love. Celebrate Hot Tea Month this January with a cozy cup of Bigelow Tea. This is tea, elevated; and my go-to tea brand. I know you will love the quality of the tea, and the freshness of each flavor. The aroma of Bigelow Tea fills the room and invites you to get closer and take a sip. Total bliss.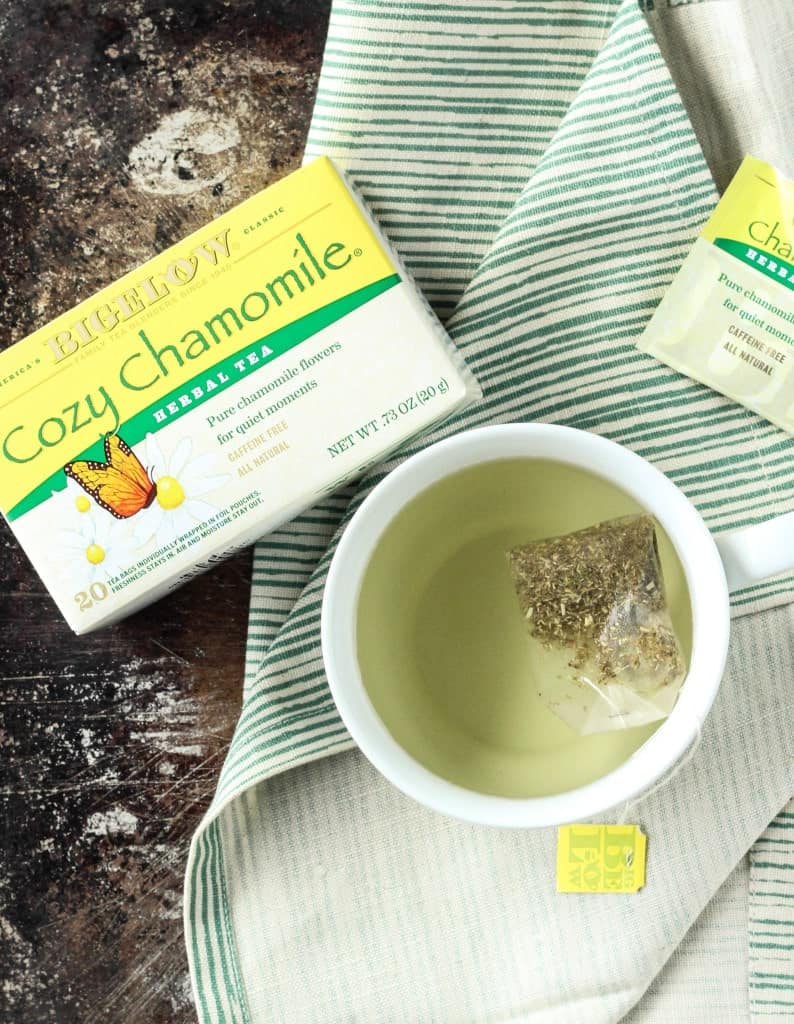 My favorite Bigelow Tea flavor is Cozy Chamomile. Perfect any time of day, I love how it instantly relaxes me. With flavors like Constant Comment and Mint Medley, there is a cup of tea for every mood. I find that taking just a moment to breathe and relax with a cup of Cozy Chamomile allows me to reset and get back on track for the rest of the day. Anyone who's a regular tea drinker understands how a cup of tea change your whole day for the better. That's why I tea proudly. And it's no surprise that the trend is catching on! 82% of Americans drink tea, and 27 percent drink tea exclusively. Love it!
All that tea calls for a good snack, and these delicate toffee shortbread cookies deliver.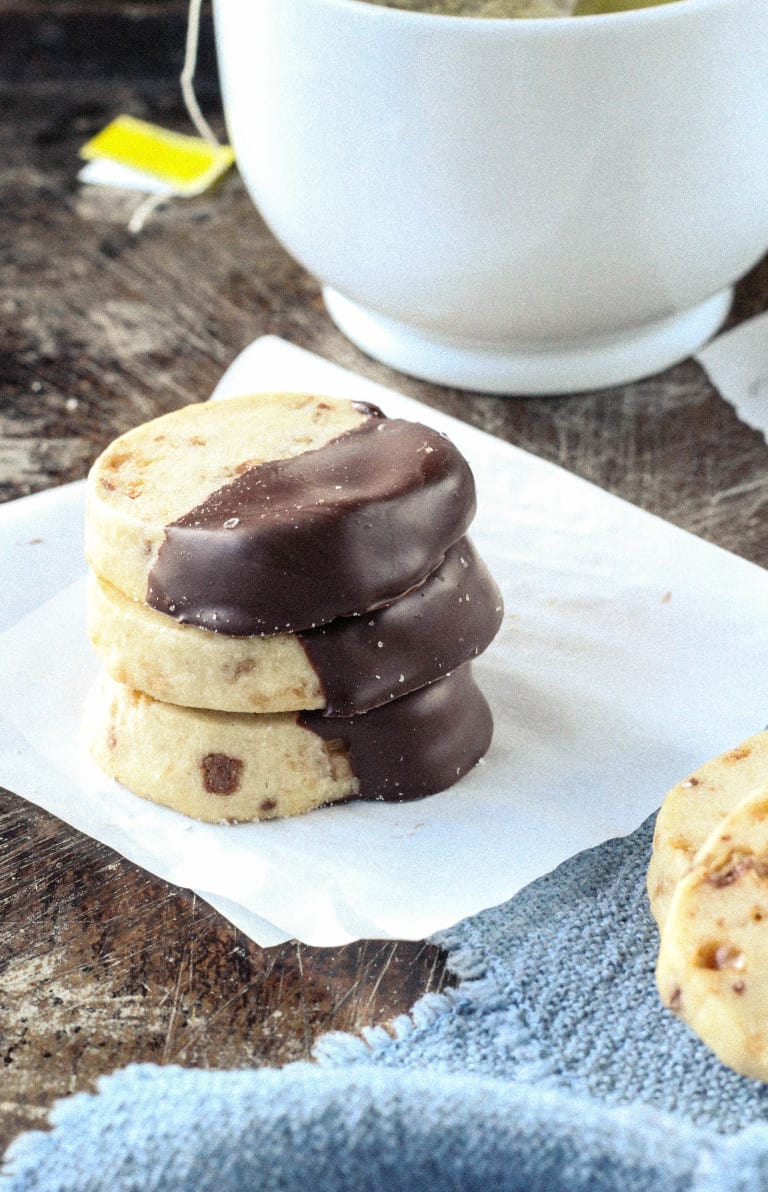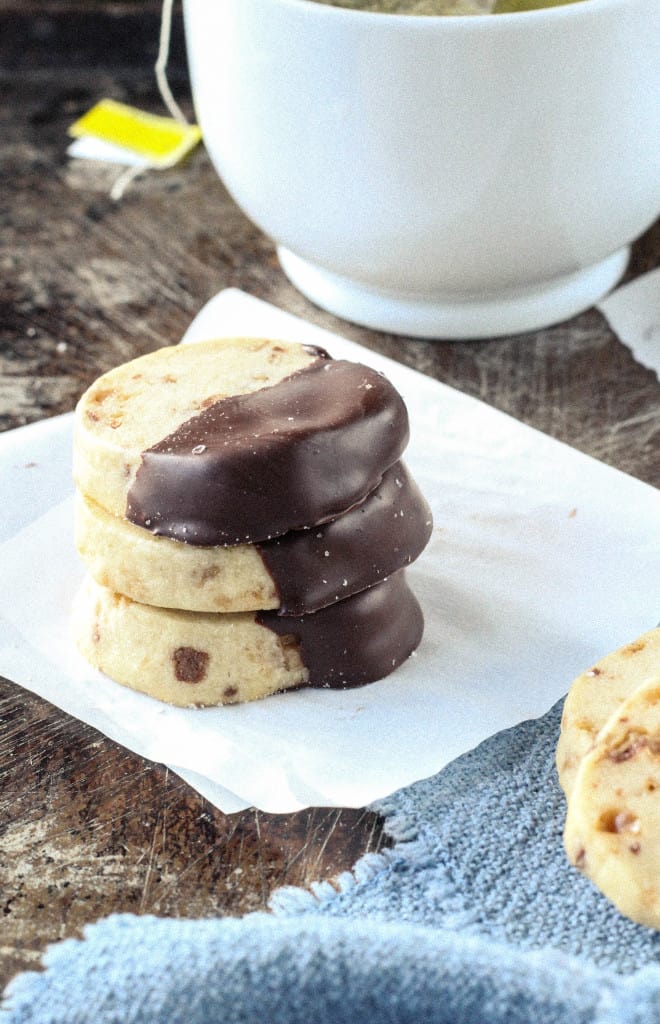 I love to take a minute or two with a cup of Bigelow Tea and these shortbread cookies—sweet, buttery confections that melt in your mouth. I also dip them in dark chocolate, for that extra little bit of indulgence.
Shortbread is made with simple, minimal ingredients, which makes it a perfect pairing for a cup of tea.
Start with butter, flour, sugar, etc. Then, add toffee pieces to the dough.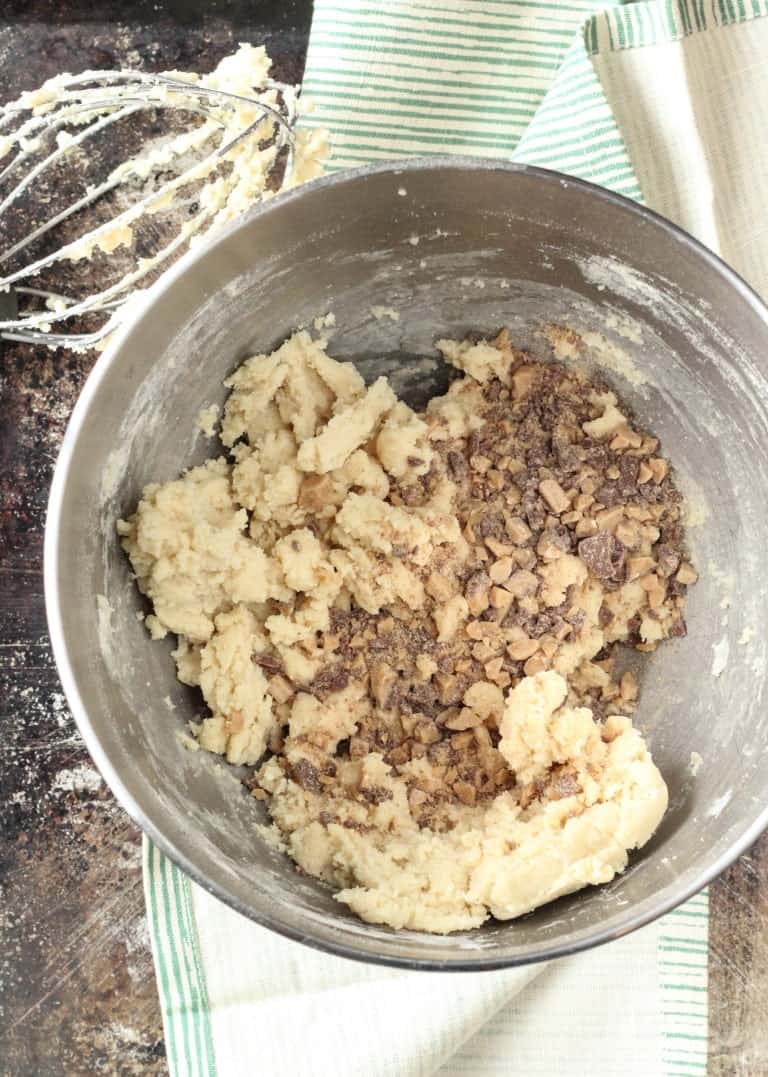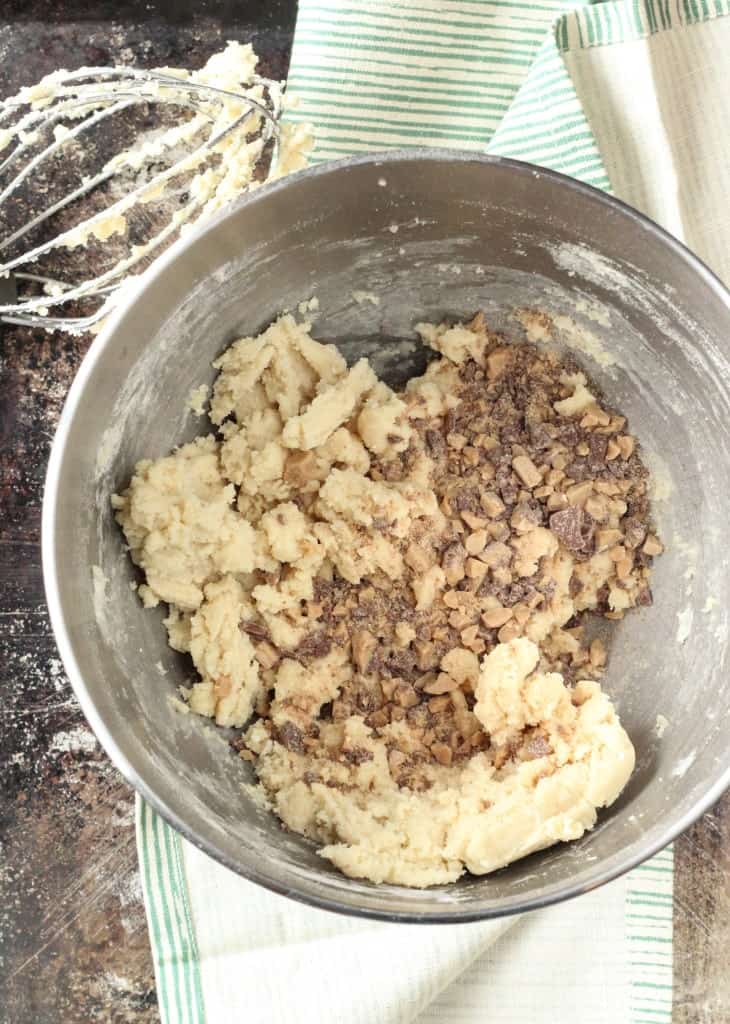 Bake at 350 for  15 minutes. Once cooled, dip half in melted dark chocolate and sprinkle with sea salt.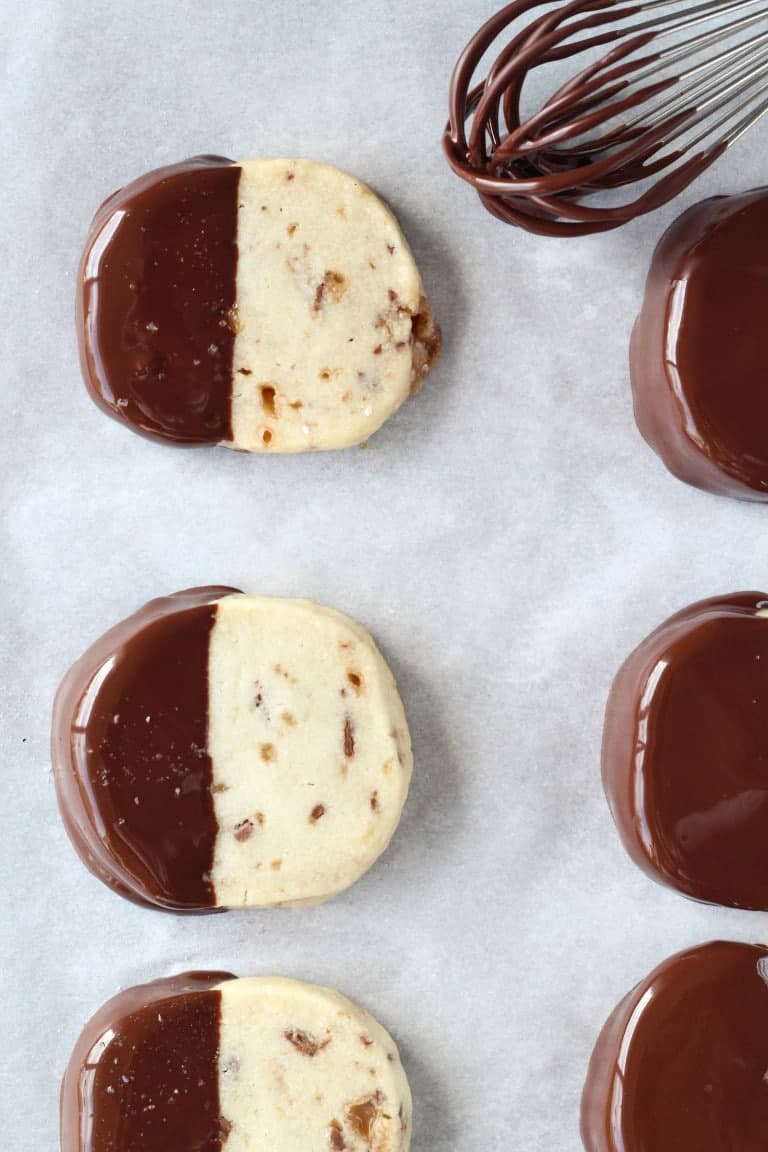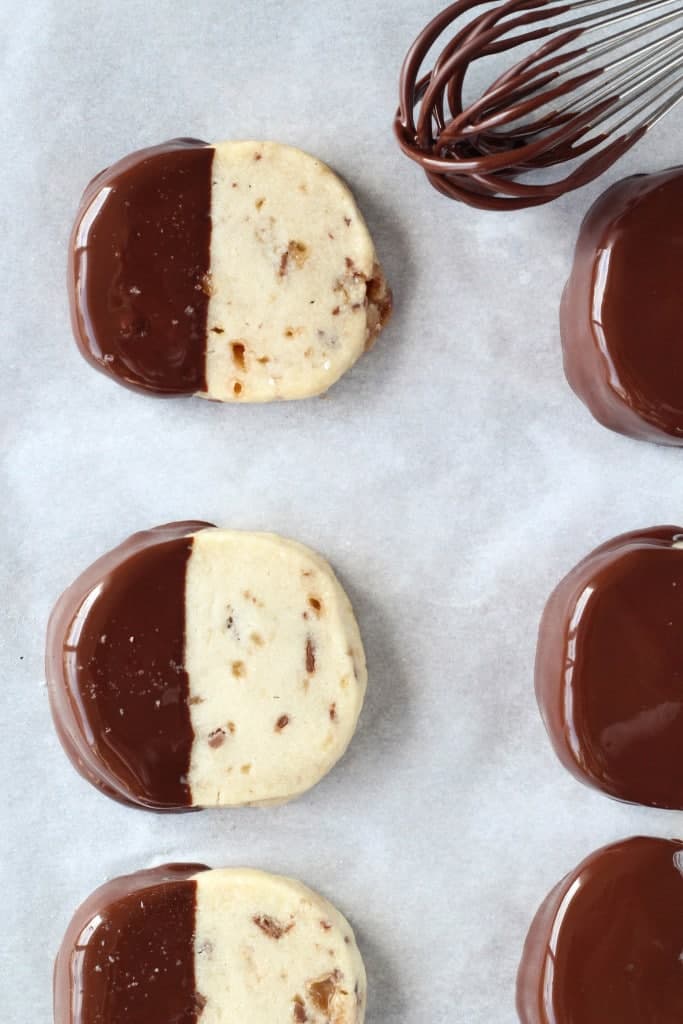 The combo of sea salt and dark chocolate is amaaazing, guys. Don't miss out.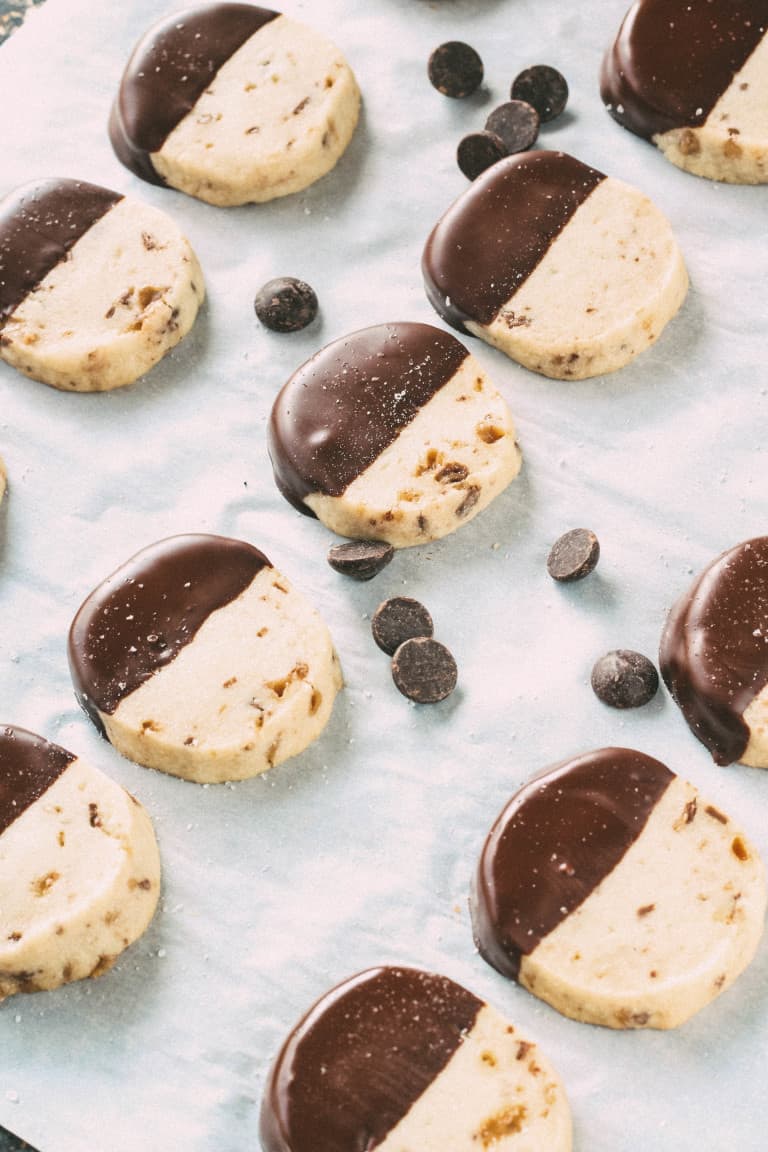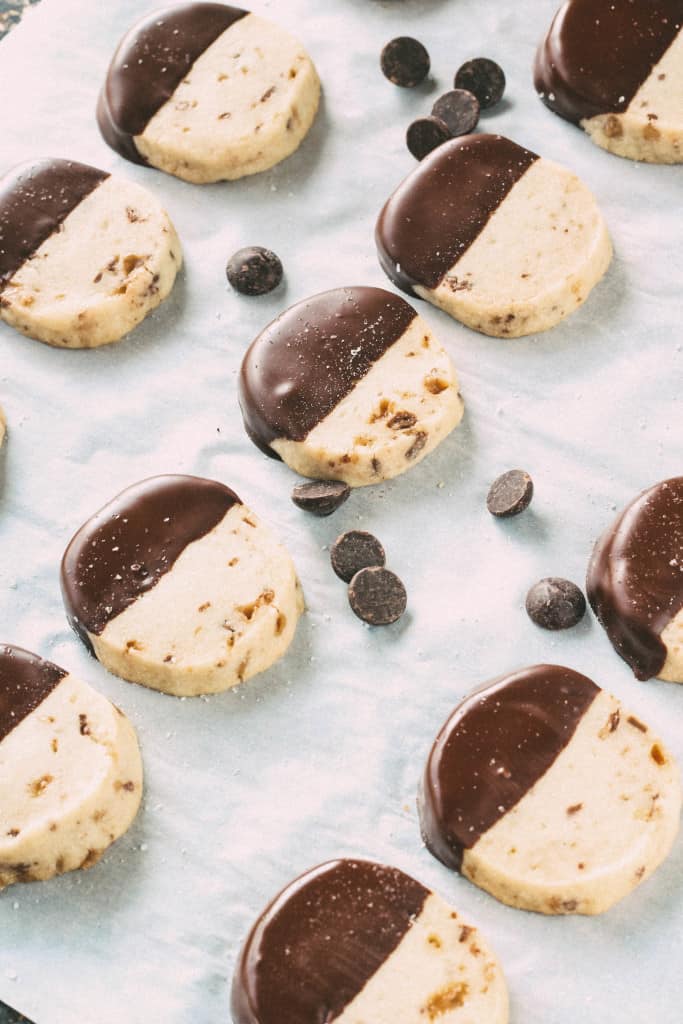 Allow chocolate to harden, then enjoy with a cup of Bigelow Tea, and tea proudly!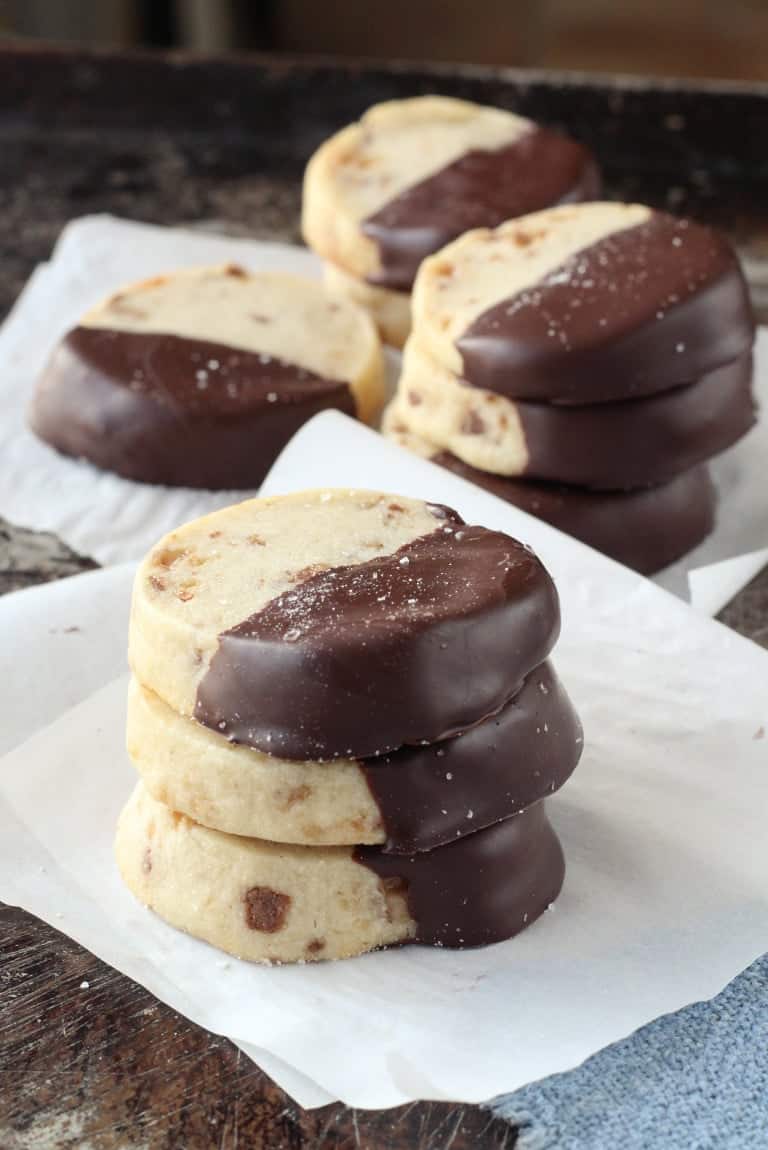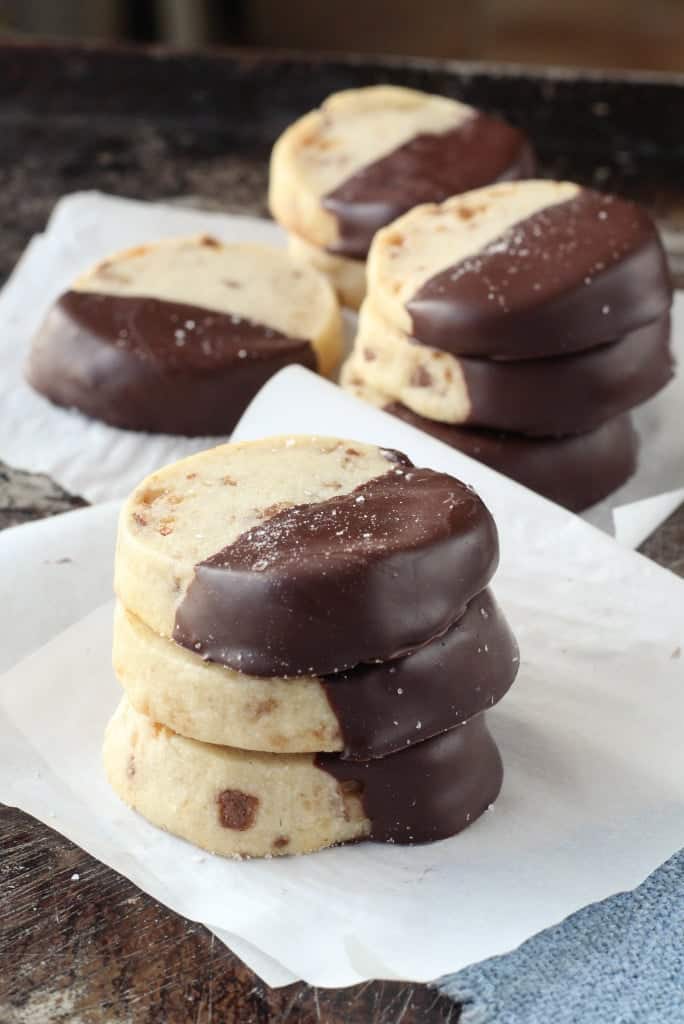 Love these toffee shortbread cookies? Check out the popular Caramel Toffee No-Bake Mini Cheesecakes!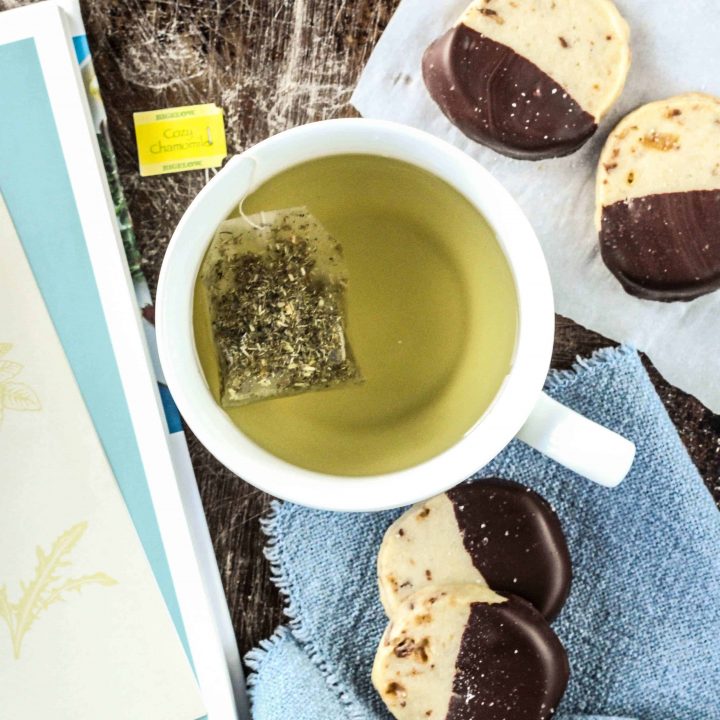 Tea Time: Dark Chocolate-Covered Toffee Shortbread
Simple, delightful shortbread cookies to enjoy with a cup of Bigelow Cozy Chamomile.
Ingredients
2 cups all-purpose flour
1/4 teaspoon salt, plus a sprinkle of sea salt
1 cup unsalted butter, at room temperature
3/4 cup powdered sugar
1 teaspoon vanilla extract
1/2 cup toffee bits
1 cup, dark chocolate chips
Instructions
In a small bowl, whisk the flour and salt together. Set aside.
In the bowl of a stand mixer, beat the butter and powdered sugar until smooth and creamy, about 3 minutes. Beat in the vanilla extract. Slowly add in the flour mixture and mix until just combined. Stir in the toffee bits. Form the dough into a log shape (about 2" in diameter) and wrap in plastic wrap. Chill the dough for at least 1 hour or until firm.
When ready to bake, preheat oven to 350 degrees F. Line a large baking sheet with parchment paper.
Unwrap dough and slice into circles, about 1/2" thick. Place shortbread cookie son the prepared baking sheet and bake for 15-18 minutes, or until cookies are very lightly browned around the
edges. Remove cookies from baking sheet and cool completely on a wire cooling rack.
Put the chocolate chips in a microwave safe bowl and melt, stirring every 30 seconds until melted. Dip the shortbread cookies in the melted chocolate and sprinkle with a pinch of sea salt. Lay on a piece of parchment paper or wax paper to set up. Once chocolate is completely dried, enjoy!
Nutrition Information:
Amount Per Serving:
Calories:

210