Don't you love a good, simple smoothie, especially on a busy morning? It's about the grab & go! This Banana Greek Yogurt Smoothie is full of wholesome, yummy ingredients that fill you up and keep you going. Plus, it's delicious!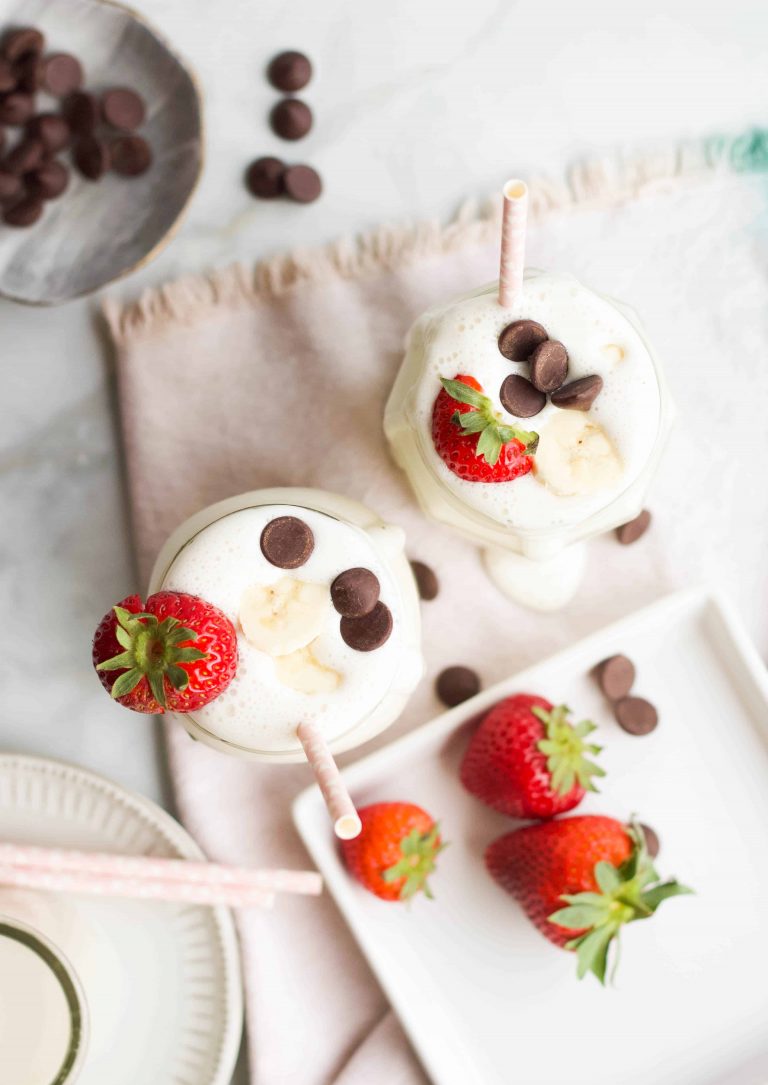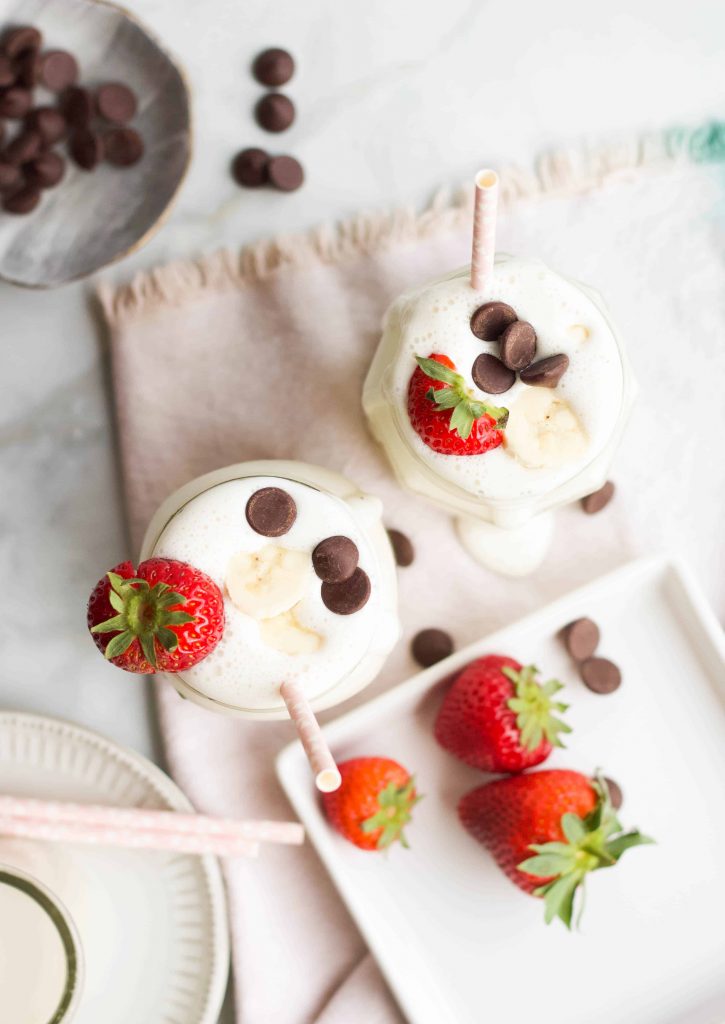 Greek Yogurt Fruit Smoothie
I'm always putting Greek yogurt in my smoothies. I love the creamy, thick texture it adds. Plus, it's full of protein, low in fat (depending on the variety you choose), and has a tangy flavor that offsets the sweetness of the fruit.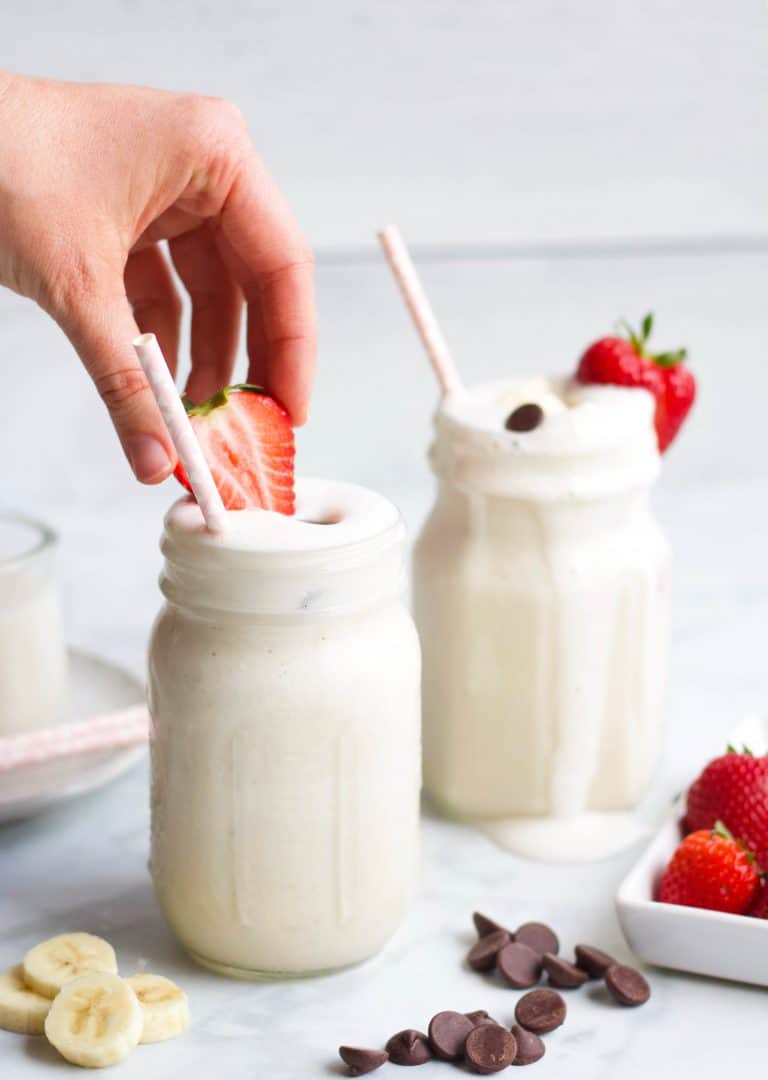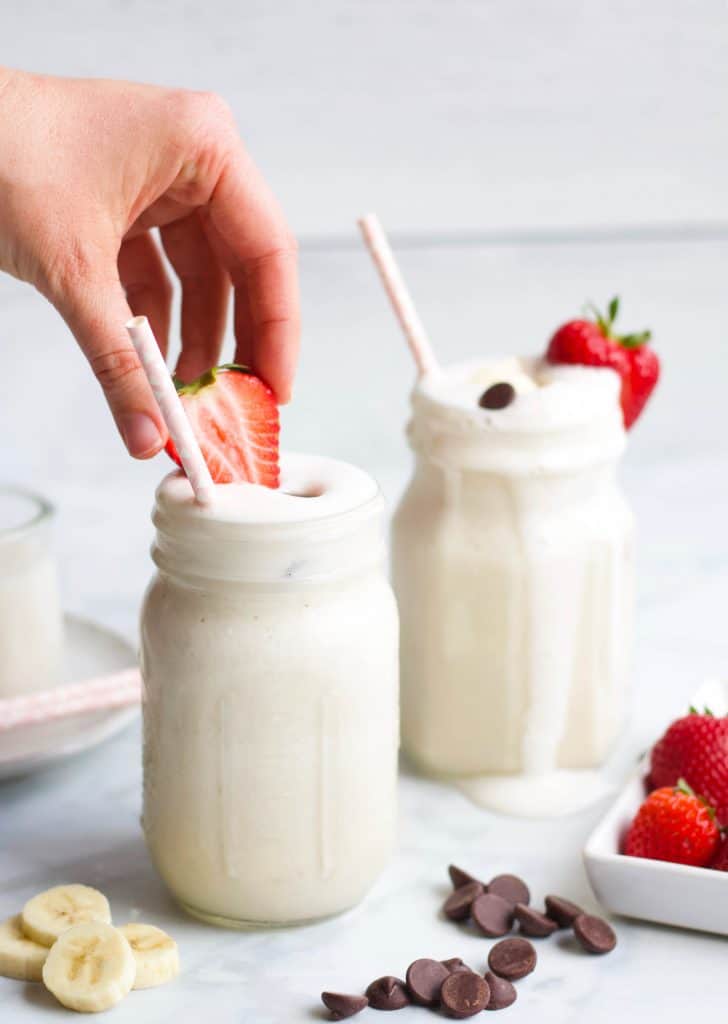 Ingredients for Banana Greek Yogurt Smoothie:
almond milk (can substitute with coconut milk or dairy milk)
Greek yogurt (I use plain, non-fat)
frozen bananas
protein powder (optional)
ice
topping ideas: sliced fruit, chocolate chips, chopped nuts, whipped cream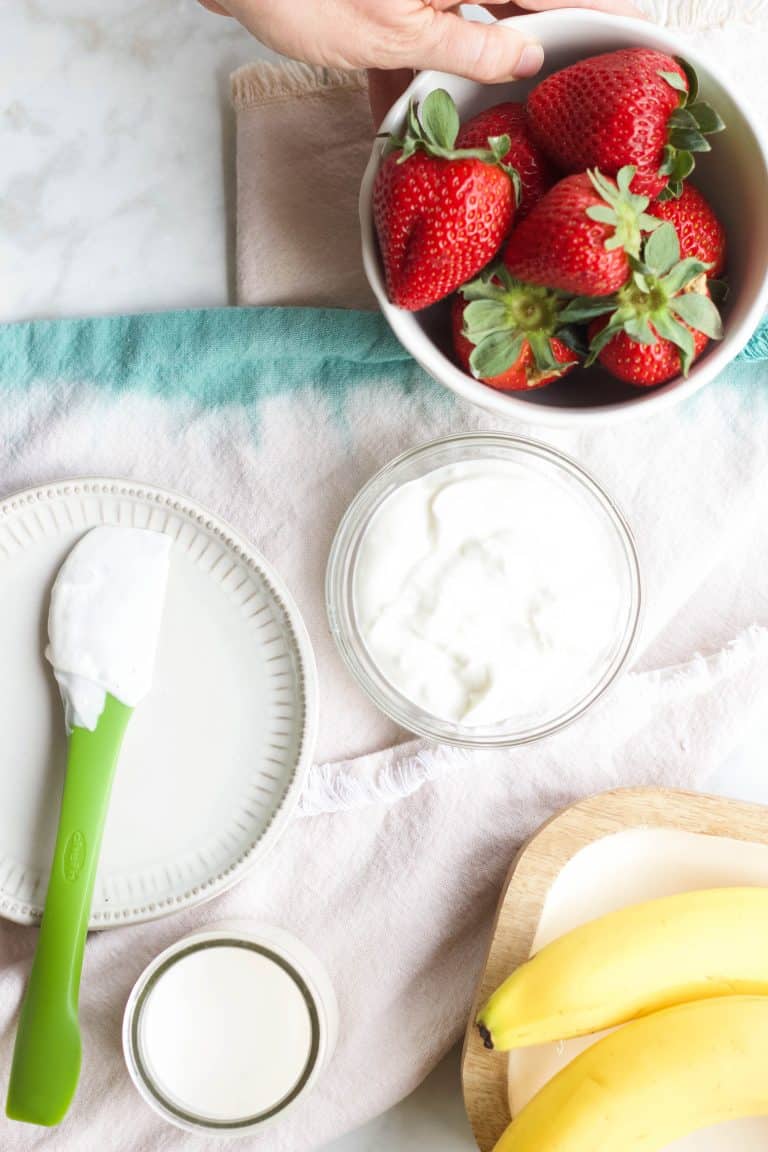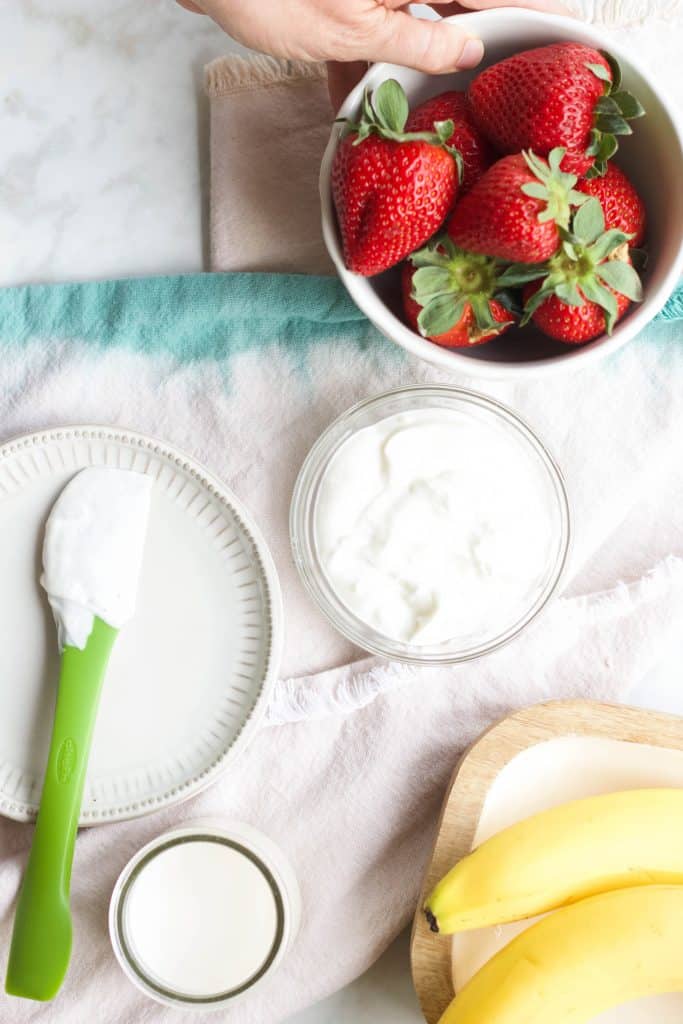 If you like thicker smoothies, Greek yogurt is the ingredient to add. Lots of ice and frozen fruit is another tried & true way to add thickness, and get more of a smoothie bowl texture.
I also like a scoop of protein powder in my smoothies. This one is a protein & fiber powerhouse and makes smoothies taste like milkshakes (really!). Protein powder in smoothies is totally a personal preference, but I like how it adds some staying power. I like my smoothies to fill me up all the way to lunchtime and sometimes, beyond. Mom life can get crazy!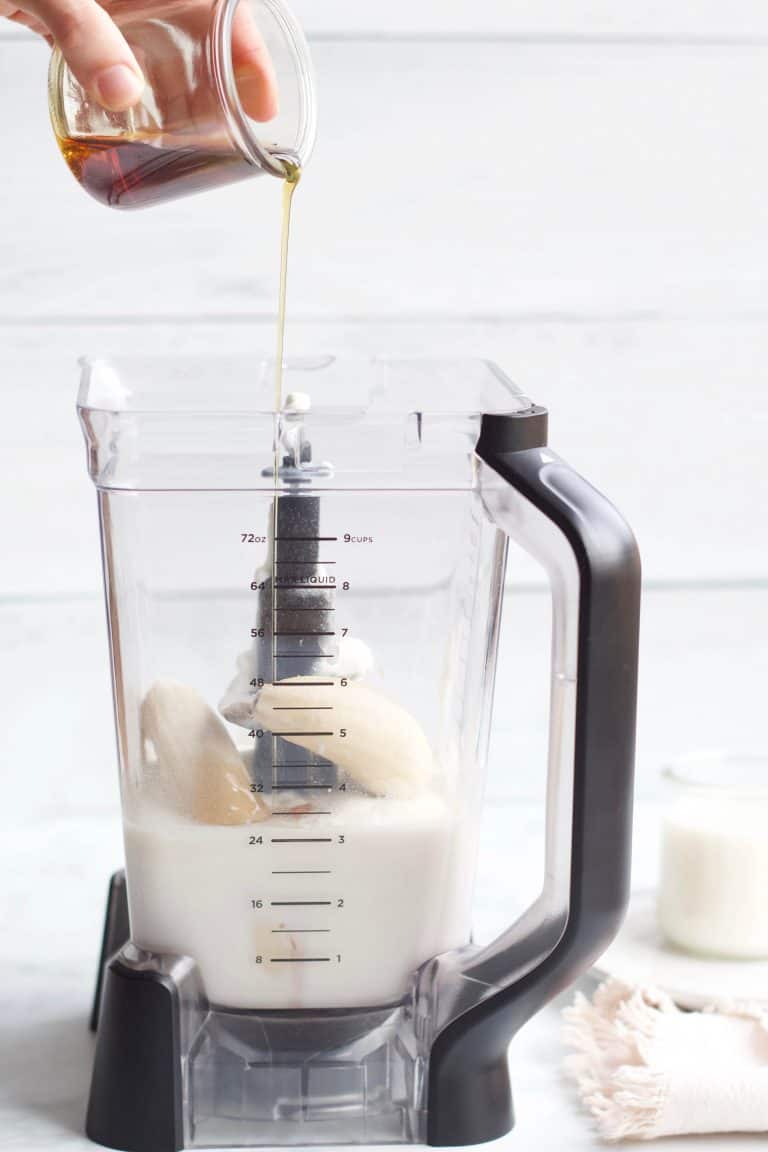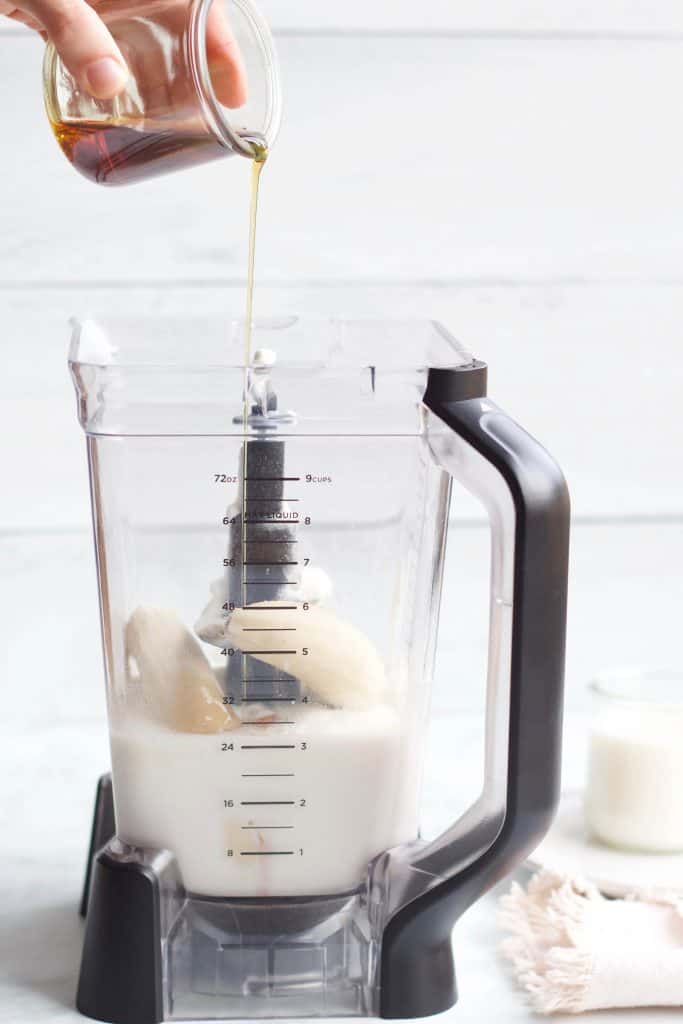 Directions for Banana Greek Yogurt Smoothie:
Add to blender: almond milk, Greek yogurt, frozen bananas, and scoop of protein powder.
Finish off with a cup or two of ice.
Blend until smooth.
For extra flavor and texture, top with chocolate chips and sliced strawberries or bananas
Greek Yogurt Fruit Smoothie FAQ's
Can you taste Greek yogurt in smoothies?
Not typically. If you can taste the tangy flavor of Greek yogurt, try adding natural sweetener, like a teaspoon of honey.
Can you use overripe bananas in smoothies?
Absolutely! Just note that they will taste sweeter and the banana flavor will be stronger.
Are banana smoothies healthy?
Yes! Bananas are packed with potassium, magnesium, and vitamin C. You add other healthy ingredients like Greek yogurt and almond milk to add even more nutrients.
HANDY TOOLS FOR MAKING AWESOME SMOOTHIES:
I love this cup for keeping my smoothies cold on the go. I spend a lot of time in my car! And I need travel cups that are durable. They may take a tumble… or two.
This beast of a blender — excellent for kale, nuts, or anything else you need blended up smooth
Best spatula for scooping up the last bits of ingredients