Power up your morning with this super simple Piña Colada Yogurt Recipe, featuring tropical fruit and Greek yogurt. A protein-packed breakfast full of wholesome ingredients.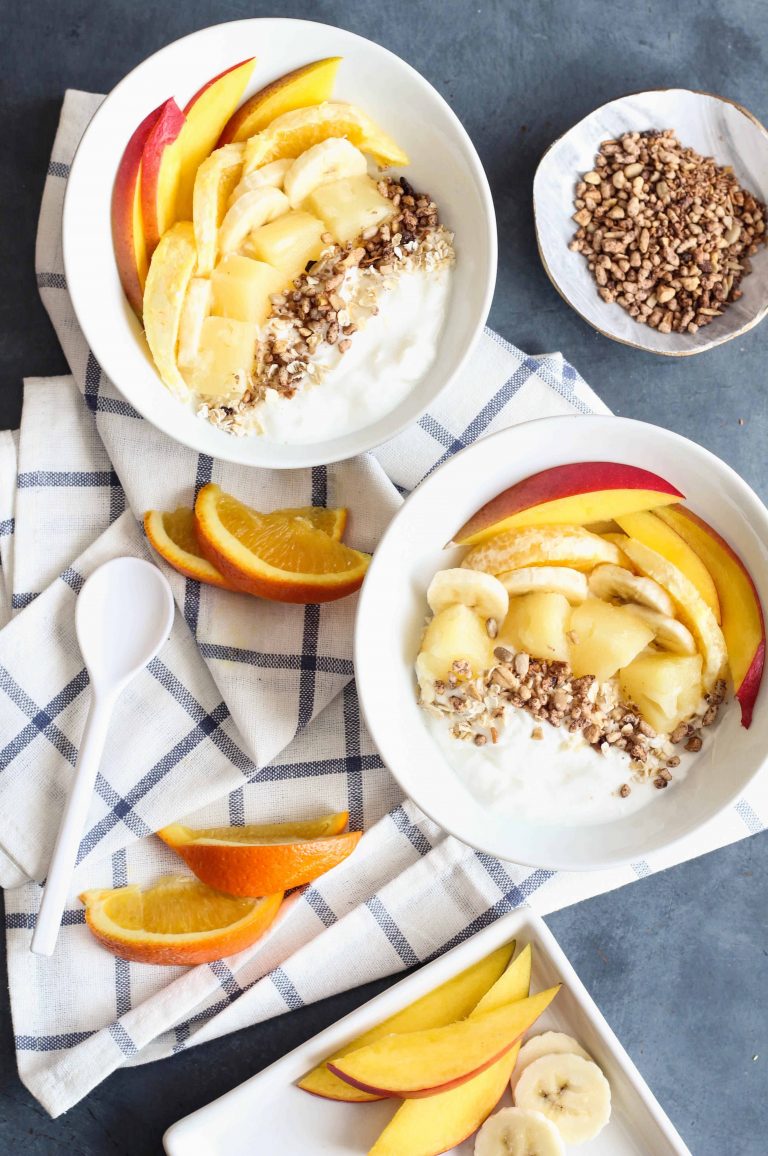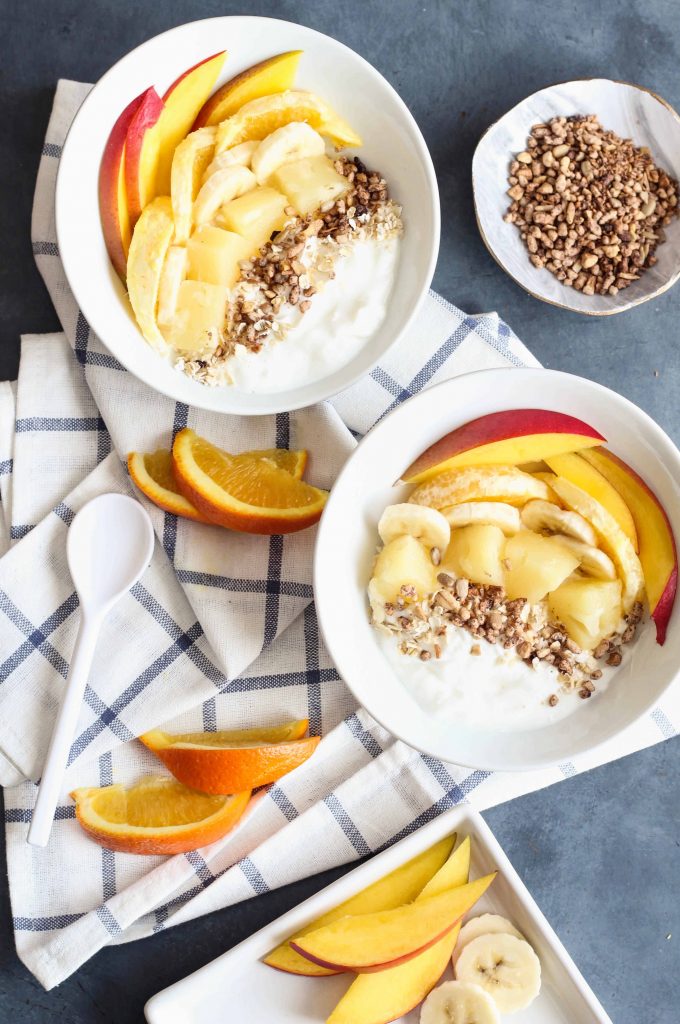 Piña Colada Yogurt
It's currently in teens in the Midwest, with a forecast of gray until April. I need a pick-me-up, and I need it first thing in the morning. Like most parents, my AM routine starts early, and is a blur until I drop the kids off at school: work out (most days), check email, get the kids ready, get myself ready, and with any luck— grab some breakfast.
INGREDIENTS
plain Greek yogurt
mango
pineapple
orange
banana
oats
high-fiber cereal
WHAT IS THE PINA COLADA YOGURT RECIPE?
Start with a bowl of plain Greek yogurt for protein and add tropical-inspired fruit like pineapples, oranges, & mangoes, plus high-fiber cereal. Pour some coffee or tea, and dig in!
I love to make a yogurt bowl, and fill it with fresh fruit & whole grains. It is SO simple to make a yogurt bowl, and it literally takes minutes. Add in all the flavors you like, such as seasonal fruit or pure maple syrup.
My latest creation is the Piña Colada Yogurt Bowl, which brings a little bit of sunshine into my mornings, especially on gray winter days. I love all the fresh flavors, and wholesome ingredients.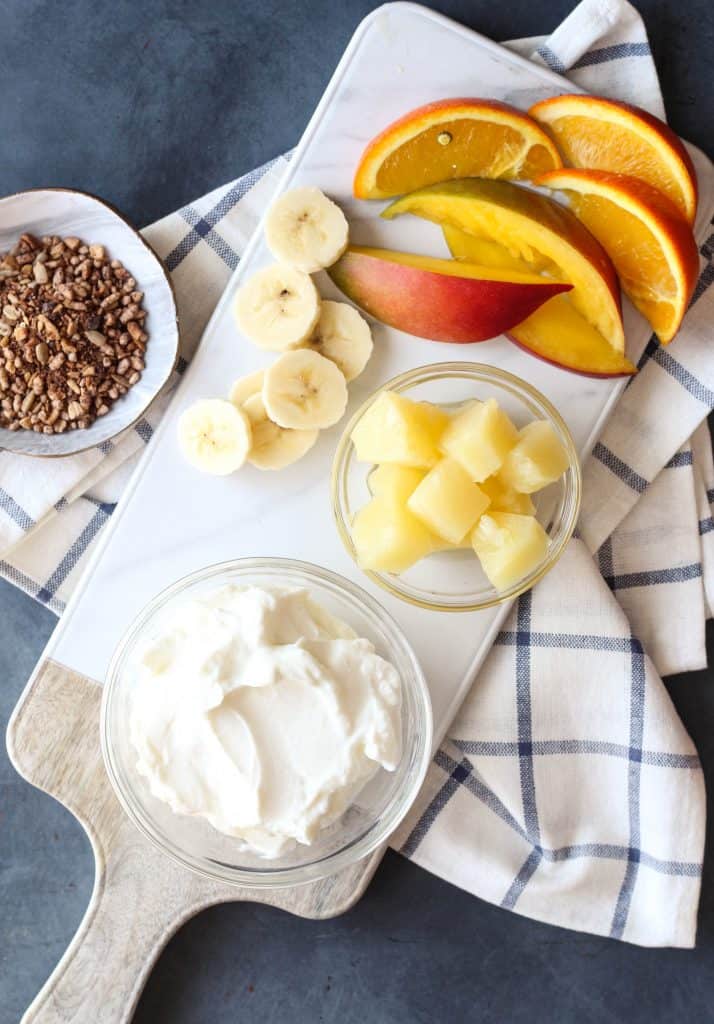 WHAT ARE SOME GOOD RECIPES FOR A BEGINNER YOGURT BOWL MAKER?
Looking around the internet for awhile, I came across this blog post that is perfect for those starting out with yogurt bowls or those looking to shake up their mornings. This Greek Yogurt Breakfast Bowls with Toppings post lists out good combinations and then give lists of toppings that are tried and true for you to make your own combos. Give it a try!
CAN YOGURT BOWLS BE MADE AHEAD FOR EASY MEAL PLANNING?
Yes! You definitely can make ahead your yogurt bowls into tupperware, mason jars, or whatever your favorite to-go container is. This is a great idea for people rushing around the house getting kids ready for school and themselves ready for work. You may prefer to add any granola or "crunchy" toppings until the end, but fruits and yogurts can be layered together for the week! These leakproof, travel containers are perfect because they keep the crunchy granola separate from the yogurt and fruit (yet all in one container) until you are ready to combine.
Our mornings deserve better. I know that my whole day is positively impacted when I fuel up with good food before I sit down to work. It doesn't take much time at all, just an intention to put yourself & well-being first.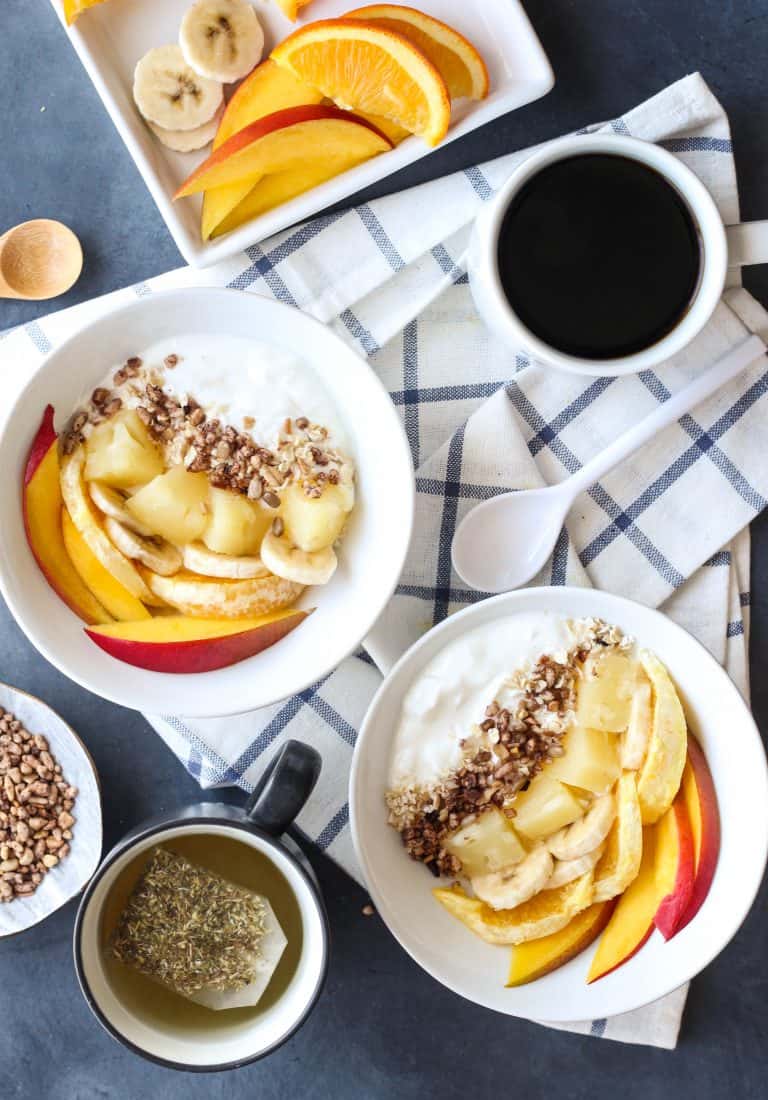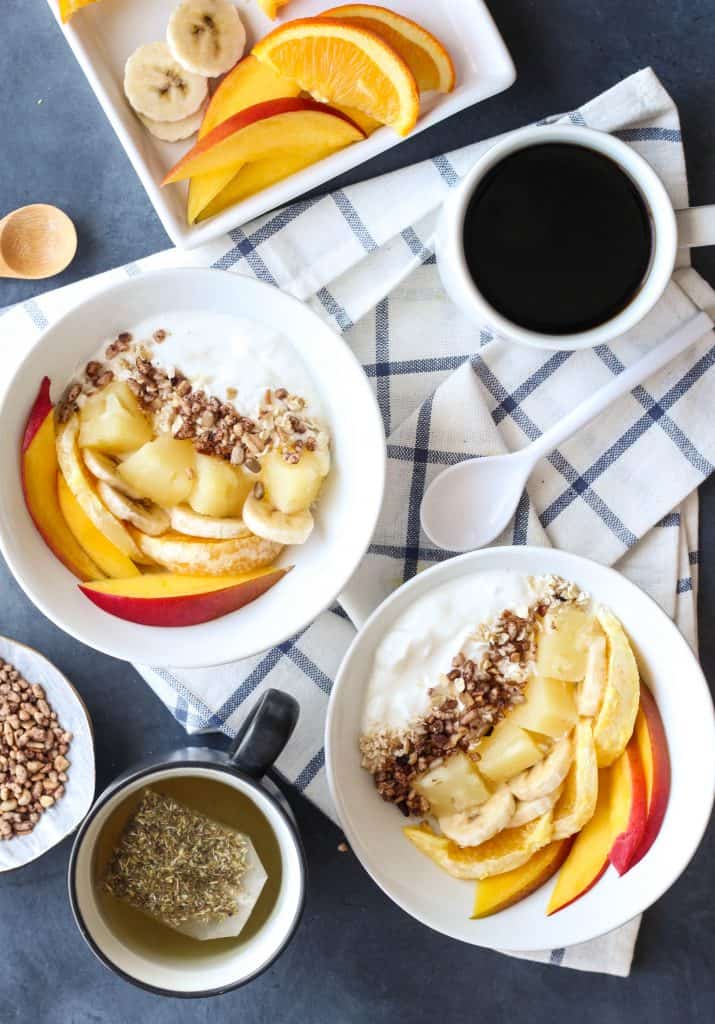 Like this Pina Colada Yogurt Recipe? Here are a few of my tried and true recipes: